Conscious catwalks: Brazilian fashion label harnesses the creative energy of the favelas
The fashion industry is notoriously unsustainable – but in one of Brazil's largest favelas, designers are giving it a makeover, with a collection that celebrates diversity, upcycles used clothing and draws inspiration from local history. Now, thanks to an international partnership, their influence has even reached across the Atlantic. Our DICE Young Storymaker, Pedro Lira, reports from Belo Horizonte.

The fashion industry is highly unsustainable: according to the UN Environment Programme, it accounts for between 8-10% of global greenhouse gas emissions, more than aviation and shipping emissions combined. It pollutes oceans, releasing 500,000 tonnes of synthetic microfiber each year, and is responsible for 20% of all the wastewater worldwide.
But that may soon change. A recent survey by global consultancy, McKinsey, shows that 75% of US millennials consider sustainable products when deciding whether or not to buy a garment. 
In Brazil, a group of young designers and entrepreneurs from Aglomerado da Serra, in Belo Horizonte – the third largest favela (or slum area) in the country – are giving the fashion industry a makeover. Their label, Remexe, is led by LGBTQ+ and non-white females and specialises in upcycling genderless fashion.
Remexe is one of several projects from the cultural centre Lá da Favelinha, an independent initiative created in Aglomerado da Serra that welcomes more than 500 people a week. The space offers free language, music, dance and art classes to local youngsters, and pays for the services of more than 70 young independent dancers, DJs, teachers and other creative professionals who are making a living there as 'micro entrepreneurs'.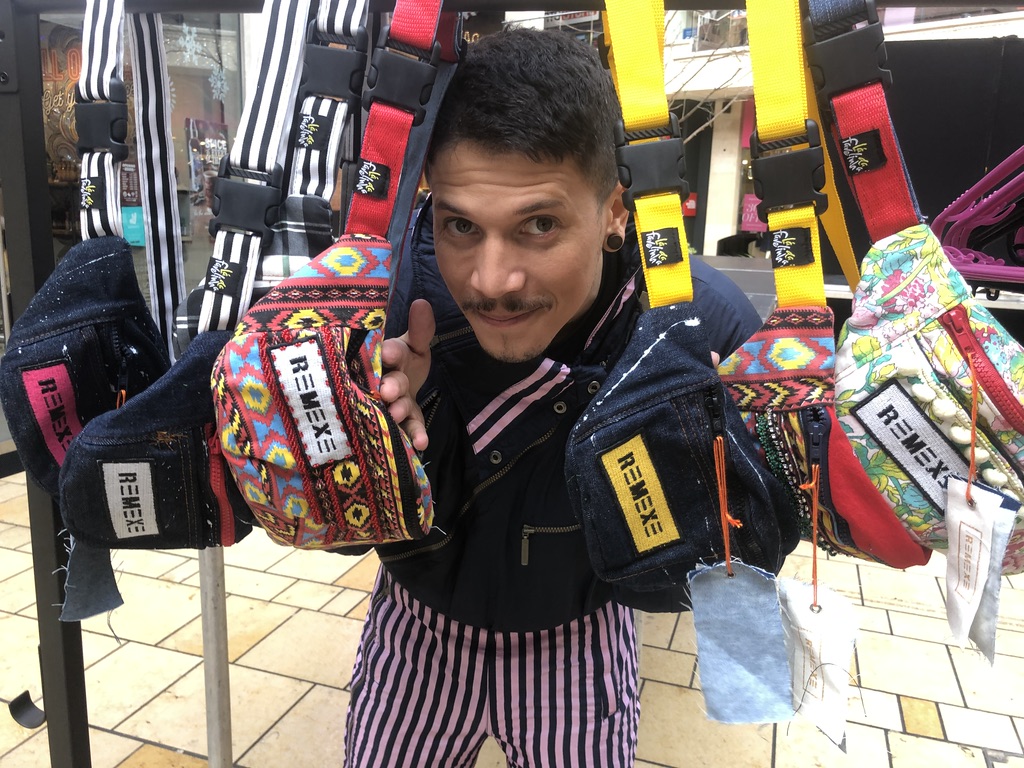 Above: Kdu dos Anjos, Lá da Favelinha's founder and manager, with upcycled bags from Remexe.
Kdu dos Anjos, Lá da Favelinha's founder and manager, is clear that the centre is a business, not an NGO. "We focus on generating income and entrepreneurship… There is no use in an empowering workshop or lecture if the young people don't have money for the bus ticket to get there." 
That's a real issue in Brazil, which is going through a political and economic crisis. Research from the Brazilian Institute of Geography and Statistics indicates that there are 11.8 million jobless people in the country – 11.2% of the working population. Securing full-time employment is even more difficult for women, Afro-Brazilians, favela residents, members of the LGBTQ+ community and other marginalised groups.
Lá da Favelinha represents a new approach to business. It generated more than 2m reais (about £365,000) in 2019 from a range of sources that include grants and investments from government and foundations, fundraising and the sale of products and services. "Here we work as agents representing MCs, dancers and DJs; organise fashion and cultural events; and host lectures about entrepreneurship and present Favelinha as a success case," says dos Anjos.
Strength and resistance 
"Today I can say I'm a stylist , dancer and model." This is Isabella Rodsil, 19, one of the five designers behind Remexe. She comes across as confident, but Rodsil says she used to be  "a very shy child. Never said anything, just nodded". Then she started attending events at Lá da Favelinha. "After that, it was only a matter of time until Kdu invited me to be part of Remexe and now I'm a completely different person."
Since its launch three years ago, Remexe has produced six fashion collections with more than 50 different pieces in each. The process starts with Rodsil and the other designers sorting through used clothing, deciding which items will be donated, which will be sold in bazaars to generate income, and which will be refashioned by Remexe. They then paint, sew, cut and re-assemble these materials into distinctive new garments.
'We almost never research trends. It's all about the favela history. 2019 was a very difficult year, so this collection is about strength and resistance'
So what inspires the designers? "We almost never research trends. It's all about the favela history. For example, 2019 was a very difficult year in the community, so this collection is about strength and resistance," explains Rodsil. The designer plans to go to college one day – but not to study fashion. "I believe that sustainable and truly innovative fashion is not something you can learn in a classroom, but by doing it, by working hard and seeing the impact that it causes."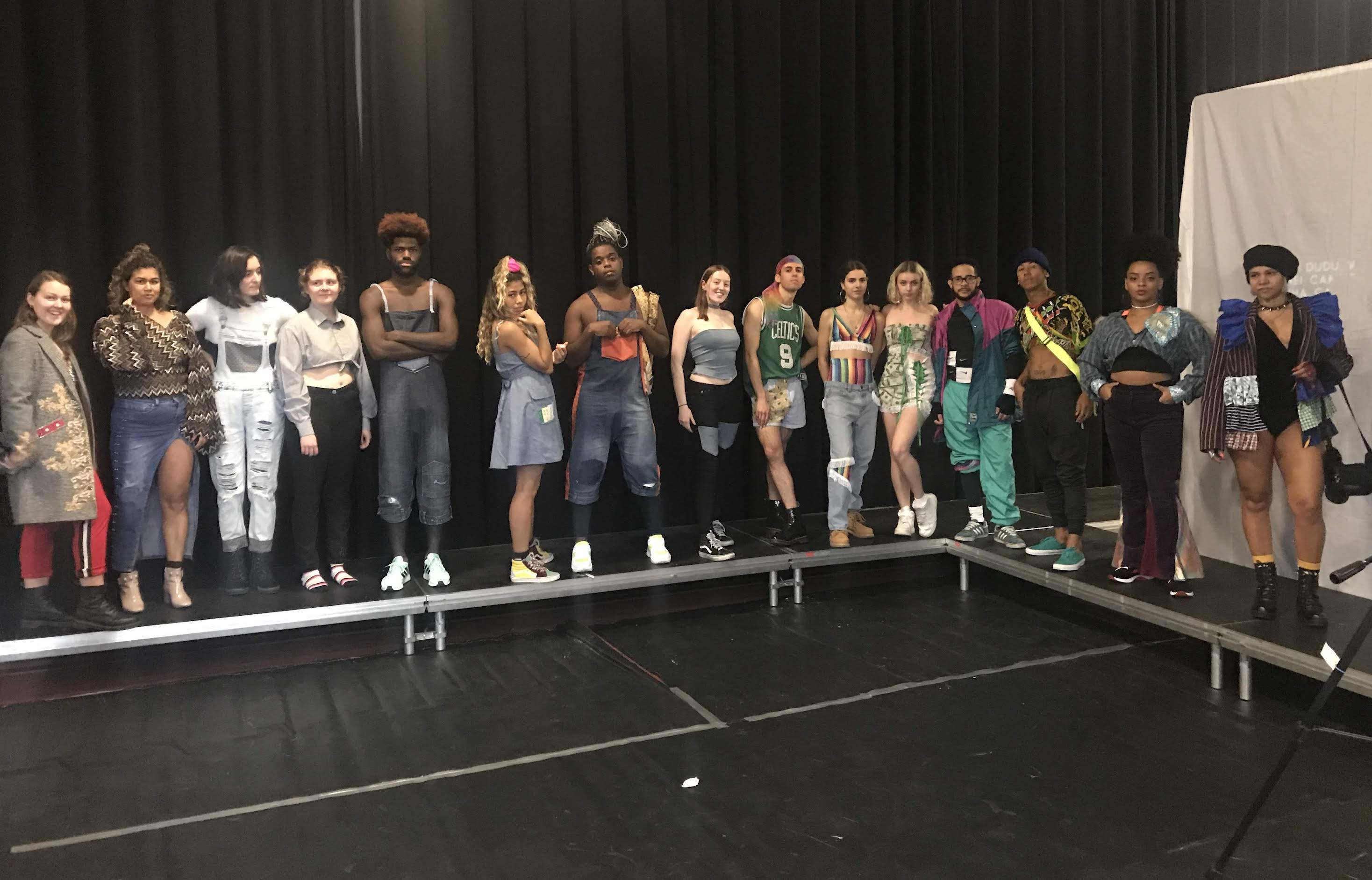 Above: Lá da Favelinha and Creative Youth Network designers wearing some of the upcycled designs.
Rodsil grew up in the favela and when she was younger, "used to dream of leaving Aglomerado da Serra". Now, though, she sees that her neighbourhood is just as important as any other. "We are made to believe that we don't have a future here. Lá da Favelinha changed everything: there's a lot of culture and cool people who boost you and encourage you to grow and transform your thinking."
Mixing it up 
Remexe's most recent collection, introduced in November 2019, is called Aglomerado de Ferro, a reference to Aglomerado da Serra and the strength that favela residents must have (ferro means iron in Portuguese). "The name comes from the saying 'we are not iron', because sometimes the world thinks just because we are from the favelas, we have to accept everything – but no," explains Carla Santos, Remexe's model and stylist. 
Santos is part of a group from Lá da Favelinha that travelled to Bristol in south-west England last December, to share ideas and teach classes on upcycled fashion and entrepreneurship with youngsters from the charity Creative Youth Network. The trip was made possible thanks to a collaborative project between Lá da Favelinha and London-based ZU-UK, which was funded by the British Council's DICE programme, and followed the visit, in July 2019, of ZU-UK to Belo Horizonte. On that trip, the Londoners provided mentoring on Lá da Favelinha projects and helped create immersive fashion shows and public events. 
ZU-UK's specialty is creating interactive performances that mix art, technology and politics in different media, including theatre, fashion and fine art. "We work with social groups, creating safe spaces to think new politics," explains co-founder Persis-Jadé Maravala. 
'In Brazil there are a bunch of public programmes for 'ghetto' youth designed by specialists that don't know what it's like to live in a favela. All theory, but no practice'
The two partners were determined to avoid any post-colonial dynamic in the collaboration. That's why the Favelinha crew taught classes to the British group in entrepreneurship, upcycling fashion, dance and art. Fashion show audiences in Bristol learned about Lá da Favelinha designs and concepts, while the Creative Youth Network designers, after creating a collection alongside Lá da Favelinha, set up their own social enterprise group named Re:Wurk – a sister company to Remexe.
Lá da Favelinha also put on a dance show in Bristol, performing street style moves, mainly funk dance, while raising awareness of abuse, prejudice, and police violence in Brazil. 
One of a kind
When asked what makes Lá da Favelinha unique, dos Anjos is clear. "The cultural centre was born and raised in the favela. In Brazil there are a bunch of public programmes for 'ghetto' youth designed by specialists that don't know what it's like to live in a favela. All theory, but no practice," he explains. Having lived at Aglomerado da Serra his whole life, he believes he knows the people, their needs, their problems. "We do [our work] in a happy, entrepreneurial and profitable way," he says.  
Lá da Favelinha draws on knowledge from theatre, design and street culture. "We are always developing our capacities and learning about fashion, dance, business models and how to become better entrepreneurs," explains dos Anjos. Some of their most successful projects focus on building markets for favela brands, creating fashion labels, and incubating black entrepreneurs. 
Dos Anjos' plans for Lá da Favelinha and its young talents are to "go even bigger". In March the cultural centre plans to open a new, bigger and more modern space. A book will be released, chronicling the project's history and showcasing its members through photographs and essays. Last September, the label Remexe was invited to New York for a fashion show, and the dance group is currently on a tour through eight states of Brazil. "If we were always thinking about the difficulties, we'd never do anything," says dos Anjos. "I think our slogan should be 'Go there, and do it!'".
Pedro Lira is a DICE Young Storymaker – one of 14 young journalists recruited by Pioneers Post and the British Council from six countries to report on social and creative enterprise.
Header photo: The Lá da Favelinha team pictured during the design classes in Bristol. All photo credits: Lá da Favelinha.