Managing through a crisis – three things I've learned in my first six months at UnLtd
Mathu Jeyaloganathan joined UnLtd six months ago – little expecting managing through a pandemic to be on her to-do list. The investment manager on what we can learn from humanitarian aid, why speaking up for minorities is as vital as ever, and why it's okay that the job right now is 'a bloody emotional experience'.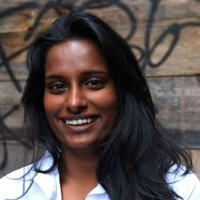 If someone had told me that six months into my new role at UnLtd I'd have to steer our social investment portfolio and investment team through a global pandemic I would have laughed. But six months on, here we are, and here's what I've learned.
1. We need allyship and leaders with diverse backgrounds and experiences – now more than ever
In the best of times (pre-Covid-19), conversations around diversity and inclusion in the social investment sector were just taking off.
UnLtd's investment team had just been invited to participate in meetings with the Equality Impact Investing Taskforce and the Young Foundation had just launched a report, "Nothing About us Without Us", on user voice and experience in the social investment sector.
The momentum that was building around this movement has been halted due to Covid-19.
But now, more than ever, we need leaders with diverse backgrounds. BAME populations and people with disabilities are overrepresented in poverty statistics in the UK and undoubtedly the economic repercussions of Covid-19 will be disproportionately felt too.
Human rights bodies have raised concerns over the rights of people with disabilities stemming from the UK Coronavirus Act, while BAME populations are facing disproportionally higher Covid-19 fatalities in both the UK and the US.
In emergencies, it's easy to put the experiences of minority populations at the end of our list of considerations. Embedding leaders with lived experiences in our organisations ensures that the most vulnerable perspectives are in conversations about relief, recovery and renewal.
The social sector lacks proportional representation – I often find myself the only person of colour in leadership rooms. So, what can we do in the meantime?
I often find myself the only person of colour in leadership rooms
We need allyship. We need that white male CEO to be advocating for BAME populations. We need able-bodied leaders to advocate for the rights of people with disabilities. We need this prioritised at the beginning of every meeting on Covid-19, not the end.

2. Emotions matter
In one of my first graduate jobs, I got told what I'm sure a lot of women hear: "Stop being so emotional about your job". There was a clear belief that you should be able to control and be unaffected by your feelings.
I took that advice to heart and – albeit with difficulty – trained myself to shut off and not display any emotions (especially negative ones) in my career.
And yet, here we are, working from home through a pandemic, where the biggest influence in our daily lives is our emotions: anger, anxiety, stress, sadness, and everything in between.
And yes, this job is a bloody emotional experience
Leading my team and supporting our entrepreneurs through this crisis has been an emotional experience – for them, but also for me. Talking about and acknowledging these feelings in group and one-to-one spaces has fostered an honest understanding of what we can realistically offer and support our entrepreneurs through.
Among those emotions sits a deep connection and commitment to our work. The pride and joy we feel as we support our social entrepreneurs – with some even excelling in response to this crisis – is what drives our work, and what drives me. And yes, this job is a bloody emotional experience.
3. Balancing speed and the need for governance in a crisis
While working in a global NGO focused on humanitarian response, I learned that speed matters. The ability to quickly distribute resources to the hardest-hit people and organisations is crucial to the recovery and rebuilding process.
So, what happens when this need for expediency hits the bureaucracy associated with a charity?
The momentum hits a need for governance – a wall of funders, donors and investors dealing with a flurry of enquiries from all their portfolios. Once the processes are established and the partner discussions finally settle, weeks or months have passed.
Emergency responses need care in decision-making, but also need expediency.
Large-scale global NGOs have been responding to emergency disasters for decades, developing local and contextualised disaster risk reduction strategies, which we can use.
The United Nations uses the Sendai framework for disaster risk reduction, which looks at four key aspects before a disaster hits:
Understanding disaster risk: What kind of disaster scenarios could the social sector be facing? How would they affect our organisations, our beneficiaries?
Strengthening disaster risk governance to manage disaster risk: What governance/decision-making processes should we agree to and prepare?
Investing in disaster reduction for resilience: What do we consider resilience? How do we enhance ourselves and our enterprises for resilience in times of crisis?
Enhancing disaster preparedness for effective response: What do we need to have reserves of? What systems must be adaptable to crisis?
Healthcare experts have warned that a global pandemic can occur every couple of decades. The social sector cannot afford to be ill-prepared again.
We must prepare emergency governance councils and pathways for decision-making, plan initial responses, and dedicate time to implementing the lessons we're learning now.
Time to learn
So what now? Well, I'm not really sure. We're in the middle of an ever-changing global pandemic. The actions we take right now may not be relevant in a month, or even a week. But I'm committed to learning from this.
If you're interested in sharing your learning so far in the Covid-19 crisis as a social entrepreneur, investor or other, please email me (mathujeyaloganathan@unltd.org.uk). I'm open to all conversations as I compile a list of learnings to share so that we can all move forward, together.
Header photo: UnLtd team members during an online meeting.
At Pioneers Post we're working hard to provide the most up-to-date news and resources to help social businesses and impact investors share their experiences and get through the Covid-19 crisis. But we need your support to continue. As a social enterprise ourselves, Pioneers Post relies on paid subscriptions and partnerships to sustain our purpose-led journalism – so if you think it's worth having an independent, mission-driven, specialist media platform for the impact movement, please click here to subscribe.