Pandemic pivoting: how Malaysia's social enterprises are responding to the Covid-19 crisis
In Malaysia, one social enterprise has pivoted its production from fashion to face shields, and a catering enterprise views the downtime as an opportunity to launch a brand new communications venture. We explore how two social entrepreneurs are providing what their communities really need under lockdown.
While governments around the world struggle to get enough personal protective equipment (PPE) for their workers on the frontline of the covid-19 pandemic, a social enterprise in Malaysia is demonstrating that the solution could be right on our own doorsteps.
Just days after the Malaysian government imposed a nationwide lockdown to prevent the spread of coronavirus, the leaders at Kuala Lumpur-based Biji-biji Initiative mobilised their network of makers to design, test and produce the face shields that their friends in the medical profession told them were desperately needed.

The lockdown – called the Movement Control Order – began on 18 March, and by 14 April, the project had raised 140,000RM (£26,000) from the public and delivered more than 20,000 face shields to 75 different organisations, including hospitals, clinics and community police.
This first phase of the Biji-biji Initiative's covid-19 response took a non-profit approach, relying heavily on volunteers and giving the face shields as donations to the frontliners. Now Biji-biji has stepped up a gear and is in a second phase, taking part in a movement called Social Textiles which aims to deliver 50,000 scrub sets – gowns, hoods and boot covers – to medical staff by mid-June.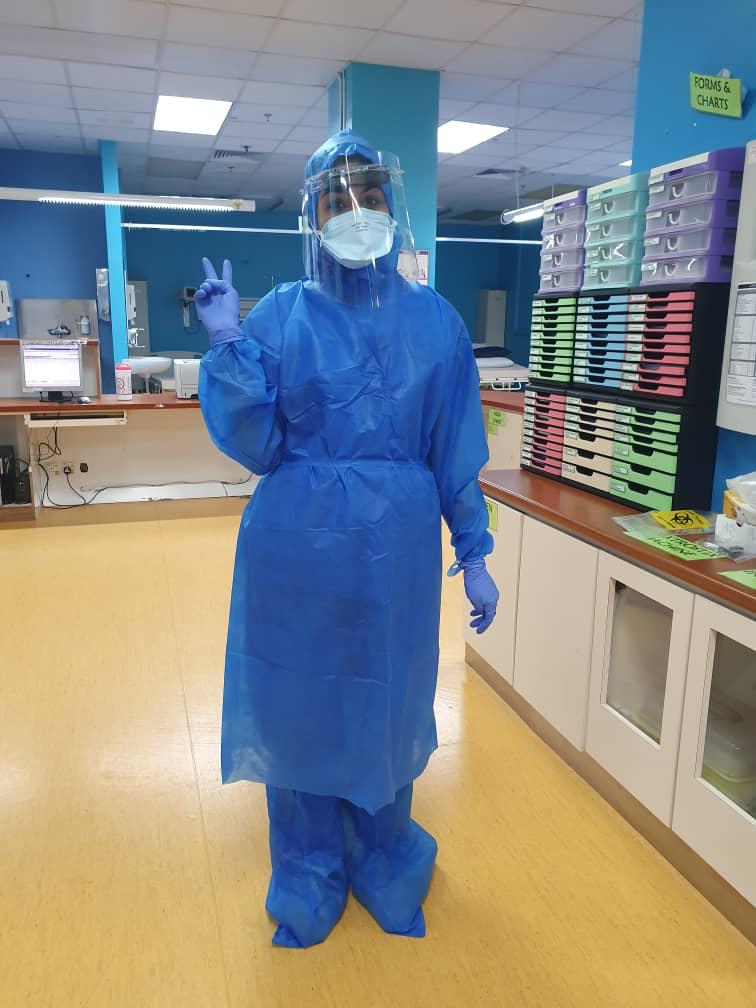 This time, the approach is pure social enterprise – tailors from marginalised communities (known as "B40" – the bottom 40% – in Malaysia) are paid for each scrub set they create. It's a win-win: the medical staff get the equipment they need and vulnerable people are kept in work during an economic crisis.
Biji-biji Initiative co-founder and CEO, Juliana Adam, says: "The communities we work with are suffering too. The best way forward is to have this sort of social enterprise initiative."
The MaGIC touch
Like so many other social enterprises, the Biji-biji Initiative saw its usual business activities plummet with the onset of the global pandemic. The enterprise champions sustainable living through getting people involved in upcycling, DIY and new learning. Much of its work is through sustainability consultancy for corporates and events.
According to a survey carried out in March, 40% of Malaysian social enterprises and other start-ups fear they may be forced to shut down if the country's pandemic restrictions last until the end of May. (At the time of writing, the Movement Control Order has been extended until 12 May.) The research was carried out by the Malaysian Global Innovation and Creativity Centre (MaGIC), a government agency which supports entrepreneurs.
Speaking to Pioneers Post last week, David Lim and Pamela Ng from the Social Enterprise Accreditation and Partnership department of MaGIC explain that in recent weeks they have been busy offering support to social entrepreneurs to help them survive the pandemic. Their focus is on exploring new markets, increasing online activity and directing the entrepreneurs towards relevant financial support. 
While Lim and Ng fear that some of Malaysia's more vulnerable social enterprises will eventually succumb and shut down, they are keen to highlight success stories such as Biji-biji which has quickly pivoted its team's skills and energy towards the country's most pressing needs. 
 "We've been encouraged to see that a lot of social enterprises are quite agile in changing their business model," says Lim. "At their core, social entrepreneurs are changemakers. They have their beneficiaries at heart and are motivating themselves to ensure their organisations' longevity."
Building on what you know
Although PPE for medics might seem worlds away from the Biji-biji Initiative's usual focus, the project builds upon skills and uses equipment already firmly embedded in the enterprise's network. Adam (pictured below right) says that once they knew that doctors were desperate for face shields, it made sense for the Biji-biji Initiative to help. At its core, Biji-biji is part of the global culture of "makers", people who bring together skills in tech, crafts and hacking with a DIY, open-source ethos to create new products.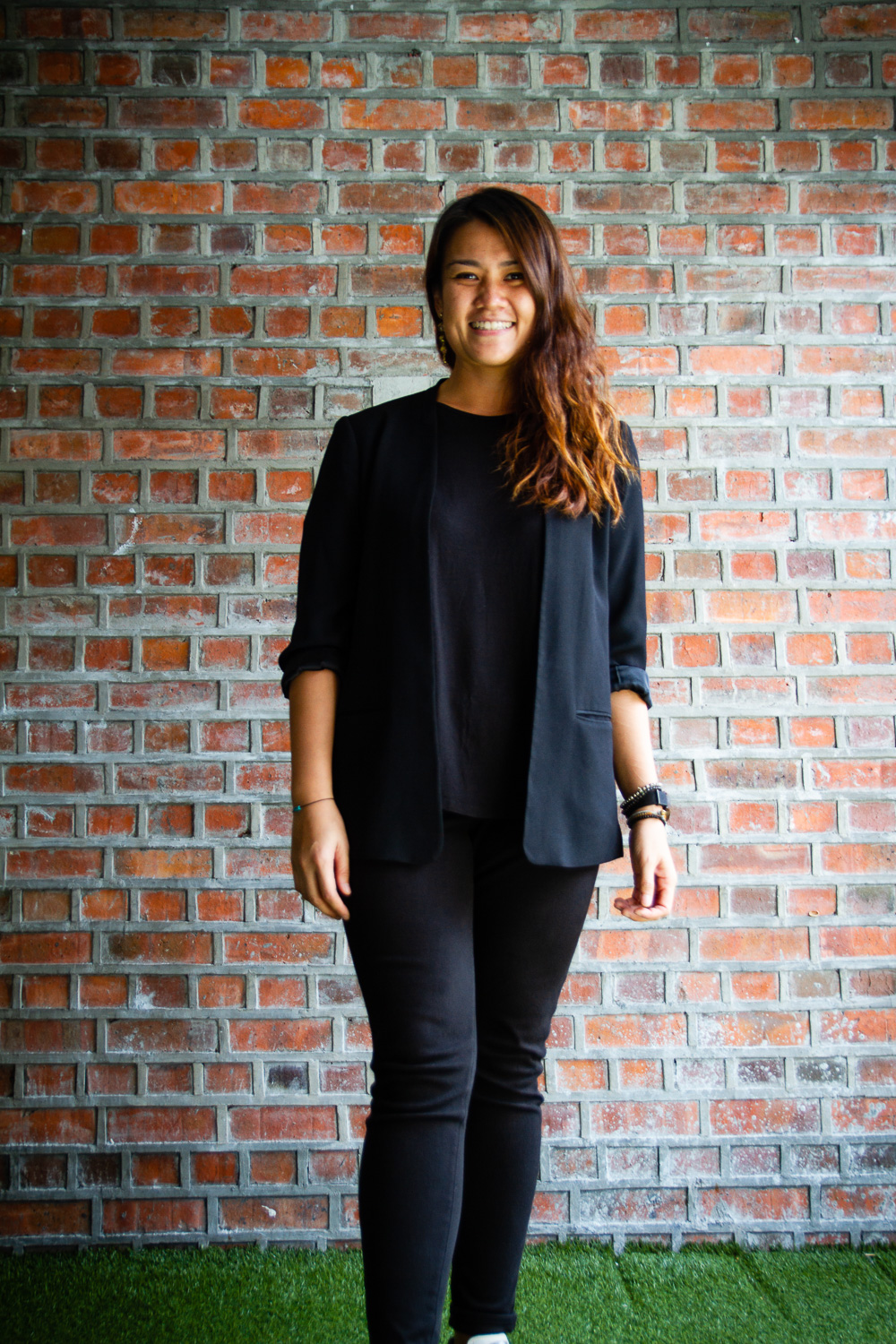 "Since we have a full list of makers and machines, we thought why not try making a prototype," says Adam.
The team first used a 3D printer to make the parts for the face shields, but they discovered that laser engraving was much more efficient. Sample designs were tested with medics and the best designs shared via open source platforms, so anyone with the skills and equipment could join the effort. Through social media, they called for materials and received what Adam calls an "overwhelming response" of donations of acrylic and plastic sheets. 
The Social Textiles movement, creating the PPE scrubs sets, brings together Biji-biji with several other social enterprises, creating work for tailors from all over Malaysia. It's very much a decentralised approach, but it is tied together through a digital platform where the scrubs designs – created by artisan weaving social enterprise Tanoti – are shared and orders from hospitals and other organisations are co-ordinated.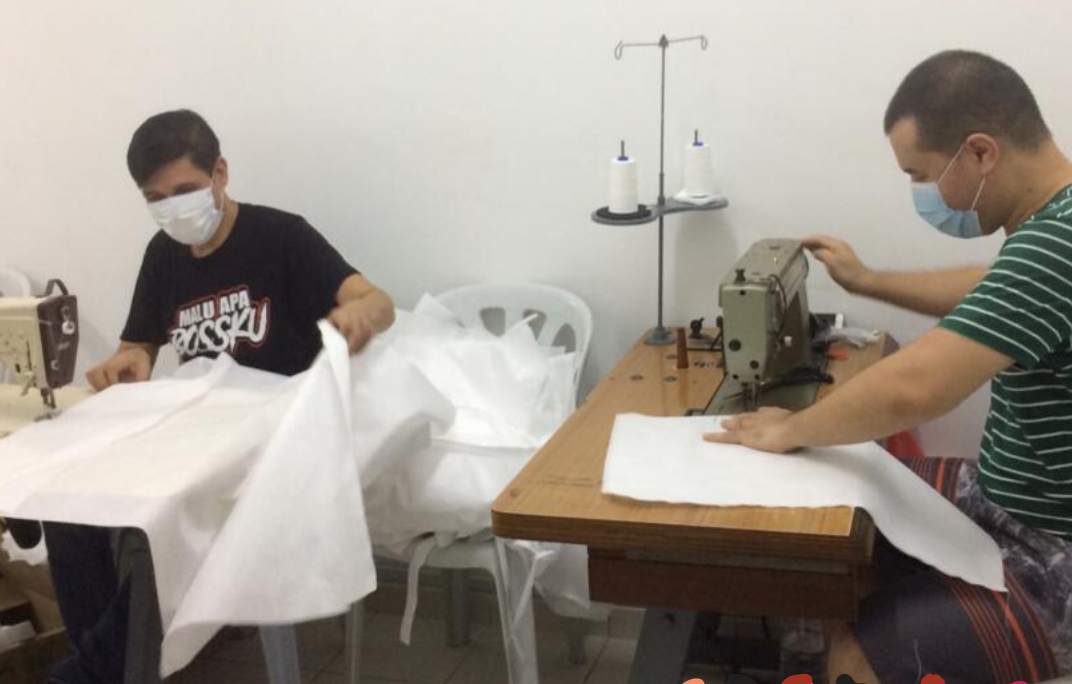 Tailors employed by social enterprises in the Social Textiles movement make scrubs sets
The team's commitment to efficiency and transparency is made clear in its publicly-available report of the first phase which meticulously breaks down the donations received, equipment bought and the unit cost for each face shield model. The report emphasises "our cost of production reduces with each day…as we are able to source for more cost-effective suppliers and more efficient designs". 
The PPE project has brought some of Biji-biji's future plans into action earlier than the team initially expected. Adam says: "Our PPE efforts are very much related to what we had planned for the future." For example, the digital platform which is connecting makers with the frontline organisations that need the products was a project planned for early next year for Mereka, the education arm of Biji-biji's business.
Making the most of the downtime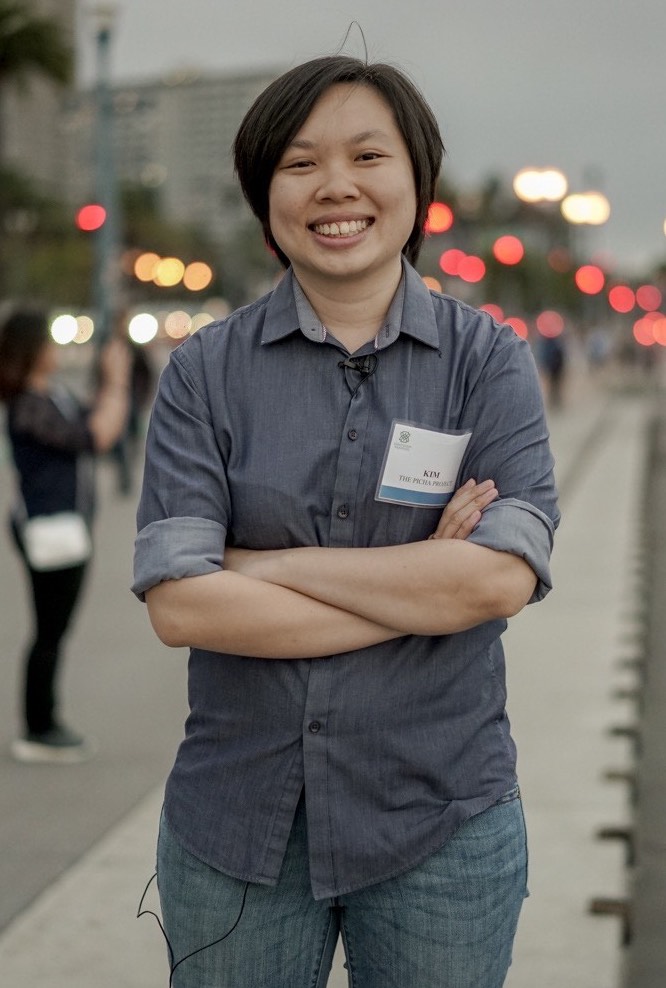 Elsewhere in Kuala Lumpur, social enterprise PichaEats has shown similar agility. This catering business has a team of 12 refugee chefs who cook for events and parties. 
"Our catering orders went to zero with the pandemic," says co-founder Kim Lim (right). Plans for a new PichaWedding enterprise have been put on hold, but with one year's reserves in the bank, Lim and her team didn't panic.
The organisation has switched its target catering customers from businesses to private households. By reducing the size of its usual food order, PichaEats is now supplying homes with takeaway food. "Transactions have increased, but their value has decreased," says Lim. 
PichaEats has also brought forward its annual fundraising campaign. This began in 2017 after one of their Syrian chefs, Zaza, died from cancer. In his memory, supporters can donate to the "Zaza Movement" to fund meals for people in need. This year, the Zaza Movement is calling for donations to provide meals for frontline health workers as well as people who have lost their jobs due to the pandemic. On top of providing nutritious food, the donations keep PichaEats chefs in work. Since the beginning of the Movement Control Order, the team has delivered 20,000 meals.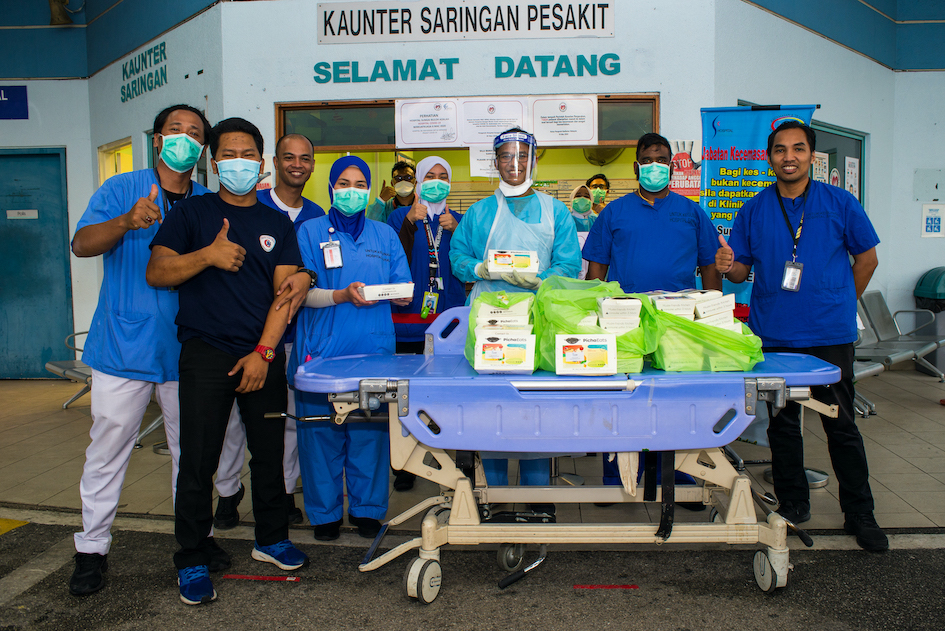 PichaEats has delivered 20,000 meals to frontline workers during the coronavirus lockdown
A quieter time for the business is an opportunity, according to Lim, and PichaEats is now incubating a new content creation enterprise, building upon the strengths in its in-house team.
"We've been thinking about this since last year," she says, "but everything was too busy. Now some of our resources are freer, we thought, it's now or never." And so Zucchini and Co is now up and running, helping businesses that need to refocus their brands during the pandemic with content, social media, films and photography. In the longer term, Lim envisages an academy to train underprivileged young people in these skills.
It's time to diversify
As for the post-pandemic future, the social entrepreneurs as well as the advisors from MaGIC agree that things will be different. In the past few years, social enterprises in Malaysia have enjoyed support and recognition from the government, but a new government gained power just before the coronavirus crisis and, as yet, the country's social entrepreneurs aren't sure what support they will get.
Additionally, they all predict a downturn in spending from corporates in Malaysia. "It's time to diversify, because relying on corporate orders over the next six to 12 months is risky," says Pamela Ng. 
"All the social enterprises are scrambling to rethink their business models," says Adam. "We are trying to figure out how to make ourselves relevant in the new normal, the new economy."
In the immediate future, the Social Textiles movement has a promising role to play in the global response to Covid-19. It is now linked up with the World Fair Trade Organisation to promote its ethically made PPE. This could mean that soon Malaysian social enterprises will be co-ordinating fair-trade enterprises both inside and outside Malaysia to feed into several countries' PPE supplies – a potentially huge success story for a community approach to a global problem.
As Lim from PichaEats points out, social entrepreneurs are great in a crisis. "Being a social entrepreneur, you have to be really creative and take advantage of opportunities," says Lim. "Being in a situation like this, it's very natural to find different alternatives and opportunities out of the situation. It's just in us." 
Header photo: A Biji-biji Initiative volunteer takes part in the production of face shields for frontline workers during the Covid-19 pandemic. Photo courtesy Biji-biji Initiative