Top 100 social enterprises in UK revealed: NatWest SE100 2020
Looking for this year's SE100 list? Find it here: Top 100 UK social enterprises revealed – NatWest SE100 2021
The UK's most impressive start-up social enterprises have been growing at a staggering rate of 355% over the past year – but this was before the onset of the coronavirus crisis.
The figure is revealed as part of a series of announcements around this year's NatWest SE100 Index, the annual list of the UK's leading 100 social enterprises, compiled by Pioneers Post in partnership with NatWest Social & Community Capital.
The top 100 list is released today, after a rigorous process to assess the best performers of the year from almost 300 applicants.
For the first time, alongside the top 100, a list of the top 25 'trailblazing newcomers' has also been produced – defined as start-up enterprises with fewer than three full years of trading.
Next week, the best of the best will be announced in this year's annual NatWest SE100 Awards.
Applicants to the NatWest SE100 were asked to complete a comprehensive survey exploring key aspects of their business performance: from turnover, growth, profit and how effectively they manage their impact, to leadership, resilience and storytelling.
As well as their impressive revenue growth, the 25 newcomers also posted an average year-on-year growth in profits of 243%, with an average profit figure of £7,300.
For the more established social businesses in the top 100, average revenue growth was less stratospheric but still impressive, at 39%, while the average profit figure was £151,000.
Across the board, both new and more mature social enterprises are giving greater attention to measuring and demonstrating their impact. The average impact score across the 100 was 8.2 out of 12 – up from 7.5 last year – while the 25 newcomers posted an average of 8.1.

Ben Carpenter, CEO of Social Value UK, which advises on the impact aspects of the SE100, commented: "It's heartening to see that impact management is becoming a growing focus for the UK's leading social enterprises, as revealed in the SE100 Index. I am also particularly encouraged that the UK's best start-up social businesses – with so many things to focus on to get up and running – are recognising that impact systems and processes must be a key priority early on, and not just a 'nice to have' that they should think about only once the business has matured."
More detailed figures will be revealed later this month, in the NatWest SE100 Health & Fitness report – which uses data and insight from two of last year's SE100 surveys to assess how social enterprises were performing and feeling about the future before the pandemic took hold.
Megan Peat, CEO of NatWest Social & Community Capital, said: "It's fantastic to be announcing the SE100 list and the first ever NatWest SE100 Top 25 Newcomers – and we're excited to share the good news about our NatWest SE100 Awards next week. Congratulations to all the social enterprises who have made it onto this year's lists. In such incredibly tough times, when we know many of you will be facing some significant challenges, it's important to recognise the incredible dedication and effort that the UK's social enterprises have shown in building business solutions to deliver a positive future for some of our most vulnerable and disadvantaged communities."
Eddie Finch, partner in the charity and not-for-profit team at Buzzacott accountants, whose team did much of the due diligence for the SE100 judging, said: "While the incredible events of 2020 to date continue to take shape I have been warmed by the response of social businesses – including many of our past SE100 Award winners – stepping in to meet new needs. While no doubt some businesses will be broken by the crisis, there are clear signs that the speed of adaptation and resilience of the sector are making massive contributions to lessening its worst effects on individuals and communities – I look forward to recognising those astonishing achievements next year."
You can find the top 100 and top 25 newcomer lists below, to view and also to download. Please note the enterprises are not ranked but listed in alphabetical order.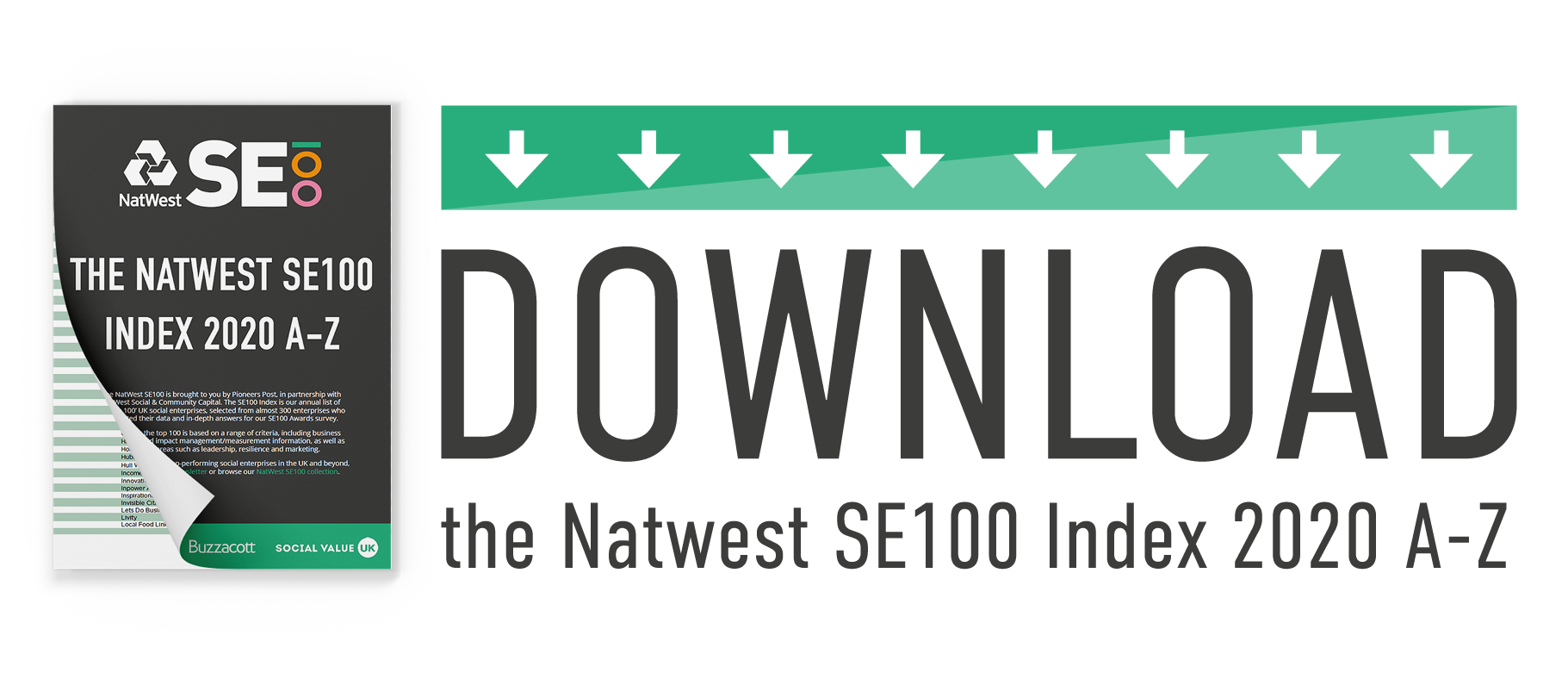 Bristol & Bath Regional Capital CIC
Britain's Bravest Manufacturing Company
Business & Enterprise Finance Ltd
Care4all (North East lincolnshire) Ltd
Connector Media CIC (The Sewing Rooms)
FABRIC The Care Leavers Community
Livv Investment (former First Ark Social Investment)
London Early Years Foundation (LEYF)
Musica Music and Wellbeing CIC
Pathways Community Interest Company
Peninsula Dental Social Enterprise CIC (PDSE)
Resilient Energy Forest of Dean Limited (REFD)
Restorative Justice for All International Institute (RJ4All)
Rosehill Arts Trust Ltd / Rosehill Theatre Enterprises Ltd
Safe Kids Walking Ltd t/a Brightkidz
Shakespeare Schools Foundation
Skills Builder Partnership (Enabling Enterprise)
Social and Sustainable Capital (SASC)
Socal Enterprise Academy (SEA)
Space Man Ltd t/a The Lexi Cinema
The Circle Scotland CIC (Dundee)
Third Sector Consortia Management LLP (3SC)

Chelmund's Community Enterprises
Kith & Kin Financial Wellbeing CIC
The Community Impact Initiative C.I.C
You can download the full NatWest SE100 Index Top 100 & Top 25 lists here: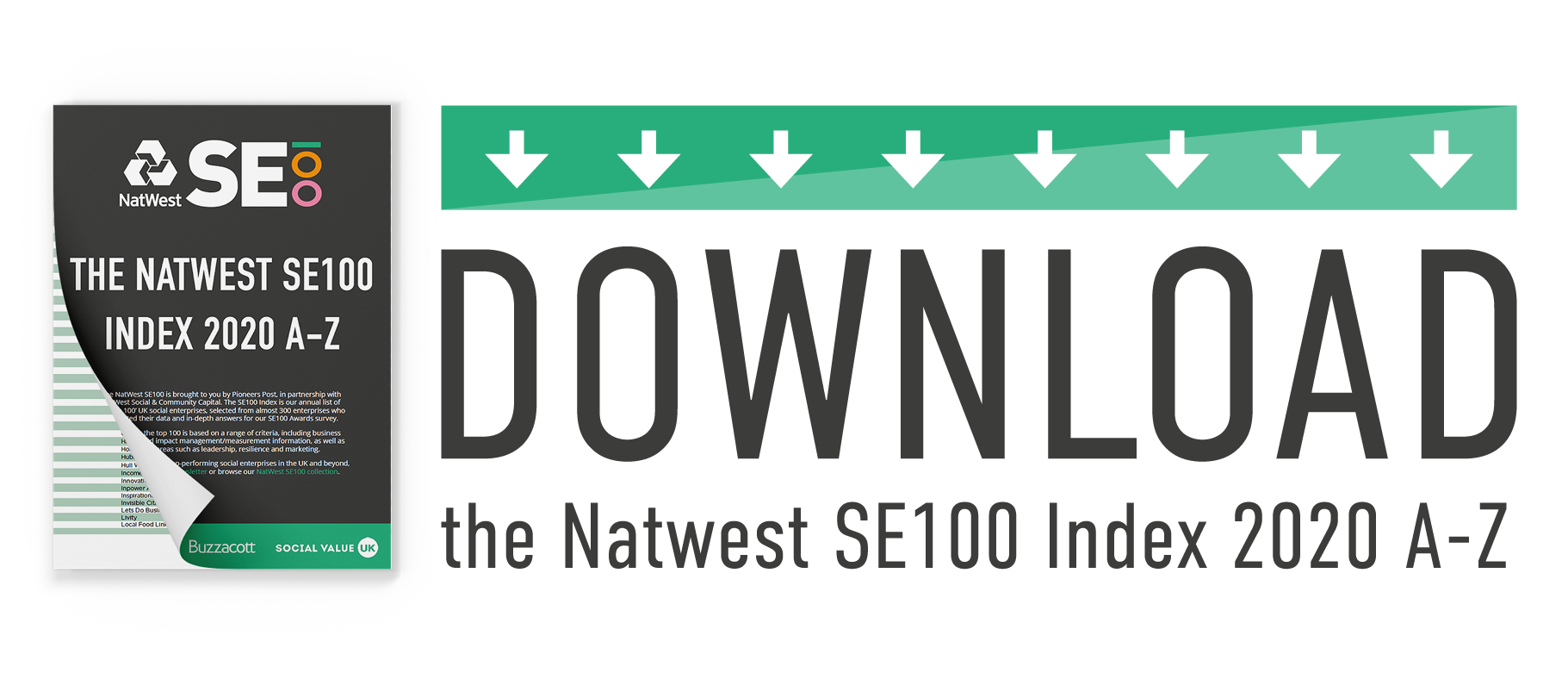 PS At Pioneers Post we're working hard to provide you and other social businesses with the most up-to-date news and vital resources (always – but now in particular to help you through the Covid-19 crisis). But we need your support to continue. As a social enterprise ourselves, Pioneers Post relies on paid subscriptions to sustain our purpose-led journalism. So if you think it's worth having an independent, mission-driven, specialist media platform for the impact movement, please consider subscribing.