Nine ways to react to a global pandemic if you run a small social enterprise
Are the smallest social enterprises most vulnerable during the coronavirus crisis? We contacted social entrepreneurs all over the world to explore how they are coping with the pressure to serve their communities and stay afloat amidst the economic and social turbulence created by Covid-19.
At Pioneers Post we know that the smallest social enterprises around the world are often brilliant – they're run by people who are passionate about their cause, they are well connected to the communities that they serve, they are nimble and agile, and their impact can be impressive.
But survival for these enterprises, which are usually run by the founder and a handful of staff, is often hand-to-mouth and many have limited reserves. So when the coronavirus pandemic hit, we were worried about would happen to them. As community cafes were forced to shut their doors, would they ever reopen? If tourists couldn't travel, how would social enterprise tour operators survive? And if people couldn't meet, how would business get done?
Although individually small in scale, small social enterprises' collective impact is invaluable – Paula Woodman, British Council
Research carried out by the British Council in recent years has mapped social enterprise activity all over the world. While the findings point to a vibrant global movement creating significant social change, many of the enterprises that the researchers have identified are small and young. In Kenya, for example, the average social enterprise has four employees. Just over 60% of Jamaica's social enterprises have a turnover of less than $500,000 Jamaican dollars which is about £3,000. In Greece, more than two-thirds of social enterprises were established since 2012.
Surely it's likely, we thought, that this would make them more vulnerable to the economic bombshells that are being dropped by the pandemic.
2020 has been one giant kick in the nuts – Tony Carne, social entrepreneur, Australia
In the UK, the social enterprise movement warned the government in April that half of the country's social enterprises could run out of cash by June. A survey by the Malaysian Global Innovation and Creativity Centre (MaGIC) found that 40% of social enterprises and other start-ups feared they would be forced to shut down if the country's pandemic restrictions lasted until the end of May. As yet, however, there has been little research into how things are going for the smallest social enterprises on a global level.

So we got in touch with social entrepreneurs all over the world to find out how they were faring. What we feared was hearing stories of failure. But what we discovered was something entirely different.
How we conducted our research
We focused our efforts on discovering how the smallest social enterprises – those with five employees or fewer, including the founder – were coping during the coronavirus pandemic. We invited responses to a short questionnaire by sharing it on the Pioneers Post social media channels. Additionally, Good Market shared the questionnaire with their community.
We got into touch directly with small social enterprises that we knew, and we talked to experts in the social enterprise ecosystem around the world.  
Social entrepreneurs running grassroots operations are possibly the hardest to reach in the social enterprise community, and many don't even identify as social entrepreneurs. This article, therefore, does not offer a representative sample of small social enterprises, rather a snapshot into what's taking place around the world.
As many responses as there are social enterprises
Right now, the coronavirus pandemic is manifesting itself in different ways around the world. While some countries are de-escalating the crisis measures that they had put in place to control infections, parts of Africa appear to be at the beginning of their journey and may face more restrictions on travel and business in the coming weeks.
The responses to our enquiries demonstrate that social entrepreneurs' reactions to the crisis are as diverse as social entrepreneurs themselves, as well as the people that they're trying to help. 
Response 1: Keep calm and carry on
A few social enterprises told us they are still operating in much the same way as before the crisis began.
• In Vietnam, the government acted early with aggressive measures to control the pandemic and so the country has escaped relatively lightly, with no deaths to date. Everyday life resumed almost normally from mid-April. Social enterprise Enablecode, based in Ho Chi Minh City, tells Pioneers Post that it is continuing to operate as normal. 
The enterprise employs computing experts with disabilities who then provide services to other businesses. Director Paul Bappoo says a work from home policy has always been "part of the fabric of the business", so that mobility impaired people don't have to commute. "We are lucky in that Vietnam has managed [the crisis] very well," he adds.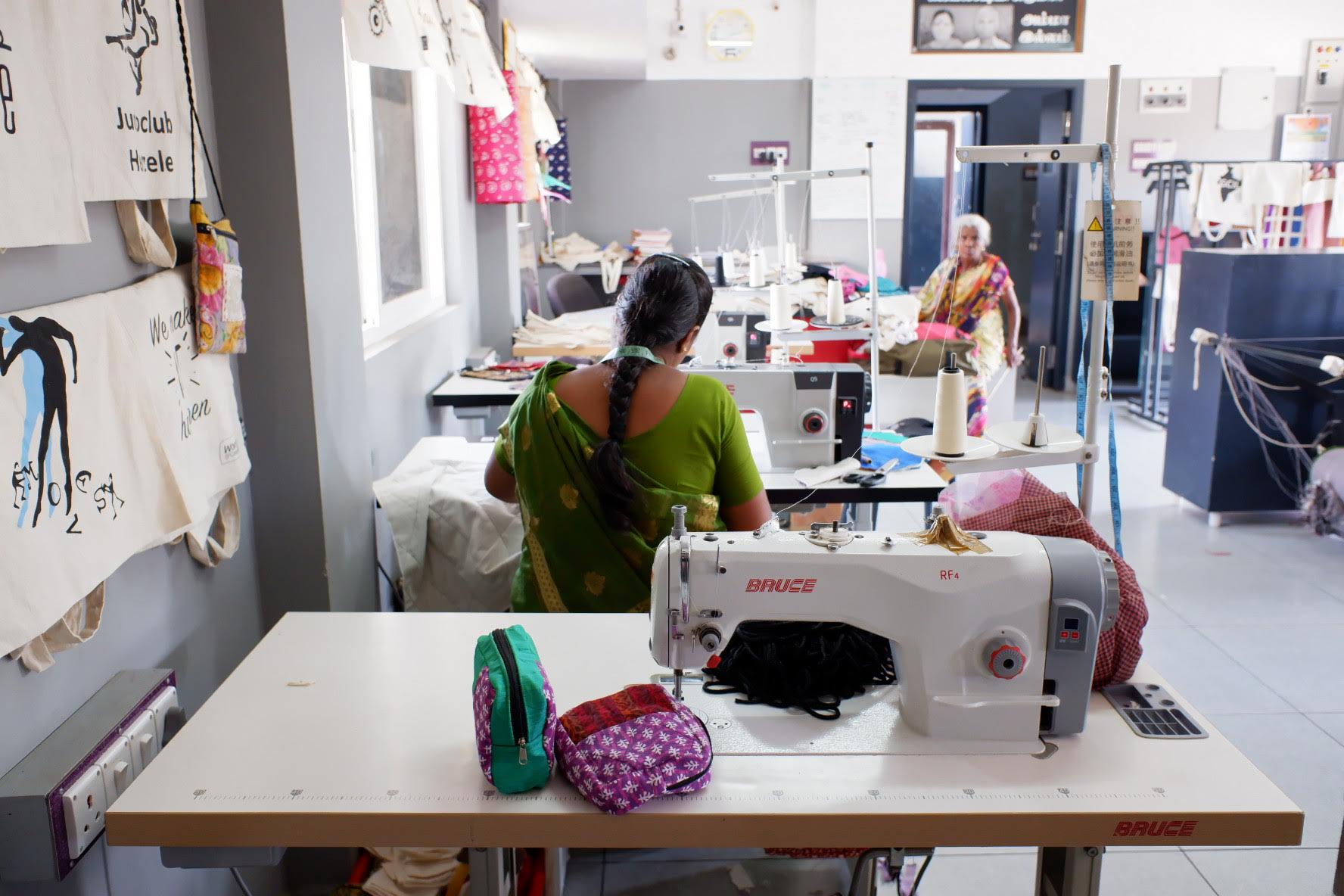 The artisans in India who make upcycled accessories from saris for Shaktiism have been able to get back to work in recent weeks after lockdowns were lifted (photograph taken before the pandemic)
• One UK social entrepreneur decided to launch her new enterprise a little ahead of schedule. Shaktiism sells bags, scarves and other accessories made from upcycled saris by women in India. Founder Jitna Bhagani says she brought her launch date forward "as I wanted to ensure I was able to keep paying wages for my artisans during India's long lockdown". Sales, which began on 1 April, have been going "surprisingly well", she reports, and after a few weeks during which shipments were delayed and work stalled, things are getting back to normal for the women in India who have now returned (safely) to work. 
Response 2: Take it online
Lockdowns across the world mean that face-to-face contact between people has been severely curtailed, and this has had an enormous impact on many social enterprises as offices, shops and schools have been shut. 
But social entrepreneurs haven't simply locked the doors and walked away. For many, small means being agile. 
• Isle of ARTisans in Sri Lanka usually sells products created by rural craftspeople through a shop in Colombo and regular markets. The country has endured a two-month lockdown, followed by curfews and social distancing rules. Founder Lasanthi de Alwis says that the enterprise's physical store has shut and regular market events have stopped and that these are "impractical to maintain in the foreseeable future". The enterprise has moved totally online.
While de Alwis says she is grateful for the continuing support of customers, she admits that it is a "huge setback". The enterprise will need to invest funding and effort to ensure that it is ready to re-open when the time comes, she says.
• In the UK, which is gradually relaxing a lockdown that began in late March, Flourish Together, a social innovation, enterprise and leadership consultancy for women, says that "in the main, all our work is deliverable". The model of delivery has switched though, with much more being carried out online – through Twitter chats, Zoom meetings and podcasts.
• HumAnima, also in the UK, offers counselling, animal assisted therapy and training. The enterprise is still operating, says founder and only member of staff Kathryn Kimbley, but counselling is now being offered online or over the telephone, and training online. Kimbley says that she had hoped to provide free counselling to NHS workers, but, as she has been ill with suspected Covid-19 herself, she has been unable to do this yet.
Response 3: Do the pandemic pivot
Some social enterprises have discovered that they need to take their work in new directions to meet the needs of their beneficiaries, so they've pivoted to continue to meet their mission.
• There is a set of standards for social enterprises available internationally which, when they meet them, can be awarded the Social Enterprise Mark. The organisation that runs this quality standard is a small social enterprise itself, and marketing and communications officer Sophie Short says that they too have adapted what they are doing at the moment. 
Recognising that the social enterprises that they support might be struggling right now, they have temporarily relaxed the assessment requirements for the accreditation renewals and they are being flexible about payments for the annual licence. What's more, the organisation's role as a voice for the sector has increased in importance. The team is now working in partnership with a coalition of national bodies from across the social sector to lobby government for more support for social enterprises. 
We believe the work we're doing is important, pandemic or no pandemic – Lorina and Pursarth, social entrepreneurs, Nepal
• Nepal is currently still under a lockdown which began on 24 March. Social enterprise Aji's has a mission to empower elderly people to live happy and healthy lives. Usually it sells products, such as blankets and jewellery which are handmade by elderly people. But "in an instant, we had to freeze our operations in Kathmandu and USA, so we decided to do a soft pivot" founders Lorina Sthapit and Pursarth Tuladhar tell Pioneers Post via email. At the moment, the team is showcasing the skills and knowledge of its community of elderly people through podcasts where grandchildren interview their grandparents. They have asked for support via Patreon and received some corporate sponsorship. "While these revenue sources don't match what we were generating in the past, it does help us in sustaining our work until things return to normal."
"We believe the work we're doing is important, pandemic or no pandemic," they say. "While we're not able to help the elderly community through product sales at the moment, we're determined to continue our objectives to strengthen bonds between younger and older generations, and to preserve the stories and legacy of the elderly."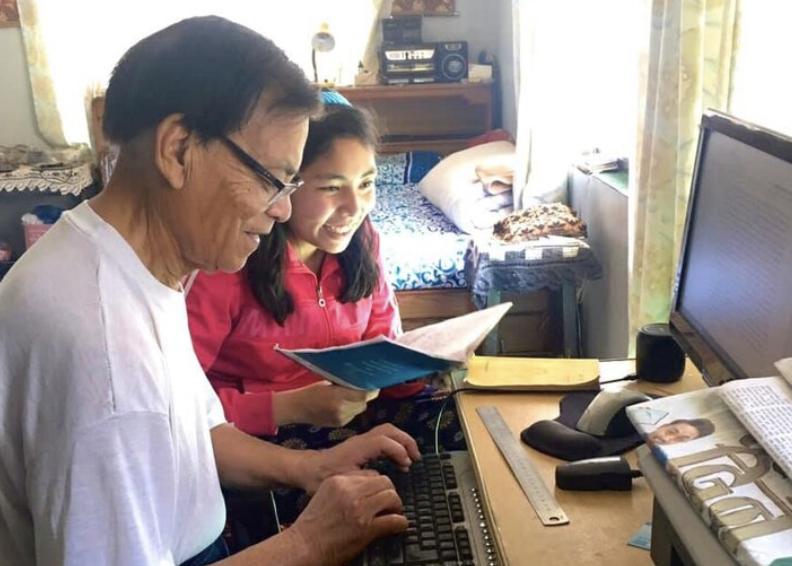 Nanda Sthapit translates Newari folk tales into English with his 14-year-old granddaughter during lockdown in Nepal
Response 4: Make face masks
For countless social enterprises around the world, creating face masks to help prevent the spread of the coronavirus has proved to be a useful way to provide a product that people really need as well as an opportunity to make money.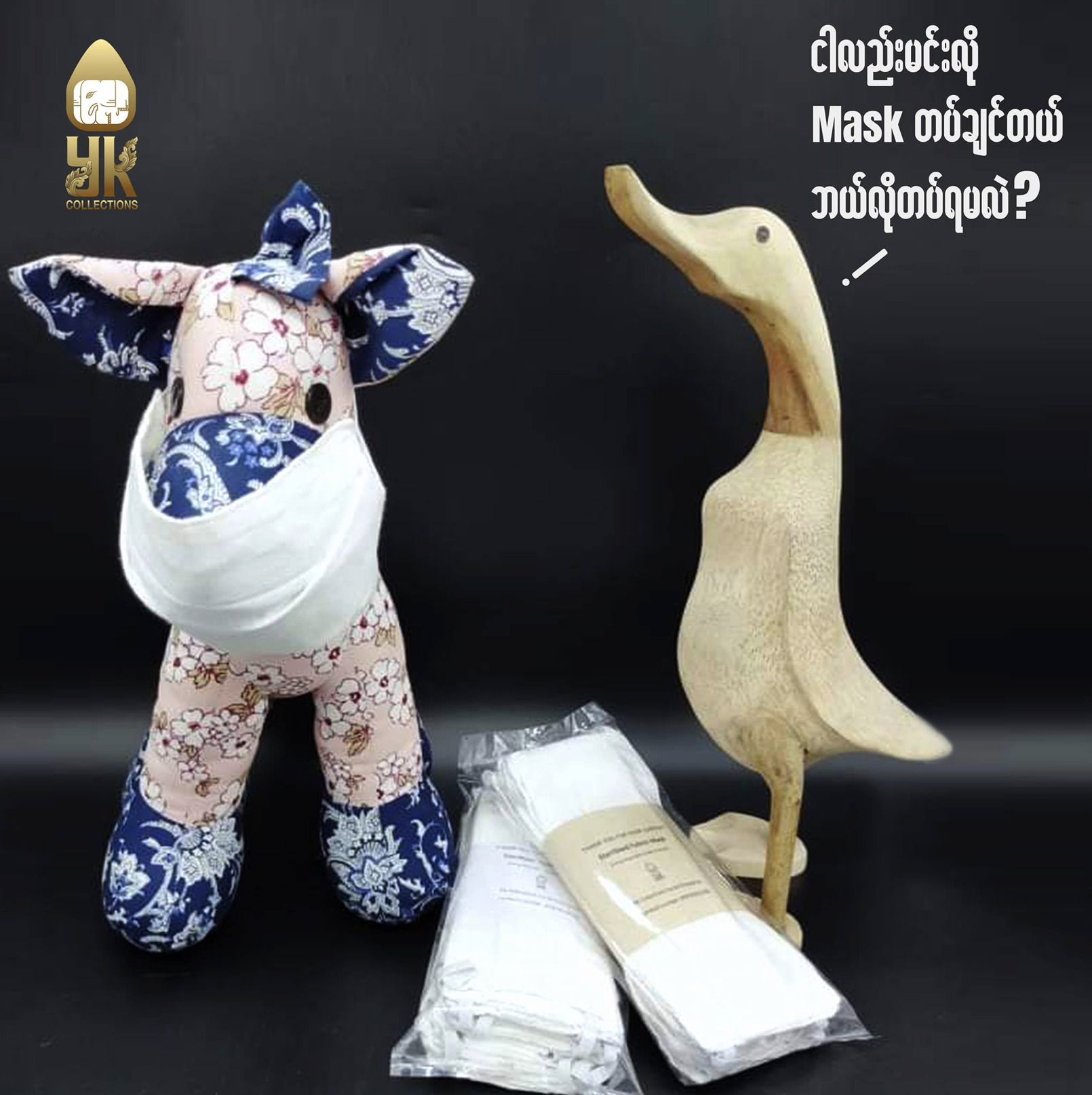 • In Myanmar, YK Collections, which sells locally made handicrafts, has had to shut its shop. The country is under partial lockdown with social distancing rules in place. While there are no tourists to sell its products to, some of its artisans are now producing cotton masks which are being sold to support the community (pictured right).
• Francia Boakye was about to launch The Sewing Café in Edinburgh when the coronavirus crisis hit. Her aim was to tackle loneliness by bringing people together in sewing groups. But she took her idea in a new direction and launched online group classes to teach people to sew their own face masks.
• Brazil now has the second most covid-19 infections worldwide after the USA. Artisans working with the Remexe studio of Lá da Favelinha, a cultural centre in the Belo Horizonte favela (Brazil's third largest favela), are working with local health authorities to produce affordable (and stylish) masks. These have been featured in the media across the world, including The Guardian and the New York Times.
Response 5: Hibernate
The internet isn't the answer to everything. For some social enterprises, restrictions on movements and meetings between people meant that everything has been forced on hold.  
• In the UK, Sortified, which supports other community businesses, had to close for a few weeks as projects were suspended. Most of the team were furloughed (a UK government initiative which pays 80% of the salary of people who can't work during the crisis) and during that time they volunteered their time to support other local social businesses. "We are all in this together," says creative director Richard Collins. With some funding from Lincolnshire Community Foundation the team were able to get back to work at the start of May.
• Sri Lanka's Sustainablee, which sells eco-friendly upcycled and sustainable items from local artisans, has had to close temporarily. Founder Dinushika Gunaratne says the lockdown meant that not only were all the retail stores and markets shut, but also "access to raw material, supplies, transport and meeting suppliers was not possible". 
During the lockdown, the enterprise has kept up its social media activity with a #gardentothetable campaign to encourage people to grow their own vegetables and herbs. Gunarante says this is to help the enterprise's followers adjust to the pandemic and lockdown. "It has been both mentally and physically challenging and we have been providing options to keep them engaged in healthy activities." In the near future, Gunarante says, they hope to re-open through new channels such as an e-platform. 
We are good, chilling at home – Fares and Aamer, social entrepreneurs, Sudan
• When Pioneers Post visited Sudan in March to deliver communications training to social entrepreneurs in partnership with the British Council, we called into the tiny office of Fanda Pack, a start-up run by Fares Suliman and Aamer Mahmad. At the time, the two young entrepreneurs were riding high on their first successes of their eco-friendly paper packaging enterprise which launched in October 2019. However, coronavirus meant that Khartoum went into lockdown in April and they were forced to shut their HQ and cease trading. 
"We are good, chilling at home," they told us by email. They have enough cash in reserve to pay the rent for May and June, but after that, they aren't sure what will happen as resources are tight. In the meantime, though, they're keeping customers interested via their social media: they just ran a competition in partnership with a local graphic design company to create a brand and offer free packaging for a winning startup. "We want to make a buzz so that people don't forget us," they say.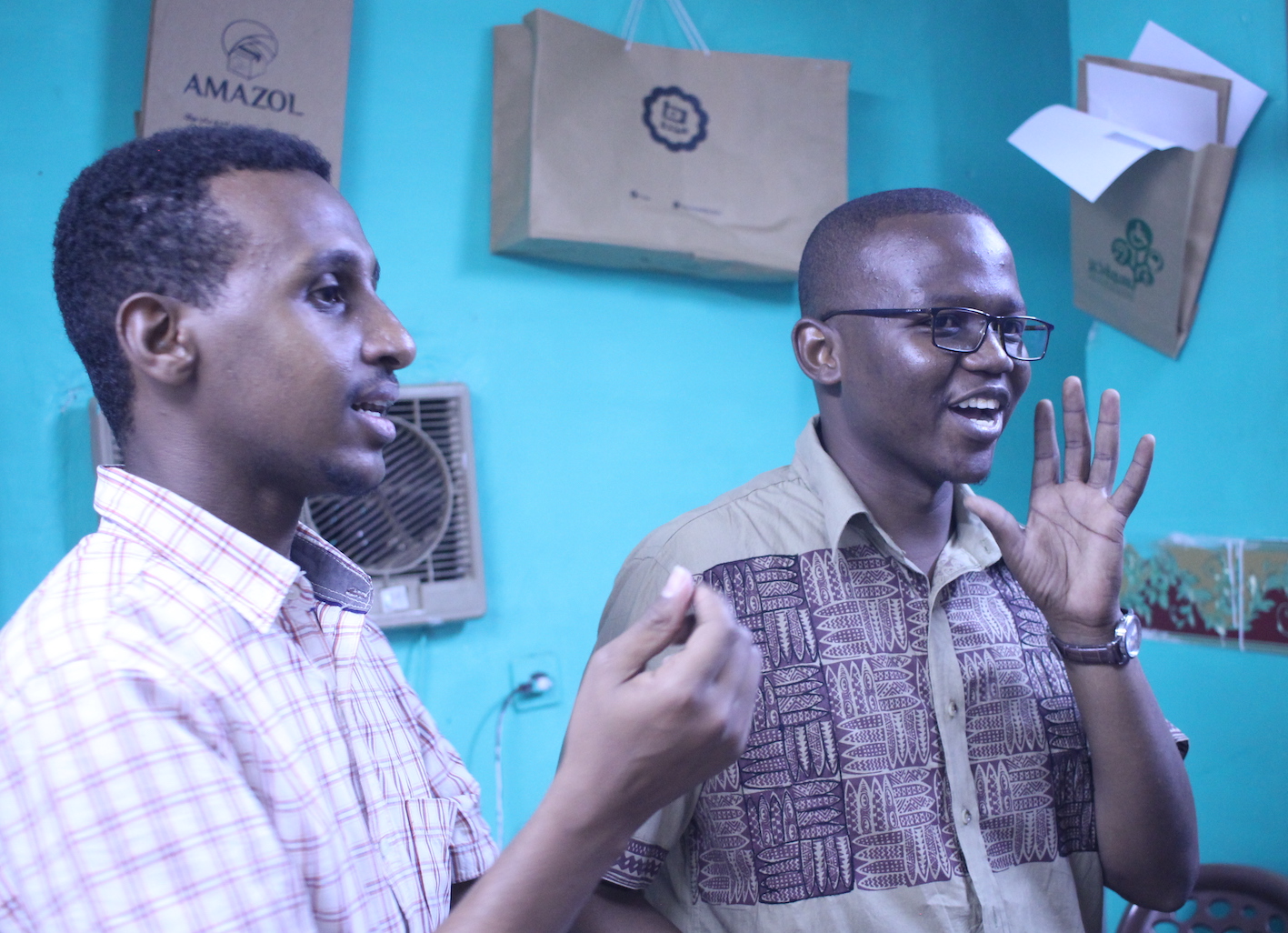 Fanda Pack founders Aamer Mahmad (left) and Fares Suliman fear for their enterprise's future under lockdown. Photo: Anna Patton  
• In Malaysia, Seven Tea One sells herb teas made by teenagers with autism spectrum disorders and single mothers from marginalised communities. The country's movement control order – a lockdown to prevent the spread of coronavirus – means that the enterprise has had to stop its production from mid March until at least 9 June. But founder Lai Chong Haur is adamant that the enterprise will continue to grow as soon as the team can get working again. 
Response 6: Call for help
One of the beauties of social enterprise is its flexibility. As many of our social entrepreneurs have realised during the pandemic, if income from trading falls away, other income streams can be explored. Although many social entrepreneurs have proudly moved away from grants and donations as their businesses have taken off, philanthropy can still provide a useful support when times are tough.
• Temsalet Kitchen in Addis Ababa, Ethiopia, provides employment for vulnerable women through its restaurant and catering business. When we visited in June last year, the business was buzzing. But, although the city's pandemic regulations mean that the restaurant has not had to shut down fully yet, tables are now spaced two metres apart and business is very slow, co-founder Feteh Asrat (pictured at left of picture, right) tells us. More than 60% of the catering staff have been told to stay at home rather than risking travelling and getting infected, and their wages are still being paid. The restaurant also now offers takeaway through the Deliver Addis platform.
Like so many other social entrepreneurs, Feteh and her colleagues were concerned about the impact of the pandemic on the community around them. "We noticed that many had lost their daily income and most homeless people that depended on leftovers from restaurants and hotels have been hit hardest by this crisis," Feteh says. "As a social enterprise we saw it as our responsibility to act." Using their own resources and stock, they began to feed around 100 local people every day. Now they have collaborated with a group of local artists and photographers and funds from sales of pictures from the Prints for Ethiopia collection are being used to back Temsalet's feeding initiative.
• In India, Panah Foundation, which usually supports migrant workers by offering them advice and support to get jobs, has switched its focus to the more pressing need of food. India has imposed the world's biggest lockdown, affecting 1.3bn people, and it is widely reported to be having a devastating effect on millions of the poorest people who now cannot work. Panah Foundation's founder Naresh Sijapati, a 2016 fellow of the School for Social Entrepreneurs in India, reports several suicides among the migrant community that his organisation works with since the start of the pandemic, and has set up an online fundraiser in an effort to alleviate their suffering.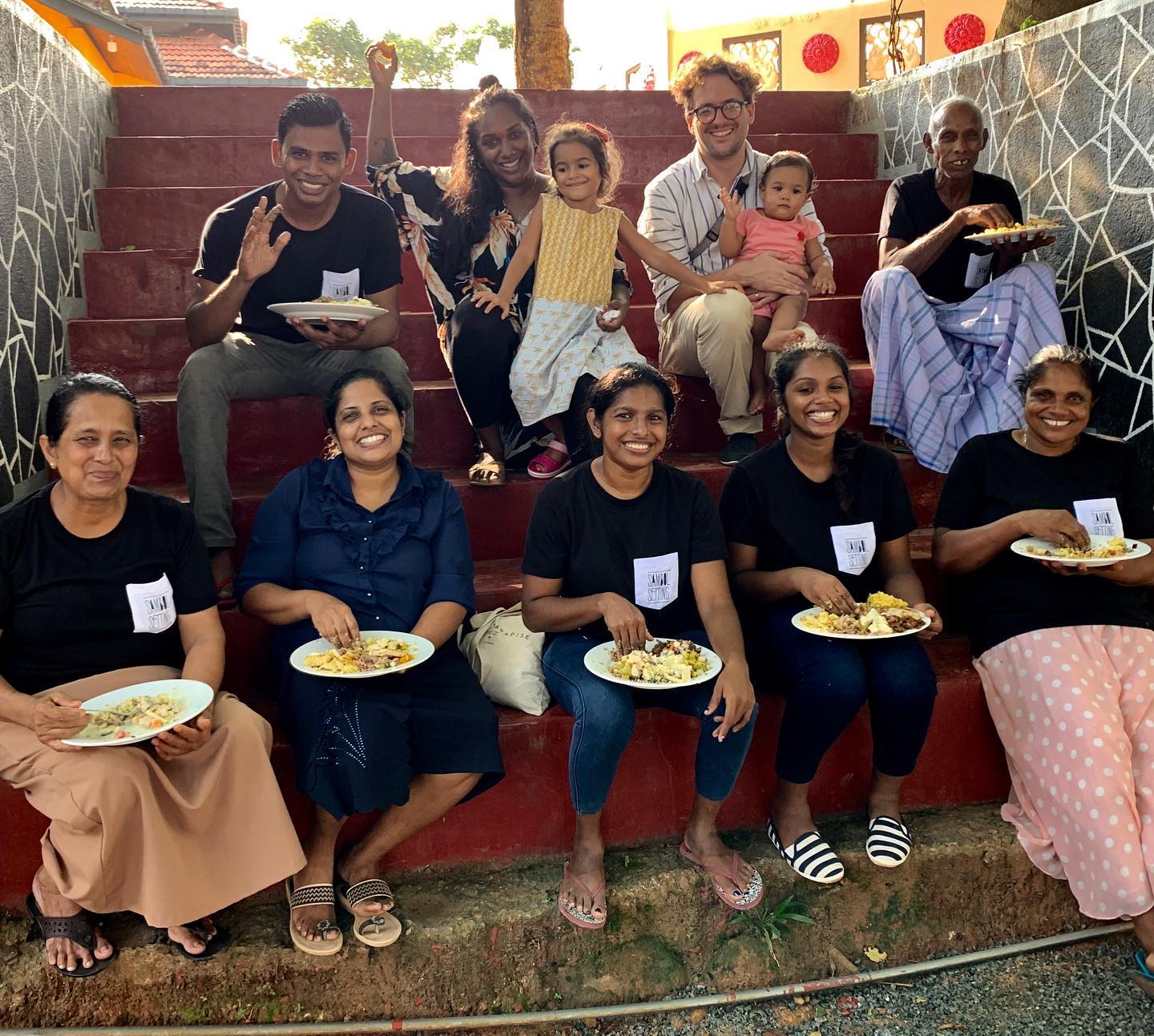 Sri Lanka's Sambol Setting has been providing food funded by philanthropy to local women during short lifts in the curfew
• Sambol Setting in Sri Lanka is a sustainable tourism enterprise which offers holiday homes at the same time as providing shelter and support for women and children affected by domestic violence. The enterprise was started by a Swiss family and it is linked with a charitable foundation which means that, even though the tourist bookings have had to stop for now, the support to families has been able to continue through philanthropy. This, says one of the local staff members, Inoka Gamage, is particularly vital right now as the curfew has worsened the risk of domestic violence.
Response 7: Explore new opportunities
Entrepreneurs are an energetic bunch, always looking for the next idea to pursue. We've heard from a few that are benefiting from some business downtime to develop new opportunities.
• Tourism enterprise, The Island Story, which runs tours of Sri Lanka linked with the stories of the history of Ceylon, has made use of the time without visitors to develop new partnerships and work on its online content. Sugala Senanayake is hugely optimistic about the enterprise's prospects once Sri Lanka opens for tourists again. "We think the future will be great for us and our stakeholders…when travel is possible again we will see a huge increase in tourists and also we will be able to attract the right type and number who prefer responsible tour operators," she says.
• Sudanese education software start-up Smart One is focusing on developing its educational platform. Founder Wijdan Isam tells Pioneers Post that the team has also been trying to develop an app to help people understand coronavirus.
• In the USA, Jennifer Moreau-Chick runs World for Good, which sells tote bags made from recycled fabric by underprivileged women. "My selling capacity has come to a halt since the crisis hit," she says. "That means that my funding to our non-profit global partners is non-existent. I feel like I am failing the makers and putting them in at-risk situations for trafficking, slavery and poverty again." 
But she's been in touch with the NGOs that she works with around the world and discovered that the women are continuing to work through making face masks. Unfortunately as the borders of the countries are sealed, Moreau-Chick can't ship them to the USA to sell. So at the moment, instead of selling bags, she is spending more time on her own social mission of addressing human rights. She is making new contacts and partnerships which, she hopes, will lead to change in other organisations' behaviour.
Response 8: Start something entirely new
For some people, the pandemic has galvanised them to do something new to help their communities.
• In the UK, the latest summary of new community interest company registrations – one type of legal form social enterprises – shows that at least six new CICs related to covid-19 launched during April 2020. These include Furloughed Foodies, which brings together volunteers who have been temporarily laid off from work or lost their jobs to cook and deliver meals to NHS workers.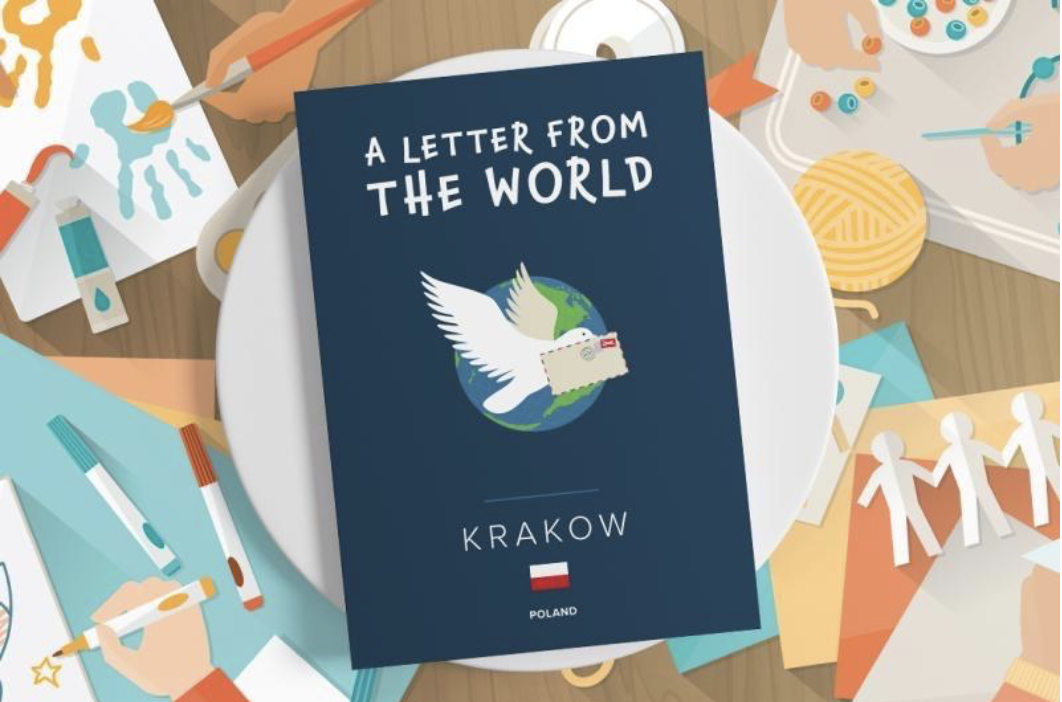 Australian Tony Carne brings together tour guides without work and children under lockdown in new launch A Letter from the World
• In Australia, where some of the lockdown restrictions are now being eased, Tony Carne and his nine-year-old daughter Jumanah have launched a social enterprise to provide entertaining educational materials for children confined to their homes under lockdown at the same time as supporting tour guides who have lost work during the crisis. A Letter from the World is a subscription service which sends letters in the post to children containing activities and information which have been compiled by tour guides in different countries. 
Carne, who runs tour operator Urban Adventures, says: "2020 has been one giant kick in the nuts…We were founded because of two specific problems we saw occurring in the pandemic. Intelligent communicators were without work or any near prospect of work. Parents were frantically trying to find non-device activities for their kids that didn't require masses of planning time from them, because they were trying to work from home. We brought these two together in a fair and affordable exchange of value that continues cultural exchange in a time without travel."
Response 9: Close down for good
As yet, we haven't heard of any social enterprises that have totally shut down. Several social enterprise leaders, however, told us that they fear shut-downs will be forced to happen over the coming months.
Where do we go from here?
Small social enterprises play a vital role. Paula Woodman, the British Council's global head of impact economy, says: "In every community around the world, we see small social enterprises that respond to local needs in an agile and sensitive way. Although individually small in scale, their collective impact is invaluable. Typically, they provide routes to improved livelihoods, as well as health and education services."
She adds: "Their role in our recovery from Covid-19 will be significant."
The beauty of running a small social enterprise means that you're less likely to have a lot of fixed overheads – such as rents and long-term staff contracts – in a tightening noose around your neck. This means that many can simply keep their heads down and wait for the worst to pass.
If we throw in the towel, who will take responsibility to help the communities we serve? – Jennifer Moreau-Chick, social entrepreneur, USA
But there are some that are beginning to worry as their reserves run low and other sources of support seem limited, especially as, even in good times, the global ecosystem for supporting social enterprises is patchy. What's more, we're getting a sense of rising fear among some social entrepreneurs as time goes on. While Pioneers Post hasn't yet heard of any small social enterprises that have lost their battle to survive, it doesn't mean there haven't been any casualties yet that have gone under the radar.
Yet the dedication to their beneficiaries continues to drive these social entrepreneurs forward. As Jennifer Moreau-Chick, CEO of World for Good, says: "Because 99 per cent of social enterprises were created out of passion for a purpose, our companies have no other choice than to pivot and survive this crisis. If we throw in the towel, who will take responsibility to help the communities we serve?" 
Header photo: Temsalet Kitchen is keeping underprivileged women in work at the same time as providing food for local people thanks to a fundraiser
We would like to thank all the social entrepreneurs who took the time to complete our survey and respond to our questions, and the other members of the social enterprise community for offering their insights.