Can social enterprise fix Pakistan's waste problem?
Rubbish piles up at the side of streets and clogs drains in Pakistan's big cities. The government isn't doing much about it, but is the scale of the problem too big for social enterprise to fix? Our Young Storymaker Asad Pabani expores.

Pakistan's cities are running out of space for their rubbish, quite literally. Lahore's only landfill site is near full capacity, as are Karachi's two landfills, forcing the city to approach the World Bank for assistance for a new site. Meanwhile, Islamabad doesn't even have a permanent landfill site yet, instead dumping its garbage in a residential area on the outskirts of the city. 
A key contributor to this problem is that no government authority, on any level, has instituted measures to ensure the recycling of waste. Instead, that responsibility has been abdicated to the informal recycling sector. 
"In developed countries the waste is segregated on a domestic level by the household in various garbage bins," says Muhammad Toheed, a senior researcher at IBA University's Karachi Urban Lab. "In our case, the waste is segregated at the kachra kundi (garbage dump) by waste pickers, and mostly it is children involved in this activity." 

The images of children with massive sacks sifting through heaps of garbage for valuable items may be familiar to many, but are there any alternatives to this exploitative and clearly dangerous method of recycling? I spoke to two social enterprises operating in two of Pakistan's largest cities to find out how they're trying to tackle the problem in their own way.
We wanted to show that there is an entrepreneurship opportunity which can also benefit our cities
Saaf Suthra Sheher, which loosely translates to Neat and Clean City, was set up in 2016 by Islamabad-based professionals with more than 20 years of experience in the development sector. "Having observed that there is a complex informal sector thriving on waste, we decided to set up Saaf Suthra Sheher (SSS) as a for-profit company, to showcase that there is scope for the formal sector to enter into responsible waste management and recycling. We wanted to show that there is an entrepreneurship opportunity which can also benefit our cities," says COO and co-founder Mehrunisa Malik.  
Since then, SSS has set up partnerships with offices, schools, households and embassies all over Islamabad to process their dry waste and also provide awareness along the way. "We provide trainings, resource materials and recycling infrastructure (such as colour coded, labelled bins, storage space, etc) to our partners, and a guarantee that we will recycle or upcycle their dry waste (paper, plastics, metal, glass and Tetra Paks) using socially and environmentally ethical means," says Malik. With no directive from the government on recycling, it has been left solely to corporations such as SSS to teach the basics of recycling like segregating materials at source, and the importance of not mixing wet and dry waste (which makes dry waste unrecyclable). 
Raising public awareness
It is a similar story for the Karachi-based composting social enterprise TrashIt. One of the driving forces behind the project, which was set up in 2017 by then-university student Anusha Fatima, was the lack of public awareness about organic waste.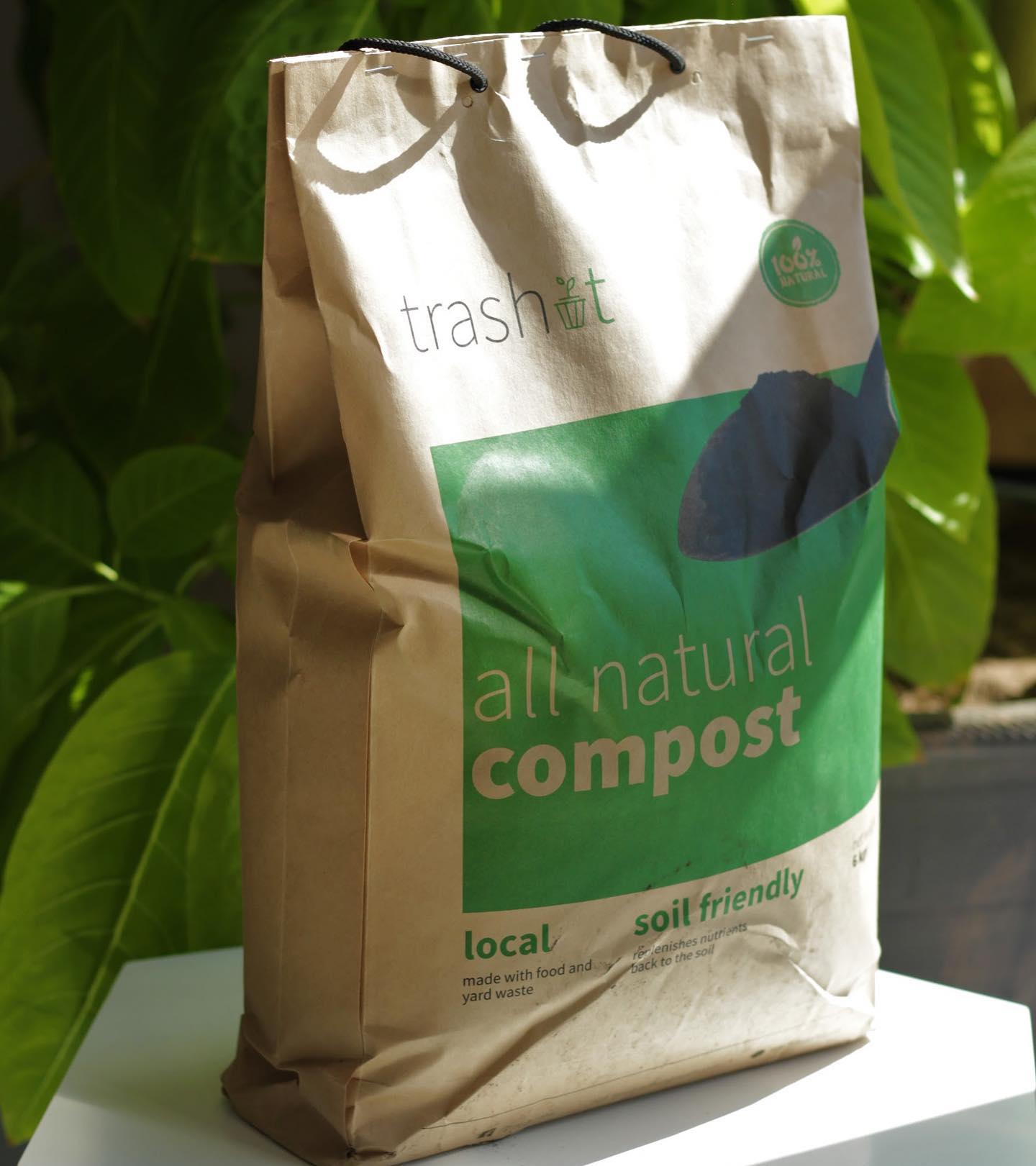 "There are some types of garbage that are already getting recycled somehow in our informal economy, but organic waste is something that's being neglected," says Fatima. TrashIt set about changing that by collecting organic waste, processing it and then selling it as compost (pictured right). And while, initially, they were buying organic waste from vegetable sellers to use as compost, they have recently launched a service called Trash on Wheels, or TOW, which collects waste from restaurants and other community hubs. 
Similar to the operations of SSS, TrashIt too relies on creating awareness for their service to work efficiently. "It's a partnership in that we are going to recycle their waste – but given that they segregate it. So their effort is also required," she explains. "To help them segregate, we train their staff, we assess their kitchen, and let them know [what they need] to start segregating efficiently."
But despite the best efforts of such social enterprises, their overall impact is akin to a drop in an ocean full of trash. Since launching operations, Saaf Suthra Sheher has recycled 111 tons of waste in total, whereas Islamabad's two million residents produce nearly 1,000 tons of waste every day, of which SSS itself estimates 60-80% may be recyclable. 
Similarly, TrashIt composts half a ton of organic waste on a daily basis while Karachi, with an estimated population of over 20 million, generates around 13,000 tons of waste every day.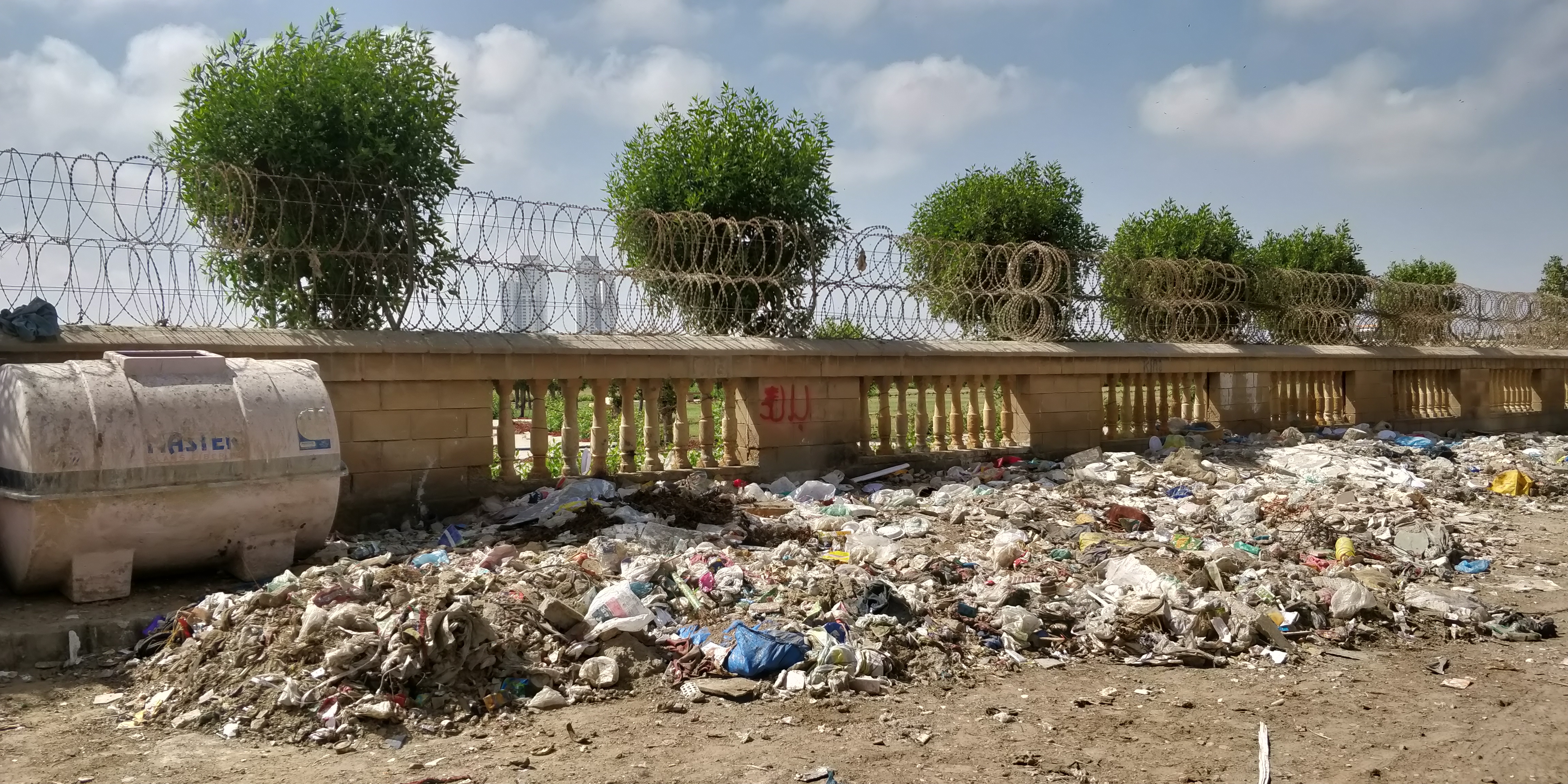 Rubbish piles up on the street in Karachi (Photo: Asad Pabani)
Even when taking into account the presence of other such organisations, and the possibility of scaling up operations, the combined efforts are nowhere near enough when compared with the scale of the problem. Quite simply, government involvement in waste recycling would make a massive difference, as illustrated by Fatima, "Right now we only have one processing plant, our composting process takes over 45 days, and the waste is sorted manually...If the government chose to get involved, with the right technology such as that used abroad, it could be done in 24 hours with the waste sorted by automated machines and plants near every commercial area processing waste quickly and efficiently."
Unfortunately, the government currently can't even operate its own waste management system adequately, let alone recycle. According to Toheed, "about 12,000 to 15,000 tons of solid waste is generated daily in Karachi of which only 7,000 tons reaches the landfill site." The remaining 40% can be found in naalas (stormwater drains) and on the city streets. 
As Fatima puts it succinctly, "they're not focused on proper disposal or proper recycling...they're focused on relocating waste".
What works elsewhere
That Pakistan's cities need effective municipal waste collection operations goes without saying. But even if any kind of state-run recycling programme is not immediately forthcoming, the government can still play a role in terms of generating awareness around recycling, be it through public messaging campaigns or incorporating it into school curricula. Such efforts could be supplemented by social enterprises generating awareness through the one thing guaranteed to attract people's attention – money. Social enterprises such as WeCyclers and GreenHill Recyclingoperating in Lagos, Nigeria have already demonstrated the effectiveness of offering incentives such as electronics, groceries and cash to residents in low-income neighbourhoods in exchange for their segregated, recyclable waste. Last year, the Manila City government in Philippines launched a similar incentive-based scheme to recycle plastic waste in a public-private partnership with Unilever Philippines. If a similar combination of increased awareness and financial incentives were to be implemented in Pakistan, it could play a crucial role in the success of the country's recycling sector. 
A recycling system can be put in place by law...However, given that we are not used to segregating our waste at source, or thinking about the end disposal of our waste, there will be a need to educate citizens and businesses
According to Malik, greater awareness is a necessity without which even any legislative efforts would be ineffective. "A recycling system can be put in place by law, similar to other countries. However, given that we are not used to segregating our waste at source, or thinking about the end disposal of our waste, there will be a need to educate citizens and businesses," she says.
As for the role of financial incentives, the work of the informal recycling sector, which sells recyclables to various industries, proves that even scant rewards can incentivise recycling. 
"If we talk about plastic [waste], the industry involved is plastic crockery, pipes, plastic furniture, buckets and mugs. For cardboard [waste], it is the packaging industry – hardboards and cardboards. For glass, the glassware industry is involved," says Toheed, listing just some of the industries dependent on recycled waste. If similar financial incentives could be offered by the formal recycling sector to consumers segregating their waste at source, it would undoubtedly make a big difference. 
Ultimately, however, any answer to Pakistan's recycling woes will likely require both the government and the private sector to step up their efforts, because with the size of the task at hand, neither the government nor social enterprises can do it alone.
Header photo: Labelled recycling bins provided by social enterprise Saaf Suthra Sheher (Photo courtesy Saaf Suthra Sheher). Compost photo above courtesy TrashIt
Asad is a DICE Young Storymaker – one of 14 young journalists from six countries selected to report on social and creative enterprise as part of a joint initiative of Pioneers Post and the British Council.