Raaji: The chatbot tackling menstruation myths in Pakistan's classrooms
A culture of silence veils the subject of menstruation in Pakistan, leaving girls ashamed and unprepared when their first period arrives. But now a social enterprise chatbot is gaining the confidence of schoolgirls and empowering them to take control of their bodies. Our Young Storymaker, Asad Pabani, watches the chatbot in action in Karachi.

Menstruation is a taboo topic in Pakistan, period. Half of Pakistani women between the ages of 10-35 have no knowledge of menstruation prior to their first period, while nearly a third of them have missed school or work due to menstruation, according to a UNICEF survey from 2017. Another research study, dating back to 2010, claimed that 60-80% of girls in urban Pakistan, across a range of educational outcomes, use unhygienic menstrual practices. 
In the absence of accurate reliable information about menstruation, the misconceptions held by young girls regarding menstruation can range from inaccurate to outright bizarre, as attested to by Saba Khalid, founder and CEO of Aurat Raaj, the company behind the animated chatbot Raaji. 
"There's a lot of shaming that happens," she says. "Girls at that age don't understand [periods] and they kind of associate promiscuity to starting your period, they associate 'fast living' or whatever, all sorts of things at that age. They really do associate that because they don't understand that it's a normal biological process." 
Put simply, the need to improve access to menstrual education in Pakistan is urgent and undeniable.
Enter Raaji, the animated chatbot using artificial intelligence and preprogrammed content to educate young girls on menstruation and answer their questions on the topic independent of any human operator. Well, except that's not exactly how Raaji's timeline unfolded. In fact, when Khalid got admitted into a four-month programme at The Nest I/O, a local startup incubator, it was for a very different kind of project. 
Focusing on the right beneficiaries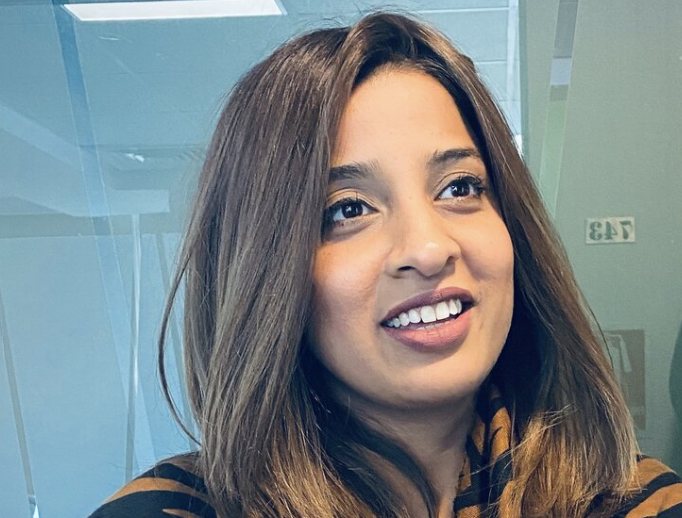 "I was proposing a blog, or a portal, or a platform where we can talk about the issues women face," says Khalid (pictured left). She soon realised, however, that she would need to take the project in a different direction, because, aside from the obvious problems of financing and scaling the project, there was a more pressing issue of who it was really benefiting. 
"I realised my own assumptions were so wrong. I was like, okay, I'm going to write these really long research-based pieces, and I was writing it for an audience that was already empowered, didn't need any convincing whatsoever on the topics. It was like preaching to the choir." 
Figuring out which direction to take the project in to make it accessible and sustainable was a struggle, by Khalid's own admission. But her persistence with her idea paid off with an acceptance into a programme for social entrepreneurs early in their journeys at The DO School in Berlin. That allowed her to experiment with her ideas more, and culminated in her winning first prize at the end of the three-month fellowship. "I got a small pool of money, like $3,000," she says. "It was basically for a chatbot, a very basic chatbot that would deliver answers to girls about…health, hygiene and safety."
And the Raaji chatbot was born, although still not in its present form. Instead, Raaji was a mobile app, open to answering questions on a range of women's health issues. For answers that the app could not provide, due to the complexity of the questions as well as the limitations of the AI chatbot, the app would also connect the user with a real-life gynecologist who could answer questions in an anonymous setting. 
But while that model was considerably more accessible than the earlier iteration of Raaji, problems remained. 
"The girls that I wanted the app to be downloaded by, they either didn't have access to phones, or, if they did, they were sharing them," says Khalid. The lack of accessibility or privacy in either case meant that the app had difficulty reaching the very girls that were its target demographic. 
Another issue was the difficulty of connecting users with gynecologists, which would take five to ten minutes on average, by which time the user would have usually logged off. And while increasing the number of gynecologists available improved the response times, a question being sent in the middle of the night was still unlikely to be answered until the following morning.  
Then of course there was the issue of sustainability. The app may have been free, but its development was not. Compensating and growing the network of gynecologists in-app would pose a challenge, especially if they wanted to expand. And while Khalid had managed to again raise funding for her project, through winning a microgrant from The Pollination Project, the Pakistan round of She Loves Tech, the world's largest startup competition for women and technology as well as another award from the Innovation for Women Prize at MIT Solve, she was cognisant that sooner or later the idea had to become more sustainable.
Raaji's present form
Enter Raaji, finally in its present form. The chatbot now focuses solely on menstrual education and, rather than being a standalone app, Raaji functions as an integral part of menstruation awareness sessions organised by Aurat Raaj in schools. The decision to turn the wide-ranging app into a single-issue workshop format stemmed from content as well as logistical concerns.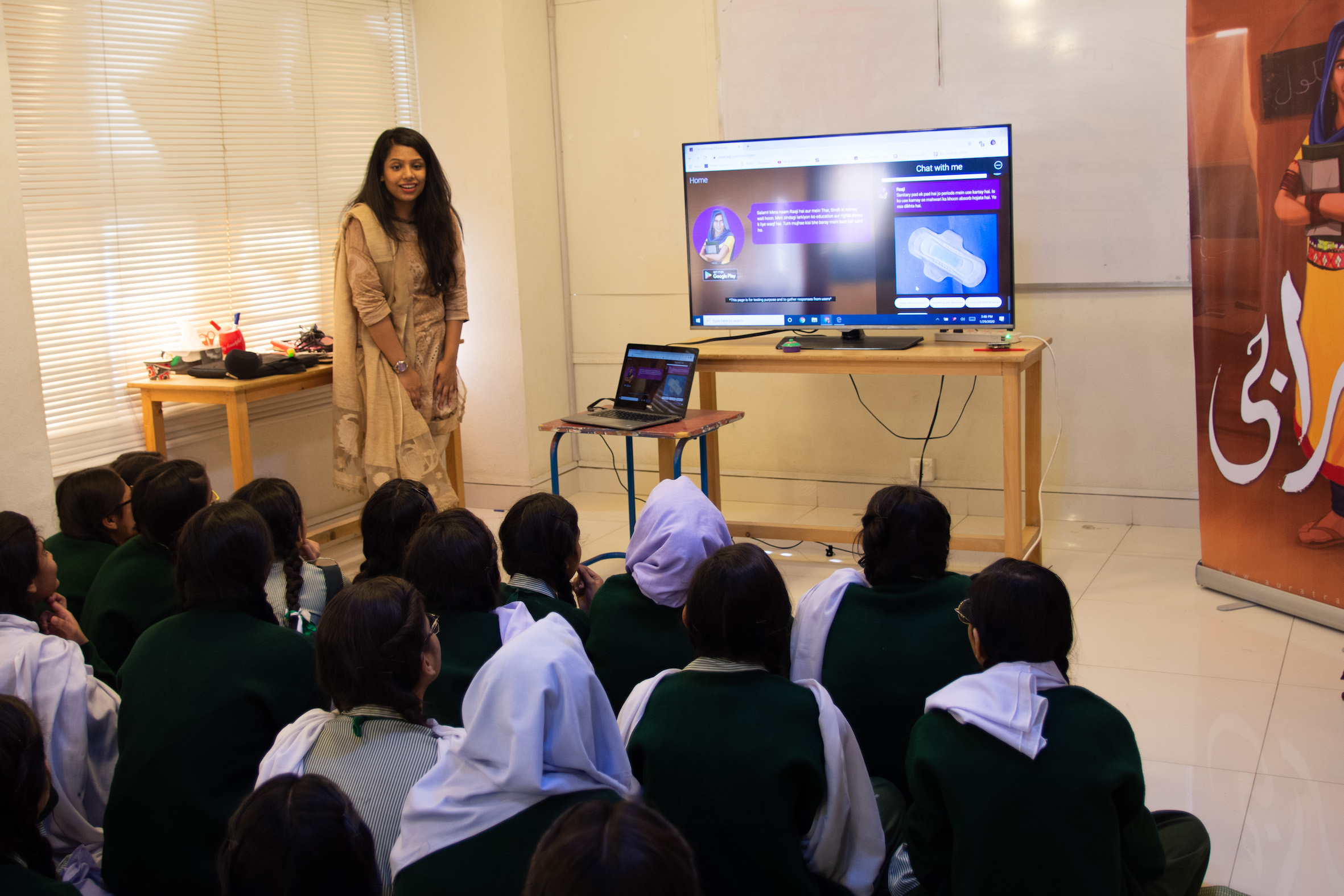 The Raaji chatbot is used in classrooms to break taboos and educate Pakistani girls about menstruation
According to Khalid, "It's really hard for chatbots to talk about too many topics, they're really dumb...So we sat down, we looked at our insights, we looked at our analytics and we realised menstrual education was a huge issue. We wanted to focus on it. I was very, very passionate about it and I knew that there was a need in a lot of schools there. We did our research, there were no programmes running in Pakistan by schools on menstrual education."
To gain a sense of what these workshops look like, I visited one held in January at The Garage School in Neelum Colony, a disadvantaged neighbourhood in Karachi. It kicked off with trust and support games between students to build rapport, before moving on to a general Q&A with the Raaji chatbot in the presence of an expert guiding the discussion. Then came the final segment of the workshop, and the most eagerly awaited from the students' point of view, an opportunity to speak privately with Raaji through a laptop. 
The format allowed Khalid to address shortcomings in the app, which still cannot answer every possible question on menstruation, and also has limited capability in the native Urdu language, which presents a bigger challenge for coding than English. At the same time, the app undoubtedly added an interesting dimension to learning about menstrual education for the girls who appeared visibly excited and intrigued to interact with the chatbot as compared to their otherwise quiet and uncomfortable stance when being asked about the topic in a lecture format. 
From a sustainability point of view too, the workshop format opens up potential revenue streams from schools which will pay for access to the app, as well as from companies selling women's hygiene products who could benefit from the visibility of being associated with such a venture as part of their corporate social responsibility efforts. One prominent company selling menstrual pads in Pakistan has already signed an MOU with Aurat Raaj for this very purpose. 
"It's been a very slow process (to generate revenue), but now we have momentum. And so, hopefully, by the end of this year, we hope to be at break-even and after that, profit," says Khalid optimistically.

What's the impact?
The all-important question that remains is, does their intervention work? The results seem to suggest so. According to survey data gathered by Aurat Raaj on girls between the ages of 11-18 during pilots run in five schools in 2019, pre-intervention only 29% of girls thought periods were not shameful, after the intervention that figure was 84%. Similarly, pre-intervention 47% of girls believed you could use any product such as a reusable cloth during menstruation whereas post-intervention 85% of girls thought that using sanitary pads was essential. The percentage of girls who claimed they would no longer skip school while menstruating also nearly doubled. 
But while Raaji's interventions may be helpful in tackling the stigma around menstruation, it is important to place their plan of expanding their programme to 60 schools in 2020 within the context of a country with more than 200 million people. 
In order to truly address the issue in Pakistan, such programmes need to be massively expanded while also addressing the issue of affordability of sanitary pads in a country where nearly 40% of the population lives below the poverty line. Nevertheless, Raaji is undoubtedly playing its part in smashing menstrual myths – one school visit at a time. 
Header photo: Girls talking one-on-one with Raaji in the classroom. All photos courtesy Aurat Raaj.
Asad is a DICE Young Storymaker – one of 14 young journalists from six countries selected to report on social and creative enterprise as part of a joint initiative of Pioneers Post and the British Council.