SEWF 2020: Humour over rumour – five unmissable one-liners from Audrey Tang, Taiwan's digital minister
Audrey Tang is a "civic hacker" and in 2016 became Taiwan's youngest ever government minister. 
Tang started her own IT company at 19, has been a digital advisor to Apple, and now, as Taiwan's digital minister, is in charge of the country's social innovation. 
On the penultimate day of the Social Enterprise World Forum 2020, Karen Lynch, former CEO of well-known UK social enterprise Belu and Social Enterprise UK board member, described Tang as a "digital genius" as they discussed using humour to relay serious messages and bringing all sides of the debate to the table. 
Pioneers Post listened in and noted five unmissable one-liners to inspire social entrepreneurs all over the world.

"Humour over rumour"
The health ministry in Taiwan has adopted a "humour over rumour" social innovation tactic to combat misinformation about Covid-19. One example (out of many) is using a dog as a Covid ambassador on social media, sending out health messages to the public.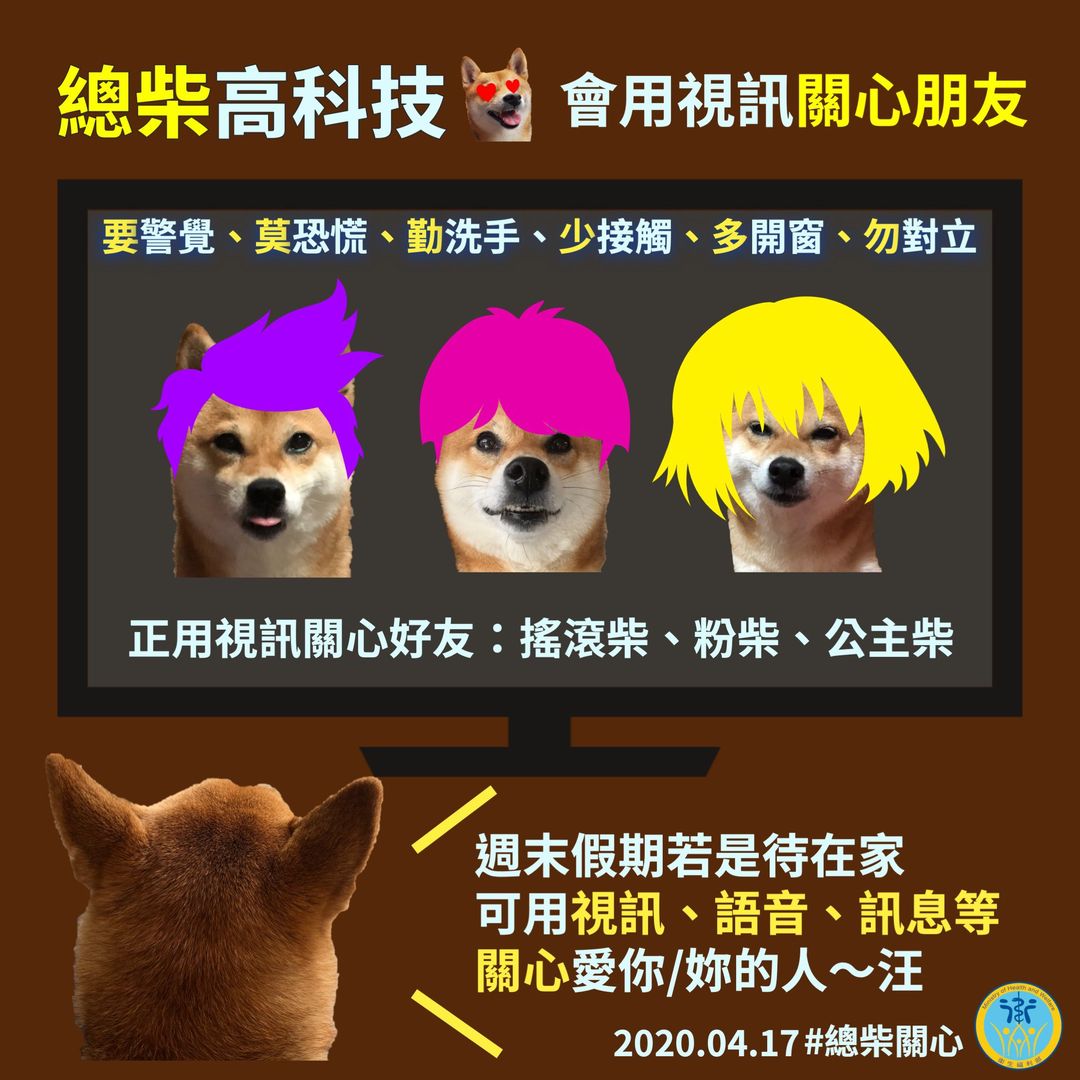 On Facebook the state's "spokesdog", named Zongchai, delivers public safety guidelines
"When people feel joy or humour, they're vaccinated against divisive outrage messages," said Tang. This helps to "overcome mutual distrust that seems natural in the time of a pandemic."
"Fun spreads more easily than outrage"
Another example of using humour to send serious messages: Tang teamed up with leading YouTube influencer to create a rap that introduced ideas around social enterprise, receiving more than 2m views. (The raps start after around eight minutes in English.)
"I don't have any ideas"
When asked how to stop bureaucracy from "killing your ideas", Tang replied that she made sure not to have her own ideas. 
"It's all theirs," she said. Tang named her office the 'Social Innovation Lab', she said, and asked civil servants in the team to "work out loud", letting other departments know what they were doing so that "once they have a good idea, that idea will then get support from the various other ministries or public servants". 
"I believe that bureaucrats are the best pushers and movers of social innovation"
"Taking all the sides"
Tang's approach to work is based on inclusion. Her "slogan", she said, was to take every side in a debate – seeing everyone's opinion with equal importance. But Tang is self-aware, and recognises that this isn't always so simple.
"If I cannot take their side, it might be because I lack some life experience," she said, explaining that she would then go and spend time with that person or group of people to understand them and be able to argue their perspective.

"Accountability ties people together"
In Taiwan's economic strategy, social enterprises are part of an umbrella group of social innovation organisations (SIOs). Tang explained that publicly listed companies were heavily encouraged to procure or have partnerships with these 500 registered SIOs – from next year there will be a penalty if they don't disclose their ESG reports. As Lynch put it, they are "strongly incentivised and penalised".
"AI as 'assistive intelligence'"
While technology has great potential for good, Lynch asked Tang how we ensure it's not abused. By thinking of 'artificial intelligence' as 'assisstive intelligence', Tang explained, we can then "understand technology's proper role in society".
It clearly illustrates technology as a tool, while putting the "assisted person in the forefront". 
Pioneers Post is a media partner to the Social Enterprise World Forum 2020 and we'll be reporting all week – stay tuned for more and follow #SEWFDigital online. Social impact measurement will be explored in more depth next week at Social Value International's Social Value Matters conference.