Ex-PM Gordon Brown: 'There is no route to the future that does not have social enterprise at its centre'
The post-Covid recovery cannot happen without the contribution of social enterprises, former UK prime minister Gordon Brown said in a recorded address at the Social Enterprise Futures virtual conference on Thursday. 
Market forces and "unsocial" enterprises cannot be relied on to solve "the intractable problems of climate change, poverty, inequality and discrimination on their own," he added.
Lessons must be learned from past mistakes, he said, adding: "We have surely learned we cannot leave our future to chance, and expect the market to do everything." 
We cannot leave our future to chance and expect the market to do everything 
Citizens are facing "momentous challenges ahead," as the economy, society, employment and business are undertaking major changes, and social enterprises will have a great role to play in overcoming them, said Brown, who served as prime minister between 2007 and 2010, after a decade overseeing the government's economic policy as chancellor of the exchequer under Tony Blair's leadership.

Along with his government colleagues, Brown was an early champion of social enterprise. He established the first Social Investment Task Force in 2000, which first developed the ideas of social impact bonds and of a social investment wholesaler (which became Big Society Capital, launched in 2012 under a different government). He was also involved in the launch of Bridges Ventures' (now Bridges Fund Management) first £4.5m social entrepreneur fund in 2008. He continues to be an advocate for social entrepreneurship in his current role as UN special envoy for global education.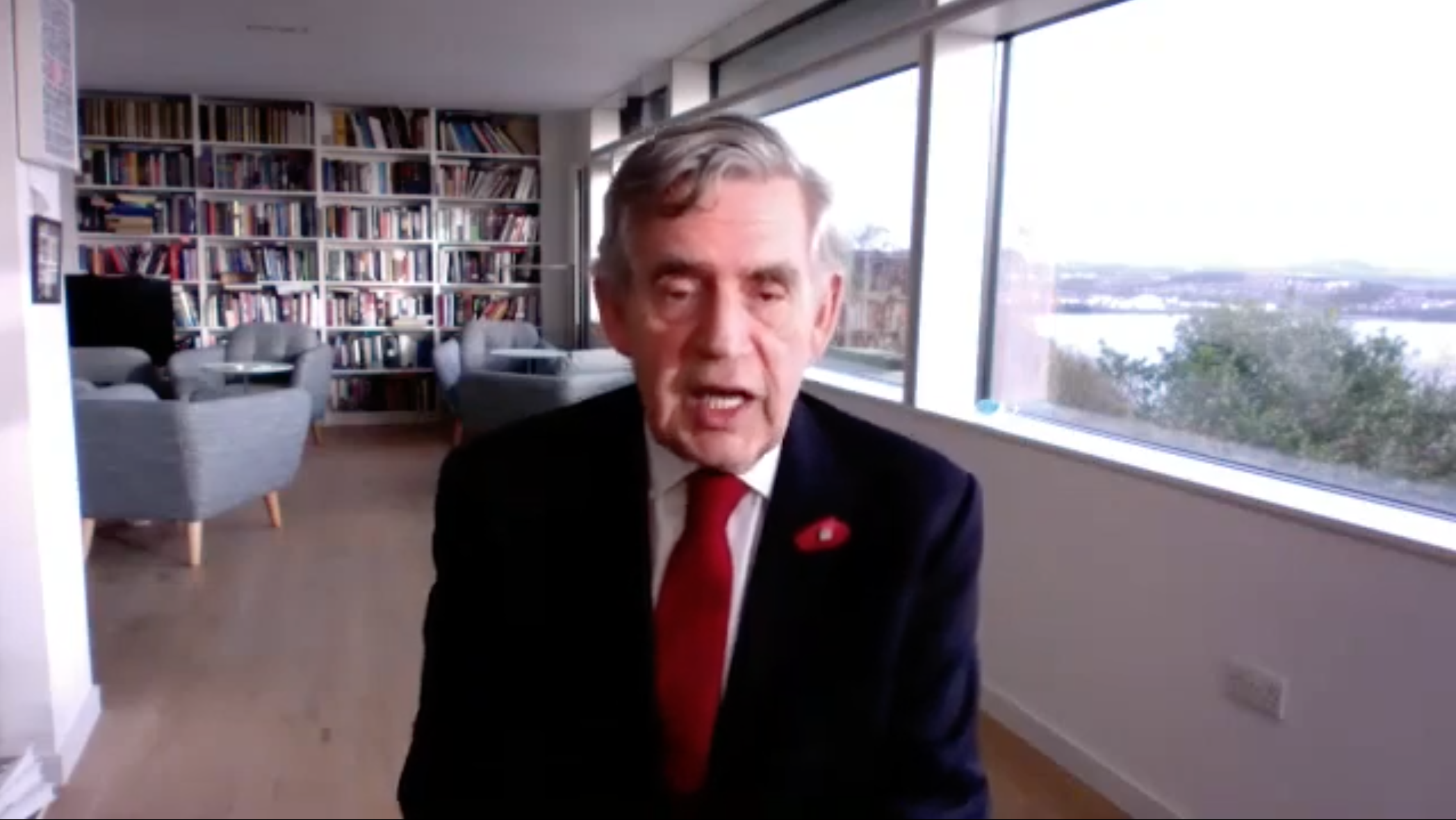 Above: Gordon Brown at Social Enterprise Futures
"There is no route to the future that does not have social enterprise at its centre," Brown said at Thursday's event, which was hosted by Social Enterprise UK. "There is no route to levelling up that does not involve social enterprise. No route to stronger communities, to socially responsible business, to better society as a whole without social enterprise."
With an unprecedented job crisis already materialising, fighting youth unemployment was critical, Brown said. "We cannot return to the 1980s, when young people went months and in some cases years without their first job, when the only letters they received were rejection letters, when their experience of being rebuffed and knocked back scarred too many young people for decades after." 
To bring the one million young people already out of work back into employment, and to prevent more from being made redundant, "the role we all play will have to change [...] and social enterprises will have to play a very big part," said Brown.
The role we all play will have to change, and social enterprises will have to play a very big part 
Kickstart concerns 
The current Conservative government has put in place a "Kickstart Scheme" to try to curb youth joblessness. The scheme provides funding to create new, six-month job placements for 16 to 24-year-olds on universal credit who are at risk of long-term unemployment, who would be paid a minimum or living wage for 25 hours per week.
Kickstart is modelled on one of Brown's own policies, the Future Jobs Fund, launched in the wake of the 2008 financial crisis. The main difference is that the 2009 Labour policy required employers (mostly local authorities and charities) to prove that they carried a community benefit to access the funding, whereas any business can apply to the current scheme – including the "unsocial enterprises" Brown referred to.
The current scheme requires employers to create at least 30 jobs to be eligible, although if a single employer cannot provide this many job placements, they can apply through a 'Kickstart gateway', such as a local authority, charity or trade body.
Speaking at the annual conference of the Association of Charitable Foundations on Thursday, the UK's minister for civil society Diana Barran acknowledged the government had "a concern that not enough charities are taking up opportunities", stressing that the scheme presented "some super interesting and attractive employment opportunities for young people". She added that work was ongoing with the Department for Work and Pensions to encourage charities to sign up as the government was "extremely keen" to see them use the scheme.
At the same event, Labour MP Rushanara Ali pointed to the shortcomings of the scheme, saying that it did not help young people into work quickly enough (they need to have been on universal credit for at least six months to be eligible) and that the maximum six-month duration did not provide long-term job security.
Are you a UK social enterprise and using or hoping to use the Kickstart Scheme – or currently unable to do so? Let us know by emailing news@pioneerspost.com
Header image: UK social enterprise Well Grounded offers fully-funded training to those who face barriers to employment
At Pioneers Post we're working hard to provide the most up-to-date news and resources to help social businesses and impact investors share their experiences, celebrate their achievements and get through the Covid-19 crisis. But we need your support to continue. As a social enterprise ourselves, Pioneers Post relies on paid subscriptions and partnerships to sustain our purpose-led journalism – so if you think it's worth having an independent, mission-driven, specialist media platform for the impact movement – in good times and in bad – please click here to subscribe.