Ex Bank of England boss Carney: impact investors are alchemists for the world's 'insurmountable problems'
Momentum on impact investing and action on climate change are among the few bright spots of 2020, former Bank of England governor Mark Carney said yesterday. 
Speaking in a pre-recorded message at an online event hosted by the UK's Impact Investing Institute, Carney said 2020 had offered a reminder of what we value – "sustainability, solidarity, fairness, and resilience" – which made it easier to pursue ambitious goals for people and our planet.
"Impact investing can turn what can appear at first to be insurmountable problems into tremendous commercial opportunities," he added. "That's what's happening at the moment with climate change, finally."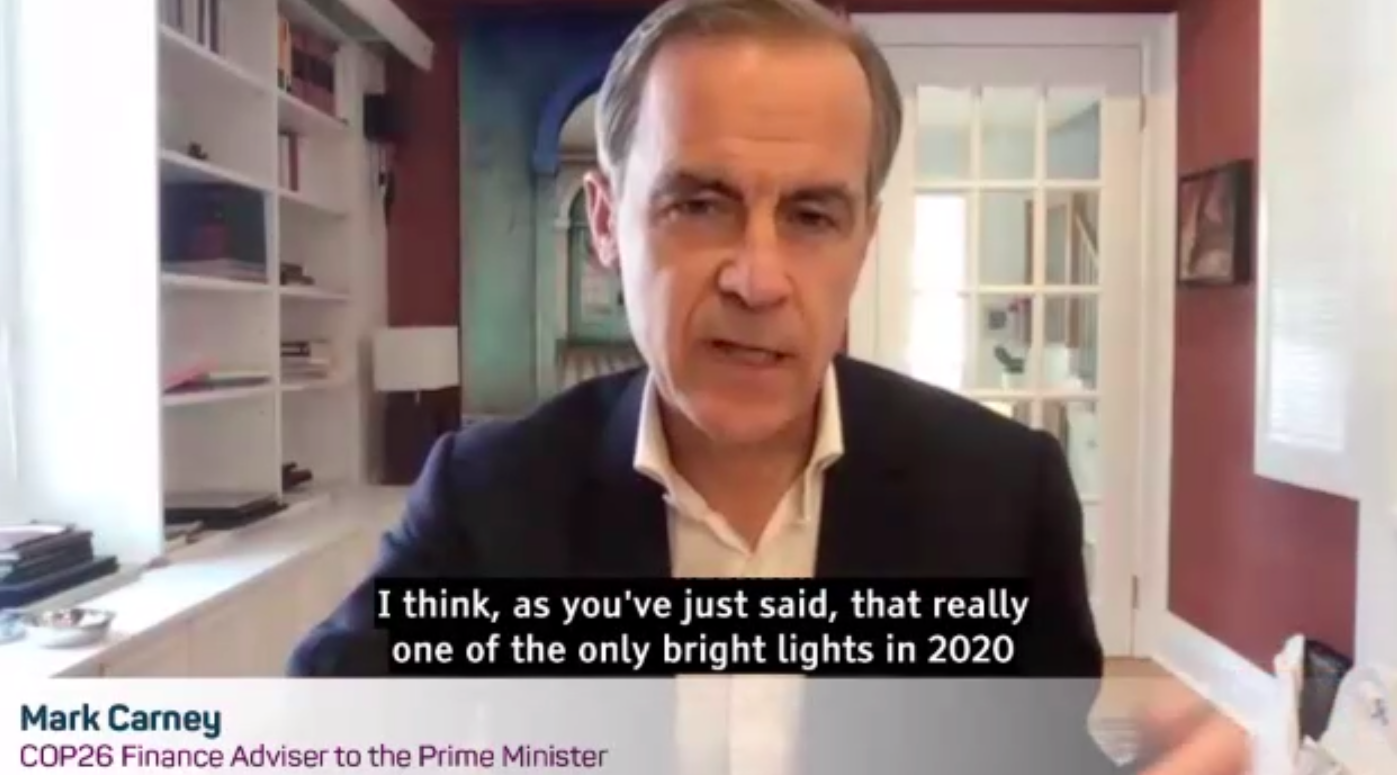 Carney, who now serves as UN special envoy for climate action and finance, as well as the UK prime minister's finance adviser for COP26, said environmental, social and governance (ESG) investing was "moving well beyond negative screening" – avoiding companies with negative impact – towards "finding companies that are truly creating value".  
More and more ESG strategies were "focused on a form of divine coincidence", he said: looking to both "do well and do good", by looking for factors that support both risk management and value creation to enhance longer-term, risk-adjusted returns.
ESG investing is moving well beyond negative screening and towards finding companies that are truly creating value
ESG: why not?
A meta-analysis of over 2,000 studies of ESG strategies showed a clear economic case, Carney said. "90% of those studies find that there is no penalty on return on ESG investment. So it's a question of why not, as opposed to why." 
Shifting social values are clearly influencing the markets, he added. "There is evidence that financial valuations of strong ESG performers increase as the values of societies move in their directions, and I think that's part of what's going on today. For example, the more that society values the transition to net-zero, the more valuable companies that are part of the solution will be, because of the greater demand for their products, as well as developments in regulation and carbon pricing that supports society's objectives." 
Covid-19 had required most companies to reset their strategy, and the net-zero requirements – set out both by climate scientists and in new legislation in many countries – created a clear pathway for them, Carney continued.
By COP26 the absence of a transition plan will be seen as either an intention to wind down a business, or that the company views itself as separate from society… the latter is unforgivable
As a result, impact and mainstream investors would "increasingly need to assess how well companies are positioned for this transition, in other words who's on the right and wrong side of climate history; which companies have momentum and which will fall by the wayside".
"By COP [the next global climate change conference in 2021], a year from now, the absence of a transition plan will likely be seen as either an intention to wind down a business over the coming decades, or an assertion that the company is separate or views itself as separate from society… the latter is unforgivable." 
Year one milestones
Carney used his speech to praise the "critical momentum" created by the Impact Investing Institute, which was marking one year since its launch.
It was set up in November 2019 to strengthen the market infrastructure for impact investing, increase the amount of capital invested for impact, improve effectiveness of that capital, and make it easier for individuals to invest for impact. It is funded by the City of London Corporation, the UK government's Department for Digital, Culture, Media and Sport and the Department for International Development's (now part of the Foreign Office) Impact Programme, as well as by BlackRock, Credit Suisse, Triodos Bank and a number of other financial services organisations.
The Institute's CEO Sarah Gordon highlighted milestones including its input into the recent commitment by the UK government to issuing a series of green gilts – a financial instrument that will direct private capital and government spending towards a net-zero carbon future, helping to create green jobs across the country.
The institute has also created open-access educational resources on impact investing, developed good governance principles to help pension funds incorporate impact into governance, processes and investment decisions, and published a briefing paper on making impact reporting easier and more accessible.
Dame Elizabeth Corley, chair of the Institute, described it as "very humble – we don't need to own things that are already brilliant and being done. What we do want to do is accelerate them".
Header image: Climate protestors in Berlin 2018 (© Jörg Farys / Fridays for Future, republished under creative commons license)
At Pioneers Post we're working hard to provide the most up-to-date news and resources to help social businesses and impact investors share their experiences, celebrate their achievements and get through the Covid-19 crisis. But we need your support to continue. As a social enterprise ourselves, Pioneers Post relies on paid subscriptions and partnerships to sustain our purpose-led journalism – so if you think it's worth having an independent, mission-driven, specialist media platform for the impact movement – in good times and in bad – please click here to subscribe.