Export-ready: supporting Pakistani artisans to reach international customers
Female artisans in Pakistan are creating beautiful, handcrafted products which overseas customers love. Our DICE Young Storymaker Hamna Iqbal Baig reports on an initiative which refines the artisans' skills and connects them with international markets.

Camel-shaped decorations made by artisans in Pakistan adorn Christmas trees in UK households almost 4,000 miles away. This has been possible due to a collaboration between The Foundation for Arts, Culture and Education (FACE), a Pakistan-based organisation and UK-based social enterprise, So Just Shop. This partnership is supported by the British Council DICE (Developing Inclusive and Creative Economies) fund.
Zeejah Fazli, founder and president of FACE, spearheaded this project called Womart. It is a virtual marketplace for economic empowerment of women artisans from under-served areas of Pakistan. They produce artisanal products which are not only sold directly to local consumers through Womart's website but also introduced to international markets. 
"The project aims to empower women from across Pakistan, preserve and promote the cultural heritage of the country through new designs and contribute to its economy by increasing exports," says Fazli. 
The artisans come from five provinces in Pakistan: Punjab, Sindh, Khyber Pakhtunkhwa, Balochistan and Gilgit-Balistan. At least five women artisans were selected and trained from each of these areas.
Jennifer Georgeson, CEO and founder of So Just Shop, tells Pioneers Post that firstly the artisans' skills were assessed. She adds that a trainer was also sent from UK to assist these artisans because while they had great skills, their work needed refining to suit international markets. 
I learnt how to improve my craft using the latest design trends, eye-catching colour combinations and maintaining the quality of my products – artisan Hajra
These women artisans have skills in weaving, basket making, embroidery, jewellery and other handicrafts. 
Hajra, 45, is one of them. Hailing from Bahawalpur, she has been making beautiful baskets, handmade jewellery and embroidered pieces for more than a decade. 
For baskets, the raw material – white date leaves – is not easily available in the region and has to undergo an intensive process before being turned into beautiful baskets.
A 10-day long workshop run in Islamabad by FACE and So Just Shop for all 25 artisans in 2019 was valuable to her. "I learnt how to improve my craft using the latest design trends, eye-catching colour combinations and maintaining the quality of my products," she says.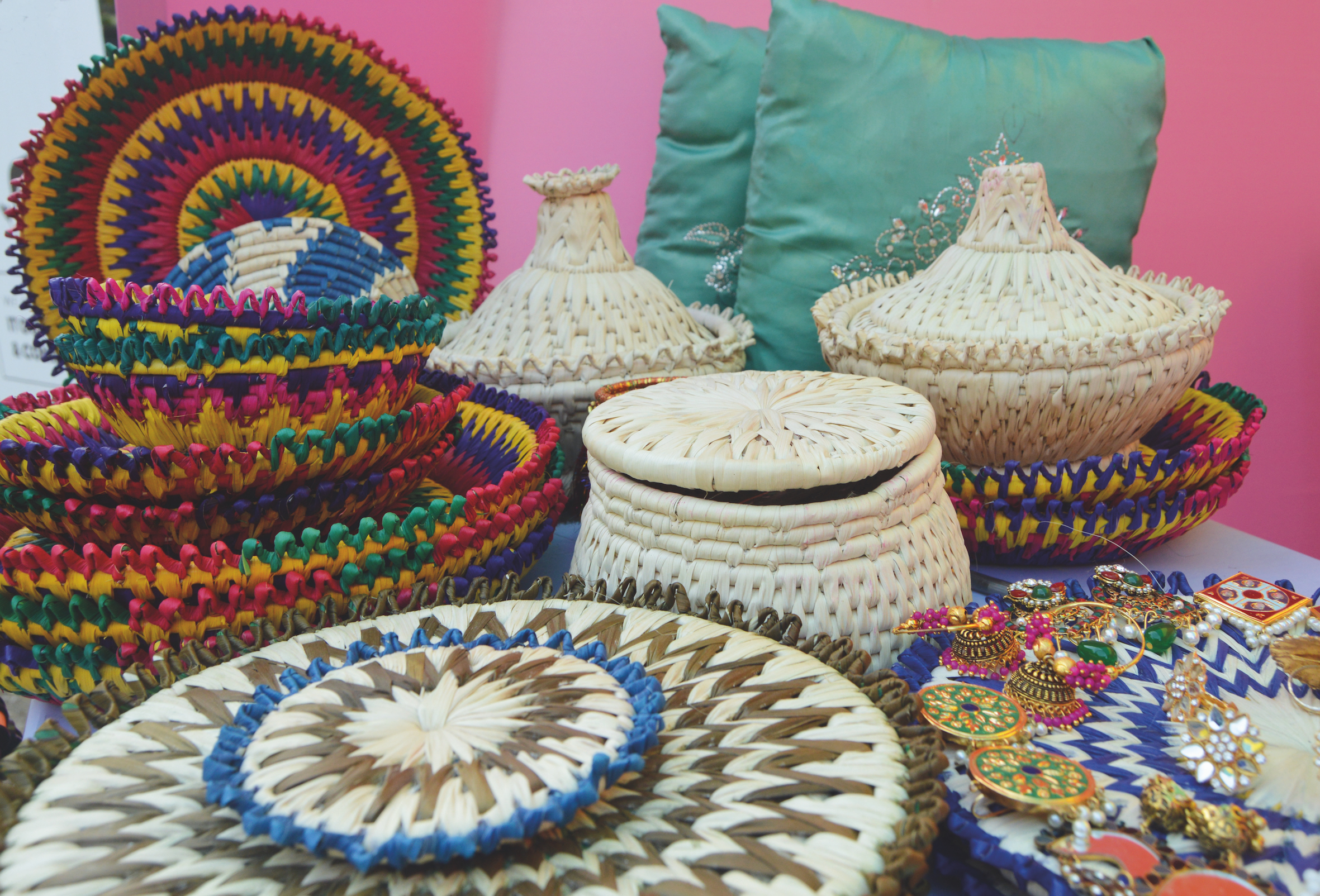 Georgeson says that most of the artisans she has worked with have got basic skills. "We incorporate the traditional skills of artisans, but give them a more contemporary design to produce products that work for the international market," she says.
Some artisans, however, complain that time-limited projects such as this one have a limited impact. They want support organisations to engage with them on a long-term basis until they are able to establish their business properly.

Orders hit by pandemic
Hajra tells Pioneers Post that the Covid-19 pandemic has adversely affected her business in such a way that she hardly has any orders at the moment. This makes it difficult for her to support her family, including her five children, as this is her sole source of income. She expressed her disappointment at not receiving any support from the government or other organisations. 
Nosheen Bukhari, Womart's project manager, agrees that although she and her team have extensively worked on social media marketing and revamped their website recently there have been a few local orders due to Covid-19. This has affected the artisans.
Despite everything, Haji Bibi, an artisan from the mountainous region of Gojal in Hunza Valley, Gilgit-Baltistan, hopes there are more initiatives like these for rural women "as they are often restricted to their homes and access to markets to sell their products is difficult".
The 60-year-old took matters in her own hands following the closure of her husband's travel agency a decade ago. Pakistan's tourist industry was affected by an increase in terrorism following the 11 September 2011 attacks on the World Trade Center in the United States. Haji Bibi began creating handicrafts – the skills were passed down to her by her mother – to bear her family's expenses and support her children's education. She creates traditional caps, wallets, bracelets and embroidery designs with local raw materials. It sometimes takes her days to produce one product. When sold in local markets, she gets a profit between 200 to 500 rupees on each one (between around 1 and 3 euros).
With hard work and determination, she has been able to transform her small-scale business into a company called Silkroute Handicrafts. It employs disabled women, orphans and artisans from deprived communities. 
Fazli believes the collaboration between FACE and So Just Shop helped Pakistani artisans get access to international markets where there is a high demand and value for unique and handmade products. 
He acknowledges the challenges of tapping into international markets such as providing adequate training to the artisans to ensure they produce high-quality products and keep the preferences of international customers in mind. 
Paying Pakistani artisans is another challenge because a lot of the artisans do not have bank accounts. "Working with Womart is quite good because we can pay them directly and then they can get the money to the artisans," Georgeson says. 
She recognises that So Just Shop has not been able to support Pakistani artisans in 2020 due to the coronavirus pandemic but she is looking forward to working with them again in future. 
Meanwhile, Bukhari says that although this one-of-a-kind project has great potential to scale up, it could do better at the moment. This has led to Womart forming a board comprising of six women entrepreneurs in Pakistan. They are expected to bring their marketing and networking skills to the table to advise on what could be improved, to suggest new marketing strategies and to contact international organisations and bring more business.
Header photo: Artisan Haji Bibi with some of her handcrafted products
Hamna Iqbal Baig is a DICE Young Storymaker – one of fourteen young journalists recruited by Pioneers Post and the British Council from six countries to report on social and creative enterprise around the world.