What does it take for capitalism to be truly inclusive?
Capitalism benefits mostly white men, according to Darren Walker, the president of the Ford Foundation. To improve the economic system, investments must be made in more diverse entrepreneurs and communities. 
Walker was speaking today at the first online session of the Next Normal Now: Re-imagining Capitalism For Our Future series organised by the Global Impact Investing Network (GIIN), in a conversation with Amit Bouri, CEO and co-founder of the GIIN.
The Covid-19 pandemic had exposed the winners and losers of the current economic system, as the past year had been "horrific" for many people while some enjoyed an "enormous financial benefit and return" from high-performing financial markets, Walker said.
But capitalism didn't have to be a "zero-sum framework" – where some win and others lose.  It was now common knowledge that investing in inclusion – which he explained as supporting diverse entrepreneurs and communities – was also increasing capital flow, he said.
The US-based Ford Foundation, founded more than 80 years ago, has a nearly $14bn endowment and is currently the 11th biggest foundation in the world. Walker co-founded the US Impact Investing Alliance, and used to head the Rockefeller Foundation which provided the seed funding to launch the GIIN.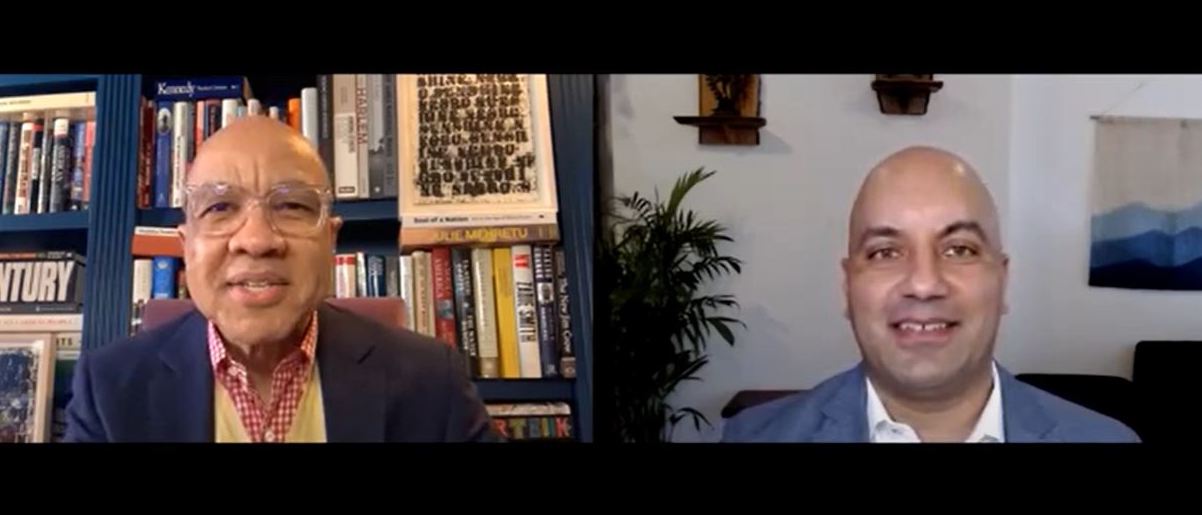 Above: Darren Walker (left) and Amit Bouri in conversation at the GIIN online event
The reason why capitalism was not currently inclusive came from the fact that decisions had been made that prevented capital to flow into some communities, which have remained under-invested, Walker said. As an example, he mentioned "redlining", a US housing policy in the 1930s that prevented inhabitants of African-American neighbourhoods from getting mortgages.
"We've never really given capitalism a chance in America, because the kind of economy we have had, has traditionally excluded far too many people," Walker said. He added that what was needed was to "let capitalism, in a more inclusive way, marry with policy that promotes inclusion and that will deliver a more shared prosperity".
The system as it stands had been designed by and benefited mostly white men, Walker said. Creating inclusive capitalism required, for example, involving more diverse people in leading positions in companies and boardrooms. "Inclusion will manifest itself in the structures of these firms," he said. 

We've never really given capitalism a chance in America, because the kind of economy we have had, has traditionally excluded far too many people
Data showed that companies with more diverse staff performed better, he said. "This is not about doing a favour to black and brown people and women," Walker said. "This is about ultimately, DPS [dividend per share]. This is about fundamental business sense." 
At the same time, this would benefit members of disadvantaged communities that could make their way up the corporate ladder and, in turn, direct investment towards the communities they came from. "We would be investing in more places that we have historically not invested in," Walker said.
Impact investing was one of the "most important paths to get us to a future that allows us to see that investing can and should have both a social and financial return", Walker said. Impact investing demonstrated that investing in affordable housing, green energy or financial services for the poor were also viable and predictable income streams, he added.
"I'm actually very bullish, and very hopeful that we are at a place where we can have a race to the top," he said.
"Whether or not this will happen depends on how far organisations like the GIIN get, and how courageous leaders are willing to be, to really step up and demonstrate the efficacy of this idea."
Top image: Darren Walker. Pictures courtesy of the GIIN.
Thanks for reading Pioneers Post. As an entrepreneur or investor yourself, you'll know that producing quality work doesn't come free. We rely on our subscribers to sustain our journalism – so if you think it's worth having an independent, specialist media platform that covers social enterprise stories, please consider subscribing. You'll also be buying social: Pioneers Post is a social enterprise itself, reinvesting all our profits into helping you do good business, better.