12 things we spotted in Big Society Capital's annual review
The UK's social investment wholesaler today released its annual review and financial statements for 2020. We've scrolled through the documents so you don't need to. Here are Pioneers Post's main takeaways.
1. By the end of 2020, a total of 1,500 social enterprises and charities had received money from BSC and related investors – up by almost 300 since the end of 2019. 
2. As of the end of 2020, the social investment wholesaler had invested a total of £105m of its own capital in "early action" initiatives, £146m in housing for vulnerable people and £183m in place-based investments.
3. BSC invested £25m in the Resilience and Recovery Loan Fund, a Coronavirus Business Interruption Loan Scheme (CBILS) guaranteed loan fund established with Social Investment Business to support charities and social enterprises during the pandemic.
4. The investment wholesaler reported a £3.6m net profit in 2020. It is the first time BSC's bottom line has been in the black since 2017 – it reported a loss of £2.1m in 2019 and a loss of £6.5m in 2018.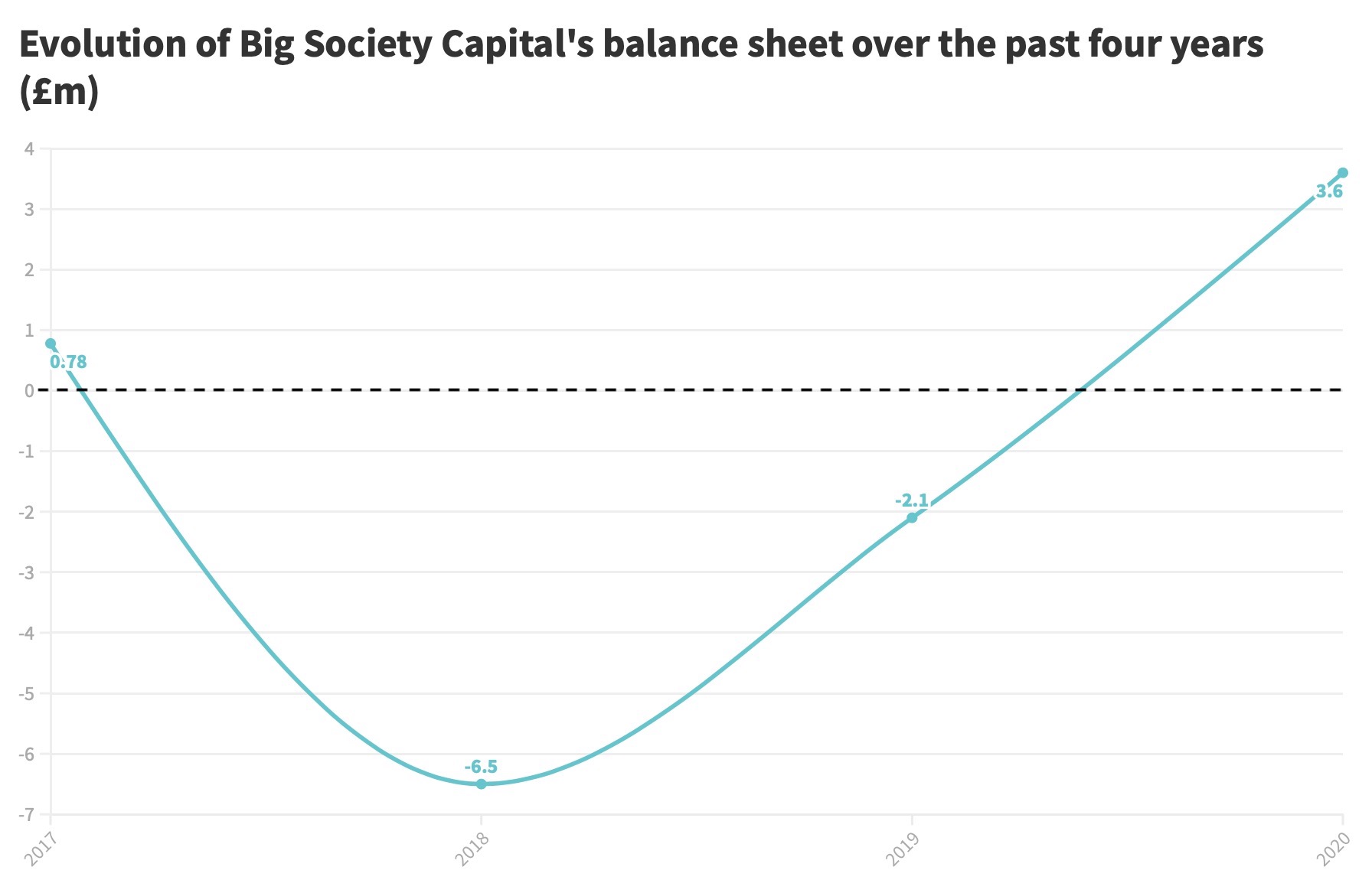 5. Profits were driven by the performance of BSC's Social Impact Investment Portfolio which reported £7.2m revenue in 2020 (compared with a £38,000 loss the year before).

6. The performance of BSC's Social Impact Investment Portfolio is due to changes in valuation and income from underlying investments, which were up £9m. In comparison, valuation movements went down in 2019 and 2018, creating a loss of £805,000 and £1.9m respectively.
7. BSC said this increase in valuation was largely due to the performance of a small number of assets invested in tech as part of its equity and venture portfolio. 
8. BSC's debt portfolio tended to perform less well, it said, because of "challenging" circumstances.
9. BSC has increased management fees and expenses paid to fund managers by 63% in 2020 (a total of £6.5m compared with £4m the year before).
10. The number of employees has gone up from 44 to 72 between 2017 and 2020, and the number of team members on six-figure salaries (the highest of which is between £150k and £159k) has risen from three to five during this period.
11. Operating costs have gone up by £400,000 to £8.3m, in line with BSC's expectations as it seeks to grow its portfolio.
12. The size of BSC's treasury portfolio –  where it holds funds before they are invested – has reduced, as the wholesaler invests more into its impact portfolio. The treasury assets still contributed £4.7m to profits, compared with £5.7m in 2019.
Figures taken from Big Society Capital's Report and Financial Statements 2020 (for the year ending 31 December 2020).
Thanks for reading Pioneers Post. As an entrepreneur or investor yourself, you'll know that producing quality work doesn't come free. We rely on our subscribers to sustain our journalism – so if you think it's worth having an independent, specialist media platform that covers social enterprise stories, please consider subscribing. You'll also be buying social: Pioneers Post is a social enterprise itself, reinvesting all our profits into helping you do good business, better.