COP26: Financial firms should drop 'hypocrisy' and rewrite constitutions - B Corp finance coalition

A coalition of 11 financial-sector B Corps has urged financial firms to rewrite their constitutions to legally commit to a social and environmental purpose, arguing that voluntary targets without accountability are insufficient.
The B Corp Finance Coalition UK, which includes banks, wealth managers, investment and fintech firms, launched its call for action at a COP26 fringe event on Friday morning in Glasgow. 
The coalition's founding members include private bank Coutts, which achieved B Corp status in July 2021, 40-year-old ethical bank Triodos, and fund manager Bridges Fund Management, as well as Tribe Impact Capital, Montanaro Asset Management, EQ Investors, Snowball, FP Wheb Asset Management Funds, Arisaig Partners, Habito and Mustard Seed.
To put it pretty bluntly, and fairly simply, if you truly intend on being part of a solution, rewrite your articles
B Corps themselves are required to rewrite their articles of association to specify their purpose, but the coalition insisted this was not about asking firms to become B Corps, but about all financial companies enshrining purpose at the heart of their governance.
Speaking on behalf of the group, Sophie Kennedy, co-CEO of EQ Investors, a London-based wealth management business focused on sustainable investing, said the financial sector had a "long way to go" on delivering on green pledges. 
Setting voluntary targets was "[not] enough to drive the level of systemic change that is required to deliver a just transition in line with one and a half degrees," she said, referring to the Paris Agreement target of not exceeding an average global warming of 1.5C above pre-industrial levels.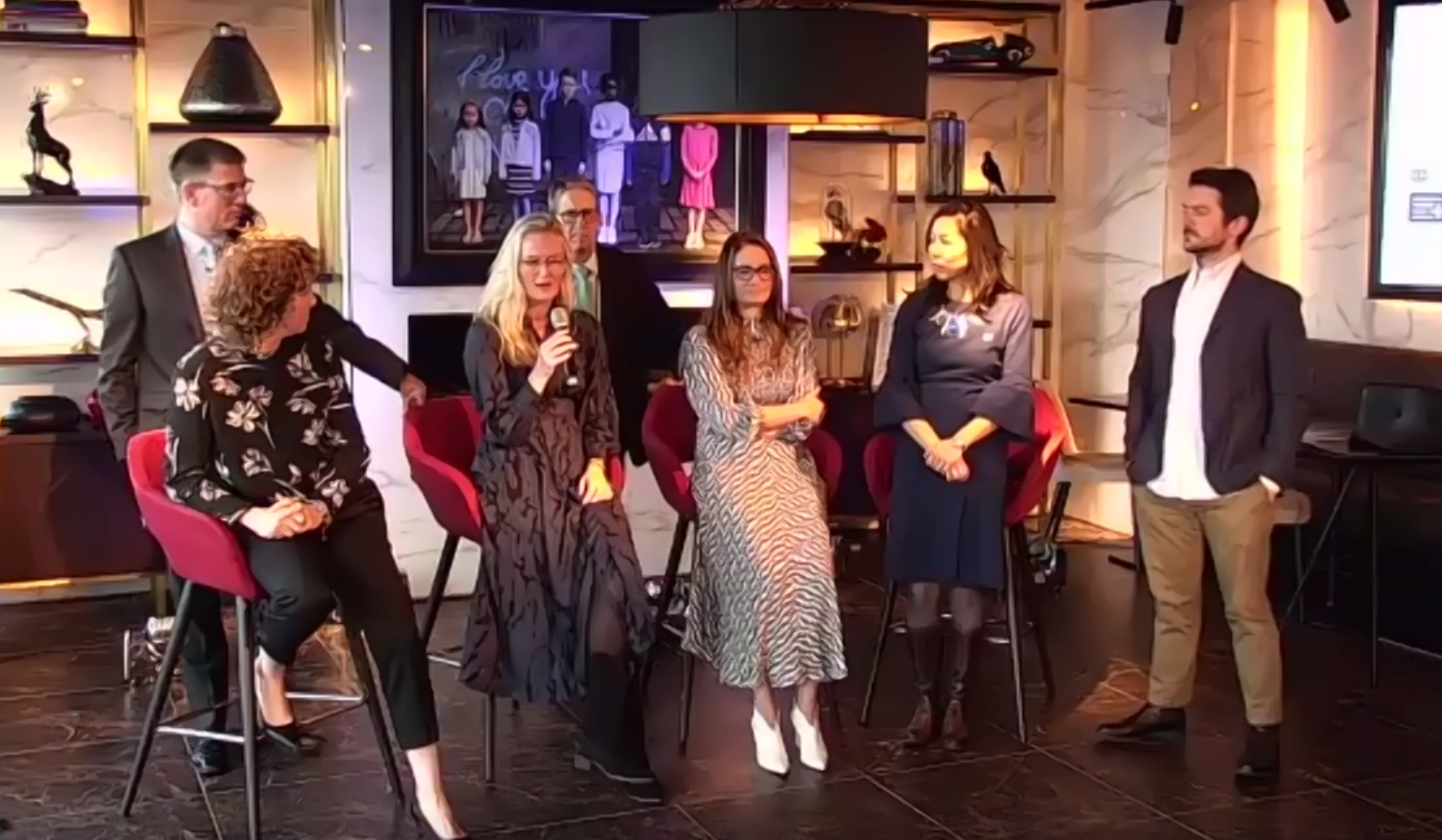 Above: B Corp Finance Coalition UK speakers at the COP26 event in Glasgow
Recent commitments were largely voluntary ones, and therefore not legally binding, she explained. But writing environmental and social goals in a firm's articles of association would change the fiduciary duty of directors, and as a result enshrine purpose in the company's governance in the long run.
Amy Clarke, chief impact officer at Tribe Impact Capital, said changing a company's constitution was "a huge paradigm shift." She added: "It's not just structural, it's not just cultural, it's legal. 
"It's about reducing the hypocrisy in global finance. For too long, financial institutions have been asking other companies to do things that they are not willing to do themselves. And that has to change.
"So to put it pretty bluntly, and fairly simply, if you truly intend on being part of a solution, rewrite your articles and join us." 
Stakeholder governance
Kennedy said one crucial change needed was a shift from shareholder primacy (where the directors must ensure maximum shareholder profit) to stakeholder governance (where the interests of all stakeholders are accounted for in decision-making).
Climate change had been in great part driven by a system governed by shareholder primacy, Kennedy argued, so a transition to net zero needed to challenge the status quo by shifting to a stakeholder-led system and expanding the fiduciary duty of company directors.
Companies and their leaders need to accept additional responsibilities to create the future that we want
"There needs to be a realisation from companies and from their leaders, that they need to accept additional responsibilities to create the future that we want."
A fair green transition required financial firms to ensure no-one was forgotten when setting climate targets, Kennedy said. 
"We need to ensure that the finance industry's focus on climate goals is mindful of unintended impacts that could be felt elsewhere. Is greening the finance sector enough when the issues that we face are so intersectional and interdependent?" 
Top picture: Glasgow, Scotland is hosting COP26. Photo: LornaMCampbell via Wikimedia
Thanks for reading our stories. As an entrepreneur or investor yourself, you'll know that producing quality work doesn't come free. We rely on our subscribers to sustain our journalism – so if you think it's worth having an independent, specialist media platform that covers social enterprise stories, please consider subscribing. You'll also be buying social: Pioneers Post is a social enterprise itself, reinvesting all our profits into helping you do good business, better.