Crowdfunding campaign launched as disabled Clarity ex-workers left in hardship
Social Enterprise UK, the UK's social enterprise membership body, has launched a crowdfunding campaign to support disabled ex-workers of former social enterprise Clarity. The workers have been left facing hardship after the company failed to pay them thousands of pounds in wages and redundancy payments.
Clarity, which produced toiletries and homecare products, was one of the UK's oldest social enterprises – previously backed by Queen Victoria and Winston Churchill. Founded in 1854 as a charity to provide employment to disabled people, it faced financial difficulties in recent years and went into administration in February 2020.  
Clarity was bought out of administration by South African businessman Nicholas Marks, who set up Clarity Products Limited, a company specially formed to acquire the charity – which became a limited company as a result.
In March 2020, Clarity employees had told Pioneers Post of the financial hardship they were facing, saying they were "absolutely broke" and "left completely in the lurch".
Peter Holbrook, CEO of SEUK, said Clarity "was a longstanding SEUK member, and we have been shocked and concerned at the continuing and complex financial and legal fallout which followed the purchase of Clarity's assets by a private company." 
Holbrook added: "We decided to act when we heard of the continuing financial impact and the isolation felt by the former workforce, most of whom are disabled or have long-term medical conditions. These vulnerable ex-workers have suffered financial and social disadvantage as a result of the ending of their employment with the company and their continuing quest for justice."
After the buy-out, social enterprise bodies soon removed Clarity's memberships and accreditations as they were not satisfied the new business model was in line with social enterprise principles.
Social Enterprise Mark, the social enterprise accreditation authority, said the company's licence to hold its mark expired in April 2020 following the sale, "when it became apparent they no longer met our criteria and did not intend taking action to return to the required standard". 
Social Enterprise UK also formally terminated Clarity's membership on 20 November 2020.
Unpaid wages
Allegations later transpired that some employees hadn't received their full wages. In January 2021, Marks was named in the House of Commons by Sir Iain Duncan Smith, the Conservative MP for Chingford and Woodford Green, in whose constituency Clarity is based. 
Sir Iain told fellow MPs: "Sadly, about a year ago, Clarity was taken over by a Mr Marks, and since then staff have failed to receive national insurance contributions, with many failing to receive their wages or support while undertaking childcare. The total amount that these decent but very vulnerable people have failed to receive is now around £200,000. They cannot claim benefits because they are essentially employed." 
These are the most vulnerable people, but also the most decent, hard-working and brilliant people - Sir Iain Duncan Smith
He added: "These are the most vulnerable people, but also the most decent, hard-working and brilliant people."  
Following Sir Iain's comments, a spokesman for Nicholas Marks said that the remarks were "highly inaccurate" and the company "does not recognise" the £200,000 figure, the BBC reported.
To date, the company has been ordered by the employment tribunals to pay at least 29 former employees thousands of pounds in unpaid wages, holiday pay and redundancy payments.
The company, which employed around 85 people, most of whom have a disability or long-term health condition, has now closed and made redundancies, with employees reporting that the factory's gates were locked by bailiffs on 15 March 2021 and that no-one has been back since. Clarity Products Ltd​​ was renamed Jublee Number 7 Limited on 8 December 2021, Companies House filings show.
The crowdfunding campaign has a target of £20,000, and a minimum of 50% of the money raised will be ringfenced to support the former employees, and the funds will also help SEUK to advocate for change so the situation doesn't arise again.
Holbrook said: "We will seek to reform the policy agenda to try to safeguard stakeholders and prioritise the retention of social value. This must never happen again."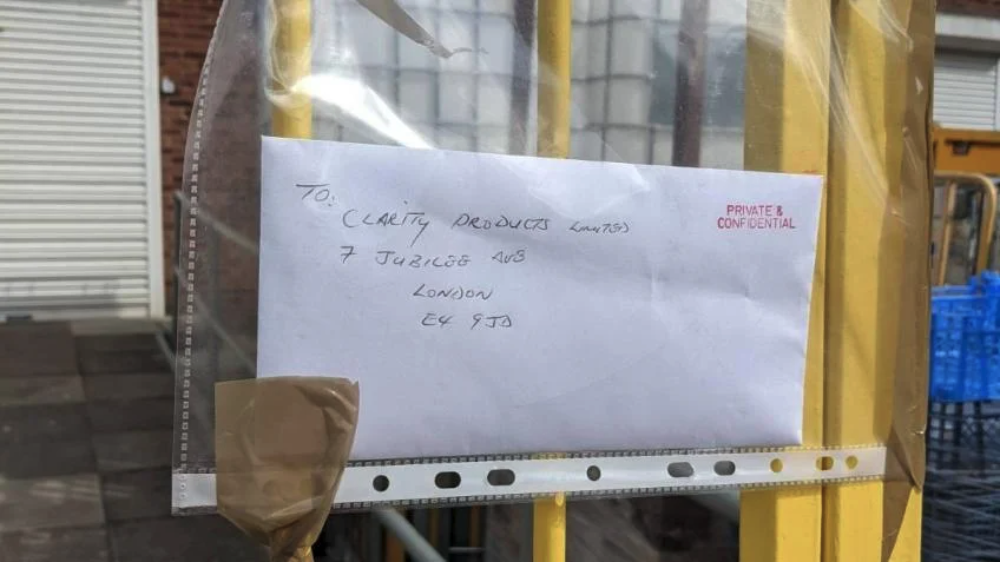 Above: former Clarity employees say the factory's gates were locked by bailiffs on 15 March 2021. Photo credit: Rebecca Smart.
Pro-bono representation secured to fight defamation case
Separately, Camilla Marcus-Dew, Clarity's former head of sustainable growth, and Cemal Ezel, the founder and CEO of the award-winning coffee company Change Please are being sued by Marks for defamation. Ezel tried to buy Clarity & Co when it went into administration in 2020, but lost out to Marks. 
Both Marcus-Dew and Ezel have recently secured pro-bono legal representation after months defending themselves without legal advice. 
Marcus-Dew is represented by Quinn Emanuel Urquhart & Sullivan LLP, who have been advising her since mid-December. Ezel is represented by Hausfeld LLP. In addition, Enyo Law LLP has agreed to advise several other ex-employees as to their positions (also on a pro bono basis). 
The legal proceedings, formally initiated in March 2021, were borne out of allegations by Marks that stories published regarding the company by various newspapers were false and that Marcus-Dew was the source of those stories. The allegations are, as yet, unsupported by evidence produced by Marks, Marcus-Dew's lawyers said.
Marcus-Dew said: "I'm pleased (and relieved) to be represented by a great legal team, helping justice to be served. I was shocked to receive notification of a case being raised against me by Mr Marks, which has led many of my disabled former colleagues to be in fear of continuing to speak out about the financial and ethical issues endured over the past two years since the charity went into administration. 
"I have personally been awarded over £11,000 to date by the courts; sadly bailiffs have failed to recover any of these monies owed. I will endeavour to continue to support my former colleagues and look forward to this being resolved, so I can once again focus on working towards positive social and environmental change."
London County Court ruled at a costs and case management hearing on 14 January that the trial would take place at the end of 2022 or early in 2023.
Pioneers Post attempted to contact representatives of Clarity and Marks for comment but had not received a response at the time of going to press.
Top picture: BECo was one Clarity's brands
Thanks for reading our stories. As an entrepreneur or investor yourself, you'll know that producing quality work doesn't come free. We rely on our subscribers to sustain our journalism – so if you think it's worth having an independent, specialist media platform that covers social enterprise stories, please consider subscribing. You'll also be buying social: Pioneers Post is a social enterprise itself, reinvesting all our profits into helping you do good business, better.