'I asked my team: are you ready? They said yes.' In Ukraine, social entrepreneurs are stepping up for their country
In the first few days of Ukraine's defence of its country against Russia, the country's social entrepreneurs have already mobilised their networks and skills to support their homeland. One of the country's leading social entrepreneurs speaks to us from Kyiv as she directs urgent support for those that have had to flee their homes.
"Social entrepreneurs have reorganised their activities – and we're only on day six." 
In Ukraine, social entrepreneurs have already stepped up to support their country's fight for freedom – as well as the humanitarian emergency that has arisen from the conflict.
Anna Gulevska-Chernysh was speaking to Pioneers Post via video call from her home in Kyiv on Tuesday morning. She is the co-founder of SILab, a Ukrainian platform that promotes the development of social enterprise and social innovation in the country. 
A week ago, war broke at the heart of Europe, as Vladimir Putin ordered the Russian invasion of Ukraine. The attack has been met by fierce resistance from Ukrainians, both military and civilians, but the Russian army is now closing down on key cities where it's starting to bomb civilians, and satellite images show a 65km convoy of armoured vehicles carrying Russian troops and equipment descending on the capital, Kyiv.
The morning is quieter, Gulevska-Chernysh says. At night, the sounds of Russian airstrikes in the near distance keep her awake. "It's one of their techniques, they prevent people from sleeping, from having a rest. It takes a psychological toll – they're trying to destroy us." 
Kyiv is a big place, and Gulevska-Chernysh says her neighbourhood is not yet under threat, with most of the battles happening on the other side of the river Dnieper – for now. But the war is very real for her: her son joined the army and left for the east of the country a few days ago. She knows she will not hear from him for a while: "I think it's a silent agreement in society, we don't know what's happening with our soldiers."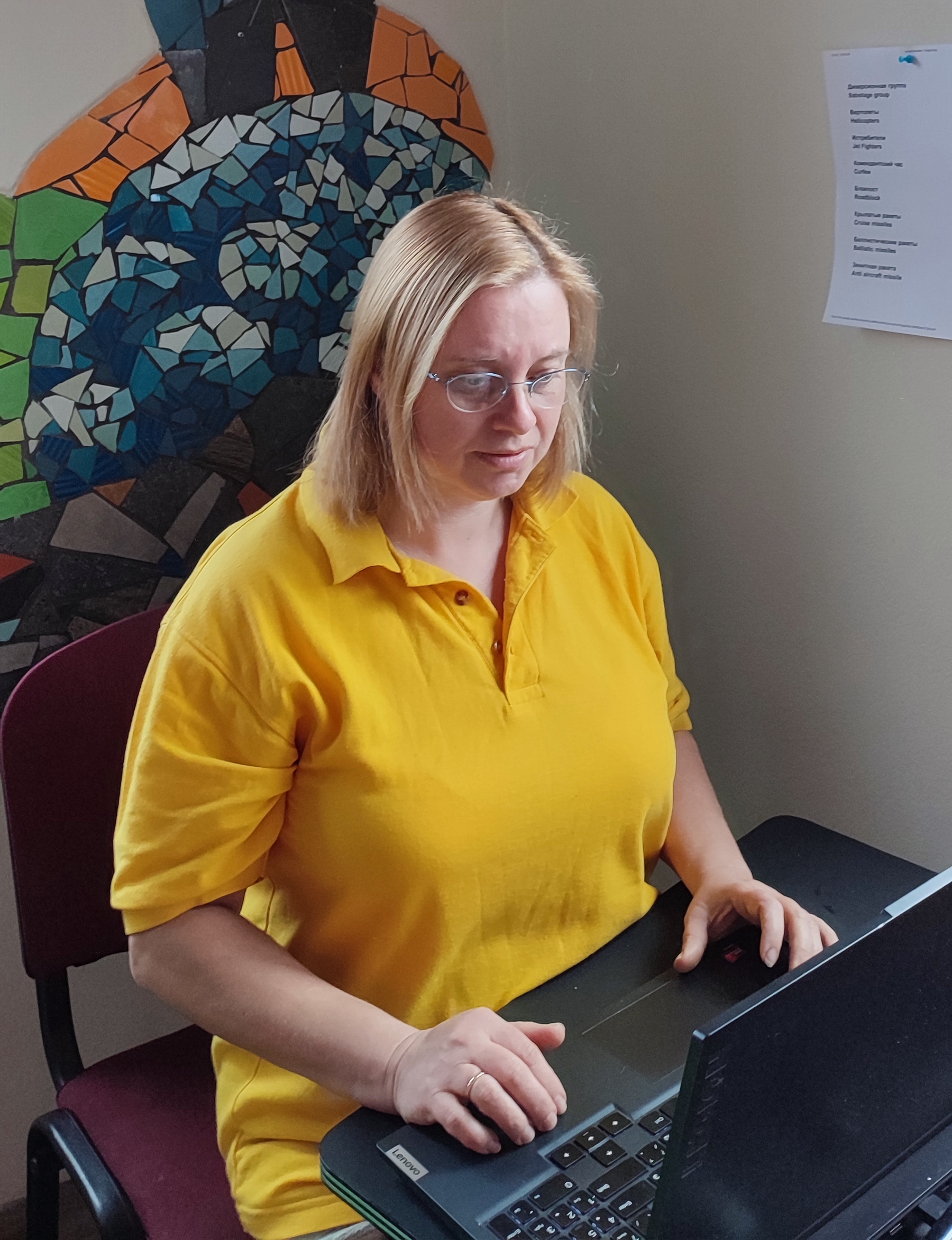 Meanwhile, her husband is volunteering with the Red Cross, helping people in shelters in Kyiv. And from her home, Gulevska-Chernysh (pictured) is working with her SILab team – all seven of them are women. They've pivoted their activities: instead of their usual day-to-day tasks like delivering accelerator programmes and mentorship to social enterprises, they are now focussing on coordinating a humanitarian effort to support internally displaced people – the UN estimates 160,000 Ukranians have fled their homes to safer places within the country. 
Gulevska-Chernysh is constantly on the phone and sending messages, connecting different organisations with each other and making sure support goes where it's needed.
It's not the first time she has worked through a crisis. In 2014, during the Maidan revolution – the civil uprising that saw the then pro-Russia president pushed out of power – she was the director of the Ukrainian Philanthropists Forum. At the time, the government banned organisations from taking any support from abroad, but she ignored the ban and started working with some European foundations to help the civilians wounded in the protests, and the families of the more than 100 people killed during the uprising.
In Sudan, the nation's young social entrepreneurs stood on the frontlines of the revolution in 2019. Explore their stories
Pivoting activities
This time, Gulevska-Chernysh anticipated the worst and prepared her team when she saw the situation was deteriorating. 
"I asked my team: what do you think, girls? Are you ready? Because it's not easy. Would you be interested in starting a new activity? They said yes."
Some members of the team are still in Kyiv, and others elsewhere, but they're permanently connected online. As a partner of the European Venture Philanthropy Network (EVPA), SILab is now working closely with the network to launch a support programme for internally displaced people. There isn't a national programme yet to help them, as all of society and government are concentrated on supporting the fighting, Gulevska-Chernysh explains. But "we have more than 100,000 internally displaced people and they need support...  It's now a very urgent issue," she adds.
For its part, EVPA has pledged solidarity with its partners in Ukraine. In a blog published on 1 March, EVPA's CEO Roberta Bosurgi said: "Over the last days, we witnessed again the remarkable resilience of our Ukrainian partners. Faced with an imminent danger to their lives and livelihoods, they continue with their important work, they stay in constant communication with our team and the impact community, and they stay upbeat and defiant!" 
In the east, a social enterprise that used to upcycle old clothes is now making camouflage nets
SILab works with partners across all regions and so has nationwide connections. In towns across Ukraine, local authorities have opened schools, cinemas and cultural buildings to shelter the refugees, but they need mattresses, blankets, food and more, Gulevska-Chernysh says.
Over the past four years, 16 social entrepreneurs have graduated from SILab's accelerator programme, and, like Gulevska-Chernysh, they know what to do when there is an emergency: adapt and help – immediately. Many have already pivoted their activities to help both the humanitarian and defence efforts, she explains.
Among them are a social enterprise in western Ukraine that was working with homeless people and which has now opened its doors to refugees. Elsewhere, a cafe that employs people with Down's syndrome is providing food to displaced people and to the territorial defence units (groups of civilians defending cities). In the east, a social enterprise that used to upcycle old clothes is now making camouflage nets.
"Social entrepreneurs have reorganised their activities – and we're only on day six," says Gulevska-Chernysh.
Maidan: a cultural shift
Gulevska-Chernysh's background is rooted in civil society, starting with youth groups when she was at university in the 1990s, then working with NGOs and charities, notably as the director of Ukrainian Philanthropists Forum. Four years ago, she founded SILab to develop social enterprise in the country, a more sustainable way to drive social change, in her view. 
"I see social enterprise as a better tool to solve social problems," she says. "It's very different from charities where you have to ask for money; here you earn money and you use it to do good things."
On a personal level, Gulevska-Chernysh feels that having worked with social entrepreneurs and charities for so many years makes her more resilient, she says. 
The concept of social enterprise was first introduced in Ukraine in 2000 through international programmes, but it didn't really take off, Gulevska-Chernysh explains. The turning point was the Maidan revolution.
"After this huge mobilisation during Maidan, and during the hot period in the Donbass region, we had thousands of volunteers," Gulevska-Chernysh says. The principle of looking after each other soon expanded from conflict and humanitarian relief towards broader social issues; then this civil society movement evolved from philanthropy towards a more sustainable model, and interest for social enterprises rose from grassroot levels, Gulevska-Chernysh explains.
Read how civil society grew out of crisis in Greece in our Global Focus
SILab's vision is "my country is my home", meaning that if one takes care of their country like they take care of their own home, it will drive social change for a better world. Right now, the people of Ukraine have come together like never before to support each other, she says, and it will no doubt lead to a rise in social entrepreneurship afterwards. 
Gulevska-Chernysh's morale and can-do attitude are striking – she is in no doubt Ukraine will eventually win the war. And she says hearing words of support from her friends around the world helps. 
"That gives me strength, to do something, not leave Ukraine but fight and achieve victory."
Photo: Volunteers raise a Ukrainian flag while making camouflage nets outside the Ivanychuk Library in Lviv, Ukraine, on Tuesday, March 1, 2022. Photographer: Ethan Swope/Bloomberg via Getty Images
Thanks for reading our stories. As an entrepreneur or investor yourself, you'll know that producing quality work doesn't come free. We rely on our subscribers to sustain our journalism – so if you think it's worth having an independent, specialist media platform that covers social enterprise stories, please consider subscribing. You'll also be buying social: Pioneers Post is a social enterprise itself, reinvesting all our profits into helping you do good business, better.