What has to change in impact investing? Frank insights from leading figures at GIIN Forum 2022
More than 1,500 delegates from over 63 countries gathered in the Hague this week for the Global Impact Investing Network's 2022 Investor Forum. Hear what impact investing leaders had to say, in our pick of the conference's top quotes.
Amit Bouri, CEO, Global Impact Investing Network
"Impact investing is growing and thriving. At the same time, it's important that we are not complacent, because we know that the world's problems are still vast, and we need impact investing to continue to scale – with integrity. 
"What I think is the most important is that we change the way that people think about investing in society… We want every investor to have an allocation to impact investments. Because ultimately we want finance to do so much more than just make money for the people who already have it.
"We're all weathering a very difficult context… This is a time when the world needs our leadership. And it does require some type of courage to maintain that focus on building a better future at a time when we have a lot of things on our side, but also a lot of headwinds around the world that we live in."
Roopa Kudva, managing partner of Omidyar Network India and board member at the GIIN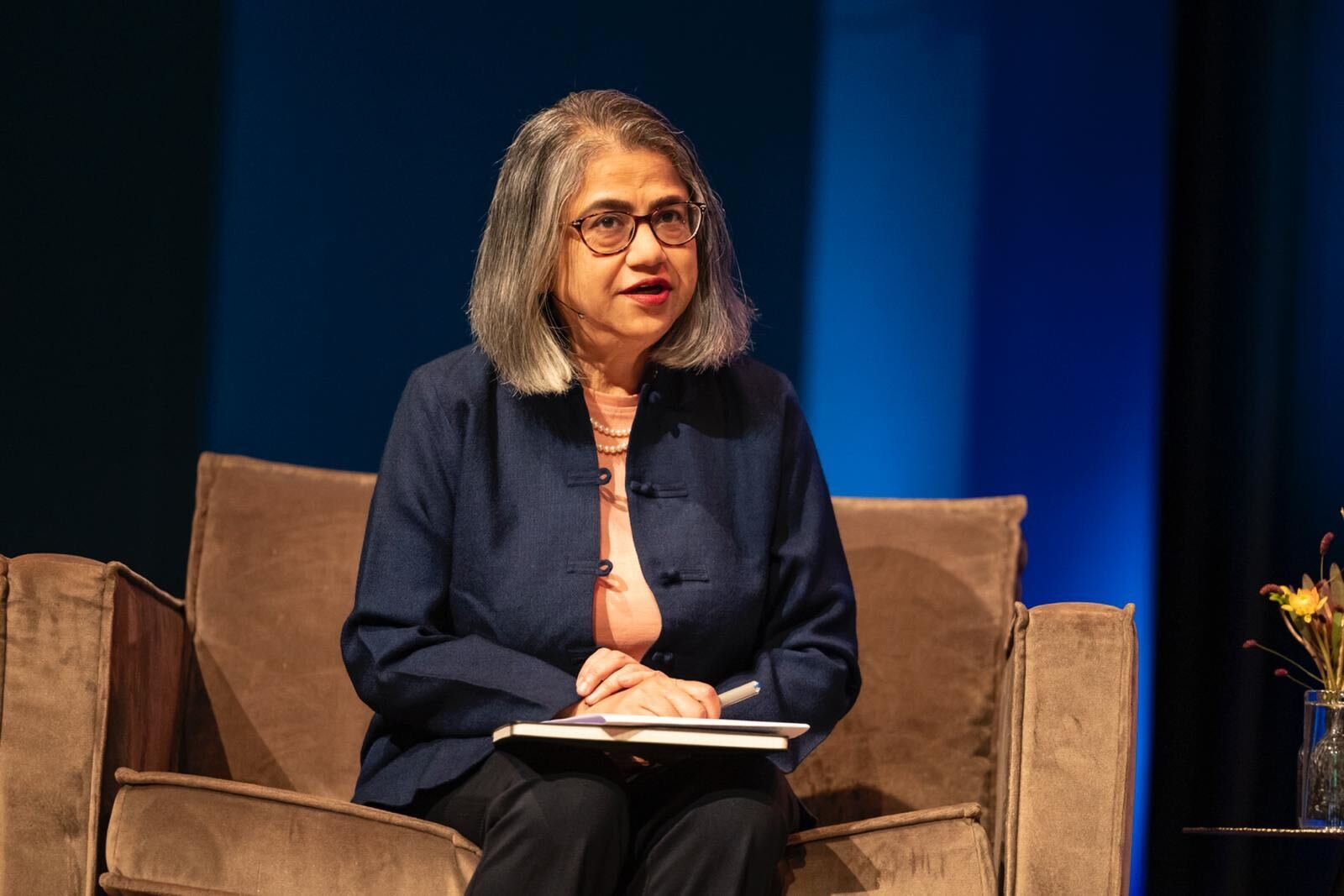 "I do think it's important for the industry and the sector to really put impact front and centre in the conversation. And even after 15 years, I do feel that the focus of the conversation is a lot on financial returns, which it should be, but perhaps the balance towards the conversation around impact needs to be addressed. That will require courage, because that's not how financial institutions are designed to think…
"I also think that with all this talk about numbers and data and sectors, somewhere we are losing the human element. Impact investing is all about people. How do we humanise the conversation a lot more? I think all these things are going to require courage from all of us."
How do we humanise the conversation a lot more? I think all these things are going to require courage from all of us
Fran Seegull, president, US Impact Investing Alliance
"We are supposed to achieve [the UN Sustainable Development Goals] by 2030, which is right around the corner. So we should celebrate the trillion dollars but there are more billions and trillions to move to achieve the SDGs...
"There are a couple of obstacles that we see impeding capital flows, potentially. One is fiduciary duty, and the enduring perception – despite data pointing to the contrary – that taking impact considerations into account, by definition, sub-optimises financial returns. We know that that's not the case... The second of some of the headwinds that we heard about is around anti-ESG pushback. I believe as a field, we need to reclaim the narrative of ESG and reclaim the narrative of impact investing to de-politicise and de-weaponise the framing and to position our work as the future of finance."
We need to reclaim the narrative of ESG and reclaim the narrative of impact investing
Christina Leijonhufvud, CEO, BlueMark
"There are two levels of gaining trust in the market. At the system level, there needs to be regulation – like it or not, there needs to be a minimum bar of regulation; there needs to be voluntary standards in the market that practitioners can align around; and there needs to be independent verification and assurance. At a human level, there needs to be a level of humility, a level of openness, transparency, a willingness to admit one's mistakes, a willingness to share lessons learned, and to commit to learning."
Marcelo Behar - vice president Sustainability and group affairs at Natura &Co – the biggest B Corp in the world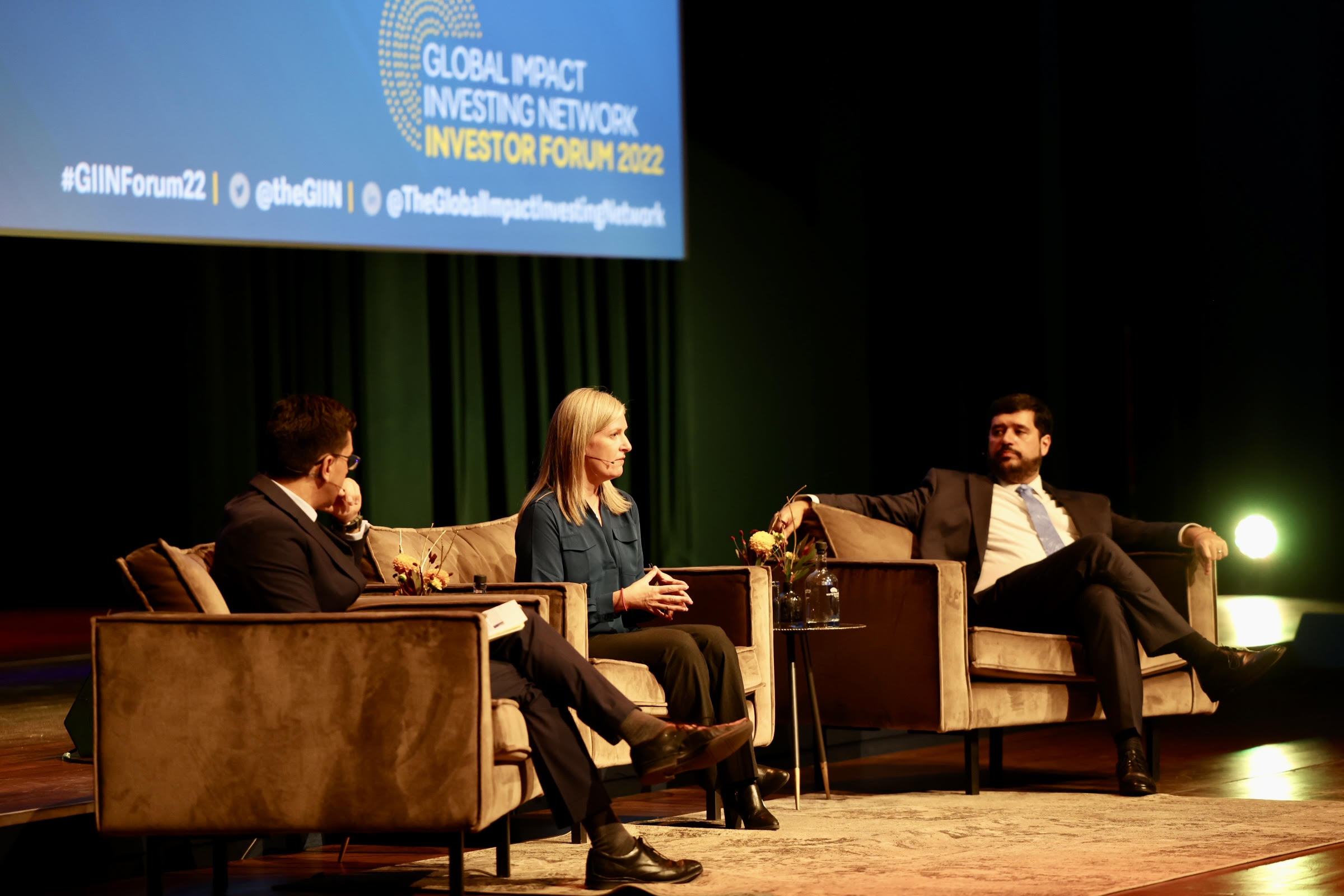 "We don't think being great at the things that we are doing will really change things. It will only happen if we start creating a movement that others can join, that can be replicated, that others can understand how to do. 
"B Corp is all about 'co-ompetition':  instead of competing, or instead of just collaborating, [it's about] doing business in a way that you compete on the business sector, but on the other dimensions you're collaborating."
Top picture: Amit Bouri addresses the audience at the GIIN Investor Summit 2022 in the Hague.
Thanks for reading Pioneers Post. As an entrepreneur or investor yourself, you'll know that producing quality work doesn't come free. We rely on our subscribers to sustain our journalism – so if you think it's worth having an independent, specialist media platform that covers social enterprise stories, please consider subscribing. You'll also be buying social: Pioneers Post is a social enterprise itself, reinvesting all our profits into helping you do good business, better.