'Frankenstein's monster' impact ecosystem needs rethink, AVPN conference hears
First day of AVPN's Global Conference 2023 in Kuala Lumpur covers the flaws in funders' approaches, the significance of humility in philanthropy and why it is harder to give than receive.
The impact ecosystem is a Frankenstein's monster which makes it incredibly hard for hard-pressed social entrepreneurs to find the funding and support they need.
This is according to Brigit Helms, executive director of the Miller Center for Social Entrepreneurship.
Speaking on the first day of the AVPN Global Conference 2023, which is taking place in Kuala Lumpur, Malaysia, this week, she said: "What we have done is inadvertently create a Frankenstein's monster of an ecosystem." 
She pointed to the variety of different programmes and organisations which are all taking different approaches, using different funding methods, theories of change and ways of measuring impact.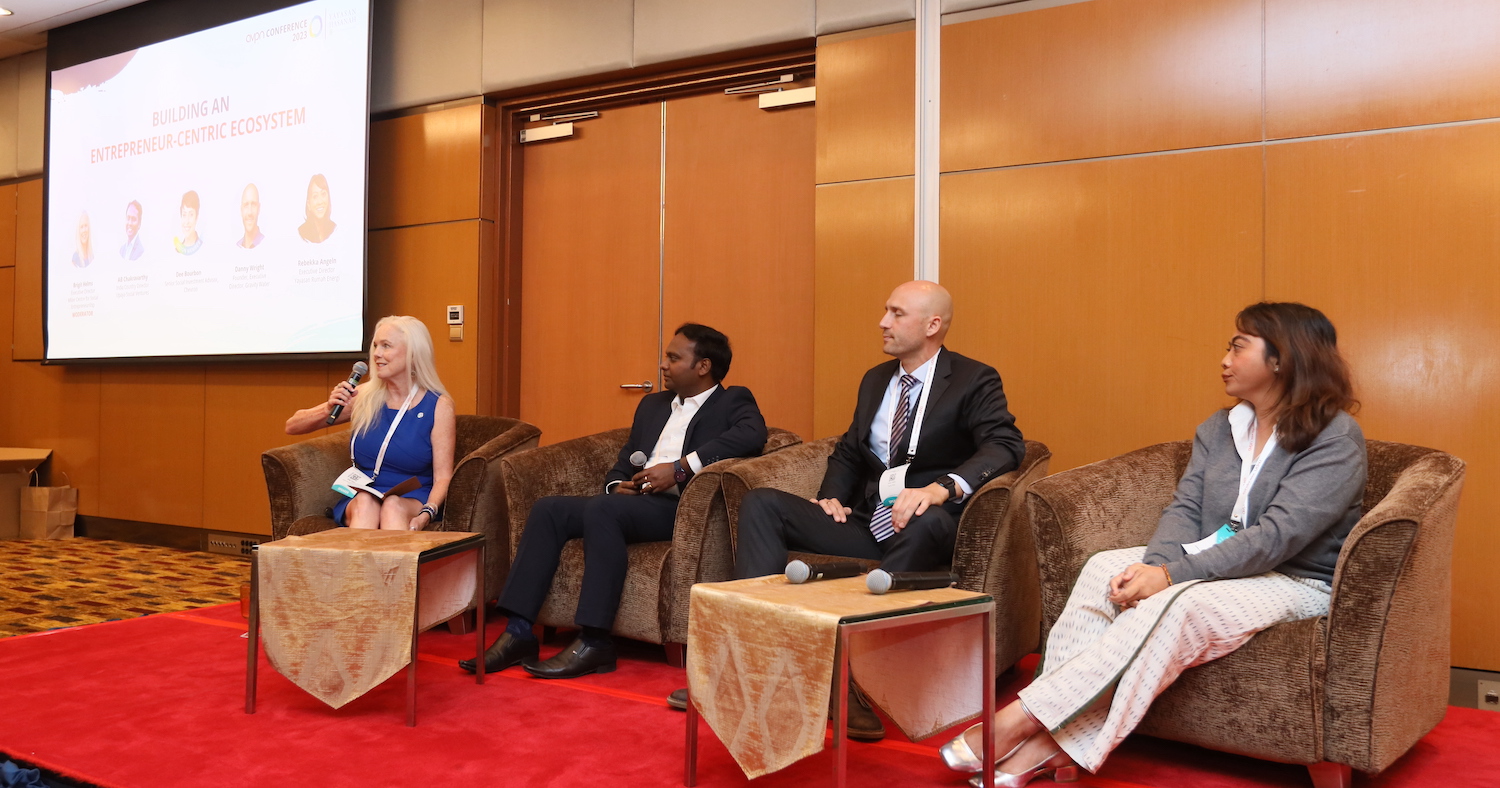 "This makes it almost impossible for the very entrepreneurs we are here to serve to navigate our ecosystem," she said. "The entrepreneurs we work with struggle daily to find the right flavour of capital."
The entrepreneurs we work with struggle daily to find the right flavour of capital
Those social entrepreneurs who spoke the right language and had the right education would keep on getting the capital, she said, while women and diverse leaders found it much more difficult.
"There's a need to widen the tent," she said, urging impact investors and philanthropists to listen to what social entrepreneurs needed.
Common goals
The AVPN conference runs from 20-22 June and is attended by around 1,300 philanthropists, policy makers and others. AVPN CEO Naina Subberwal Batra said that the event was an opportunity to showcase Asian solutions to global problems. 
By bringing together people involved along the whole "continuum of capital", including philanthropy, corporate social responsibility, impact investing and ESG, the event could catalyse collaboration to tackle the world's most urgent problems.
"All of us share a common goal to create a future where prosperity and wellbeing are accessible to all," she said. 
Ajay Piramal, chairman of India-based Piramal Group and its associated Piramal Foundation, said that even though the word profit wasn't always liked, it was important.
"Business can be a force for good," he said. "Profit is that oxygen that keeps us alive. But we don't live only for oxygen, we have to do good."
He said humility was an approach that philanthropists from Asia brought to giving. "When a tree bears fruit, it bends down so you can get it," he said.
Philanthropy: an "awesome responsibility" 
Rounding off the opening plenary talks, Gabriel Leung, executive director of charities and community at the Hong Kong Jockey Club Charities Trust, argued that giving money was much more difficult than asking for it.
"I used to hate writing grant proposals because you never know if you are going to be funded. Some of the time you felt you were wasting your time," he said of a previous role he held. 
When he became head of the Hong Kong Jockey Club Charities Trust last year, which donated more than HK$6bn (£600m) in 2021-22, he discovered that giving was much more difficult because of the "awesome responsibility" of choosing where to invest capital, and then measuring its impact, he said.
For the trust, impact measurement was not just about "looking at before and after or asking how people feel". 
"We have very serious impact measurements for every single project… and use the best frontier scientific methods."
"Philanthropy is a real profession," he said.
'Global Challenges: Asian Solutions', AVPN's Global Conference 2023, runs from 20-22 June in Kuala Lumpur, Malaysia. Pioneers Post is a media partner.
Thanks for reading our stories. As an entrepreneur or investor yourself, you'll know that producing quality work doesn't come free. We rely on our subscribers to sustain our journalism – so if you think it's worth having an independent, specialist media platform that covers social enterprise stories, please consider subscribing. You'll also be buying social: Pioneers Post is a social enterprise itself, reinvesting all our profits into helping you do good business, better.