Good Deals 13: Social investors want high impact, risk and excitement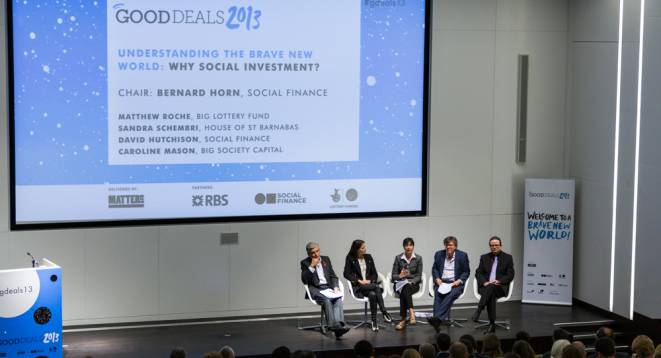 Bernard Horn, chair of social investment firm Social Finance, was determined to be provocative as host of a live social investment-themed interview today at Good Deals 13.
He succeeded with Parkinson-style aptitude in extracting some keen insights on the future of social investment both from the panel and from the audience, handing over the microphone to an unsuspecting delegate mid-flow.
"Where I see the social investment market going is a very clear focus on high impact, that will bring the level of excitement needed from investors," said David Hutchison chief executive of Social Finance.
"If I take a model that is less risky and less exciting I probably lose them completely," he said. 
"But, if I take something with very high impact and something they can relate to, whether it be a local project about strengthening the community or a systemic problem, which they know has been a problem for a lot of people for many years, you get a level of excitement which means investors take risk and are much more prepared to be flexible on the amount of return they get for that risk." 
This was a prediction echoed when Horn turned to Carolyn Sims, head of banking at Charity Bank, to explain why they had invested in homelessness charity House of St Barnabas.
"What excited us was the impact," she said. The charity runs a private members' club to both generate income and serve as an entry point for homeless people into employment, who receive training to work there.
"Bringing homeless people back into work, in an organisation that will be self-sustaining, and reliant on funds that will be purely earned was something we wanted to support," she continued.
"We love social investment," said Sandra Schembi, chief executive of House of St Barnabas, "but people need to be braver, we still have a deficit, we rely on investment and grants, and are moving from subsidy to sustainability - we can't do it alone."