Issue #12: The impact revolution: what will your role be?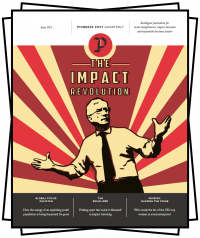 The digital version of the 12th edition of our print magazine, Pioneers Post Quarterly, can be found below. 
​Cover feature: The impact revolution is coming. We hear from some of those on the frontlines.
Global focus: What's the social enterprise scene like in the world's fifth most populous nation? Join us on a journey to Pakistan to find out.
NEW: The Equalizer: David Floyd's new column picks apart the "social vs financial" debate in social investment.
Investor profile: Bristol & Bath Regional Capital makes the case for place.
The Guv'nor: the third instalment of Bob Thust's column: what does a sofa outside a pub have to do with good governance? 
We'll be adding individual articles in their usual format over the coming weeks and months.
Please note that this digital version of the printed magazine is premium subscriber-only content. By subscribing you'll unlock all premium content on this website, including videos and podcasts, plus you will receive the printed magazine through your door each quarter! 
And don't forget that Pioneers Post is itself a social enterprise. Your subscription helps us to become financially sustainable so we can keep delivering the social enterprise news and helping you do good business, better!
(Any problems reading the issue? Contact us at hello@pioneerspost.com)