Five tips to help impact organisations become more inclusive
How can social enterprises become more inclusive – and why is this so important? In our last WISE Ways to Lead webinar of 2021, hosted in partnership with NatWest, we heard from Bayile Adeoti of Dechomai and Bayo Adelaja of Do it Now Now. Read on for highlights, or watch the full discussion above.
Including marginalised groups within the impact sector is crucial.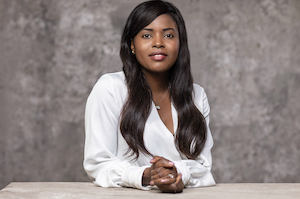 Impact leaders therefore need to start looking at how they can "invite everybody to the table", said Bayile Adeoti (pictured), founder of Dechomai, a social enterprise in Scotland empowering Black and minority ethnic women with leadership and entrepreneurial skills so they can be financially independent. 
Adeoti was speaking at our WISE webinar on navigating inclusion in December, alongside Bayo Adelaja, founder of leadership, entrepreneurship and innovation support ​enterprise Do it Now Now.
"[There is] so little understanding of what is needed [in terms of diversity and inclusion], that we are not ready to engage in the way that is necessary to move the entire community forward", said Adelaja (pictured), whose organisation helps Black-led organisations to create social impact in communities around the world, and who has been named one of the UK's leading women in social entrepreneurship in the NatWest WISE100.
Explore more stories and insight from leading women in social enterprise in our WISE100 collection
Navigating diversity and inclusion can seem daunting, especially when you have no idea of where to start. This should not deter you, the speakers said. 
That's because there are benefits for businesses, individuals and society in becoming more inclusive. Being more open to more diverse communities can open your enterprise up to more diverse experiences. This will in turn help you better understand how to nurture diverse communities and your own organisation.  
Here are five tips we learnt from Adelaja and Adeoti. 
1. Form equitable partnerships – "They are relying on you"
A misconception about working with grassroots organisations and diverse communities is that you have to wait for them to come to you. However, you need "to jump into their space and become an equitable partner to them", suggested Adelaja. "They are relying on you."
You, as the more established enterprise, have to be willing to connect with these grassroots organisations that are trying to solve issues local to them and that are, more often than not, marginalised in some way. 
These are the same organisations that do not have the social or cultural capital to come to you, Adelaja reminded the audience, so go to them. 
2. Be flexible and transparent in how you communicate – "No one message fits"
When approaching diversity, be aware that "even with those broad groups [for example Black, disabled or LGBT communities], there's intersectionality within that", said Adelaja, so "no one message fits".
To navigate this, try to communicate in "ways that are dynamic and interesting so that you are able to attract people that wouldn't be on the beaten path", she advised. This means that those who are within those intersectionalities will feel welcomed enough to engage with you and your organisation. 
However, being intersectional is not enough: you also have to be proactive with how you interact with different groups. When communicating, create an open dialogue about how and why your organisation wants to be diverse and inclusive. This will allow you to "tell them where your heart is", as an organisation, and to find "common goals and visions, experiences and a middle ground to work on", said Adeoti.
3. Take a short-term and long-term approach – "Pivoting for better"
Do not see the transition to becoming more inclusive as something that should happen instantly. 
Instead, "start looking at it as manageable, doable and achievable", said Adelaja. You are "pivoting for better".
By changing how you approach diversity and inclusion, through setting long-term and short-term goals, you will be better positioned to implement the necessary changes. 
Set goals that are "manageable, sensible and achievable in your current context", added Adelaja.
This way you will be able to measure your progress and better manage your transition into becoming more diverse and inclusive. 
4. Understand and accept – "Don't be a gatekeeper" 
Inclusivity is a team effort, a community effort – so recognise "the power of collaboration", said Adeoti. 
You need to be willing to collaborate with these grassroots organisations and diverse communities. You have to actually incorporate them into decision-making and implementation processes. 
As Adeoti said: "Diversity is being invited to the party. Inclusion is being asked to dance. Equality is being part of the planning committee."  
It is also crucial that you share what you have learnt from being more inclusive with other enterprises, she added. 
This could be done in two ways:
You can sign-post the organisations you have worked with to others who are looking for new partners. 
You can freely share the information and the knowledge that you have gathered with others within the community. 
By sign-posting and sharing – in other words, making "a conscious effort not to be a gatekeeper" – you open up opportunities to those who tend to be left out, enabling them to be recognised. 
5. Step out of your comfort zone – "You have already started it, you just have to level up"
Some impact organisations have already started to try to become more inclusive, said Adelaja. However, they may still be struggling because they are only trying to be inclusive within their own comfort zone. 
"It is really about creating that first move outside of your comfort zone," she said. "How can you move outside of that thing you call [the] 'norm'?"
A starting point would be to look for partners outside the organisations that "get recycled", as Adeoti put it – in other words, the ones that get called upon again and again.  Are there other businesses that you can work with instead? 
Look at how your supply chain and business system operates and actively find ways to diversify them, recommended the speakers. This will help you to make your entire business workflow more diverse. 
Images courtesy of Bayile Adeoti and Bayo Adelaja
Thanks for reading Pioneers Post. As an entrepreneur or investor yourself, you'll know that producing quality work doesn't come free. We rely on our subscribers to sustain our journalism – so if you think it's worth having an independent, specialist media platform that covers social enterprise stories, please consider subscribing. You'll also be buying social: Pioneers Post is a social enterprise itself, reinvesting all our profits into helping you do good business, better.