Steps towards investment-readiness: Four tips from impact investors
What does 'investment-ready' actually mean? At the Impact!Africa Social Entrepreneurship Summit in Nairobi last month, representatives from four different impact funds shared their tips.
Impact investors often say they don't back more businesses because there aren't enough 'investment-ready' businesses out there.
But what does investment-ready actually mean?
At the Impact!Africa Social Entrepreneurship Summit in Nairobi last month, hosted by the British Council and Ashoka, representatives from four different impact funds shared their tips.
1. Transparency and solid ethics
Be upfront about the health of your business, says Emanuele Santi, fund manager of the Agri-Business Capital Fund at Bamboo Capital Partners (pictured below, far left). Yes, you need to "be bold" to get attention, but don't be tempted to stretch the truth: "At the end of the day, numbers will come up – there's no way you can lie."
Falaq Tijani, a manager at the Lagos, Nigeria-based firm SAHEL Consulting, echoes this. Doing due diligence on a potential investee – one of the top companies in its field with an inspiring story – her team uncovered "a lot of skeletons in the closet" including a lot of debt. In the end, SAHEL pulled out.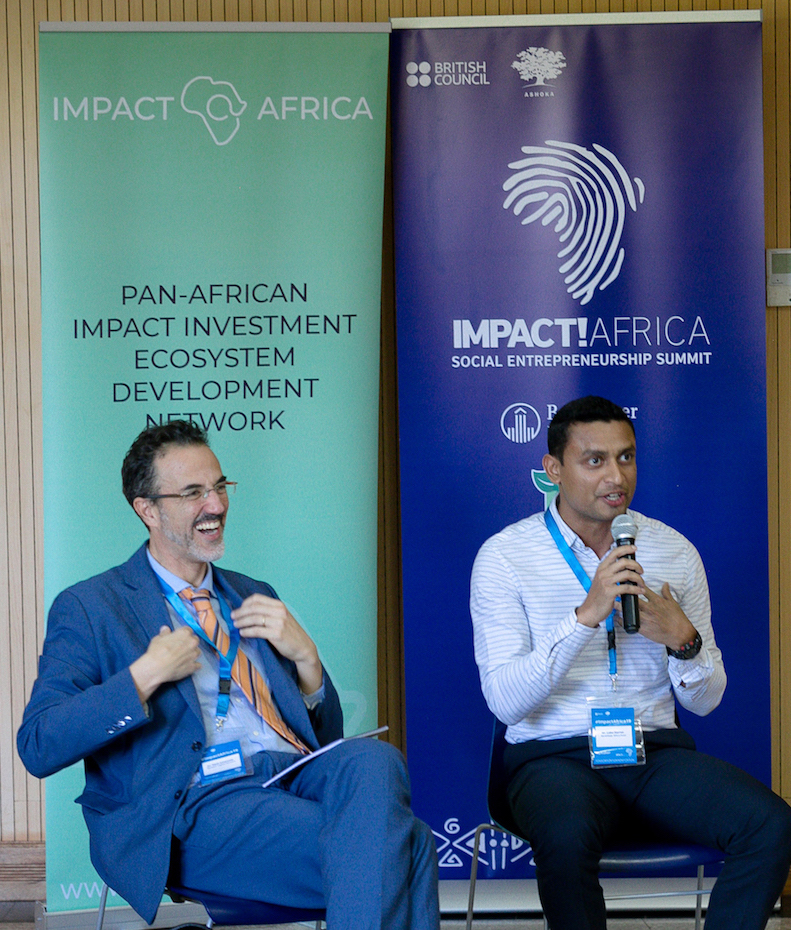 Darren Lobo, from India-based Aavishkaar (pictured left), says transparency is "really important" – and that there's a difference between making mistakes and intentionally misleading someone. "Sometimes as investors we know when an entrepreneur is trying to be dishonest and we know when they have genuinely not understood that they needed to do certain things [such as pay staff health insurance]." While an omission, such as failing to pay insurance or tax, say, still needs to be sorted out before investing (perhaps expected within a certain timeframe), the willingness to clear up a genuine error is "something we can live with".
Oluwatoyin Emmanuel-Olubake, associate director of portfolio at Acumen, also underlines the importance of integrity. Business headaches in Africa can often "be bypassed" via unethical shortcuts, so "we want to know you're not prone to taking those shortcuts… that you're building the business in the right way, in a way that aligns with our own values."
2. A plan to grow – and a convincing story about how you'll get there
Demonstrating where you've got to so far – proof of some market validation and revenue – is important, says Emmanuel-Olubake. But so is the story of where you're going next; in other words, your business plan.
"If we don't see what you financially expect to do over the next couple of years then we can't estimate what your returns are… We have to see what you think your numbers will look like. We might have a different opinion but it starts with what you believe your numbers will be like.
"We also need to see the story around how you plan to achieve those numbers – marketing, product development, how you plan to expand, how you are planning to manage your costs…"
And, for certain investors at least, investment-readiness means those numbers need to be sizeable, says Lobo. "Is the business addressing a really, really large market?" If not, and if Aavishkaar doesn't see the business growing in future, it probably won't be investing.
3. The right processes, the right people
Many SME founders find it difficult to separate the owner's money from the business's money, says Tijani. Sort out your governance, she advises – and find a few people who can advise you and help you set up an appropriate structure.
And get to know where your weaknesses are. Tijani says the inspiring company that fell at the due diligence hurdle did so partly because the owner "wasn't very diligent with getting advice from outside". That's not unusual, she adds: many entrepreneurs are reluctant to seek the support they need.
Don't be afraid to look for the help you need, says Santi. And, he adds, be prepared to pay for technical assistance that can help you grow (or be prepared to take on part of the cost, along with the provider). As a paying customer, you can be much more demanding about the quality and the outcomes – something you can't easily do on grant-funded or free incubator programmes.
Sometimes as investors we know when an entrepreneur is trying to be dishonest and we know when they have genuinely not understood that they needed to do certain things
Tijani recalls an investee whose staff faced some big knowledge gaps. After "a lot of conversation", SAHEL worked with the managing director to find a more suitable replacement for his role. Now, she says, "the organisation is thriving."
For Acumen, it's important to see there's enough capacity, says Emmanuel-Olubake – ideally "not resting on just one person". While the firm does invest in some solo-founder ventures, they prefer those with cofounders or a management team that divides up responsibilities and decision-making. "That balance is often very, very valuable to businesses who face challenges as they grow."
Lobo says his firm often tries to help investees "build a second layer" of management.
"These are going concerns that need to exist for 10, 15, 20 years, and the management can get disillusioned at some time, [so you need] layers beneath them that can run and execute." Employee stock options are one way to support this, by boosting ownership and nurturing strong-performing employees who "can become a second level of the C-level structures." 
4. …and the right chemistry
For all the checklists and criteria in the world, some things aren't simple to pinpoint.
"There's an element of subjectivity in a lot of decisions that investors make," says Emmanuel-Olubake. Much of that is to do with what he calls "the dynamics" within the team, within their market and with investors. Acumen's average investment period is 10 years – just as in a romantic relationship, if you're "fighting every day", you might be better off with someone else. But whether it's for three years or 10 years, that personal dynamic is "a very important part" of the relationship.
"You can use all the approaches, you can use the numbers but a lot of it is gut and trust," adds Lobo. "Do we trust these guys to execute the strategy they're talking about, and stick with it even in the bad times?"
Hold them accountable too
François Améguidé, board member of pan-African impact investment network Impact@Africa, points out that the due diligence can go both ways: entrepreneurs should do background checks too.
"Does [the investor] fit your profile? Money is not equal… there might be some intrinsic value that you get from the next 100 dollars that the first 100 dollars [offered] is not giving to you. So you need to understand what your key requirements are."
And Santi has a word of advice for those who don't get the positive answer they'd hoped for when first approaching possible investors.
"Do not take no as an answer. Ask for reasons, and be persistent." Assuming you've sent a credible pitch to a relevant funder, don't simply disappear if your communication is met with silence.
"You need to hold us accountable… it's our duty to get back to you with reasons. We may be overloaded with emails but you'll be one of the few asking for concrete feedback."
Pioneers Post is a media partner to the Impact!Africa Social Entrepreneurship Summit, which took place in Nairobi on 4-5 December 2019