From trash to treasure: the South African community taking ownership of waste
South African non-profit The Dreamcatcher Foundation and the UK's University of Brighton have teamed up to empower the residents of Melkhoutfontein with upcycling skills to turn waste into sought-after products – helping them generate an income, clean up the environment, and even tap into a part-forgotten cultural heritage. Our DICE Young Storymaker, Imani Dlamini, reports.

When 19-year-old Maria Morgan finished high school she had big dreams of making the transition to go to university. But, like many other young people her age, her parents could not afford the fees, so she had to find work – not an easy task.
On top of that – like many other residents of the town of Melkhoutfontein – she had already witnessed the impact waste had on her community.
The small rural community, like many others across South Africa, had grappled with waste management for decades. Located about 7km from the coastal town of Still Bay in the Western Cape, it was once used as a dumping ground by wealthier neighbouring communities. It was also common to find waste burning openly – leading to health problems such as asthma among residents.
Nowadays, though, waste is a source of income for a community that has long suffered from economic deprivation. And Morgan is among the group of crafters working all day to transform plastic bags, bottle caps and other waste into beautiful coasters, plates, bowls and other unique crafts. On a typical day, visitors are welcomed by the sound of sewing machines, laughter and chatter – and when Pioneers Post visited in September, it was all hands on deck preparing to sell their goods for the first time, at the upcoming Christmas market. Nothing was going to waste in this room – even the tiniest pieces of plastic were preserved for later use.
Waste not, want not
This is one of the many groups set up as part of the Wasteland Graced Land project, headed by Anthea Rossouw, of the non-profit organisation Dreamcatcher Foundation, together with Dr Ryan Woodard, a waste expert from the University of Brighton in the UK. Some of the groups – which Morgan is part of – are working with plastic waste to produce several crafts such as mosaics, jewellery, bowls, bags and many other crafts. The textile ladies are making bags and other items from the plastic bags usually discarded at dumpsites. Meanwhile, another group, a few minutes' walk away from this community centre, are making coat hangers, stools, brooms and toys. The collaborative project has been working in the community for nearly a decade to address unemployment and poverty through waste management and by knowledge and skills transfer between locals, visitors and university staff from the University of Brighton.
'People can see that it is a good thing to recycle, because good things can come out of it like this project' - Maria Morgan
So far, the Wasteland Graced Land project has been clearing the area of the invasive Acacia Cyclops plant, setting up a botanical garden, setting up an arts and crafts centre, and helping develop Melkhoutfontein into a tourist destination. The current and final phase – called 'Waste It's Mine, It's Yours' is looking at using waste products and the Acacia Cyclops to create crafts for souvenirs and other items, and developing a craft centre to do this. This is made possible through a £65,000 grant from the British Council's Developing Inclusive and Creative Economies (DICE) programme, which aims to support creative and social enterprises in five emerging economies including South Africa.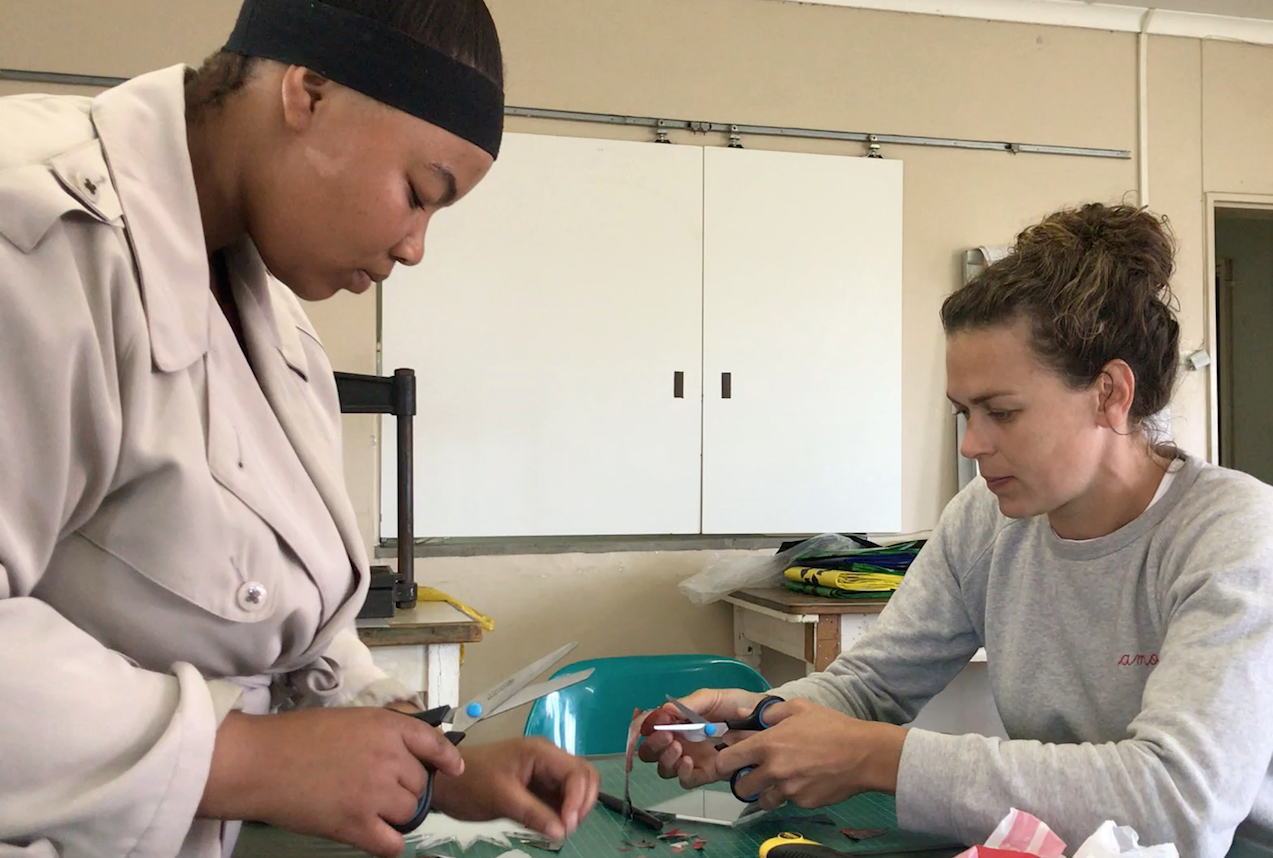 Above: Maria Morgan with University of Brighton tutor, Matilda Grover, working together to transform waste into products that can be sold.
Some of the grant money is used to pay a stipend to the crafters, so that they can dedicate their time to acquiring new skills and developing their businesses while being able to continue supporting their families. Most of the people Dreamcatcher works with are women and young people who finished high school with no jobs (over 55% of South Africa's youth is unemployed). The project also provides a small income for those who collect waste from households, shops and outdoors.
New opportunities
Rossouw created the Dreamcatcher Foundation over 30 years ago. As a student, she noticed a lack of entrepreneurial opportunities, especially for women, in low-income communities, and wanted to "make a difference". She finally settled in Melkhoutfontein and has initiated several community development initiatives since then.
The town has had its fair share of socio-economic challenges. High unemployment was compounded by the decline, from the 1970s, of its main source of livelihoods, fishing. By 1990 Melkhoutfontein was the most destitute community in South Africa, with poor infrastructure and 80% of the population unemployed, according to researchers.
'You have all the youth encouraged to go to school… but they couldn't find work' - Anthea Rossouw
The decline of the fishing industry meant people went from "being a community that looked after themselves" to one that became despondent: "Eventually there was no real work for them because they had few skills," explains Rossouw. The only jobs on offer were in neighbouring towns such as Still Bay – working in construction or cleaning, or as seasonal workers during holiday periods. "You have all the youth encouraged to go to school… but [afterwards] they couldn't find work," she says.
To help tackle this, Dreamcatcher Foundation has trained  Melkhoutfontein locals in hospitality skills – building on the non-profit's previous experience in supporting tourism enterprises, a huge growth sector in South Africa – and empowered the community to run accommodation, local tours and immersive experiences. And the DICE funding is helping train people to produce crafts that appeal to those looking for an antidote to imported products, says Rossouw: "Tourists want to buy stuff from local crafters."
Watch this short clip featuring Maria Morgan and some of the Brighton University trainers - and see the upcycling workshops in action:
Owning the project
Recycling is very limited in South Africa: 90% of all waste produced in the country ends up in landfill, according to the Department of Environmental Affairs. Rossouw has long been concerned about this, and the Wasteland - Graced Land project has included numerous elements including awareness programmes, transforming a former dumpsite into a garden, setting up a composter, and arts and crafts programmes for children.
This current project has trained over 30 people since July in turning waste into products of value. While 10 of the initial 40 who signed up (the project was open to all) had to drop out due to personal reasons, Rossouw says having 30 people still involved is "a high", because "enterprise is one of the most difficult things to crack from a zero base of training and income and skills."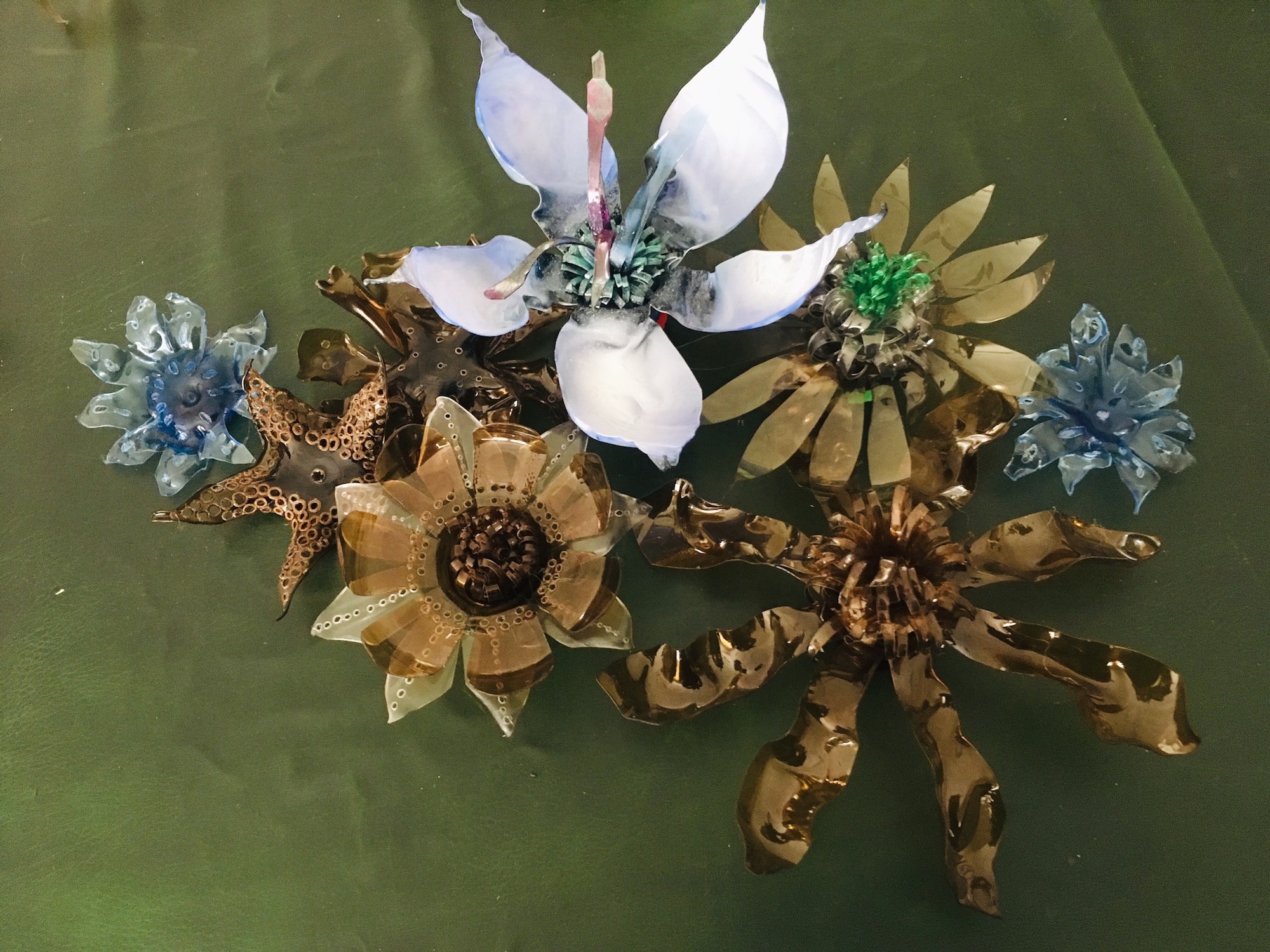 Above: Christmas decorations ready to sell at the December market.
Part of this success could be down to the sense of ownership the project has instilled. Rossouw had spent over 30 years working with the local community before this current project even started. And while outsiders have come in – tutors who work in waste management from the University of Brighton – to transfer skills and knowledge, the initiative is community-led.
'We have to address anything that could be a barrier in the pathway of the enterprises on this project being successful'
The ethos of sustainability and self-sufficiency has other implications too. "It means we have to address anything that could be a barrier in the pathway of the enterprises on this project being successful," she says. So, the project is not only teaching people about working with waste, but also other skills such as marketing, customer care and business management.
And it means ensuring there's a market for the products that are made – hence the focus on growing tourism to the region.
There's one more positive impact: crafters have been using their work to explore their cultural heritage – from the goats that their ancestors used to hunt or the abundance of flowers and plants in the area – and incorporate that into their artworks. Craftworker Elmordine Saayman's works, for example, are inspired by the nearby Blombos Cave in the Western Cape, an archaeological site home to important cave drawings.
Bringing the value back
On the day Pioneers Post visits, Saayman is carving out a new design for a coaster. She says that before the project she was unemployed and "bored at home". Now, she is looking forward to growing her skills as an entrepreneur – and is especially excited about the "big day", when the Christmas market opens. "When I see my stuff sell or sold out, and then it will be a reality for me," she says. (In January, Rossouw updates us on the market – and proudly shares that every crafter managed to sell their products.)
Morgan describes Dreamcatcher as "a place that gives people an opportunity to become their own boss", but she has also been motivated to help her neighbourhood.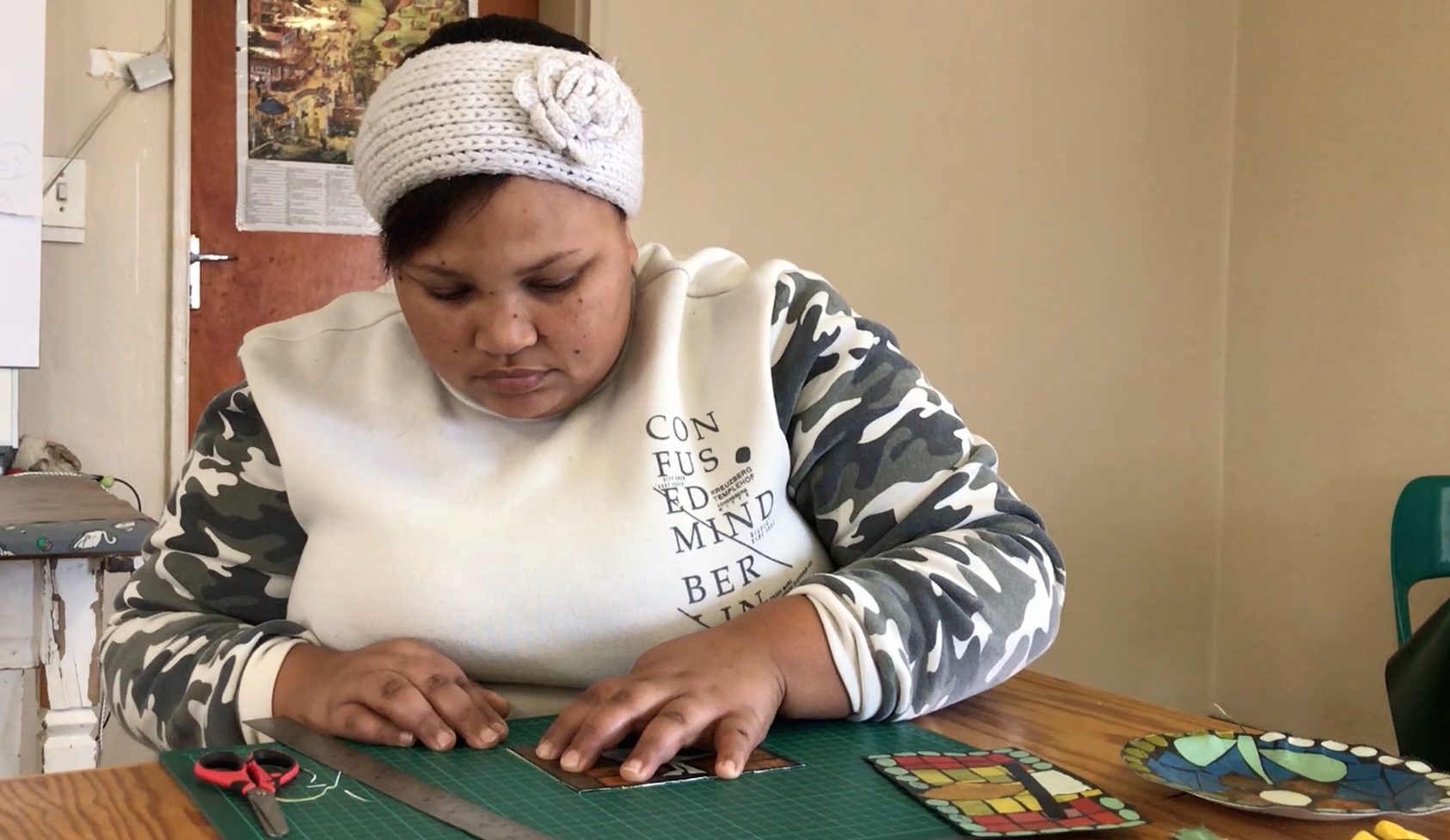 Above: Elmordine Saayman, creating postcards to be sold at the Christmas market.
"They taught us that they are burning the plastic at the dumping site and it has negative effects like our people get sick. I wanted to start here for us to build a better community," she says.
Since the project began, Morgan says there is less waste on the streets and "people can see that it is a good thing to recycle, because good things can come out of it like this project".
And Rossouw believes that this project is highly replicable beyond Melkhoutfontein.
"Waste touches everybody… every community is affected by waste." The key, she says, is to shift people's understanding of value. Traditionally local people would collect waste and pass it on "at very low value": now, "we are bringing the value back."
Imani Dlamini is a DICE Young Storymaker – one of 14 young journalists recruited by Pioneers Post and the British Council from six countries to report on social and creative enterprise.
Header photo: Project participant Audrey Kleinhans, making jewellery out of waste denim. All photo credits: Imani Dlamini.