Domestic worker, innovator, social entrepreneur: Reframing the narrative in South Africa
A jewellery business, a small-scale farm and a computer training centre: these are just some of the enterprises – many of them with a strong community support ethic – led by domestic workers in South Africa. Now, a partnership between BRNWSH, in Johannesburg, and Hackney Co-operative Developments London, is helping some of them to grow further. DICE Young Storymaker Imani Dlamini reports on efforts to help boost incomes (and impact) in a sector that's notoriously badly-paid.

About eight years ago, Norma Mbele and her two-year-old son were staying at a shelter in Braamfontein, Johannesburg, having escaped an abusive marriage. It was a time of financial hardship, even with her wages as a domestic worker. "We had nothing," says Mbele.
The turning point came when she and her son went to a store one day. "He wanted a bottle of water and I couldn't afford that. And when I went back to the shelter I thought: what is it that I can do?"
What she could do, it turned out, was to become a creative entrepreneur: that was the day Mbele started creating jewellery made from upcycled materials. Fast forward to today, and she is now running a fully-fledged jewellery business, as well as training other women, including domestic workers and victims of domestic violence, to create and sell accessories themselves.
Reframing the story
Mbele's personal style may be unusual – when we meet, she wears an intricately braided, colourful headpiece – but her ambition is familiar to many domestic workers in South Africa, who often start side businesses to supplement their wages. A national minimum wage of R20 per hour (around £1.15) was introduced earlier this year, but domestic work is excluded from this – and despite some increase, workers still earn too little even to cover living expenses, according to a 2019 report by home cleaning platform SweepSouth.
Domestic workers still earn too little even to cover living expenses
The world's 67m domestic workers – those performing household duties such as cleaning, ironing and gardening – are among the most economically vulnerable, according to the UN's International Labour Organization. So, could a side business be part of the solution?
Unfortunately, businesses often fail due to lack of skills, support structures, access to networks and mentorship, says Tuliza Sindi, CEO and founder of BRNWSH, which works with domestic workers, mainly in the inner-city neighbourhood of Hillbrow, Johannesburg.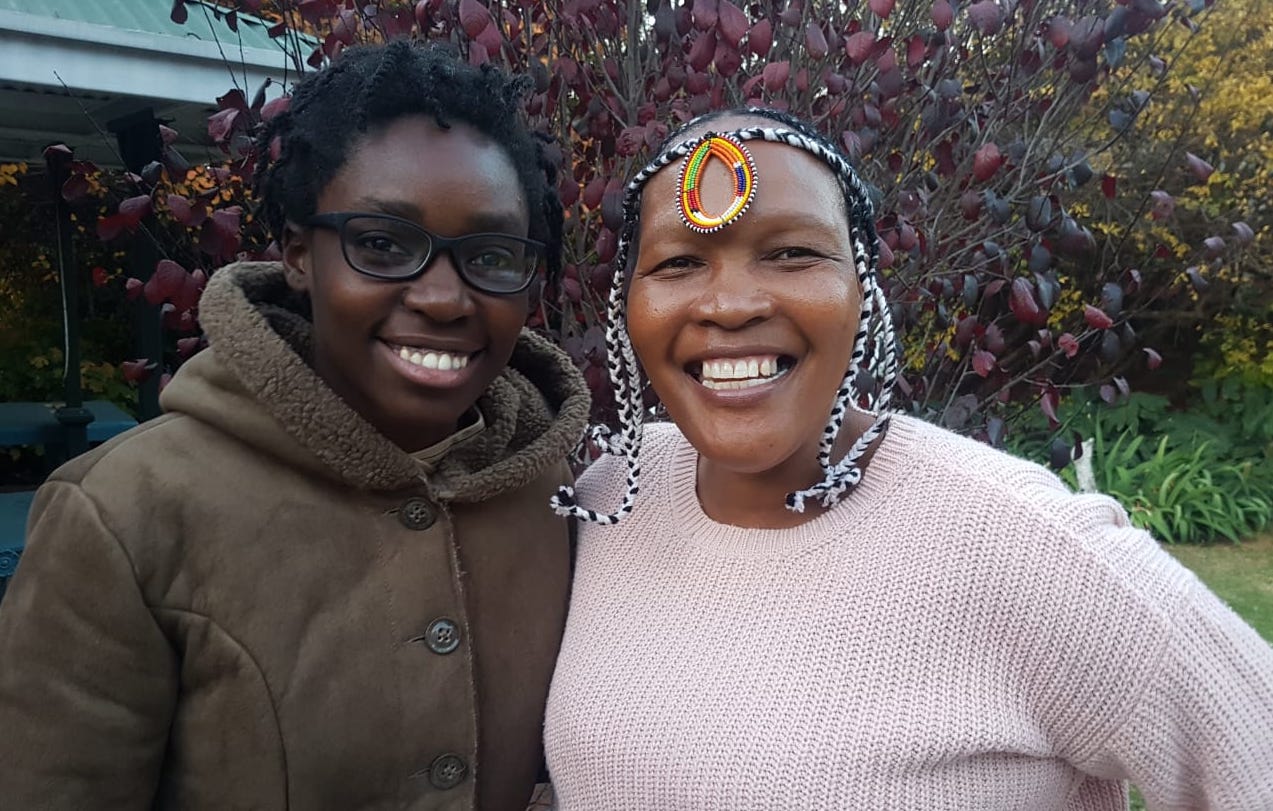 Above: Tuliza Sindi of BRNWSH and creative entrepreneur – and domestic worker – Norma Mbele (photo credit: Imani Dlamini)
Since 2016, BRNWSH (formerly The Spin Cycle) has aimed to "redesign" the domestic work sector, partly by providing emergency funding and affordable healthcare to domestic workers, but also through storytelling: one of BRNWSH's early activities was a podcast exploring the role of domestic workers and cleaners aired on Cliff Central, an online radio station.
Sindi has also helped reposition domestic workers as innovators. Noticing that they were often adapting cleaning products to improve them (such as mixing window cleaner with Vaseline) or make them less toxic, BRNWSH approached large companies and presented domestic workers as "insight generators, product testers, as strategists and product innovators". Clients now include a detergent manufacturer, and another company making food products.
The intention, says Sindi, is shifting how we understand and allocate value: showing that domestic workers are "incredibly effective [and] innovative", and not limited to their perceived identity as "marginalised women" – a narrative that Sindi believes takes away "agency, autonomy and dignity".
Supporting side hustles
BRNWSH – which Sindi describes as a for-profit company that "does social enterprise work" – is also supporting female workers' other streams of income.
In partnership with Hackney Co-operative Developments (HCD), a cooperative that fights poverty, promotes education and tries to build social inclusion in east London, BRNWSH is now supporting a group of 24 domestic workers to establish or grow social and creative enterprises. The collaboration received a grant of almost £85,000 from the British Council's Developing Inclusive and Creative Economies (DICE) programme, and aims at helping to develop the women's side businesses – which range from Norma Mbele's jewellery business to a herbal tea company to a daycare centre for kids – through coaching, mentoring and access to networks. Of the 24 women, six have been receiving further support including working on practical homework assignments and participating in workshops in South Africa and the UK.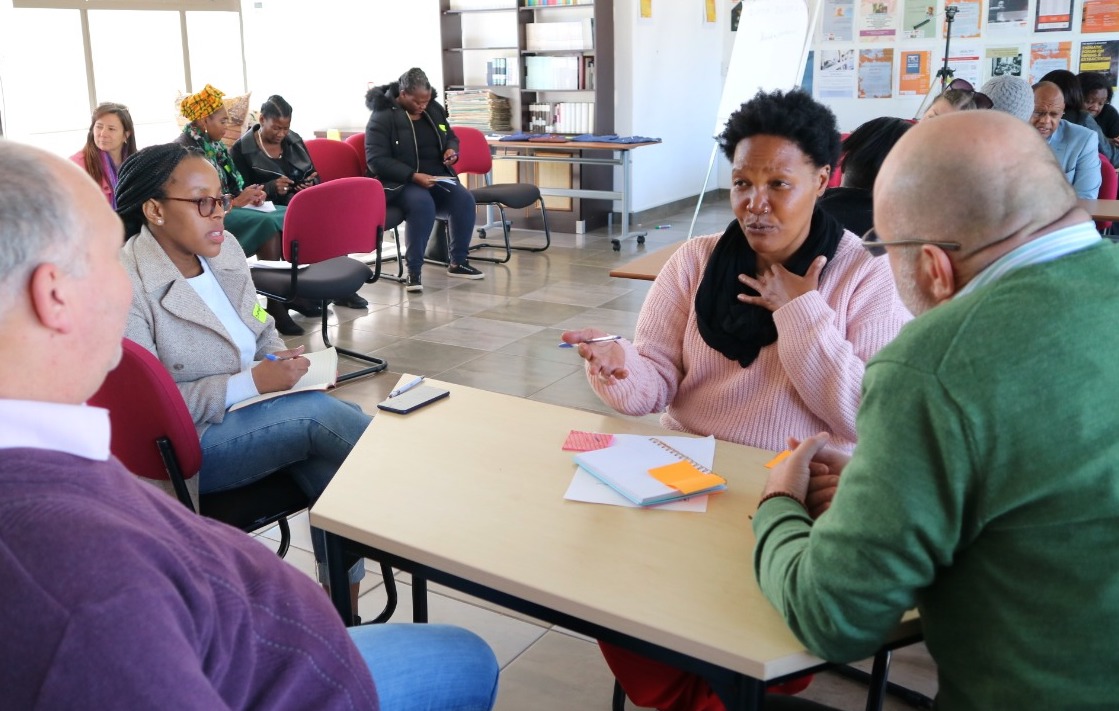 Above: Norma Mbele in discussion with the HCD team earlier this year (photo credit: Tuliza Sindi/BRNWSH)
HCD's social enterprise manager Douglas Racionzer, who has worked in the sector for decades and has started 18 social businesses himself, says social enterprise is "blossoming" in Hackney, and is keen to spread the HCD business model globally (see box). Hillbrow and Hackney may be on different continents, but they share some similarities, he believes: both are inner-city neighbourhoods with high levels of poverty – but also vibrant economies with diverse populations. So he expects the learning to go both ways, not least because South Africa "is a world leader when it comes to dealing with race and class issues."  
How HCD supports local and social enterprise
HCD has more than 30 years of experience promoting economic development by supporting the creation and growth of co-operatives and social enterprises in Hackney. It currently owns seven buildings that it rents out as affordable workspaces to local businesses and creative professionals; the rental income covers the cost of HCD's support for social enterprises. That support includes coaching existing or would-be entrepreneurs, skills training and networking opportunities. In addition, they encourage other organisations and companies in Hackney to shift their supply chains and buy from social enterprises.  
Racionzer's role in this project is primarily to assist the South African group with training, to create resources for those wanting to start and run a social enterprise, and to research social and creative entrepreneurship in South Africa. The free toolbox has just been launched, and Racionzer and his team at HCD are currently producing case studies of South African social enterprises.
In addition, he and his colleagues visited South Africa back in July 2019 to deliver training workshops with Sindi. Women talked to advisors in one-on-one "clinics", and sessions addressed issues such as finances and how to balance running a business alongside another paid job.
HCD and BRNWSH were also able to identify products made by local social and creative enterprises – including those working with the BRNWSH team – that could be imported into the UK. These products include leather bags, herbal tea and unique crockery from neighbouring Zimbabwe. Racionzer says there is "a huge appetite for ethically-sourced products in Hackney", and the two partners are looking to establish a more formal export agreement.
The initiative has not been without challenges. One issue that both Sindi and Racionzer cite is managing expectations. That can relate to business ambitions: for example, the day-to-day challenges of life as a domestic worker can eclipse thinking about an export strategy. But it can also relate to the assumptions made about BRNWSH when people see it's affiliated with an overseas organisation – something Sindi admits caused real friction with one of the six participants when her expectations of the programme fell short. "I think there is a sell that comes with the word 'England' or the word 'Europe'", Sindi says.
Making time
Still, Sindi and Racionzer are proud of what the programme has achieved.
Mbele's story is a good example. It wasn't always easy for her to grow the venture. She had to juggle it alongside her full-time job at first, plus other responsibilities, and she lacked business knowledge. But with Sindi's help, she was able to identify gaps. The company didn't have a great logo and she had never considered it important to formalise the organisation, she says. But registering formally has opened up opportunities, such as access to funding from financial institutions.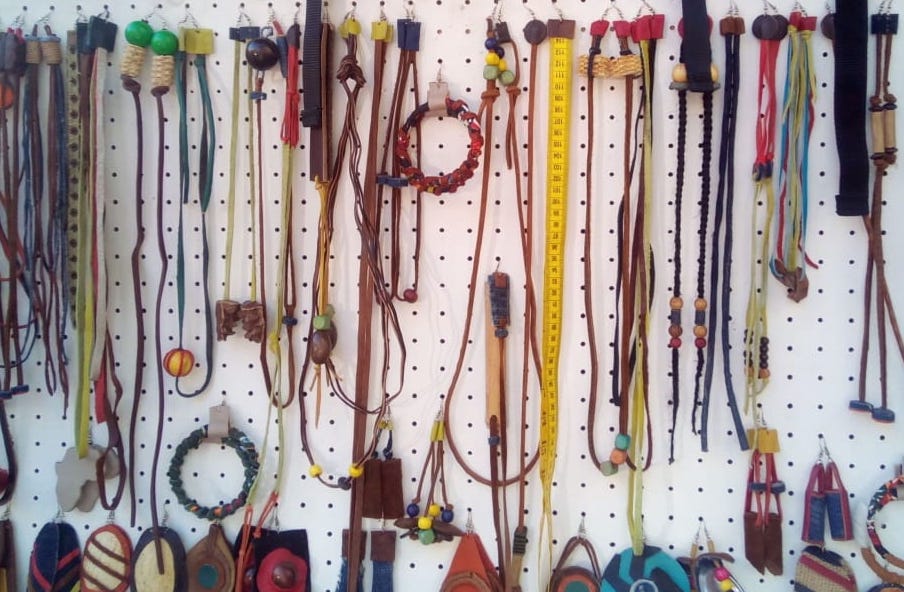 Above: Handcrafted jewellery made by Norma Mbele (photo credit: Norma Mbele)
Now, Mbele is able to support her family by doing part-time domestic work, dedicating the rest of her time to her business. Her products include quirky designs such as a pair of earrings made from an old tape measure, colourful earrings made from beads, and bags inspired by African designs. She employs a team of six permanent and seven seasonal staff, who mainly sell the creations at malls and through word-of-mouth, and they are experimenting with social media. And she's sharing her skills further, by training women through Tosunga Baningi, the non-profit she co-founded in 2013. Based in Sedibeng, south of Johannesburg, it advocates against gender-based violence, campaigns for justice and provides a community for women of different nationalities and backgrounds – as well as giving them a new opportunity to grow their income.
"What is profound about domestic workers who start businesses is that it's almost always community-orientated"
It is this reinvestment in the community that Sindi says makes these women special – and it's what makes her own company a social enterprise in spirit. "What is profound about domestic workers who start businesses is that it's almost always community-orientated," she says.
Running a side business may not be the solution to the low pay of domestic work. Sindi admits that finding the time is a challenge: domestic work is a demanding job, often requiring 8-hour workdays and lengthy commutes. That's often a "huge problem", she says, though some do make it work by working nights and weekends on their ventures. And in some cases, women manage to negotiate a four-day week: "Their side hustle has started to make them enough money to compensate for the day off."
And Sindi suggests that even those only able to dedicate a little amount of time can make it count. "If it's an hour that you can put in, that's an hour that's going to matter".
Imani Dlamini is a DICE Young Storymaker – one of fourteen young journalists recruited by Pioneers Post and the British Council from six countries to report on social and creative enterprise. 
Header photo: Entrepreneurs taking part in one-to-one advice clinics (photo credit: Tuliza Sindi/BRNWSH)