Poetic justice: The creative space offering new hope to Johannesburg youth
Desperately high unemployment figures and few spaces for creative expression that are accessible to all – that was the impetus for 94 Colours, a creative enterprise with a revolutionary ethos that gives young people in inner city Johannesburg opportunities to perform and showcase their work. Our DICE Young Storymaker Dimpho Lekgeu finds out more

If you're in Johannesburg on the last Sunday of the month, you might want to trade a lazy afternoon for the heartfelt experience of the World of Words poetry session. Facilitated by Hector Mgiba and Sibusiso Zulu, both 24 years old, the gathering provides a space for inner city youth to express themselves and challenge mental health stigma by openly sharing their experiences. This is all done under the umbrella of their social enterprise 94 Colours, founded in 2017.
"We realised that young people had become discouraged by their circumstances and even given up on pursuing their dreams," says Mgiba (pictured below). "Even people we grew up looking up to had fallen into the trap of drug and alcohol abuse. We wanted our peers to do better. To have a safe space where we can all dream together."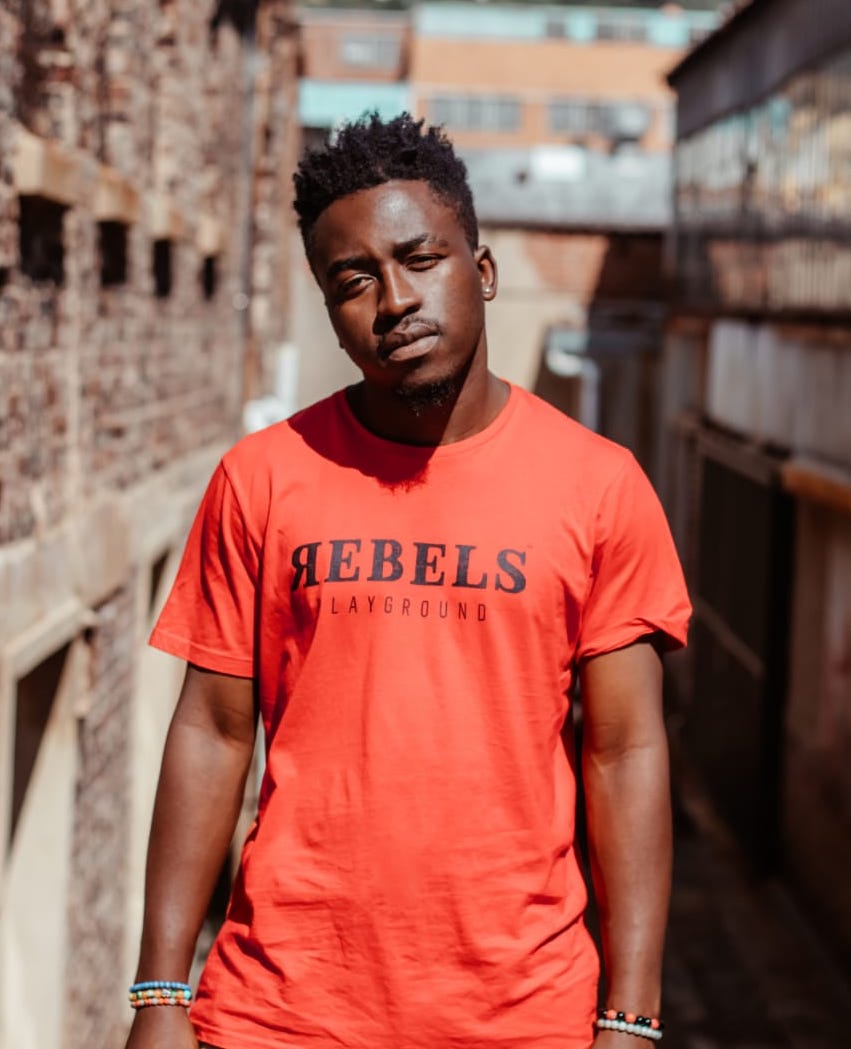 Such spaces are few and far between in inner city Johannesburg. Existing recreational spaces are usually expensive, inaccessible or poorly developed. Mgiba explains that 'safe' has more than one meaning. "We wanted young people to feel like they're safe from the violence. But also free to express themselves artistically without any fear or restriction."
Based in the city centre, 94 Colours is changing how and why young people connect by cultivating a creative  culture within their community where young artists can grow and give back. "We chose the number 94 because it's revolutionary in our country," says Mgiba. "We had the first democratic election in 1994 and now we're trying to revolutionise how young people create and consume art."
We're trying to revolutionise how young people create and consume art
The social enterprise curates monthly poetry sessions, an annual youth opportunities expo and an annual charity drive where sneakers are collected and donated to people in need. It also provides space for local entrepreneurs to showcase and sell their craftwork during the sessions. At a time of rampant youth unemployment – around 55% of 15-24 year-olds are out of work, according to official figures – 94 Colours was founded to restore hope and identity while creating opportunities for young people to showcase their talent and entrepreneurship.
Still accessible
Space for creative expression is important for another reason. Mental health has become a growing topic of discussion among South African youth following the tragic suicides of popular rapper HHP and actress Shoki Mokgapa last year; creative spaces like the poetry sessions can offer less daunting ways to engage with this issue. 
And an important aspect of that is not shutting people out who can't afford it. "We wanted to keep the space inclusive," says Mgiba. "If we're making people pay then we're locking out those who may need this space the most. We won't create a barrier that will deny young people expression, healing and inspiration."
Watch Hector Mgiba below, awakening the crowd as MC during a World of Words session hosted in Kensington, Johannesburg. (Credit: Xquizified Media)
Instead, the enterprise has found other creative ways to keep the doors open. As a member of the Maker's Valley Partnership – a group of creatives and innovators in Johannesburg working on urban renewal and community wellbeing – 94 Colours can tap into that community. For example, it sells branded tote bags printed and manufactured by a fellow member, who is a designer.  94 Colours also devised another unusual idea to generate income at World of Words sessions: selling boxes of matches at the door so that instead of clapping for a poet, the audience shake their matchboxes. "That gives the event a really special ambiance," says Mgiba.
If we're making people pay then we're locking out those who may need this space the most
The ability to start and maintain good relationships with others has also helped 94 colours to sustain its activities. World of Words sessions are hosted by a restaurant that doesn't charge for use of the venue. "The owner can see the value of having a group of young people convene at his restaurant regularly. They buy food and refreshments when they're there. That's business for him."
Making an impact
When the goal is to help young people find healing and cultivate their talent, indicators of success are not always easy to identify. 94 Colours has reached some 500 young people directly, but how does it measure its impact on them?
Mgiba says it's less about the numbers and more about changing how young people perceive themselves and what they can do for their community. "We measure success by how much we've been able to shift attitudes and perception. Someone who attended World of Words told us that being surrounded by young people who are fighting the same everyday struggles as him and hearing their everyday triumphs actually helped pull him from a dark period in his life mentally. That's how I know we've been successful."
Spoken word poet and writer Belita Andrea says any space that allows for the creative expression of young people in any form is good for their development and mental wellbeing. As a performer, she adds that the freedom to explore other art forms keeps her coming back to World of Words; the enterprise has introduced her "to a whole community of young poets, visual artists and musicians from around Johannesburg," and also pushed her to collaborate with other genres. One round at a recent poetry slam required performers to communicate their work together with another artist and a different art form. "It's challenging and that's why it's important," she says.
Any space that allows for creative expression is good for young people's development and mental wellbeing
Mohammed Ibrahim, a devoted attendee of the sessions, says he didn't even realise the slew of talented youth that existed in his own community until he came to a World of Words session last year.
"I was blown away. I have always known that this part of the city is vibrant but I was taken aback because I had never experienced such a stimulating display of visual art, music and spoken word." As we speak, Ibrahim doesn't end a single sentence without mentioning what a positive agent of change he thinks the movement has been for inner city youth. "Lorentzville [a suburb of Johannesburg] and other surrounding communities are ridden with drug and alcohol abuse because of high unemployment. You start to view young people as criminals and as troublemakers. Being able to watch them perform and become active members of the community is encouraging."
What is next for the creative venture? Through the Maker's Valley Partnership, 94 Colours is a recipient of a British Council DICE Collaboration Grant, which will enable a number of activities to take place between now and next March – including a second youth expo, a poetry slam competition, a dialogue session with industry experts and an initiative aimed at showcasing how creative innovation can make better use of public spaces.
With a growing following on social media, Mgiba believes that his organisation's reach is only just beginning; he is now looking into internship programmes, mentorship and coaching for youth entrepreneurs. "We really just want to galvanise the creative power of young people and use that to drive positive impact, even outside of our immediate community."
Header photo: Award-winning Spoken Word artist and writer Tshepo Molofe captures the crowd during a World of Words session (credit: misLU@mastersintheirstudios_photography). Portrait photo of Hector Mgiba by Xquizified Media. 
The DICE Young Storymakers programme is a joint initiative of Pioneers Post and the British Council, under which 14 young journalists from six countries have been selected to report on social and creative enterprise.