'We are storytellers – we like to be with people!' – Rhi Zan, Third Story Project
Stories can provide a lens with which to engage with reality. Born out of civil war, Myanmar-based social enterprise Third Story Project uses storytelling to open conversations around difficult issues. It has created and distributed more than 182,000 children's books focusing on peace, tolerance and diversity, and trains community leaders, teachers and young people to use storytelling as a form of expression. Managing director Rhi Zan talks to Sasha Gallick about using stories to explain and debunk myths about coronavirus to children and adults, and the challenges of taking training online during a global pandemic.

"In 2012, there was civil war in the Rakhine State [in Myanmar]. There was religious conflict involving the Rakhine Buddhists and Rohingya Muslims. It made me reflect – there were a lot of people spreading rumours about different religions and different backgrounds. I am Rakhine, and my parents were terrified of me going out and wanted to keep me safe at home. I felt unsafe and confused with my friends [who were Muslim], and didn't know how to react to them when we were together. 
At the time, I was part of education volunteer group Yangon Based Youth Volunteers Network. In Myanmar there are a lot of monasteries providing free education and accommodation for children – many from disadvantaged backgrounds or who have run away from civil war. They don't have any government support and so a lot of volunteer groups visit them regularly and provide food, stationery, or whatever they need. Whenever we visited a monastery, we invited another member of our volunteer group, the Myanmar Storytellers, as we saw that the children really loved their stories – even I couldn't resist and I loved to listen every time. One of these stories changed me. It kept reminding me that we still can be friends with people even though we are different. 
During that time, we found out that there was a lack of children's storybooks in Myanmar – especially books that reflect Myanmar culture, tradition and that have a positive message. So we wanted to solve two things – the misunderstanding of diversity and the gap in children's literacy. We wanted to promote peace, diversity and tolerance. So we decided to make storybooks – that's why we created the Third Story Project in 2014.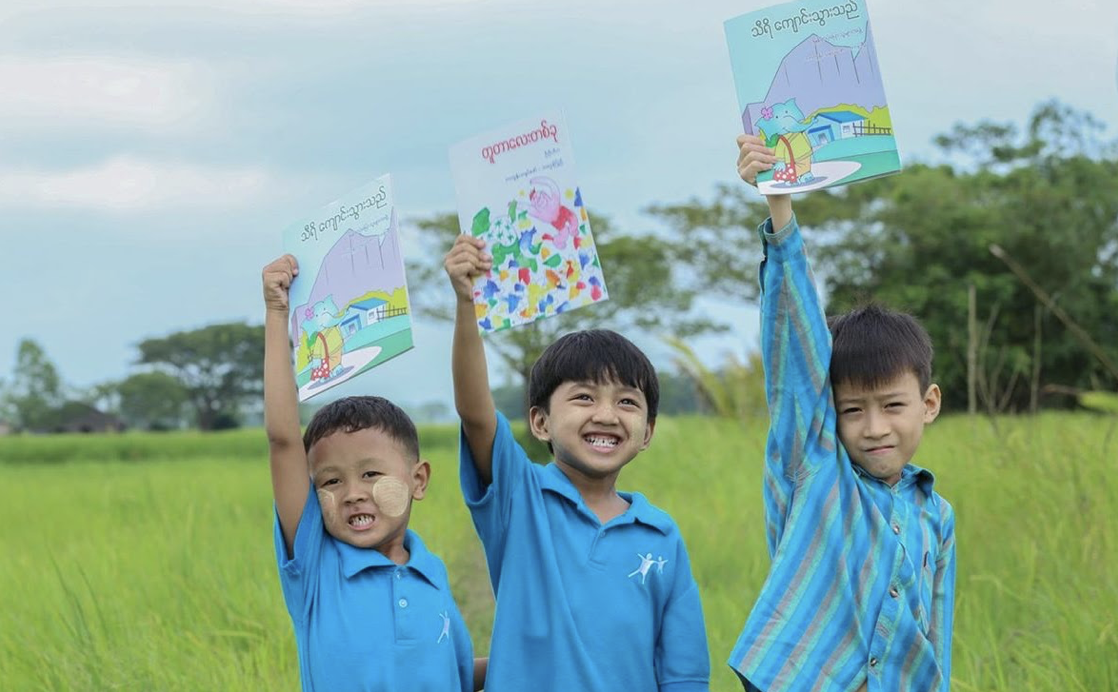 We wanted to promote peace, diversity and tolerance. So we decided to make storybooks
We write, design and print books that use stories to help children discuss difficult issues and topics. They are originally written in Burmese, but we have now translated them into a number of Myanmar ethnic languages. We also run training for community leaders and teachers, giving them the tools so that they can also use stories to express themselves. Our main income comes from selling the books to NGOs, parents, teachers, bookshops and libraries, and our profits go back into the enterprise. We do still have some donors, such as the US Embassy and Kia who give us small grants which go into training and books for donation. 

Digital storytelling
We were aware of Covid-19 since February, but we didn't know at that stage that it was going to come to Myanmar or would affect our business. But around 13 March, they announced that it was a pandemic and we had to stop everything. 
Our organisation is very small, we have 12 full-time employees and also work with lots of volunteers and trainers who are all storytellers but work in a range of different professions – they're engineers, teachers, journalists, designers and so on. We had to plan how to move from working in the office to working from home, but it was really difficult to arrange. We are storytellers – we like to be with people, we don't know how to work on our own at home!
We wanted to do something for our audiences – and we decided to run online storytelling sessions. We organised sessions with three or four people: a storyteller and either children, parents, teachers or librarians. It's been really difficult because often the storytellers aren't used to the platform and the internet connection in Myanmar is not good. We've tried twice a week for nearly two months, but it hasn't improved.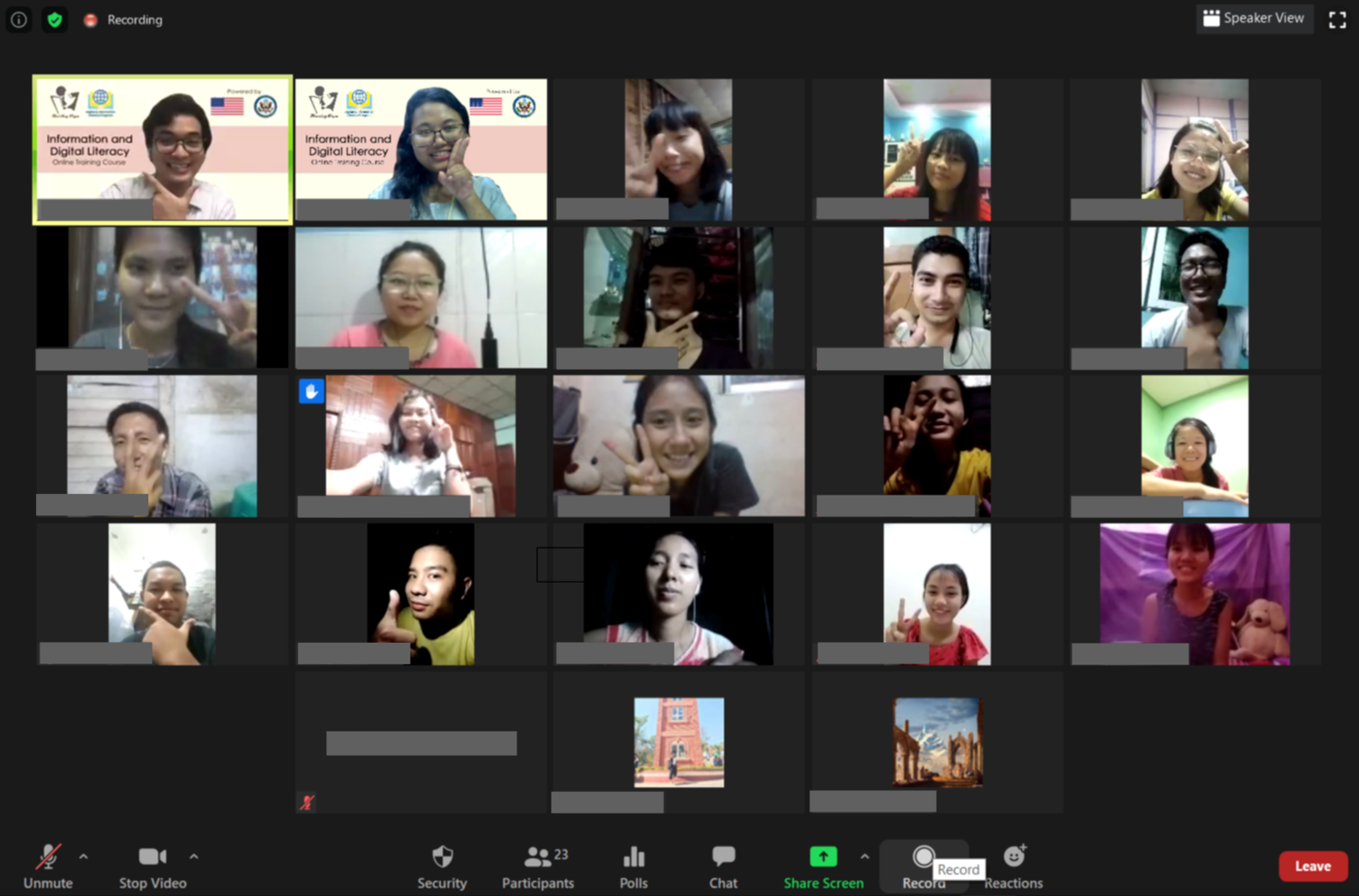 Third Story Project running information and digital literacy training via Zoom 
Lots of people are at home at the moment. Parents are worried about their children's education, and teachers also have a lot of free time, so many of them want to do online education but don't know how to. So, for the first time, we're also running information and digital literacy training over Zoom, including teaching on spotting fake news and using basic digital tools. When we announced it, in the first 24 hours we had over 300 people register to join, including teachers and students. This is paid for by a grant from the US Embassy – they originally funded it to be in-person training but they agreed that we can run it online. 
What worked for Third Story Project:
Creating specific training and information-sharing sessions around Covid-19 for already-engaged audiences
Reduced numbers of days back in the office for staff
Facebook advertising to encourage people to buy books online 
Covid coaching
One of our volunteer storytellers is a doctor working at the International Rescue Committee (IRC) in Thailand and Myanmar. He has to make guidelines around Covid-19, so he has a lot of information. He runs weekly online sessions for parents and teachers on topics like how to social distance, what quarantining is or how to use masks. These are all new words and ideas which need explaining. There are a lot of rumours in Myanmar about how to prevent Covid-19 – like curing it with drinking ginger or certain medicines – and the storyteller explains what is and isn't true. 
There are a lot of rumours about how to prevent Covid-19 – like curing it with drinking ginger – the storyteller explains what is and isn't true
Over the past few months, we have already created three children's storybooks around Covid-19. One explains why they have to stay at home, another is about keeping healthy and happy, and the last is about going back to school – some may face discrimination if they are from an area that has had cases of Covid-19, and they need to know about wearing masks, cleaning their hands and social distancing. One is already produced, and the other two are on the way. These are beautiful, interesting books – written simply – so children can read by themselves or teachers can read to them. In the next three weeks schools will open so we want them to be ready for reopening. 
Realities of a pandemic 
During lockdown, 60% of our staff stayed at home and the rest were going to the office twice a week. They couldn't take public transport so we were paying for taxis – it cost a lot, and so from this month we stopped paying for it. We gave people the option to stay working from home. At most, people come to the office three times a week. 
Every day we have to say 'today, I survived'
Paying staff has been very difficult. Over April and May we had no income, and hadn't saved any money. We had to reduce salaries based on workload, either by 25 or 30%. Our normal retailers (bookshops) haven't been open and actually owe us money. But we've started Facebook advertising for the first time to promote ourselves and to send people to our online shop on our Facebook page where we sell our books. Sales are not the same as before but, thanks to the advertising, we have got some new customers and this coming month [July], we're finally all going back to the same salary as before Covid-19. 
It has been a really stressful time – I'm tired and exhausted, and we've had to encourage and support each other. Honestly, in March it was very difficult to believe that we would still be here in August. Every day we have to say 'today, I survived'. Some places have had to close, so we remind ourselves that it's not that bad for us. We have a lot of hope."
Rhi Zan was speaking to Sasha Gallick on 10 July. Myanmar's government has lifted lockdown restrictions but other restrictions including mass gatherings still remain.
Read more about Third Story Project.
Header image: Third Story Project illustrated storybook
At Pioneers Post we're working hard to provide the most up-to-date news and resources to help social businesses and impact investors share their experiences, celebrate their achievements and get through the Covid-19 crisis. But we need your support to continue. As a social enterprise ourselves, Pioneers Post relies on paid subscriptions and partnerships to sustain our purpose-led journalism – so if you think it's worth having an independent, mission-driven, specialist media platform for the impact movement – in good times and in bad – please click here to subscribe.