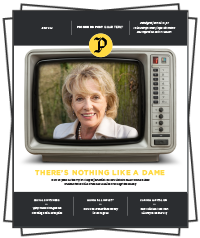 The digital version of the fifth edition of our print magazine Pioneers Post Quarterly can be found below. We'll be adding individual articles in their usual format over the next couple of weeks. Problems reading the issue? Contact us at hello@pioneerspost.com
Cover feature: How Dame Esther Rantzen went from being a doyenne of the small screen to a champion of child protection.
Social Switchers: What's it like to switch a commercial sector career for one in social enterprise? Big hitters of social enterprise reveal all.
Global Focus: We track the beginnings of an embryonic social enterprise scene in Iceland.
Going 'all impact': how one foundation boss is ensuring that $300m is making a positive contribution.
Day in the life: the boss of Ella's Kitchen, Paul Lindley, tells us about a typical day and how capitalism needs to change.
PLUS: How one solar farm is bolstering a deprived community and we ask: where are all the women in senior roles in social investment?