Pioneers Post is not just an online magazine – it is a community. Subscribing to Pioneers Post means you are joining tens of thousands of like-minded entrepreneurs, investors, innovators, leaders and policymakers across the world, who share your values and your drive to build an economy that works in the service of people and planet. 
Through our stories, videos, podcasts, events and partnerships – and as a social enterprise ourselves – we are committed to supporting you with independent, honest and insightful journalism – through good times and bad.
Social entrepreneurship and investing for good are making an undisputed and accelerating impact around the world. Pioneers Post delivers the news and sets the agenda for the new wave of social entrepreneurs, responsible business leaders and impact investors across the globe. We provide the tools, knowledge and insight to build a better world through good business – through news, interviews, debate, events, films, podcasts and special reports. 
But quality journalism doesn't come for free. And to survive, we need your help. Our subscribers and partners are central to our success. By sharing your insights, collaborating with us and 'buying social', you are supporting both our financial sustainability and our mission to help our growing community of readers 'do good business, better'.

By becoming a fully paid-up Pioneers Post subscriber, you will be supporting our work to connect a growing global network of impact pioneers, on a mission to change the world for good. You will also gain access to our 'Pioneers Post Impact Library' – with hundreds of stories, videos and podcasts to support your work.
Pioneers Post is itself a social enterprise, with clear social aims – and profits ploughed back to support our community of positive changemakers. Our work is supported by our sister company Fable Bureau, a creative agency committed to storytelling with a social purpose.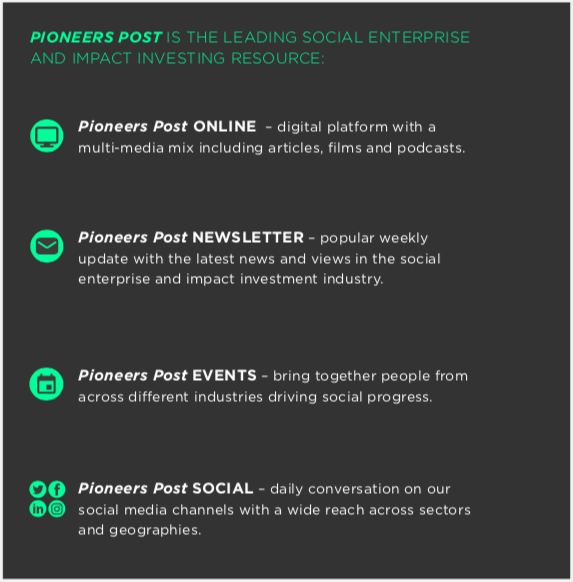 Pioneers Post: more than a magazine
We publish new articles, videos and podcasts online on a daily basis for our subscribers around the world. Much of our content is open-access, but to access all of our premium contnet please consider subscribing. (subscribe here)
Additionally, we publish our e-newsetter weekly, with an update of the latest news and views in the social enterprise and impact investment industry. (sign up here)
On top of that, we organise important events year round, to bring together people from across different industries driving social progress. Read more about our SE100 and WISE100 initiatives, as well as our Good Stories and Good Deals events.
Read more on What's Inside.
Aims & Values
Pioneers Post is itself a social enterprise, with clear social aims and profits ploughed back to support our community of socially progressive readers.
We have an innovative, 'hybrid' legal structure which safeguards our community purpose and social values but also includes a proportion of privately owned shares that allow for future investment.
Our community interest purpose is to inspire, nourish, support, promote and bring together the community of social entrepreneurs, social innovators and social investors across public, private and civil society sectors.
We aim to build the success of social business, to promote shared value, social responsibility and sustainability alongside entrepreneurship, innovation and business excellence.
We aim…
– To be the most insightful source of news, views and opportunities in social value and social enterprise
– To provide advice, skills and knowledge to help do social entrepreneurship better
– To discover and scrutinise new ideas in policy and practice 
– To challenge the status quo across charity, public and business sectors
– To champion and question the legitimacy and impact of social enterprise at the global, national and local levels
– To explore what makes social entrepreneurship work and why it sometimes goes wrong
– To understand and profile the people behind social innovation and what motivates them
– To showcase and celebrate great examples of social entrepreneurship across charity, public and commercial sectors
– To connect people with conversations about social innovation
– To be a critical link in a community of people who are making change in different sectors and silos
– To approach our subject matter with honesty, pragmatism (get real), good humour and with a sense of fun.
History
Pioneers Post is built on over a decade of commitment to news, information and inspiration delivered first through Social Enterprise magazine, the world's first magazine dedicated to social business, and then online through SocialEnterpriseLive.com.
Social Enterprise was co-founded in the UK at the beginning of the new millennium by Tim West, now founding editor of Pioneers Post, in partnership with colleagues from the trailblazing magazine New Start, a cutting edge publication about economic and social regeneration, and with CAN, a major force for social enterprise support and growth in the UK.
Over a decade, our website, weekly e-bulletin and Twitter feed have developed a loyal readership of tens of thousands of individuals and organisations committed to doing business that creates positive social and environmental change, reaching social entrepreneurs and innovators in 60 countries.
Read more on where it all started here.
Former 'Social Enterprise Magazine'
Pioneers Post launched in February 2002 as 'Social Enterprise Magazine' – the first magazine in the world to be dedicated to the development of the social enterprise movement.
Our formation took place at the same time as the UK Government launched its Social Enterprise Unit, and preceded the formation of Social Enterprise UK (the UK's national membership body). 
As the movement of social entrepreneurs and impact investors grew across the world, we recognised that social enterprise was a mindset as well as a movement, about people as well as organisations, and more a verb (what you do) than a noun (what you are).
Social enterprise makes sense because of what you do, how you do it, the impact you create and the transparency with which you are willing to be scrutinised. It came alive then and comes alive now because there are people and organisations who are doing things differently – and finding a way to make profits work for purpose.
Combining business ideas and social mission is emerging as a 'win-win solution' to enhance public sector services, charities, fundraising, investing, philanthropy, corporate social responsibility and traditional business. It is exciting but also a frustratingly difficult concept to get your head around.
Our job as an independent, journalistic publication has always been to celebrate and share the possibilities and achievements of this new model, to be honest about what works, to call out what doesn't, to give people the tools to do better, and to campaign for greater support from those in power who can make a difference.