Buy a phone, start a movement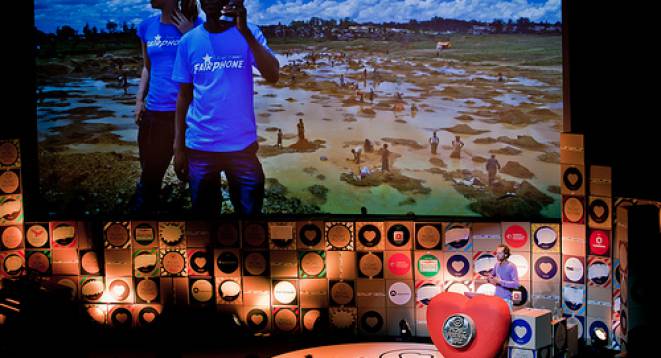 A new ethically sourced smartphone designed by the Dutch social enterprise, Fairphone, will see its first phones delivered in Autumn. 
With little or no emphasis on fair trade in mobile technologies at present, Fairphone is working to prove that a reasonably priced, low-carbon-impact smartphone is possible. 
It has a scratchproof dragontrail glass screen, 16GB internal memory, dual front and rear cameras, and a 4.3-inch qHD display, but what makes the
Fairphone
special is not its technical specs. 
It may sound like many other smartphones, but behind the allure of its high-performance features is an ethically-minded social enterprise battling with issues from e-waste to poor working conditions in the mobile technology industry.
Research by Oekom suggests that manufacturers of phones are more likely to be in breach of international labour standards than the textiles and foods industries, which are scrutinised far more closely.
Fairphone takes a proactive approach to ensuring workers at each stage of the supply chain are treated fairly. Product strategist Miquel Ballester said: "We don't want to have a checklist. We want to find out what are the workers' challenges, and how can we resolve them?"
A fairer phone
Company founder Bas van Abel described the use of illegal commodities in technologies as "an open secret", but Fairphone has the potential to change this. 

Fairphone endeavours to make sure that the 30 plus metals and minerals found in smartphones are fairly sourced. 
Most frequently these raw materials are found in areas of conflict, sold by warlords to fund further violence. Fairphone have joined with the Conflict Free Tin Initiative, which introduces a tightly controlled, conflict-free supply chain outside the control of armed groups in the Democratic Republic of Congo.
Labour conditions in the DRC are also being improved. The miners' income has more than doubled from $2 to $6 per kilo of minerals. Local cooperatives are buying additional equipment and stabilising mineshafts to improve safety.
Fairphone's production takes place in Chinese manufacturer A'Hong, which pays a living wage, ensures reasonable working hours and has a fund to improve working conditions. 
They are also committed to promoting the ILO conventions, which enshrine freedom of association and collective bargaining, empowering workers to enter into direct discussion with employers.
Nothing to hide
Fairphone aims to reduce the amount of e-waste produced by their smartphone. This starts with their implementation of a buy back scheme for old phones, whose parts are reused and recycled.
Additionally, for every Fairphone sold, €3 is donated to Closing the Loop, a project which removes e-waste from Ghana where there are few recycling facilities. In September a shipping container filled with 100,000 phones will be sent by this scheme to Belgium for safe recycling. 
The phone itself is designed to last, "we want you to buy a phone and keep it as long as possible" said Ballester. Fewer phones produced means less waste, changing the mentality that electronics are disposable. 
Unlike many other smartphones, precautions are taken against obsolescence. Crucial components are available as spare parts, software and hardware updates available, and the phone's replaceable battery ensures long life. 
Ultimately, Fairphone aspires to make products entirely from recycled materials. As their website states, 'reduce, reuse, refurbish, recycle. Our end goal is fewer phones in circulation – not more!'
At €325 (approx. £276), the fair phone is not a give-away. But, it offers a transparent price breakdown, a list of suppliers, and a bill of materials, showing customers where their money is going.  
The company aspires to total honesty about its supply process, with a view to "opening up the supply chain and redefining the economy – one step at a time". Customers are even shown where the company has not yet been able to make changes. 
And, the phone can be used with any operator the user likes on any tariff they choose, saving people from being locked into the expensive long-term contracts. 
A vehicle for change
The phone's success so far is impressive. Crowd-funded, and with 10,000 plus pre-orders there is clearly demand, while the enterprise itself has won the ASN world prize 2011, and is nominated for the 2013 INDEX awards. 
As with many early stage social ventures the challenges it faces ahead are many. Fairphone recognise that they are not yet 100% conflict-free, and with 60 plus suppliers it is difficult to know exactly where components come from. 
But, the intent is clear, Fairphone is encourageing producers and consumers alike to act upon the big questions around fair trade production. As the Fairphone website reads: "By buying this phone, you're reconfirming that collective action counts and becoming part of a community that has the power to fuel change".