Global social innovation round-up #05
New York City-based investment giant steps up social investment 
Multinational investment manager Blackrock has announced the launch of a new initiative that will connect clients with investment opportunities to address major societal issues, including global poverty. Blackrock Impact is one of a number of impact investment initiatives coming out of Wall Street, including Goldman Sachs' US$10m investment into the Adolescent Behavioral Learning Experience social impact bond.
Leading Japanese fashion retailer vows to improve factory conditions
Tadashi Yanai, the founder of fashion company Fast Retailing and – according to Forbes – the richest man in Japan, has announced that his company will expand the monitoring processes that assess whether the "working hours, air quality, temperatures and other working conditions" in its suppliers' factories meet sufficient standards.
Award-winning documentary makers publish social impact report
Who Is Dayani Cristal? This is the question that documentary director Marc Silver explores through his film of the same name which is based on the discovery of an unidentified male body in the Sonora Desert on the Arizona border. The film, which stars Mexican actor Gael Garcia Bernal, won the 2013 cinematography award at the Sundance Film Festival. The team behind the film has now published a social impact report to assess the impact the film's campaign has had to "humanise and universalise" issues around migration.
Flagship social bond fund celebrates first birthday in the UK
Threadneedle Investments' flagship social bond fund reached £67m as it celebrated its first anniversary in January. The fund, launched in partnership with Big Issue Invest, is the first mainstream investment vehicle that aims to achieve both a financial and social return by investing in bonds issued by organisations that are working to support social and economic development in the UK.
In its first calendar year, the fund returned 11.8% gross which, Threadneedle said, delivered on its aim to achieve a return in line with a UK sterling corporate bond index. Threadneedle Investments CEO Campbell Fleming said: "Our first year has shown that investors do not need to sacrifice returns to achieve a social benefit." 
Ontario backs social ventures with $4m investment
Ontario's premier Kathleen Wynne has announced that her Liberal government is investing CA$4m in "11 socially conscious enterprise projects" in the region. She was also reported to have stated that "it is her government's goal is to make Ontario the leading jurisdiction in North America for social enterprise".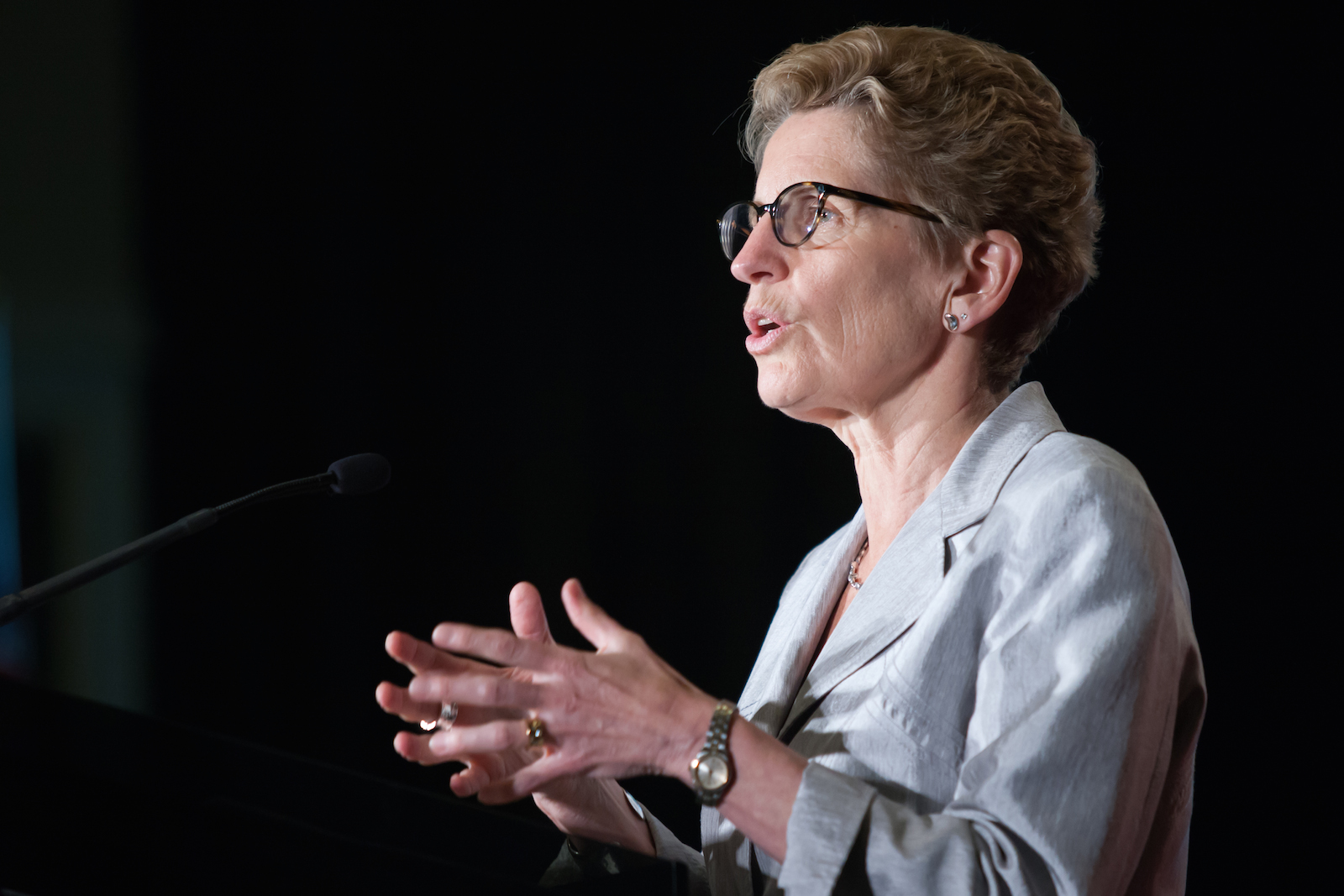 Kathleen Wynne. Photo credit: Mark Spowart
Apple sets sights on 2020 electric car
Tech giant Apple is aiming to begin production on its first electric car, which is currently being designed in secrecy, as early as 2020, according to Bloomberg Business sources.
UBM brings community businesses together in China
Multinational media company UBM is hosting its Business4Better event in China for the first time to connect community groups with medium-sized businesses and non-profit organsiations. Business4Better is a global initiative established by UBM five years ago to support the communities in which the organisation works, including the UK, Brazil, the US and India.
Social value network calls on members to help measure impact
The SROI Network is calling on its members to complete a short survey that will play a crucial role in helping to measure the organisation's impact as it undergoes a rebranding that will see it become Social Value UK. This follows its merger with the Social Impact Analysts Association (SIAA).  
UK business awards seeks top social enterprises
The annual UBM National Business Awards is now accepting entries for its Social Enterprise of the Year award. Last year's winner in this category was Hertfordshire Community Meals. For more information on how to apply, click here.
Header image: Tokyo, Japan
Photo credit: Spreng Ben