Francis Maude raises a glass of Scotch to social enterprise
The minister for the Cabinet Office Francis Maude has pledged to make the UK the "global hub for social enterprise" at an event hosted by whisky giant Chivas Regal. 
The event, which was held at the Strathisla Distillery in Scotland, was part of a wider initiative by the UK government and international brand Chivas to raise awareness about social enterprise.
"The UK is a nation of entrepreneurs and capitalists but we also have a fantastic heritage of philanthropy and social reform," said the minister.
"Too often we think of these traditions as being separate, when it should be perfectly possible for people to invest in a way that makes good business sense while also supporting good causes." 
New York, New York: social entrepreneurs cross the Atlantic
Maude's visit to the Scottish distillery is part of the Cabinet Office's agenda to promote the UK social enterprise sector and raise awareness about it both in the UK and around the world. 
Last month, the UK government took a group of social entrepreneurs and investors to New York on a trade mission. A spokesperson from the Cabinet Office said that "the trip generated very positive responses from both the UK delegates and the US market".
Among those representatives of the UK social economy who flew to New York were Michelle Benson, the development director at the School for Social Entrepreneurs and Antony Ross from investment firm Bridges Ventures.
Ross told Pioneers Post: "It was a great opportunity to share and discuss how the two social investment markets are evolving – and in particular, to get an update on the US Social Impact Bond market. There are some real differences that we can learn from, such as the key role the Harvard SIB Lab is playing in supporting commissioners to develop and structure outcomes contracts."
The trade mission also marked the launch of a Business is GREAT campaign focused on promoting the UK social economy overseas.
The Cabinet Office spokesperson told Pioneers Post: "The aim of this campaign is to promote our social businesses overseas and attract inward investment to the UK – be it social enterprises setting up in the UK or structuring deals through our world-leading professional service firms. 
"Supporting the campaign is a combined effort from the Department for Trade and Investment, No.10, Cabinet Office, the Department for Business, Innovation and Skills, the Foreign and Commonwealth Office and the British Council."
Alcohol and social entrepreneurs: an unlikely match?
As part of its wider social enterprise initiative, Chivas Regal last year launched The Venture – a competition which offers social entrepreneurs the chance to win a share of $1m to invest in their venture, as well as other types of business support including professional mentoring.
Last week, social enterprise Two Fingers Brewing Co. was named Chivas' top UK social venture and given £10,000 in prize money. The craft beer company, which donates some of its profits to Prostate Cancer UK, will go through to the final of the global competition, which is being held in Silicon Valley later in the year.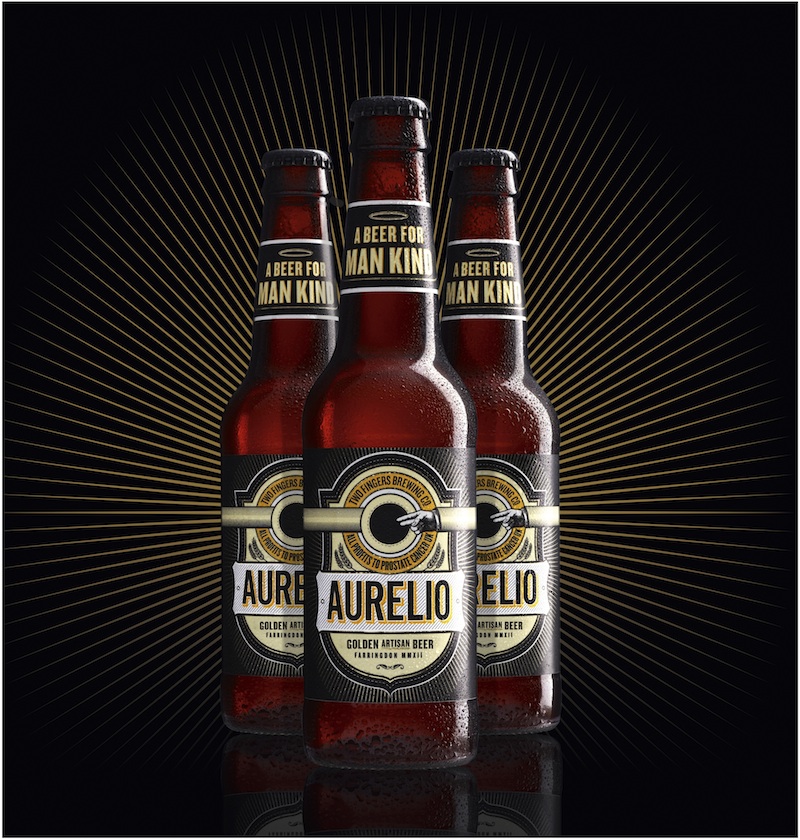 Two Fingers Brewing Company's Aurelio beer.
Pat Venning, head of marketing at Pernod Ricard – the French company that owns Chivas Regal, told Pioneers Post: "It's important to separate what we're doing from charitable giving. I think we've always been very clear this is about entrepreneurship that has a community benefit."
He also said Chivas has recognised that 'brand social responsibility' has moved on over the past decade. While "it used to be about setting up a fund to donate to certain charities", now it is about creating a more sustainable social impact.
"It's moved on in tandem with the way young people have moved on. They are demanding very different things when they come into companies now. I talk to some of the younger employees here and they want to work for a company that is giving back and doing good," Venning concluded.
A report commissioned by Chivas last year found that the majority of young professionals globally think that a business should be measured by more than just its financial performance, including all positive and negative social and environmental impacts. Out of the young people surveyed in the UK 76% agreed with this statement, 94% of those in China and 80% in the US.
The research was led by Soushiant Zanganehpour, a consultant at the Skoll Centre for Social Entrepreneurship in Oxford. Pioneers Post asked Zanganehpour how he felt about the idea of a business producing alcohol, a substance with a number of known negative effects on health and wellbeing, promoting positive social impact. 
He said: "I struggled with some of these tensions early on but quickly saw this as an opportunity to leverage a powerful global brand to help legitimise and validate the rise of new early stage social ventures and the growth of this important movement. 
"Despite my hesitations, I only engaged when I felt comfortable enough that their intentions were sincere... Their end business product may have adverse affects on society, but I am hopeful that those that seeded this campaign internally ultimately want to see Chivas Regal also reduce/eliminate its negative social liabilities over time."
Photo credit: UK Cabinet Office