Extra! Extra! Read all about it: Positive news platform awarded US$40k
Positive news platform The Better India has been awarded the top prize of US$40,000 at the 2015 Sankalp awards in Delhi this week.
The Better India shares stories of social entrepreneurs and acts as a catalyst for social action. Its online platform – which receives a regular income from advertising – has a monthly readership of half a million and has led to social ventures in India attracting the attention of international media outlets such as BBC World and exposed them to social investors.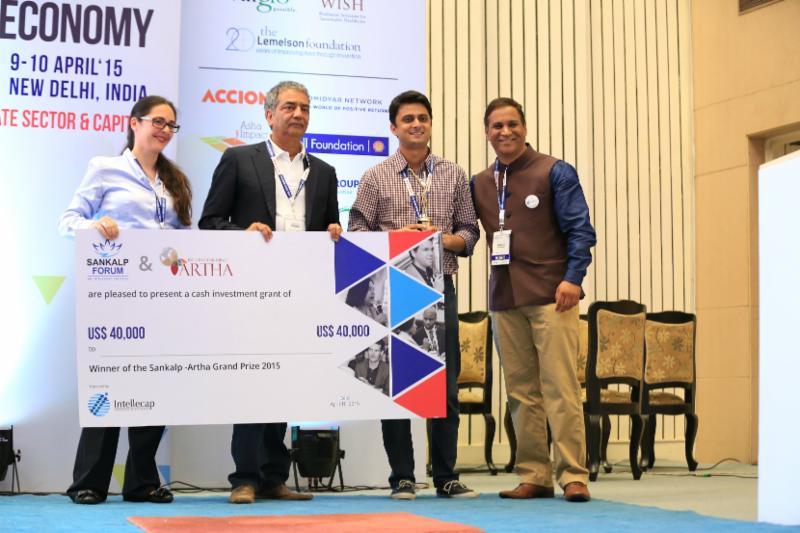 The Better India team at the Sankalp Global Forum
The Sankalp Awards were set up to recognise enterprises which are providing critical services and products to the poorest section of India's population. This year's ceremony was presented by Shikha Uberoi, a former pro-tennis player for India who is currently taking her first steps into the world of social entrepreneurship.
Uberoi said that it was a "truly inspiring moment to be amongst those working so hard on the ground to create positive social and environmental change".
"I was a global tennis player who knew how to hit a ball well, but I very firmly believe that the purpose of humanity is in the hands of social entrepreneurs. I believe that this sector can be a part of mainstream culture and must be a part of mainstream culture," she told Pioneers Post.
Drinkwell, an enterprise which provides water filtration technology to remote villages across India, and Swami Samarth Electronics, which has developed affordable, eco-friendly and fuel efficient cooking appliances for use in rural areas, have been named this year's runners up, receiving US$10,000 each.
Over the past seven years, the Sankalp awards have given US$120 to organisations including last year's winners iKure. Founder of the primary healthcare enterprise Sujay Santra said that "Sankalp has helped a lot to arrive at the stage we are at now".
iKure provides affordable health check-ups by fully qualified healthcare professionals to rural patients, who often only have access to unqualified or under-qualified healthcare professionals, through its centres. It has built up a patient base of more than 13,000 patients so far.
Healthcare was also a key theme at this year's awards, with organisations including Brun Healthcare – which is working to reduce the approximately 330,000 stillbirths that occur in India, the highest of any country in the world – among the 13 finalists.
The launch of Sankalp's first Africa Forum Awards took place in Nairobi, Kenya earlier this year and plans are already in place for next year's events.
Pioneers Post is thrilled to be a media partner at the 2015 Sankalp Global Forum, which was held in Delhi on 9-10 April. The Forum brought together social entrepreneurs, social investors and policymakers from all over the world to tackle the theme of this year's event – Fuelling the Innovation Economy – by debating the roles of government, the private sector and capital. Find out more here.
Header photo credit: Bernardoh