One day with David Cameron
Karen Lynch reflects on Belu's most exciting profile raising opportunity to date. Two PM's in one day.
Over the years, Belu has had some exciting profile raising opportunities and some amazing media coverage. However, when the phone rang last week, even I couldn't have predicted what was to come.
That call meant that on Wednesday, I stood on the roof terrace of the UK Pavilion at the World Expo in Milan where I was introduced to the Italian Prime Minister Matteo Renzi by our own, David Cameron. I've since not only been reflecting on the day itself but also on the last five years. I've gone from not even realising the Belu business model would be part of an exciting social enterprise movement, to an invitation to celebrate our UK National Day at The Expo, including accompanying the PM on the journey from the UK – yes, just quickly dropped that one in.
If I'm honest, the terrace moment itself felt a completely normal thing to be doing. I had no doubt that both PM's needed to hear about the Belu Water business model and how we work with our amazing partners, WaterAid. It's my job as CEO to raise awareness of Belu and to build advocacy and networks that will help us deliver an increasing impact – so whilst ignoring the cameras, I planned to do exactly that. What I hadn't expected was for our PM to do the Belu elevator pitch to the Italian PM for me. He repeated, word perfect, all the key points from our chat on the flight over and I'm sure you can imagine how amazing that moment felt.
There were three other CEOs of regular small businesses taking part in this event and for me, being a social enterprise included in a broader business group enhanced the whole experience. Each of these businesses also had their opportunities for chats and intros, and all three were very lovely people to spend time with and share stories: Oppo, a new healthy ice cream, Pavegen, floor tiles that convert your steps to energy and Cocorose who make very comfy shoes (and I certainly could have done with a pair of those at the end of the day).  
In turnover terms, Belu with £5m was the largest business of the small group, and yet the discussions with these and others throughout the day were a great reminder to me of the huge number of people who still haven't heard of social enterprise, never mind understand what it is. 
The final part of the day involved a more formal presentation and round table discussion on social investment and the Belu business case, before the much more celebratory tone of the garden party to celebrate the Queen's Birthday at the beautiful Villa Necchi.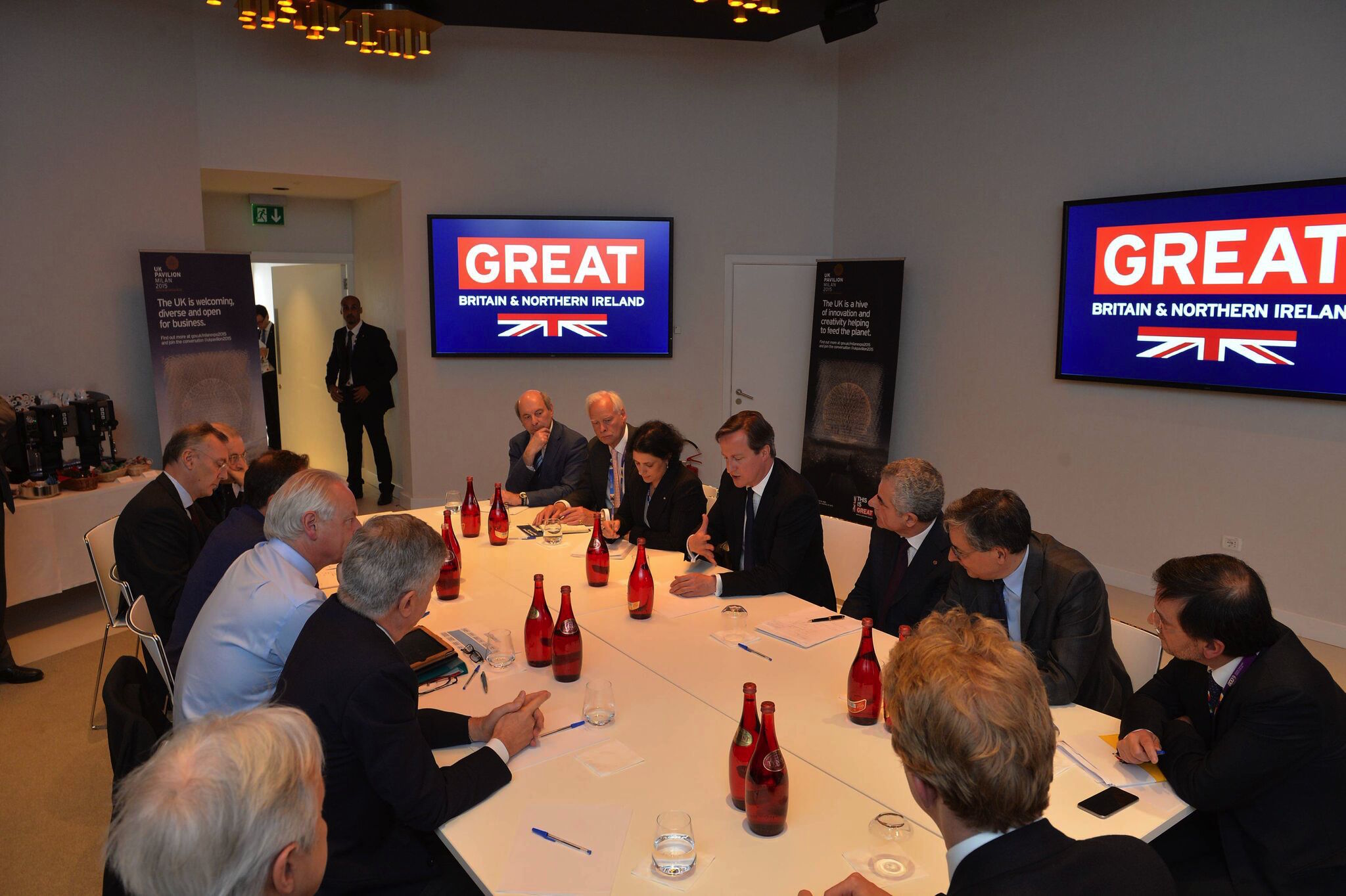 David Cameron leading discussions at the 2015 EXPO Milano. Photo credit: Cabinet Office
I didn't get home to see the coverage on the news at 10pm, but I did receive lots of messages from friends and colleagues that 'spotted me'. Of course they are all seasoned Belu and social enterprise advocates, but they were all extremely excited to have a new Belu story to tell.
In five years, Belu has gone from business plan to announcing we've passed over £1m to WaterAid by building a brand that some of the UK's best restaurant and hotel businesses are proud to serve. It has been harder in every way to my previous corporate life but I wouldn't change a thing.
It was indeed a very special day for Belu, and a great reminder to do two things. Firstly, to keep working hard and telling our story, because we're a long way from having 'made it' and secondly to say an enormous thank you to all the Belu team, customers, supply chain and of course our funders, all of whom have invested in that plan over the last five years.
To read more from Karen, who will be speaking at the 2015 Social Enterprise World Forum in Milan, on making business partnerships work, click here.
Photo credit: UK Trade & Investment