GSEN report calls for more early stage support for entrepreneurs
A wide ranging report from the Global Social Entrpreneurship Network notes an increasing demand for support from social entrepreneurs. 
A new report by the Global Social Entrepreneurship Network (GSEN) has found that early stage social entrepreneurship is under-resourced and under-researched.
The report From Seed to Impact was launched with speeches by Cliff Prior, CEO of UnLtd (who founded the GSEN) and Jonathan Wong, head of the Innovation Hub at the Department for International Development (DFID). GSEN members are primarily focused on early stage social entrepreneurship.
The GSEN is a network of 52 social entrepreneur support organisations that help social entrepreneurs in several ways. This can include providing training, access to finance and networks, or something as simple as providing office space. 
Tens of millions of social entrepreneurs are starting out but the size of the GSEN means that they are only collectively able to support a few thousand. The report claims that demand is expected to increase by 46% in the next year. Globally, GSEN estimate there are only 150 such supporter organisations operating.
Given the demand, social entrepreneur support organisations are understandably struggling. For the report, GSEN asked 50 organisations to fill in a survey, with around two thirds of them responding. On average, each one received 246 applications from social entrepreneurs but were only able to help 25% of them. Initiatives supported were in the fields of education, housing or community development and environment.
It's easy to understand that if there were more of these support organisations, the potential for social impact is significant. Krisztina Tora (pictured above), GSEN manager at UnLtd and one of the authors of the report, explained that GSEN members are currently helping 2,600 social ventures; this had lead to the creation of 5,300 jobs and that as a result, around 667,000 beneficiaries had been identified.
One of the biggest problems seems to be access to finance for social entrepreneurs. But there is money to be had: in just one year the total value of social impact investment available worldwide has risen by 30% for $46bn to $60bn, according to a report by JP Morgan and the GIIN. In response, investors are telling the GSEN that there is "a shortage of high quality investment opportunities with track record." This seems to hint at a lack of proof of impact, which begs the question, is there enough measurement going on? 
90% of GSEN members are collecting data – it's just not the kind of data investors require. For example, less than a third of them were able to give numbers of beneficiaries or jobs created. It was suggested by the report that the reason for this might be that the entrepreneurs focus on their mission; that resources didn't allow for impact measurement.
All of this begs the question that if there is a growing appetite for impact investing, why are the potential investors not putting some money into finding those investment opportunities? With 81% of GSEN members reporting that 50% of their funding is coming from philanthropy, there is an opportunity for those investors to get involved at an earlier stage. 
This was one of the recommendations that came out of the report, with GSEN urging impact investors to "collaborate more closely with early stage social entrepreneur organisations to allow for a mutual understanding of needs. More impact investors could adapt their investment approaches to the early stage space, where needs are high but still underserved."
The hit to miss ratio may well be putting some of them off. Krisztina Tora explained more: "We need to support around 1,000 social entrepreneurs at the ideas stage to get 100 that reach sustainable levels, creating impact in their own communities. That would result in perhaps a handful who wish to scale and get investment. There is a 10 to 1 drop out stage in the pipeline." This is comparable to mainstream business where only a small proportion become national or multinational businesses and the rest are SMEs or micro enterprises.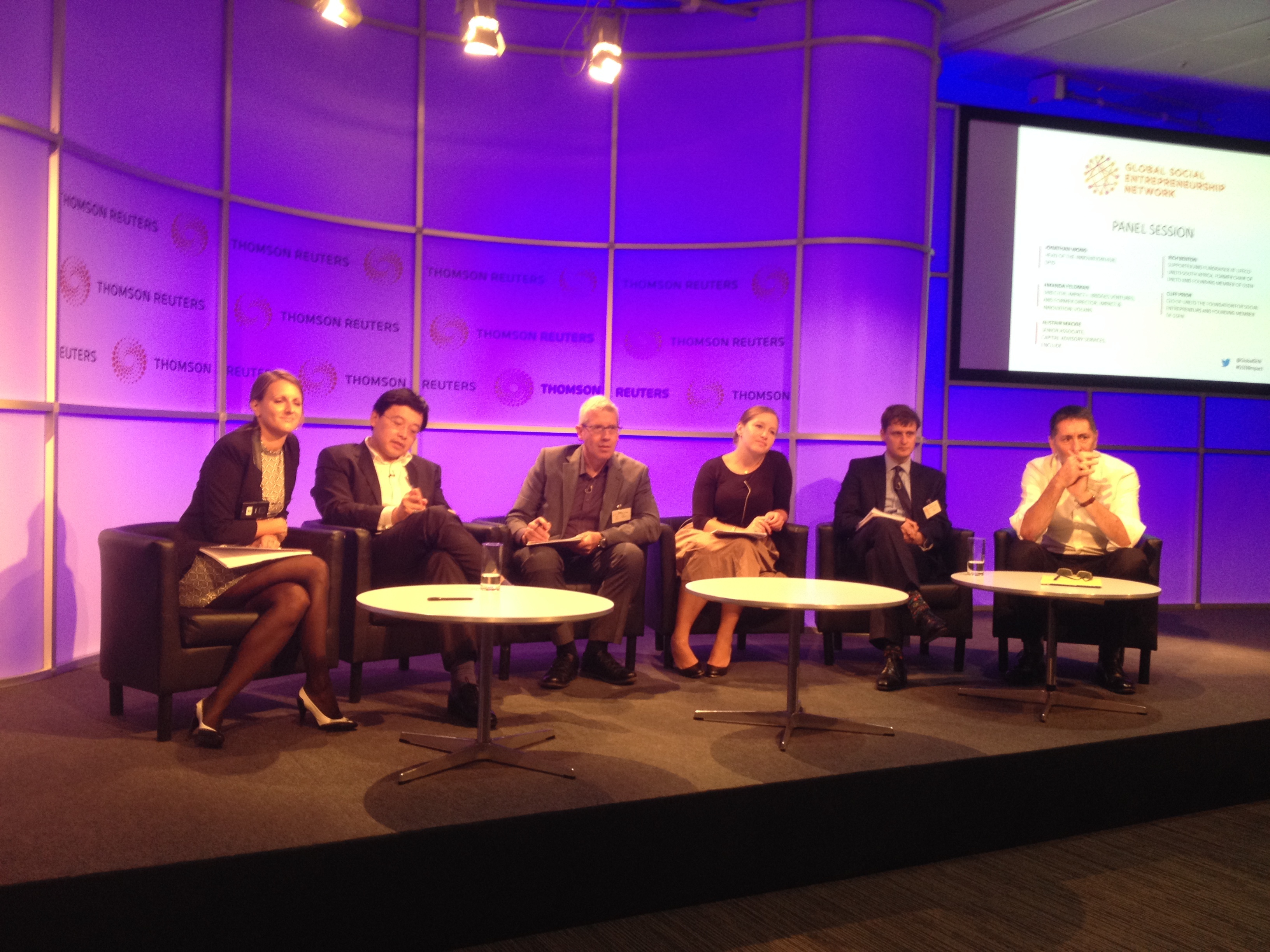 L-R: Kristztina Tora of UnLtd, Jonathan Wong of DFID, Cliff Prior of UnLtd, Amanda Feldman of Bridges Ventures, Alistair Mackie of Enclude, Rich Benton of LifeCo
Prior emphasised the difficulties for entrepreneurs at an early stage: "For most social ventures, the social entrepreneur is going to be fully committed for a year before they earn a penny back. There's probably quite a small minority in a rich country like the UK who could do that. Now think about the developing world – how many of those people would be able to do that?"
Jonathan Wong explained that at DFID, they were trying to solve the problem of finding early stage risk capital to get innovations to market. He had also received feedback from investors concerned about the quality of potential investments: "A lot of the conversations I was having with impact investors were 'there are a lot of great ideas out there but it's still a little bit too early for us'."
Wong faces a similar problem at DFID but appears keen to do something about it. From 2,600 applications to the Global Innovation Fund (which DFID support alongside four agencies from other countries), 98% have been rejected. "Do we just sit here waiting for the good ideas to come through or do we start investing in those organisations that will grow the pipeline support? And this is very much the direction we'll be going in the future," said Wong.
DFID have dipped their toes in the water in this area with SPRING which identifies early stage ventures and then acts as a social entrepreneur supporter. The catch is that it has a very specific target currently (products that can improve the lives of girls) – it's not open to any type of innovation.
Wong explained: "The question that I always get back from my senior management and the board is 'Is there evidence that investing in social entrepreneurship ecosystems provides value for money?' As we're spending tax-payers money, we're quite risk averse. Evidence is the key thing that unlocks funding - the articulation of impact is a really big issue."
Hopefully the GSEN report will encourage impact investors to think about how they can support the pipeline of potential investments at an early stage in order to achieve a greater net social impact in future years.