Art of social entrepreneurship inspires gender equality in India
Last month, the British Council and Diageo are launching phase two of their Young Women Social Entrepreneurship programme in India, which aims to unleash an army of over 2,000 women empowered with the skills to start social enterprises and simultaneously break down gender inequality. Pioneers Post's Ellie Ward reports.
Take a sharp left from one of Delhi's chaotic highways, walk through a maze of winding side streets and you'll find a community of puppeteers rallying together to turn a family tradition into a sustainable enterprise. 
For the Kathputli Colony in Shadipur, New Delhi, the art of puppetry has been a tradition upheld by families for hundreds of years. Now, by working with British Council Master Trainer and founder of the Happy Hands Foundation, Medhavi Gandhi, the women of this community are developing their business skills and building networks with universities, schools and corporates, who pay for them to perform plays about women's rights and gender violence. 
Medhavi launched Happy Hands in 2009 aged 22, when she and her friend invested the equivalent of around £50 each in raw materials and reached out to artisans creating traditional jewellery and other products. 
Shadipur Colony is completely disconnected from Delhi's main water and electricity systems. The average age of women getting married there is 17. "Our idea is to work with the community here to create an enterprise that is led by women, managed by women and involves women performers. 
"It's ironic that although the plays they perform here are mostly based on women's rights and gender violence, many of their own women can't express themselves. 
"We have to be careful not to create division though. We often find that a husband may allow his wife to be part of the business, but his mother may not be comfortable with her daughter-in-law doing that."
Medhavi also says that education has been a barrier for her team. "A lot of the women we work with are not comfortable with computers. For a long time they relied on us to conduct communication on their behalf. We've tried to encourage telephone communication with partners, as opposed to emails, to try and solve this."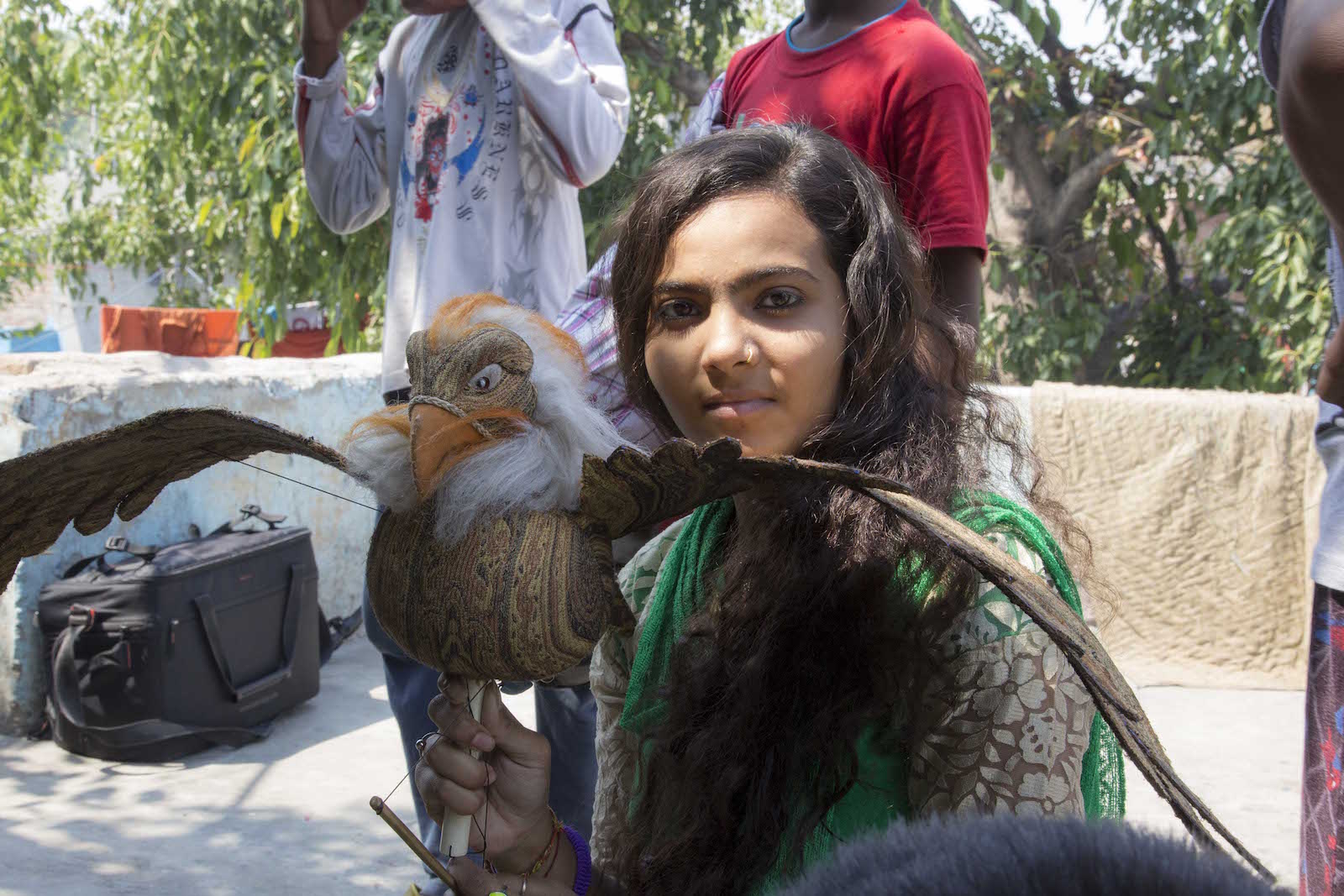 Shadipur Colony, New Dehli. Photo credit: Pioneers Post
Tackling inequality with entrepreneurship
As of April 1st this year, companies listed by The Securities and Exchange Board of India must have at least one female director on their boards, in accordance with the Companies Act of 2013. 
While some might argue this is a significant milestone in the pursuit of gender equality, a sceptic would say that it's more of an empty gesture to the social movement – a gesture that appears to be positive but lacks the ability to create systemic change that will affect all corners of Indian society.
Gender inequality in India is undoubtedly an entrenched social issue. According to the organisation Educate Girls, there are over three million girls not enrolled in school.
The state of Rajasthan is home to nine of the 26 worst gender gap districts for girls' education; 67% of girls are married before their 18th birthday. The organisation also reports that India has the highest number of women and girls in sexual and other forms of slavery. 
This level of embedded inequality will only be changed if women and girls are empowered – socially, economically and personally. And this is exactly what India's social enterprise sector is working to achieve and why the British Council has launched the second phase of a programme that aims to create an army of women trained in the art of social entrepreneurship. 
The Young Women Social Entrepreneurship programme was launched by the British Council and Diageo in 2013.
By working with partners in the social sector, including the Happy Hands Foundation, the programme provides women across India with the skill set and confidence needed to launch their own enterprises that generate both income and social or environmental impact. 
Armed with entrepreneurial acumen, the Master Trainers, who are the women who have completed the Indian Institute of Management training programme, are then given the task of educating even more women with the skills they have gained. Meenakshi Gandotra completed the Master Trainer programme last year. 
She explains: "It comprises a unique training model that starts by teaching you how to identify a social enterprise. It then goes on to cover how you create a business plan and manage a business, and provides an overview of the global social enterprise landscape. 
"The training is very intensive and includes both theoretical and practical elements. In India, there are significantly less service-based social enterprises in comparison to the UK. Here, the sector is predominantly made up of enterprises that sell products, so the programme helps give women the confidence to price their products accurately and make sure they are not underselling themselves."
With phase one of the initiative now completed, April saw the launch of the second phase. Once this cycle is completed in 2016, the British Council and Diageo will have partnered with 32 organisations working across India, trained 60 Master Trainers and empowered 4,000 women with the skills to set up a social business. 
A taste of equality
On the top floor of a three storey building, which is decorated with works of art created from recycled drinks cans and bicycle wheels, another social enterprise has been set up by the NGO Swechha. Lunchbox 17 (LB17) is a meal delivery service that provides quality home cooking to 1,200 local businesses and individuals living in the area. 
Vimlendu Jha, founder and CEO of Swechha, explains that many of the women employed by LB17 and who take part in the business skills workshops run by them are from the slums in the local area. 
He continues: "Many of them didn't ever go to school and may have never spent money on themselves. Before, they had economic dependence on the men in their lives, which in turn can in some cases lead to over dependence, often exploitation and in some contexts violence."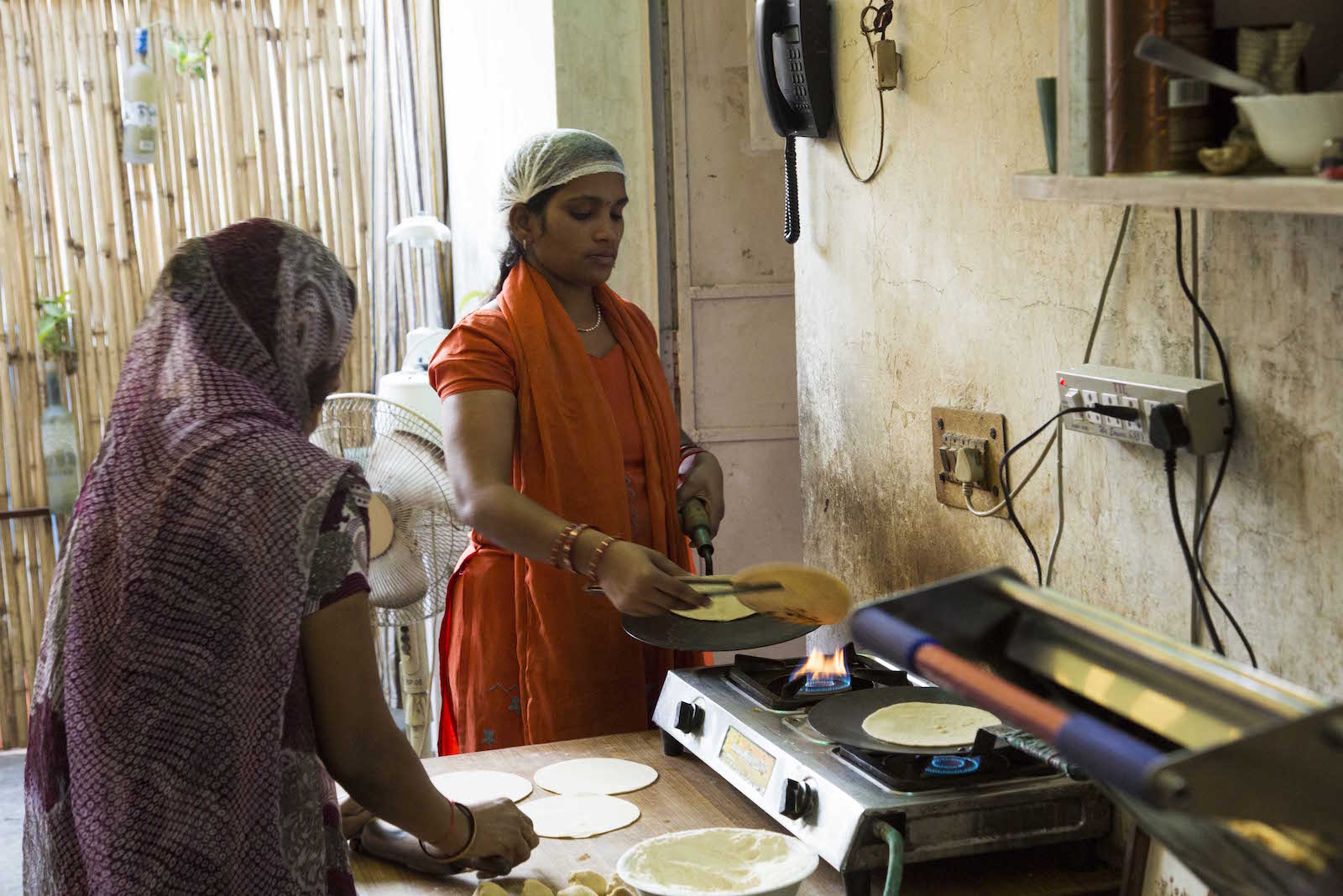 LB17 kitchen. Photo credit: Pioneers Post
Nitu joined LB17 after taking part in one of Swechha's business workshops and currently works as a kitchen assistant. She says that LB17 "feels like a family and not purely a place of work".
Her husband and mother-in-law have not supported her decision to go to work. "They got angry and didn't talk to me for a few days but I decided I had to come so I kept coming," she explains. 
"The best thing about coming to Swechha is that we were learning something new for the first time in a long time, and we got to know other women from the community and do something for ourselves."
Vimlendu says that while on its own LB17 is unable to achieve the "justice and equality you and I believe in," it is part of the bigger social enterprise movement and means that "we're on the right path and maybe in the near future they will". 
Forecast ahead: sustainable solutions through social enterprise
The issue of gender inequality is clearly not confined to India – it's a problem, to varying degrees, all over the world.
Vice president of the Social Entrepreneurship Unit of Malaysian Global Innovation and Creativity Centre (MaGIC) Chan Yee Hon said: "We know that women now contribute to over $20 trillion of consumer spending globally – that's almost larger than China and India's GDP combined. 
"However, when we talk about markets, women are often not involved in designing these markets. They are not in the positions of power that are responsible for designing a lot of these services and products."
The head of society at the British Council's India office Dr G Gujral, explains that the vision for women empowerment through social enterprise does not simply stop after phase two of the current initiative. The next steps include sourcing more seed funding and building a bigger network of mentors.
There is a very mixed social enterprise ecosystem in India, which has been built on the firm foundations of its strong social and NGO sector. Dr Gujral says: "We have non-profits, for-profits, private companies that do a lot of social good, NGOs and more traditional charities, but there is a lot of uncertainty around how the social enterprise ecosystem is organised. 
"There is no legal format for social enterprise in India. Most of the organisations are registered as NGOs as that is the easiest and most recognisable way for them to exist. The British Council can use their expertise to support with capacity building."
With international funding drying up at a rate far exceeding that of progress being made against social injustices, sustainable solutions are desperately needed. The momentum around social entrepreneurship is evident among those working in NGOs, traditional charities and has also infiltrated the walls of Narendra Modi's government, which took office last year.
At the 2015 Sankalp Forum in Delhi, India's minister for science, technology and earth sciences Dr Harsh Vardhan said that the government would put its "heart and soul" into supporting the sector. 
Despite the various debates over precise definitions and legal frameworks, ultimately the concept of social enterprise is simple. It's about creating solutions to social and environmental issues that make business sense – which are exactly the types of solutions India's rapidly growing economy is in desperate need of.
Check out our film from the Shadipur Colony in Delhi here.
This article was made possible thanks to the support of Intellecap, the organisation responsible for the Sankalp Global Forum, and the British Council.