Kevin Doyle Jones: No More Heroes Anymore
Markets don't solve everything – co-founder of SOCAP and impact investing heavyweight Kevin Doyle Jones talks to Ellie Ward.
The looming mountains and vast expanse of water that provide the backdrop for this interview with Kevin Doyle Jones seem rather apt. His passion, intelligence and outspoken nature make him somewhat intimidating on first introductions, but as with many successful leaders, when speaking with him one-to-one Jones immediately becomes warm, honest and open.
Jones is the co-founder of the SOCAP network and annual conference, which brings thousands of entrepreneurs and investors who believe in the creation of a socially responsible economy together each year in the US. He is a heavyweight in the impact investment world, having worked in the sector for around 15 years and is the founder of Good Capital, a venture capital firm that invests in social ventures. Jones was also part of the team which launched the first Hub in the US.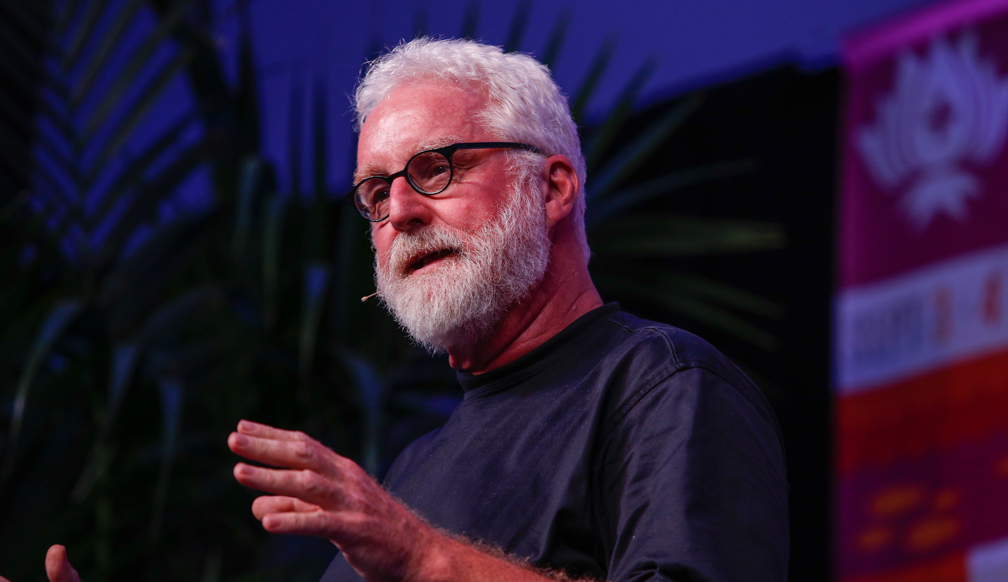 Kevin Doyle Jones. Photo credit: SOCAP
He's usually to be found in either Ashville, North Carolina (where his grandchildren live) or San Francisco but this week a new project aiming to disrupt the way foundations and social sector organisations work in order to encourage more collaboration has brought him to Lake Como in Italy. The project is Sphaera, a social enterprise that has the backing of The Rockefeller Foundation and which Jones is currently an advisor for. 
Disruption of current systems is familiar ground for Jones, who is never one to hold back if he believes his opinion should be heard. "We did our conference because people said this ground between giving and investing could not exist. There is a market in the intersection between money and meaning." 
The conference is now in its eighth year and looking back through past interviews with Jones, one stands out from the rest. In 2010 Jones was asked what he hoped the social enterprise sector would have achieved by 2015. His response was: "I do hope we have grown beyond the heroic visionary entrepreneur as our model." So, with just a month away until the next SOCAP event, has this been achieved?
"There are still foundations who give awards to heroes so it's clear in many ways we're not quite there. However I think more social enterprises that succeed have moved beyond this way of thinking – they realise you need to be a network weaver and that your solution is only part of a contextual whole.
"There is a 19th century linear model of impact where 'I made this happen' – but no, actually somebody else built the roads in order to allow you to make it happen. The collective impact model that is going through the non-profit sector is now being realised by the social enterprises too."
Jones believes that a crucial element of the collective impact model is cultural literacy and understanding how to work with communities that have a wide variety of values. For example, "one of the sectors expanding rapidly in the US is financial inclusion" – not making money off the poor, but reducing the cost of being poor and in order to do this effectively it means truly understanding how very low income communities operate.
In some "cultures you may have a matriarch who is making decisions for everybody in their community on the block – which is true in parts of San Francisco". And then "a few blocks from that it is the elders and their men who make these decisions". 
Markets don't solve everything
Another of Jones' fundamental beliefs and one that sometimes gets lost in the social enterprise narrative is that markets don't solve everything. Reflecting on the malaria project in Swaziland and Mozambique, which he led working with Jeffrey Sachs of The Earth Institute at Columbia University for two years, he says:
"There's really no purely market solution because you're working with the poorest people with the least power – there is no group that wants to fund them to make them more productive. These were young mothers and kids – their deaths were socially acceptable so the market wasn't able to solve that problem. Ultimately you need to give away nets."
Of course there are many social issues in which the market can play an important role in solving. Jones describes some of the key trends and features of the impact investment in the US currently and explains how his investment approach has evolved.
"The big thing in the US is that we invest a lot more in Africans than we do in African Americans. It conflicts with our politics. I'm focussed more now on investing in underrepresented communities in the US. 
The hero model is a relic, and so is the market as the solution model
"I'm also investing in things where venture capital doesn't work, for example Fair Trade. Essentially, I want to invest in businesses that accrue wealth in the communities they work."
On social impact bonds, Jones is pragmatic. Comparing them to the space race he says, "a lot of things don't work at first" but " just because the first five rockets didn't make it to the moon it doesn't mean people gave up". The model is so complex and disruptive of current systems that it should be seen as an "evolution" he says.
Of course it's not just social impact bonds specifically in which there is still much more to be learned but in the broader behaviours of impact investors and practitioners in the social sector as a whole.
If you're coming from the mainstream investment world, Jones says that "you have to learn to speak impact. It really is bilingual. Investors have to realise they are not in a linear world made up of risk and return, they are in a world of risk and return engaged around the deepest and most complex problems in the world. 
"They often try to impose a silly, rigid metric around things – 'if I could just measure good, people would do more' – it's much more nuanced than that."
As the conversation draws to a close and the mosquitoes threaten to disrupt the tranquillity that comes with staring into the lake, Jones makes some concluding remarks on the vast global community fighting for social change:  
"The hero model is a relic, and so is the market as the solution model. The market doesn't solve everything, heroes don't solve everything, we solve it through community and where the market is a tamed element of a broader social change agenda." 
Header photo credit: SOCAP