Global social innovation round-up #21
European Social Innovation Competition finalists announced
Ten social ventures have been selected as finalists in the European Social Innovation Competition and later this month will pitch for their chance to win one of three €50,000 prizes. The finalists have fought off competition from over 1,400 applicants from 40 countries to reach this stage.
The ten enterprises all come from different countries including Belgium, Croatia and Greece – and all have a vision to address social or environmental challenges through sustainable business models. After attending a mentoring academy in Vienna with an additional 20 ventures, these ten were then selected to attend the pitch in Brussels on November 25th. Find out who made the cut in this year's competition here.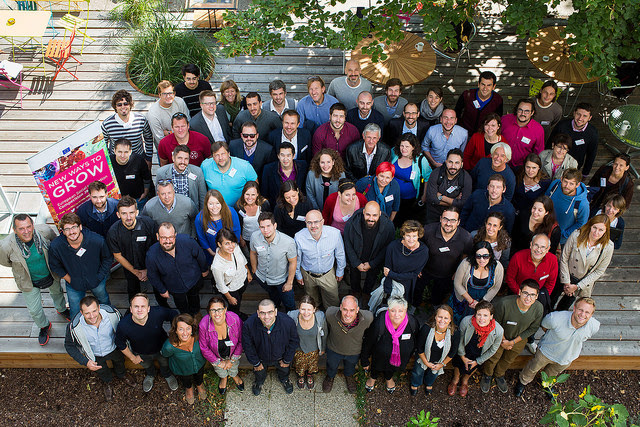 EU Social Innovation Competition semi-finalists and mentors
Social Value Awards launched by UK government
The UK Cabinet Office has launched the Social Value Awards, which aim to recognise and celebrate the good practice of public service commissioners who prioritise social value. The Cabinet Office has also announced almost £30,000 of funding will be given to eight social value projects across the UK to help commissioners "improve how they measure their social, economic and environmental impact as part of the Social Value Act". 
Responding to these announcements CEO of Social Enterprise UK, which is to receive a share of the funding, Peter Holbrook CBE said: "Legislation can take years to be fully embedded on the ground and we welcome these steps taken by Government to drive forward the implementation of the Public Services (Social Value) Act."
First female president of Catholic Charities USA prioritises social enterprise
Sister Donna Markham, head of Catholic Charities USA has told the Washington Post the organisation is looking to "raise funds that help people to engage in social enterprise initiatives". Markham became the first female president of Catholic Charities USA, which is one of the largest social services organisations in the US, this summer. 
Catholic Charities USA has 177 member agencies in 2,600 locations across the US. Whilst setting out her vision for the organisation following Pope Francis' recent visit to the US, Markham said that engagement with social enterprise is "going to be a real area of needed expansion within Catholic Charities across the country". 
Free support package to help UK social ventures get to grips with tax relief
A free support package offering charities and social enterprises guidance on how to raise money using social investment tax relief (SITR) has been launched by Big Society Capital – a UK-based social investment wholesaler. 
Big Society Capital has made arrangements with four leading professional services firms in the charity sector to provide legal advice and impact reports on SITR transactions. 
Mark Simms, CEO of P3 Charity said: "We were one of the first organisations to use SITR, which helped us raise £150,000 via two projects working to tackle homelessness in Gloucestershire and the East Midlands. We are delighted to see these professional services firms willing to help more charities and social enterprises also benefit from the relief and hope that it will encourage more organisations to use it."
To receive the free support, charities and social enterprises can sign up here.
Tech social enterprise gets snapped up for over $500,000 in Singapore
Start Now, a social venture set up to help individuals find volunteering opportunities through technology, has been acquired for $530,000. Since it was founded in 2011 by Ivan Chang and Keith Tan – university graduates in their early 20s – Start Now has evolved to provide a range of management software for non-profit and governmental organisations, including pro-bono services management software and white-label community engagement platforms. 
The tech start-up has been acquired by Goodtizens Technologies, which intends to integrate Start Now's software offerings into its wider social change network. Although the acquisition of the social enterprise by another venture from the social economy is comparatively small relative to those in the for profit sector, the deal is thought to be the first of its kind in the local social entrepreneurship space.
Header image: Singapore's Trees of Light
Photo credit: Kai Lehmann