Exclusive: Prior's plans for Big Society Capital, part 2
In part 2 of our exclusive first interview with Cliff Prior, who will become the new CEO of Big Society Capital in 2016, he tells Lee Mannion about the range of key areas – from transparency and standardisation to experimentation – that he must focus on to deliver the vibrant social impact investment ecosystem he believes is possible.
Pioneers Post: Why do you think the Big Society Capital (BSC) board chose you for the new role?
Cliff Prior: The first step had to be led by somebody from the investment industry because building the engineering and the fabric of the organisation, how it was going to operate – I couldn't possibly have done that. Nick [O'Donohoe, the current CEO] has done an amazing job on it. The next stage in the relay race is very much about the social sector and understanding from the ground up. If the social sector is keen to achieve more, what are the problems in its way? What are the solutions that answer those problems? Social investment may not be on the list for a particular organisation. Many organisations get to a certain point and then their board thinks 'This is risky'. They don't understand it fully, it's new. How do you make it credible and relevant and understandable and integrated with the other things that need to happen?
The reason why they went for somebody like me is that I am sheep dipped in almost every part of the social sector from start-ups to housing associations to fundraising to public service work and regulation – the whole gamut. I hope they think that I've got the understanding of that and maybe the credibility with the social sector to tackle that next step.
PP: Is this appointment just moving the deckchairs around? Was it a missed opportunity to bring a completely new person into the sector?
CP: My understanding is that the list of applicants were both from the investment world and the social world but also from none of the above, so they had a very wide choice to go from. What I've done in each job isn't just to understand and run that organisation. In each of the jobs I've taken on I've left the place not just better for that organisation but better for its sector and wherever I can, transformative for that sector. I'm blowing my own trumpet too much, I don't like doing it but maybe that track record…
Big Society Capital have come a long way but there is a lot further to go. This is the creation of a big change in society.
PP: What's the first thing you want to change at BSC?
CP: Me! The first thing I need to do is get that in-depth understanding of where it's coming from, where it's starting from, the capabilities of the team and the intermediaries, the views of the social sector organisations that are interested in investment.  The first thing is to change my knowledge base.
PP: Jonathan Jenkins wrote in Pioneers Post recently that the principal challenge for the new CEO of BSC will be to decide how they can meaningfully strengthen and develop the social investment finance intermediaries (SIFIs)?  What is your response to that?
CP: That's valid because there has been a rapid growth in the number of SIFIs. Many of them are not much past start-up stage themselves. Getting an infrastructure that is sustainable, that has the capacity to innovate and learn and develop… of course that is a big part of the job. BSC was set up to create a vibrant and sustainable and effective intermediary sector, it wasn't set up to do direct investment so Jonathan is absolutely right, that's a really important part of it.
The kind of money that BSC has got is one kind of social investment money – it can do certain thing and it can't do other things. The market champion role is really important to assist SIFIs and other completely lateral interventions that bring in other kinds of social investment money to fill in the other gaps. Access is one of the new kids on the block and is bringing something quite new to the sector. I would expect there to be others that are as different if not more different and that are bringing in new types of social investment.
PP: Have you got a plan or schedule in terms of how long it will take you to come up with some new strategy for BSC?
CP: I've got some ideas which I've shared with the board but as I said I need to get much more in depth with the team and the SIFIs and the current state of play before I make a definite plan. One of the things I've learned after nine years of working with social entrepreneurs is a plan made without market test and market knowledge is really not worth the paper that it's written on.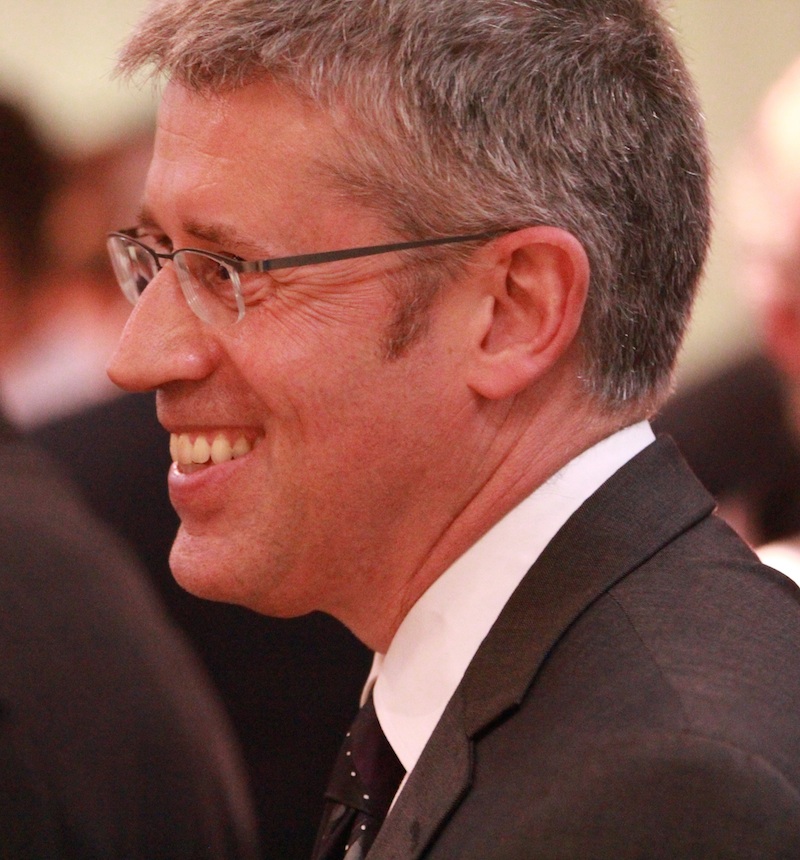 Cliff Prior. Photo credit: UnLtd
PP: UnLtd founded the Global Social Entrepreneur Network (GSEN) and the 'From Seed to Impact' report released in September found that that early stage social entrepreneurship is under-resourced and under-researched. How will you address this in your new position at BSC?
CP: In market champion terms, yeah I can make a contribution to it. The pipeline of new ventures is a really important part of the ecology of civil society for any country. In the UK we are very fortunate with the number of people we have who are prepared to take that really big brave step to start something social. At the moment the majority of those people don't get much support and that makes it tricky for them to fulfil their potential. In most countries there are less people starting and there is a lot less infrastructure to help them start well.
New start-ups aren't the only job of BSC. BSC is also looking for investment for existing social organisations of all kinds to be able to achieve more impact. For BSC the start up pipeline is one part of the roots in to social investment. They don't support anyone directly but they do support SIFIs, some of which are in that zone. One of the big success stories of UnLtd has been getting the big commercial angel investors interested in doing early stage, high risk social investment. Much of that has been organised through ClearlySo and they are a BSC invested intermediary, so indirectly there is a connection.
PP: BSC is an independent financial institution with a social mission set up to help the social investment market in the UK so how successful do you think it has been at doing that?
CP: It has been very successful at building the foundations and starting the engagement process – getting the SIFIs established and starting to get that into social sectors and starting to analyse where is it going to work, where is it going to be difficult and also as a market champion. They've worked on social investment tax relief, on CIC changes and, now, something that most people might think is a little big nerdy, but the transparency proposals that came out very recently. Transparency helps a market become liquid and accessible. If you're a social organisation then you want to know – who really invests in someone like me? What are the terms? It's so important to know that. So I think they've come a long way but there is a lot further to go. This is the creation of a big change in society. In the early days a lot of it is the engineering, putting the plumbing together. How long did it take for venture capital to take off, for example? Here we are with social venture capital and that's a more difficult, more complex proposition – it takes time. I think they've done a fabulous job of the first stage or two of what is gong to be a long relay race.
PP: Nick O'Donohue has said recently: "In order for the social investment market growth to accelerate, we need larger and more standardised transactions". What do you make of that?
CP: The transactions costs are still very high and that places barriers in the way and also creates nervousness. If you're a social organisation and you're telling your board that they've got this very complicated bespoke legal contract to sign – that's scary. If you could tell them that there was a standard form of contract, that a hundred other organisations have used this form and they are doing ok: much less scary. So I think Nick's absolutely right.
We haven't explored the range of novel, innovative kinds of arrangements that can be made but where we see things succeed and where it looks like many more can be like that, the more we can standardise, the lower the transaction costs, the lower the fear factor and the more accessible its going to be.
PP: Do you think the social investment market needs to grow?
CP: Yes – we're a long way off optimum but its growing and understanding at the same time. Every experiment gives you another piece of understanding – does this kind of arrangement work? If it does work, who does it work for? At what stage, under what terms? So there's scaling (standardising, reducing transaction costs, getting more volume) and at the same time we're still experimenting and both of those are happening at the same time. At some point we'll get to it being a vibrant, lively ecosystem where there is lots of easy access, well understood, standard terms with lots of innovation at the edge: that's the wonderful future. 
Missed part 1? You can read it here.
Photo credit: Virgil Telmo