Global social innovation round-up #36
Gates Foundation commits $80m to close gender data gap
The Gates Foundation has committed $80m over the next three years to increase the data available on gender disparity, in order to accelerate progress for women and girls around the world. The foundation, along with partners including UN Women, USAID and the World Bank Group, has also agreed upon a new statement of principles on gender data.
At the 2016 Women Deliver conference in Copenhagen, Denmark, Melinda Gates said: "By adopting the SDGs the world agreed to achieve gender equality by 2030. But we cannot close the gender gap without first closing the data gap.
"We simply don't know enough about the barriers holding women and girls back, nor do we have sufficient information to track progress against the promises made to women and girls. We are committed to changing that by investing in better data, policies and accountability."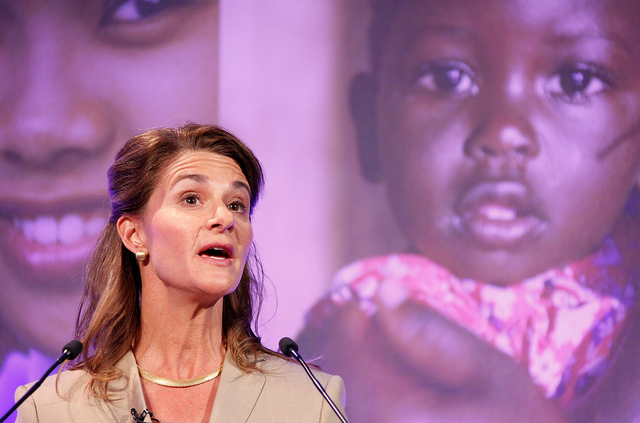 Melinda Gates. Photo credit: Department for International Development
The $80m will support a number of initiatives and programmes including; 'collecting data on how much time work and girls spend on unpaid work around the world, and what implications this has on their life chances and choices, such as completing education, getting jobs or starting businesses'. It will also 'equip decision makers with more timely and clearer evidence about programmes and interventions that are working and those that are not, so they can be redesigned quickly and more effectively'.
Critical role of Islamic Social Finance in development highlighted in Istanbul
Islamic Social Finance mechanisms and funds, into which Muslims worldwide donate generously to tackle social issues, should be more widely recognised as a means to aid global humanitarian programmes. This was the message from Sultan Nazrin Shah, who is the co-chair of the UN High-Level Panel on Humanitarian Financing, at the World Humanitarian Summit in Istanbul, Turkey.
According to The Star Online, Shah said: "We are all too aware that the gap in humanitarian funding is an alarming and growing one." Referring to the Islamic Social Finance sector, he continued: "We need to recognise the crucial difference that these emerging donors can make to humanitarian financing, and we believe in the importance of expanding their numbers while at the same time protecting the fundamental principles of humanitarian aid and good governance."
The Islamic Finance industry is a financial system featuring banks, capital markets, fund managers and other elements of the mainstream financial system that operates according to Islamic or Sharia law. It has assets estimated to be worth US$2tn. The World Humanitarian Summit concludes: "The potential contribution of Islamic social finance to support people living in crises is enormous, yet there is no coordination mechanism or an independent and autonomous body to help channel these funds effectively at the global level for humanitarian action."
Seven Scottish social entrepreneurs given a start-up boost
Firstport, a social enterprise development agency, has awarded seven social entrepreneurs from across Scotland a share of nearly £23,000 from its Start It programme. The programme is funded by the Scottish Government's Social Entrepreneurs Fund and aims to help aspiring entrepreneurs pilot their business ideas.
Among those to be awarded in this funding round were; Stacey Norwood, founder of UPBEAT Theatre Company, which uses drama, performance and the theatre experience to create community cohesion and tackle antisocial behavior in Glasgow, and Greg Lennon, the founder of Tech Bank, which will repair and up-cycle smart technology to distribute to disadvantaged and disengaged groups.
Karen McGregor, CEO of Firstport said: "I am very pleased that Firstport is supporting people at the start of their entrepreneurial journey, enabling them to test their ideas. The variety of ideas shows that social enterprise can be applied to any sector and tackle a range of issues in innovative ways. We believe that they will take their ideas forward and turn them into sustainable businesses, adding to the pool of successful social enterprises in Scotland."
Manchester-based social enterprise caters for over 1,300 homeless people
Foodinate, a start-up social enterprise based in Manchester, UK, has provided 1,336 meals for homeless people since it was founded less than a year ago. 23 year old Caroline Stevenson set up the venture to connect local businesses with the fight against food poverty.
Foodinate partners with restaurants, including George's Dining Room and Bar in Worsley, which is owned by footballer Ryan Giggs, to provide meals for a person in need in the city. Diners at the restaurants signed up to the scheme choose a meal from the menu that's been marked with a Foodinate logo, the restaurant then covers the cost of the donated meal, and a pre-selected local charity provides a hot, nourishing meal for someone in need.
Stevenson said: "It's crazy to think that we live in the seventh richest country in the world, yet more than 13 million people are living below the poverty line. With one in six parents in the UK reporting having gone without food themselves so they can afford to feed their families, I knew there was a social need for my venture. I wanted to to create a sustainable impact on this enormous issue and Foodinate aims to do just that."
Interested in social investment? Read on... 
Big Potential, which 'offers support and grants to help voluntary and community organisations and social enterprises consider how social investment could help them' is hosting a free event at Coventry University for anybody considering social investment. The event is taking place on 21st June and features speakers from Social Investment Business, Social Enterprise UK and Charity Bank.  
To find out more, click here.