Vietnam: The journey to inspire young social enterprise pioneers
Vietnam is being hailed as 'Asia's next tiger' and there's a growing eco-system to support social entrepreneurs. But, Anna Patton discovers, Vietnam's youngsters are yet to be convinced that social enterprise could be a great career path. She explores the growing number of initiatives that aim to transform their mindset.
Vietnam's economic tally is impressive. Extreme poverty has dropped dramatically since the 1990s, and GDP per capita growth has been among the world's fastest. But in 'Asia's next tiger', rapid development comes with unsustainable practices including dangerous levels of pollution and unsafe food.
"Everyone is losing trust in each other," says Dr Truong Thi Nam Thang, associate professor at the National Economics University in Hanoi and director of the university's new Centre for Social Innovation and Entrepreneurship (CSIE). Social enterprise, she says, is "a way to gain back trust".
Tackling social problems through business also makes sense in a nation where international grant money has declined now that Vietnam is classed as a lower middle-income economy. Social enterprises tend to be self-sufficient: most of the estimated 1,000 or so in the country are registered as companies, Dr Thang (pictured below) explains.
There's also strong government support, with a distinct legal form for social enterprises and "one of the most progressive ecosystems" in south east Asia, according to Tristan Ace, who leads on global social enterprise development for the British Council. In recent years, several support organisations, investors and intermediaries have emerged, including the Centre for Social Initiatives Promotion, Oxfam Inclusive Impact Investments programme and the Lotus Fund.
Commercial business is expanding too. The regulatory environment, while not all plain sailing, has improved, pushing Vietnam up 14 places in the World Bank's latest Doing Business rankings, and the socialist government wants to create a "startup nation" with 1 million new enterprises by 2020.
That could be a timely opportunity. Though more educated than ever — total tertiary education enrolment more than tripled between 2000 and 2013 — youth unemployment remains above the general population average. In 2016, a reported 225,000 graduates nationwide were out of work.
Young people think enterprise is hard, so social enterprise must be harder. Getting income for themselves is the priority
But if young people are more likely to start a business than older generations, social enterprise success stories "are mostly not from young people", says Dr Thang: those wanting to make a difference look for work with international or local non-profits instead.
Truong Thanh Tuyen, a 20-year old economics student in Ho Chi Minh City and president of Business Ideas Team, which encourages students to get involved in social entrepreneurship, says people her age tend to lack motivation. "They think enterprise is hard, so social enterprise must be harder… Getting income for themselves is the priority."
Pushing social innovation
Challenging such misconceptions has long been the mission of Dr Thang, a leading scholar in the subject who, in 2009, founded her university's branch of Enactus, the global student hub for social enterprise, and a national network for social enterprise academics six years later. While the Vietnamese are "quite active" philanthropists, they're "not yet thinking about buying products from or even investing in social enterprises", she says. "We want to change that mindset."
That goal came a little closer last year with the creation of CSIE, the country's first university-based centre for social innovation. Aiming to become a hub for research, education and incubation of social business in south east Asia, the centre is the culmination of five years of collaboration between the National Economics University (NEU), one of the country's biggest business and economics universities, and the British Council, which has supported social entrepreneurship in Vietnam since 2009.
Master's level courses at NEU in business ethics, management and entrepreneurship now include an optional module on social enterprise, covering tools like the social business model canvas and comprising a class competition and study visits. Around 1,000 students take the module each year, with several thousand more learning informally through workshops, conferences and competitions. There are also plans to develop a master's degree in social innovation from 2019.
Our job is to try to add elements of social innovation to students' ideas
Only about 5 per cent of students express an interest in a career in social enterprise, according to Dr Thang, but the learning isn't wasted on the rest.
"Our job is to try to add elements of social innovation to their ideas," she says. Even if a graduate then pursues a purely commercial business, they might "balance social and economic objectives".
In addition, CSIE's initiatives could help address skills gaps faced not only by social ventures but also mainstream ones. Government spending on education is higher than the average for low- and middle-income countries. But Vietnam's businesses still say they struggle to find qualified staff because teaching quality at tertiary level is below international standards.
The good news is that practical, creative problem-solving approaches are spreading beyond business and economics degrees. At Nguyen Tat Thanh University (NTTU) in Ho Chi Minh, all first and second year students can now take courses in Entrepreneurship and in Creativity and Innovation Methodology. The focus is on technology and social enterprise, but Ha Thanh, director of NTTU's Innovation and Incubation Centre (pictured below with Truong Thanh Tuyen), plans to work with other faculties to attract students from all disciplines — from architecture to biochemistry.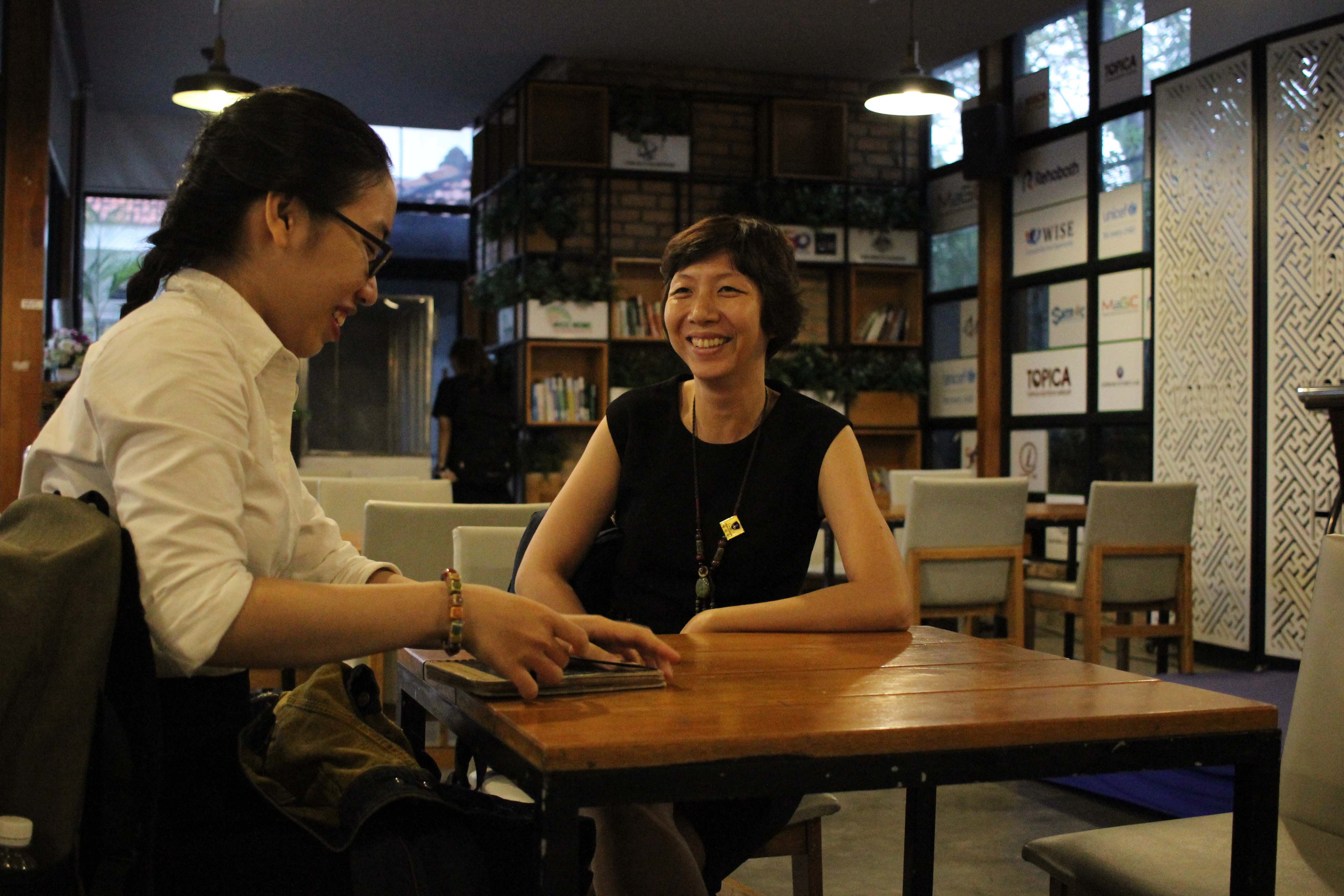 Growing the network
Both CSIE and NTTU also want to reach beyond their own walls. As two of the partners on a British Council cross teams-funded project, Vietnam Youth for Social Innovation, they are helping to 'train the trainers' — 25 participants from universities and other institutions — in social innovation and creative entrepreneurship. Participants will go on to train students and entrepreneurs around the country.
But while courses on this subject are in demand, Dr Thang says she has met resistance among educators.
"Some say: 'normal commercial business is already hard — why do we have to [make it harder]?' This is the question they hear from their students too."
The scholar's response is well-practised: failure rates aren't necessarily higher than for commercial businesses; social entrepreneurs often get more assistance (for example, from international organisations or intermediaries); and they benefit from a "really supportive" peer network.
That community could be strengthened further thanks to the various partnerships established by Dr Thang since CSIE was formalised. This month, the first cohort of startups begins six months of incubation at the new Vietnam Innovation Hub (VIHUB), a collaboration between CSIE and partners, created with funding from the Vietnamese government. And later this year, a co-working space — Vietnam's first incubator for social business focused on youth and women's empowerment — will open in Hanoi, part-funded by the UK's Newton Fund and IrishAid.
Such efforts could give rise to the role models that Tuyen and her peers don't yet see: young pioneers leading successful social businesses. Meanwhile, educators are focused on making as many students as possible aware of the opportunities.
"Many students are concerned about social problems but don't know about social enterprise," says NTTU's Thanh. "Our role is to give them the belief that they can make a change."
If you'd like to know more about social enterprise in Vietnam, read the British Council's 2012 sector study, Social Enterprise in Vietnam, and watch this video featuring some of Vietnam's leading social enterprises.
Header photo: handicraft elephants produced by award-winning Vietnamese social enterprise Kym Viet. Photo of Ha Thanh and Truong Thanh Tuyen by Anna Patton.