Fleet of flying farmers floated to fight encroaching sands in Sudan
Two entrepreneurial young Sudanese engineers are battling their country's desertification with drones. Their next step is a social enterprise boot camp.
Mohammed Elkhatim and Hatim Mubarak are two Sudanese engineers who share a warm friendship and a passion to fight desertification which threatens to swallow as much as 70 per cent of Sudan's land and destroy the livelihoods of millions of farmers. 
Their solution combines a fleet of 'flying robot farmers' – drones that plant Acacia trees whose roots stop the movement of sand – with Artificial Intelligence for remote sensing of plant health, improving farming yields, reducing crop damage, protecting forests, producing aerial maps, and measuring irrigation and humidity levels.
Seeking to raise funding and generate awareness for their project, Mohammed and Hatim took part in a television programme called Mashrouy ('My Project'), a Dragon's Den-style nationwide competition where applicants fight their way through tough elimination rounds and capacity building sessions to a final televised episode watched by over nine million viewers (pictured below).
This compelling video follows their run to the finals, depicting the dramatic effects of desertification on agricultural communities and the technical challenges that Mohammed and Hatim must overcome. Their creative solution which has the potential to deliver enormous social impact, their determination to succeed and their engaging camaraderie win over the judges and viewers as they make their way through the elimination rounds to achieve victory in Season 4 of Mashrouy.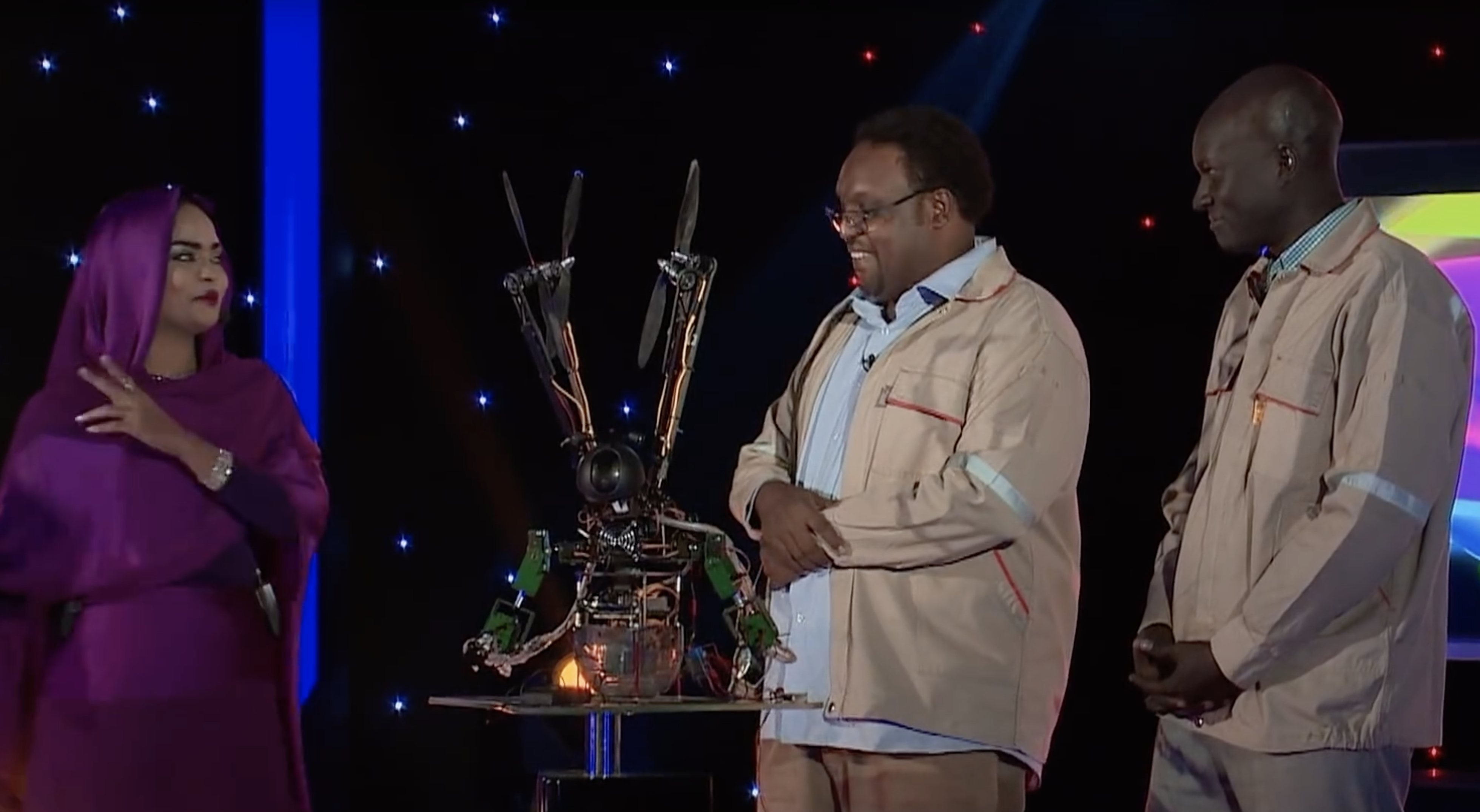 Mashrouy was jointly developed by the British Council, the Sudanese Young Businessmen Association and the British Embassy in Sudan to support young Sudanese entrepreneurs by promoting and rewarding entrepreneurial spirit among Sudanese young people. 
Currently in its fifth season, Mashrouy has attracted over 4,500 applicants to date, and trained over 800 young entrepreneurs in business skills and start-up. Each season three winners are selected to receive a monetary prize and a study tour to UK.
Following the potential community benefit of Mohammed and Hatim's project, the main theme for the Fifth Season of Mashrouy is 'social impact'. During the competition the top 24 participants will participate in a Social Enterprise boot camp focusing on social value and social innovation.
Sponsored by the British Council, this video was created by One World Media and subsequently acquired by Al Jazeera which broadcast it on its 'Witness TV' show. 
Mohammed or Hatim will join the British Council's delegation to the Social Enterprise World Forum 2018, which will be held from 12-14 September in Edinburgh.