Nicola Sturgeon and MSPs unite in praise of social enterprise at SEWF 2018
Scottish ministers from across the political divide have united in their support for social enterprise during the week that Edinburgh is hosting 1,400 delegates from across the globe at the Social Enterprise World Forum.
Speaking in Edinburgh Castle on Wednesday 12 September, Scotland's first minister Nicola Sturgeon (pictured above alongside SEWF delegate Bruktawit Tigabu from Ethiopia and June O'Sullivan from the UK) said: "In Scotland we are proud to be a leader in social enterprise."
She highlighted the support that the Scottish government had given to social enterprises since the first SEWF was held in Edinburgh in 2008. This was a few weeks before the global financial crisis began, and in the decade since then, she said, "so many of the old assumptions about our economy have been tranformed".
She added: "There is a growing recognition that business can't simply be about the quest of profit, but the pursuit of benefit to society as a whole."
Sturgeon's speech came a day after members of the Scottish parliament praised Scottish social enterprise sector as part of a debate about the Social Enterprise World Forum. 
There is a growing recognition that business can't simply be about the quest of profit, but the pursuit of benefit to society as a whole
Leading the debate on Tuesday 11 September, communities minister and SNP member Aileen Campbell said: "The Scottish government knows the power of using social enterprise as a tool to tackle inequality and promote inclusive economic growth. However, social enterprise does not only empower communities, it is also incredibly good for the economy."
She pointed out that the Scottish government had invested £7m in social enterprise since it published the world's first 10-year strategy for social enterprise in 2016. And she highlighted that the Scottish census of social enterprises in 2017 had identified more than 5,000 social enterprises operating in the country, a growth of almost 10 per cent since 2015.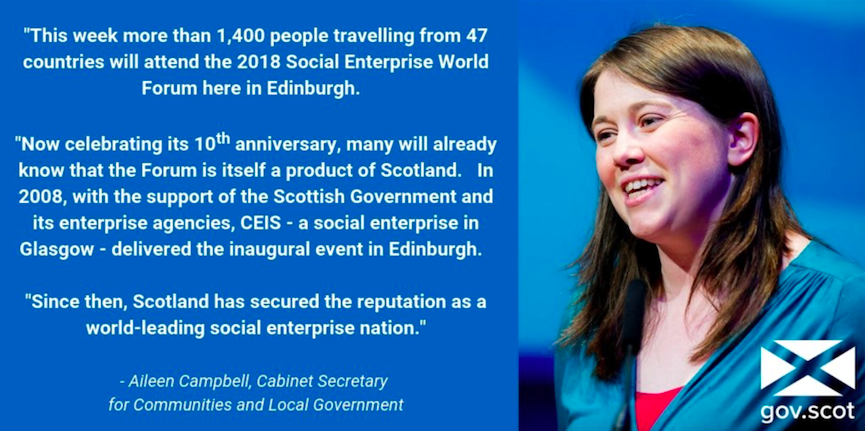 Conservative MSP Dean Lockhart echoed his support for social enterprises, but highlighted that many of them needed business support and they often struggled to gain the financial investment they need.
Labour MSP Monica Lennon said: "I pay tribute to social enterprises in Scotland for their contribution to the Scottish economy and for the role that they play in all our local communities in Scotland and beyond. It is clear to us that there is an opportunity for well-resourced local authorities and social enterprises to work together to advance their common purpose of making Scotland a better place in which to live."
MSPs also highlighted the fact that Callander had been given the title of Scotland's first social enterprise place earlier this week, an award granted by Social Enterprise UK that identifies it as a hotspot of social enterprise activity. They also noted that Glasgow City Council launched a social enterprise strategy on Tuesday.
Concluding her speech at Edinburgh Castle, Sturgeon said: "We want to share our expertise and experience with others around the world, and we want to learn from others too."
To read more about why social enterprise is thriving in Scotland, read our Global Focus feature here (This is being made freely available to non-subscribers during the week of the Social Enterprise World Forum.)
Header photo: Becky Duncan / Open Aye