Worth its weight in coffee: the fall and rise of Cafédirect
Cafédirect stuck to its values during tough times to emerge triumphant at this year's UK Social Enterprise Awards where it was named both Social Enterprise of the Year and International Impact Award-winner. CEO John Steel tells us the story behind the coffee company's fall and rise.
It has been a good year for Cafédirect. Not only did it become the first UK coffee company to gain B Corp status, in November it took home both the International Impact Award and Social Enterprise of the Year at the UK Social Enterprise Awards.
It hasn't always been this way. Due to factors including coffee price volatility, being delisted from large supermarket partnerships, and tough conditions in a highly competitive market after the financial crisis in 2008, the business had been facing disappointing sales performances for nearly a decade. Some years, like 2010, saw some particularly large losses for the company, when it lost a fifth of revenue, followed by a further 11% in 2011.
However more recent years have seen big changes for the social enterprise, which invests 50% of its profits in Producers Direct, a network led by farmers to help improve the lives and working practices of 600,000 farmers across the globe.
Firstly, Cafédirect's look changed in 2017, with a rebrand of its logo, packaging and marketing materials, as well as the website. That year also saw it acquiring the 100% Fairtrade London Tea Company.
Things also seem to be changing in business terms. 2017 saw its turnover grow by 3.6%, and the 5 quarters leading up to March 2018 saw continuous growth. This growth looks set to continue, with its first Speciality Coffee range soon to be listed in Tesco.
Judges at the UK Social Enterprise Awards were struck by this transformation, describing it as "extraordinary." Paula Woodman, head of global social enterprise at the British Council and a member of the judging panel for the International Impact Award, said: "Cafédirect has gone from a sustained downturn in business to success by taking some really brave and bold decisions – from the rebrand to its acquisition of the London Tea Company. However, during this time it has always manage to maintain its dedication to social impact."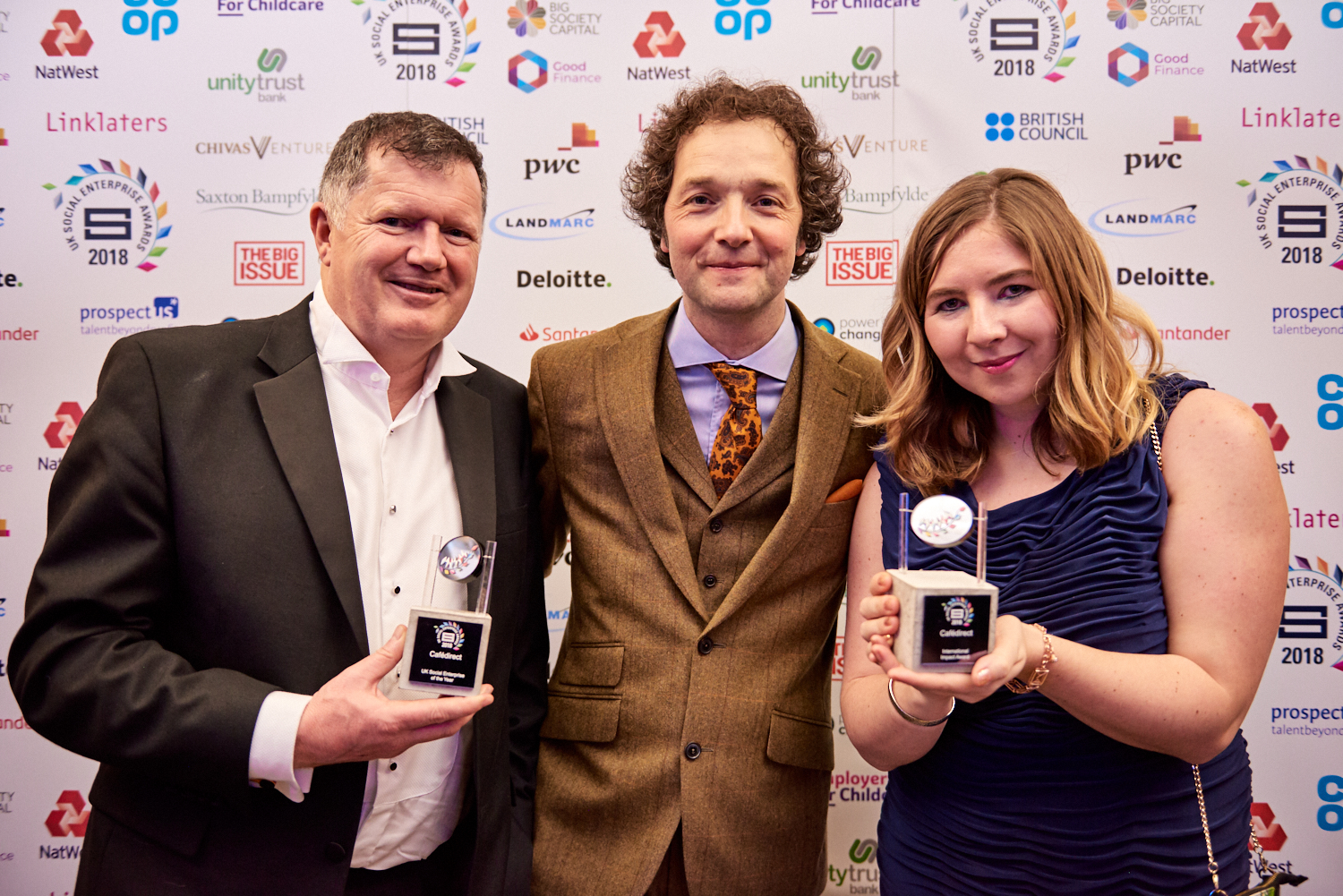 Cafédirect's John Steel (left) at the 2017 UK Social Enterprise Awards with UK comedian Chris Addison
Just 24 hours after the awards were announced, Pioneers Post spoke to John Steel, CEO at Cafédirect, to find out more about their journey.
Pioneers Post: How did it feel to win two UK Social Enterprise Awards this year?
John Steel: The business has been having an impact for 27 years, and has always put farmers at the heart of everything it does. So we were surprised and thrilled, but we also feel that it was well deserved. We thought we might win one, but to get both is emotional stuff.
Cafédirect is not a new business that can do no wrong, and it is in a highly competitive market, as well as being a business with purpose against lots of commercial competitors. It's fantastic to have an enduring business recognised because it shows that it's a way of business that we can all do, and that in time we should all be doing business this way.
PP: In a nutshell, what does Cafédirect do?
JS: We create amazing coffee, tea and cocoa from smallholder farms across 14 countries and reinvest our profits to build a thriving community for them.
70% of the world's food is created by smallholder farmers who are managing a family on a small plot of land, yet they are often underrepresented and often in poverty. We do our best to change things and look after them.
70% of the world's food is created by smallholder farmers, yet they are often underrepresented and in poverty
PP: So how do you make the lives of smallholder farmers better?
JS: Not only do we pay the fairtrade minimum and premium, but we re-invest our money into Producers Direct, a network run by the farmers for farmers.
We use our donation as a cornerstone funding for other donors to provide funds to run projects on farms. Using these funds, Producers Direct delivers a global network of Centres of Excellence, which are learning centres based in producer locations where farmers can test farming innovations, and learn about new environment techniques. There are also schemes run at the Centres to improve the lives of women and young people in farming communities.
A lot of charities throw money at issues, but here we work so closely together with the farmers that we have a much better opportunity to change things.
PP: What are the challenges and opportunities of working internationally as a UK social enterprise?
JS: It can be challenging in terms of market understanding, as well as understanding the local market's view of social enterprise. However, there is huge opportunity in being able to build a sustainable and resilient supply chain and to improve livelihoods at the same time, and I think those challenges can be overcome by working closely together with the right partners.
A lot of charities throw money at issues, but we work so closely together with the farmers that we have a better opportunity to change things
PP: Many of the judges at this year's UK Social Enterprise Awards mentioned the fact that Cafédirect went from decline to success. What happened?
Cafédirect drove the fairtrade movement and grew incredibly well in the 1990s and 2000s. Then the world changed, and from 2008 onwards it had tough times. Through all that time we stuck with our principles and our model and now in 2018 we're thriving and doing business in the same way. This year, we're the first coffee company to become a B Corp, and now we have won two UK Social Enterprise Awards, as well as our very successful re-brand.
PP: Who came up with the idea of the 2017 rebrand?
JS: We have done a number of rebrands over the years, and a lot of people didn't want to do one again. I was determined to present Cafédirect in the most inspirational way possible and if you look at our brand now it is so much stronger than before. The impact of design is astonishing.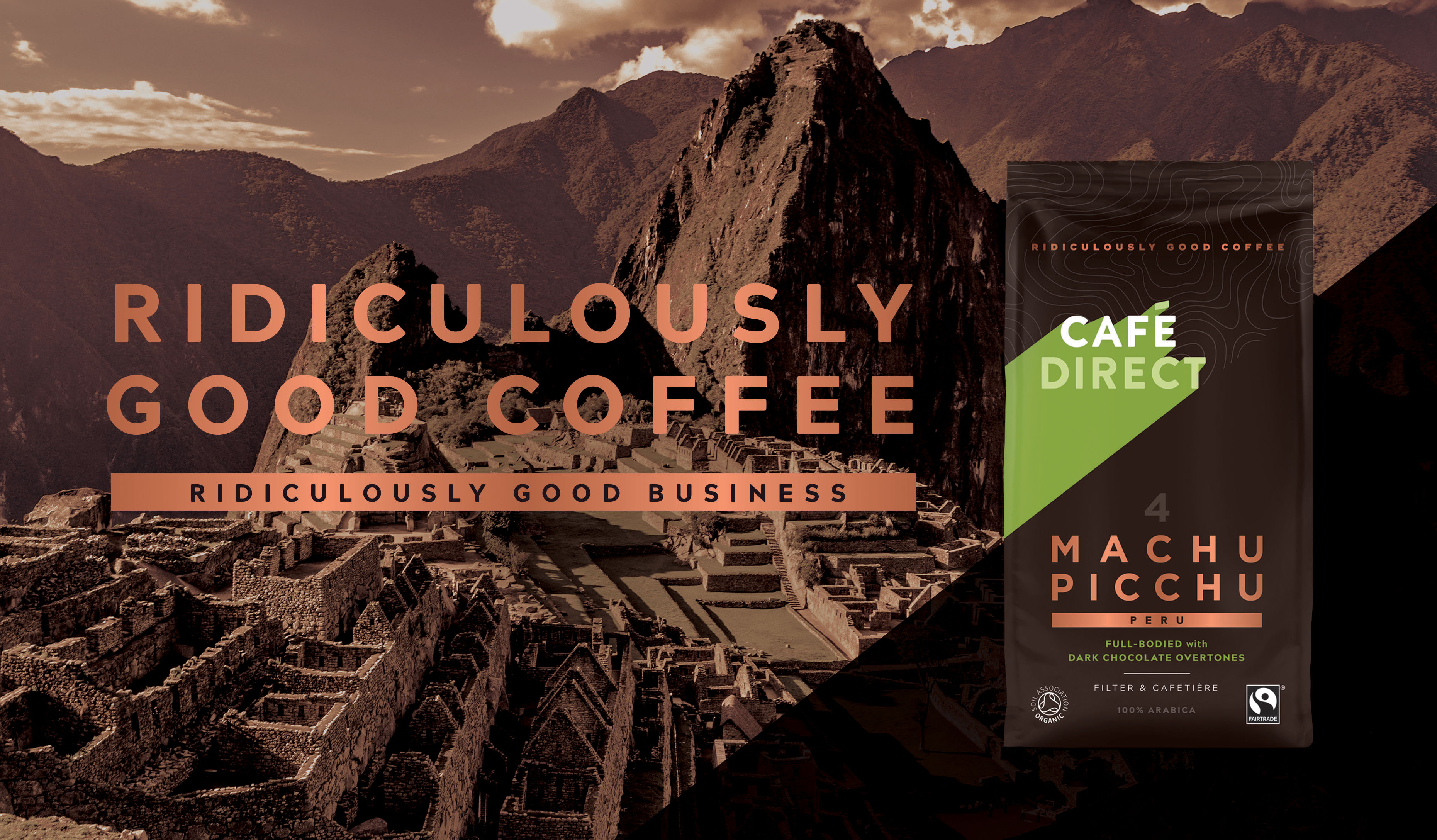 Cafédirect's refreshed branding launched in 2017
PP: Do you have any advice for other businesses which might be in decline?
We have a very resilient team. If you can maintain your optimism in difficult times, when you start to turn that corner it gives you real momentum. We had a new chairman who arrived this year who was astonished at the optimism of a team going through hard times.
PP: Do your customers care about the fact that you are a social enterprise?
I think they know that what we do matters. But you have still got to have everything else that matters, too. At the end of the day, it is important to us and our stakeholders that it's a great tasting cup of tea, coffee or cocoa.
PP: How many cups of coffee do you drink a day?
I drink a fair amount of coffee. It's wonderful stuff! I'm sure the British Medical Association has its own views on what's good for you, but about 8 to 10 cups is the right amount for me.
Cafédirect is stocked in a range of stores in the UK including Sainsbury's, Waitrose, Planet Organic and more. Find out more here.