Breaking the link between disability and poverty in Ghana
Technology is the key to transforming the lives of disabled people, believes Ghanaian Derick Omari. His award-winning social enterprise trains people with disabilities to use IT to get educated and employed.
"Disability in Ghana is equated with poverty," says Derick Omari. "Teaching visually impaired persons to use smartphones and computers is changing their lives, because it's giving them IT skills, which are the highest skills that employers are looking for."
Omari is the CEO of Tech Era, an Accra-based social enterprise which seeks to empower people with disabilities to become independent and employable through the use of technology. He originally set up the enterprise in his second year at college, focusing on children in rural areas. A year later, Omari met Isaac Ansah. Ansah is visually impaired, and his adapted smartphone has changed his life.
Teaching visually impaired persons to use smartphones and computers is changing their lives
"I began using one in 2010," Ansah explains. "It's a normal model, the type everyone uses, with the only difference in the voiceover function. I just switch that on, and then it communicates with me wherever I am. 
"Some other blind people don't believe I can use it. I nearly thought I wouldn't be able to, but my friends encouraged me and one day I decided to try one out: after all, life is all about risk. After three days I had discovered every function, and I'd said goodbye to all normal phones. Other sighted people couldn't believe it at first either – till they sent me messages and I responded immediately."
Omari decided to take the business down this route, recruiting college students and training them to create affordable assistive technologies and to support people with disabilities to use these and other technologies. 
Royal recognition
The success of the enterprise has been recognised internationally, with Omari presented with a Queen's Young Leader Award (below), a Commonwealth programme of awards headed by Queen Elizabeth II, in recognition of his work boosting IT literacy in Ghana.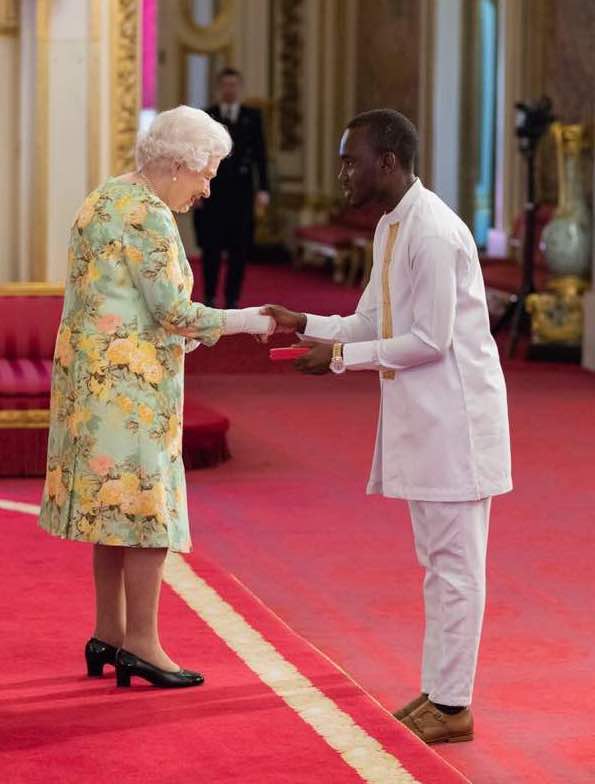 The assistive technologies that Tech Era uses include, for instance, 3D aids to enable students with visual impairments learn mathematics and science, and training for visually impaired university students to use technology to improve their academic performance.
The trainers are all volunteers but, of course, the programme and team need funding, which was initially made available from Omari's university (Ashesi University). Today, Tech Era also raises money by teaching robotics programmes to children in private schools and selling school management software – also at a considerably lower price than usual. "It has been hard at times," Omari says frankly. "We've had periods of no formal offices, and the difficulty of having to pay staff."  
Tech Era is now training blind students to take their final school examination (the West African Senior School Certificate Examination) using laptops instead of Braille. "By doing this, about 80 per cent of visually impaired students will get the chance to move into tertiary institutions," Omari explains. "We are also about to launch a fellowship programme to facilitate the transition from high school to college, and to offer the skills and opportunities to equip students for the job market." 
Employment for all
He and his colleagues are also talking directly to employers, including at a careers fair organised by the Ghana Federation of Disability Organisations, the British Council and the UK government's Department for International Development in December 2018. At this event, Omari took part in a panel of experts, including private sector employers, human resource firms, government representatives and organisations representing disabled people, to discuss the factors that employers need to consider when employing people with disabilities – and the benefits of doing so. 
If we can train more blind people, it will remove the doubts about our abilities, and remove the stigma of blindness
"I spoke about the role of assistive technologies in facilitating the success of employees who are disabled, irrespective of their disability," he explains. "As part of this, I emphasised how assistive technology has made it less costly to employ people with disabilities as well as empowering those employees to do things we thought were unimaginable.
"I also highlighted the importance of adopting inclusive human resource solutions and technology solutions that enable people with disabilities to access employment opportunities and work comfortably in organisations; for example, making their websites accessible for people with visual impairments so they can apply for jobs. And I explained that in order to create an inclusive work environment for people with disabilities, it is important for all stakeholders to be involved: from top-level management down."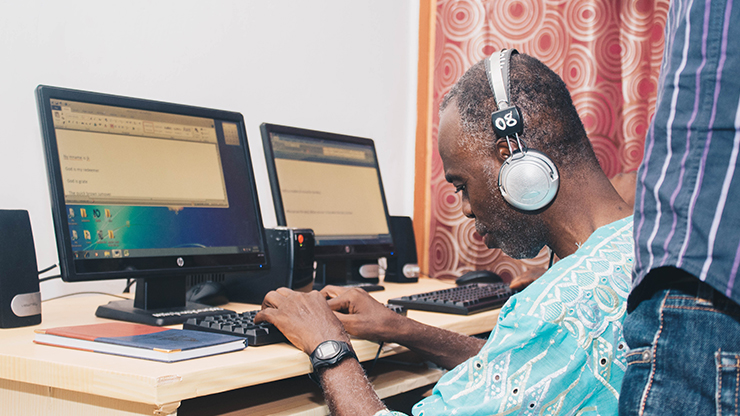 Above: JK, a visually impaired music teacher at Akropong School for the Blind, learns to type with Tech Era training
"When I went to university I was using Braille, which meant my life was in the hands of the transcriber," Ansah, who is the inclusion advocate at Tech Era, concludes. "If I had used a computer earlier, I would have done better; I would have got a first-class education. Imagine if we can train more blind people, and we are able to prove to the whole nation that, yes, we can do this. It will remove the doubts about our abilities, and remove the stigma of blindness. And we will be able to achieve so much more.
"Who knows if the solution to HIV is going to be found by a visually-impaired or hearing-impaired person in Ghana who thinks at the moment they can't do anything?"