South east Asia's social entrepreneurs should be "free to innovate"
Social entrepreneurs in south east Asia should be free to experiment and innovate before legislation is imposed upon them. 
This was the view of some participants in a conference about social enterprise which took place this week in Bangkok, bringing together representatives of the ten ASEAN member states plus the People's Republic of China, Japan and the Republic of Korea.
Speaking to Pioneers Post as the ASEAN+3 Conference on Social Enterprises drew to a close on Thursday evening, former UK minister Hazel Blears (pictured below), who had addressed the delegates on Wednesday, said one of the key themes was the role of legislation.
"There was an open and challenging debate about the role of legislation," she said.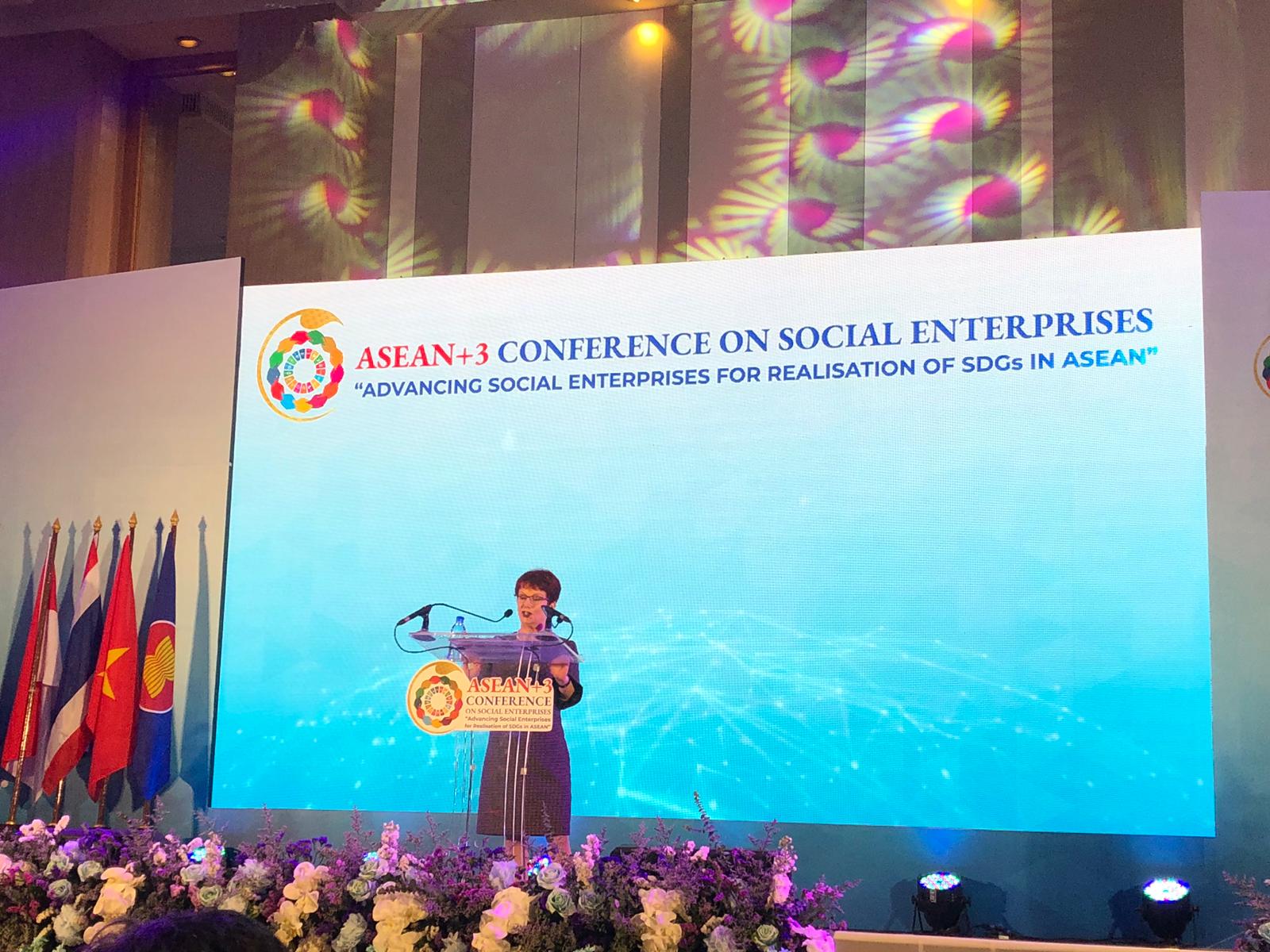 Thailand passed a Social Enterprise Promotion Act on 27 February 2019 to define and support the development of social enterprise. Malaysia too has a well-developed definitions and support systems. 
However, representatives from some other countries were concerned that legislation could be "too inhibiting", Blears said.
She pointed out that in the UK, legislation surrounding social enterprises and the co-operative movement had grown organically and that there was flexibility within the system.
"The energy of social enterprise comes from a freedom to experiment and innovate," she said. "And it's right not to be too prescriptive."
She added, however, that regulation would be needed at some point to allow tax incentives, for example. "But it's good to let 1,000 flowers bloom first", she said, before a government stepped in.
The energy of social enterprise comes from a freedom to experiment and innovate
Tristan Ace, the British Council's global social enterprise partnerships and development lead, pointed out that efforts by governments to support social enterprises in south east Asia should be welcomed, and this demonstrated the importance that is being placed on social enterprise as a way to achieve the UN Sustainable Development Goals. 
He said: "It is important, however, that any regulation that is introduced does not add extra unnecessary bureaucracy or restrictions and should instead be designed to empower and enable social enterprises to succeed."
He added: "Social enterprise policy and strategy should be designed in partnership with social entrepreneurs."
Blears was invited to speak at the conference, which was organised by Thailand's Ministry of Social Development and Human Security and supported by the United Nations Economic and Social Commission for Asia and the Pacific and the British Council, to give a UK perspective on the development and support of social enterprise. 
Blears, who, as the UK's communities minister led the country's first Social Enterprise Strategy in 2009, told the conference: "I believe that social enterprises are the most effective way for us to tackle some of the persistent and complex social and economic problems that face our communities and our world." She is currently chair of the UK Social Investment Business and a member of the UK National Advisory Board for Impact Investing.
Thailand is taking a leading role in pushing forward the development of social enterprise across south east Asia in its role as president of the ASEAN during 2019. 
At the opening ceremony of the conference on 6 March, Thailand's deputy prime minister, Chatchai Sarikulya, highlighted the social problems that were facing countries across the world. He said: "Problem-solving cannot be carried out solely by the government. Civil society and private sector are also encouraged to be involved. Social enterprise is, therefore, considered to be a key mechanism that will involve all parties in problem-solving."
Thailand's minister for social development and human security, Anantaporn Kanjanarat, said: "Since social enterprise is deemed as crucial social innovation, minimising and solving social problems in most countries all over the world, this conference is, therefore, valuable to the success of the implementation of social enterprises by all participating countries."