Meet, mingle and (maybe) seal the deal: AVPN's Deal Share Live
At last month's AVPN conference, six creative enterprises had a chance to pitch to potential investors at a 'Deal Share Live' session. Our DICE Young Storymaker Astari Sarosa listened in, learning that pitching isn't only about sealing a deal with investors – it can also help build a brand and create new networks 

Many impact investors have an idea of the type of organisation they want to back, what resources they want to invest, and what impact they'd like to have. But how do they find the right investees?
It's a common challenge, so in 2017 AVPN created Deal Share – an online and offline programme to connect its 550 members with 'social purpose organisations', or SPOs (a deliberately broad term that covers any organisation helping create social and/or environmental impact). While the organisations get more visibility, AVPN members – investors and resource providers from across Asia – know each of the 350+ SPOs they find on the online platform has been endorsed by another AVPN member that has provided financial and/or non-financial support. The platform currently lists 376 active deals, across 15 markets, that have come about because of the platform.
Alongside, there are face-to-face meetings, known as Deal Share Live. At last month's AVPN annual conference in Singapore, one such session, focusing on inclusive and creative enterprise, introduced six social entrepreneurs to organisations ready to provide financial, human and intellectual resources. 
For the British Council – AVPN's partner on this session – Deal Share Live is an effective way to introduce entrepreneurs to potential investors and resource providers, as part of its Developing Inclusive and Creative Economies (DICE) programme. "This is an opportunity for us to find out which foundations are interested in the creative economy, and who might be interested in investing in the future," said Tristan Ace, who oversees the British Council's Global Social Enterprise and DICE programmes in East and South Asia. Longer term, he hopes to connect such foundations to more of the enterprises involved in the DICE and social enterprise programmes, either online or at specially organised events.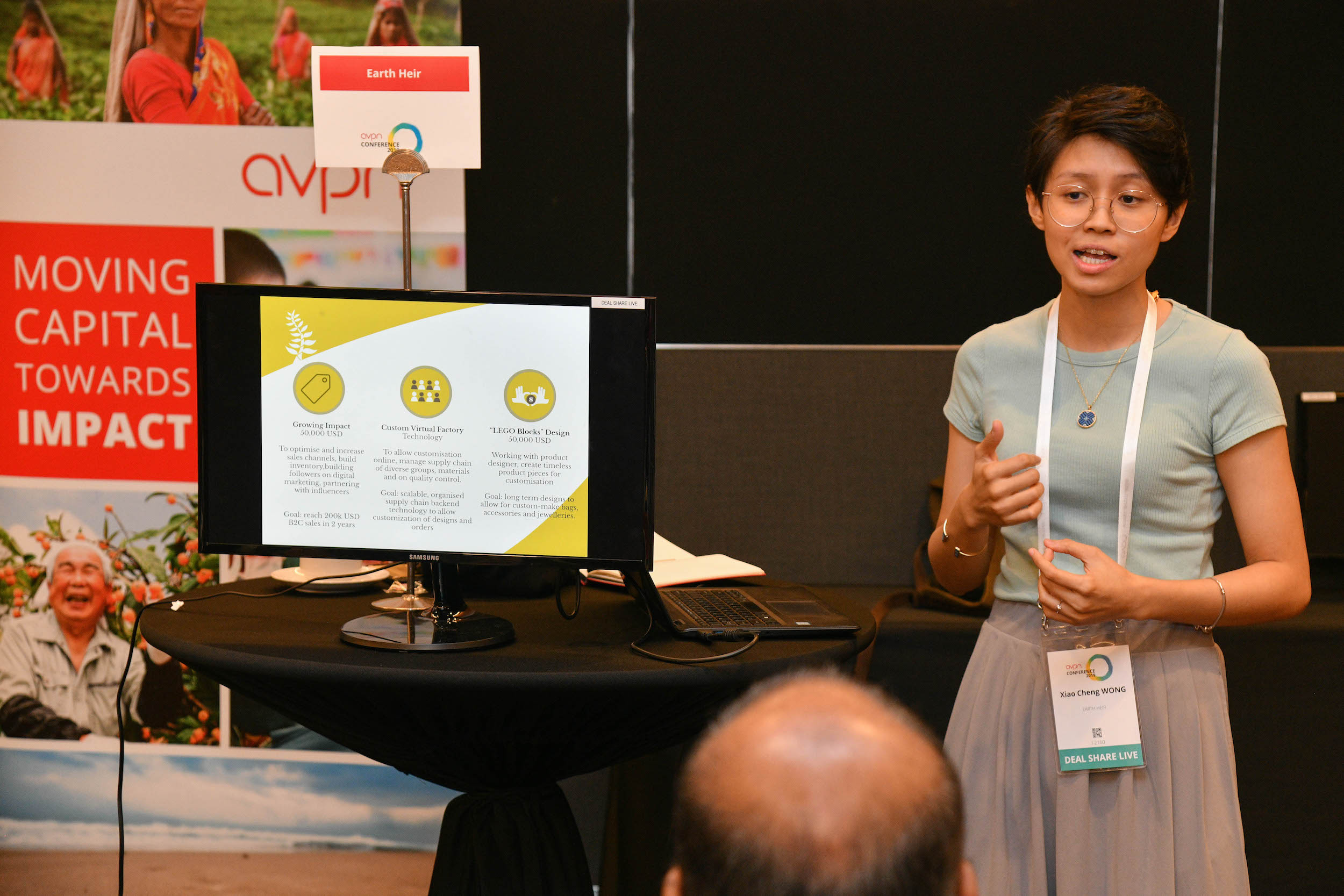 Among the creative enterprises pitching was Earth Heir, which works with over 100 artisans from women's cooperatives, indigenous tribes and refugee groups in Malaysia.
The session also gives visibility to a more diverse mix of impact-focused enterprises than many capital providers are used to meeting. Although traditional sectors such as craft, fashion, and textiles are important in the creative industry, there are many newer forms of creative business – for example, those using artificial intelligence to promote diversity and inclusion, as in the case of Deaf Tawk from Pakistan. "That's actually showing that what's going on in the creative economy is much broader than those traditional sectors," said Ace. The group of six (which also included Journey of the Senses, Earth Heir, HAUS KCH, Solve Education!, and Equal Reality) helped "to fully demonstrate what is really happening in the creative economy across the region," according to Ace. 
It's showing that what's going on in the creative economy is much broader than those traditional sectors
How does the Deal Share Live work?
SPO leaders or representatives each present a 5-minute pitch to around 15-20 delegates. Then they introduce their 'champion' – another resource provider, who explains why they previously invested in or supported that organisation. Finally, there's eight minutes for questions and discussion. The process is repeated three times, so that each presenter gets access to several different groups of potential supporters. 
What results do organisations typically get from Deal Share Live events? Senior associate at AVPN, Joy Teo, said Deal Share has so far given around 115 SPOs the opportunity to showcase their work to delegates. At last year's Deal Share Live session on Creative Economies, also held in collaboration with the British Council, Malaysia's Me.reka Makerspace met two funders who later invested into their latest equity round. 
Among the AVPN members that have invested in (and become a champion of) multiple SPOs is Singtel, a mobile network operator in Singapore. The company is keen to back "diverse partnerships", explained Andrew Buay, vice president for sustainability, because the world's issues "are too big to be solved alone." 
The non-traditional pitching format helps encourage dialogue and can be more appealing to investors than a presentation delivered from the stage. But how is the experience for the social ventures? Germ Doornbos, founding partner of Journey of the Senses in Vietnam (pictured above), said it was the first time his organisation had pitched overseas – but it was the set-up that seemed particularly different.
"We normally pitch in an auditorium, with 50-60 or sometimes 100 people, sitting in front of you, theatre style. With the stage and clicker, you feel really small in front of a giant group," said Doornbos. The Deal Share Live set-up, he added, feels "a little bit more casual and more cosy."  
With the stage and clicker, you feel really small in front of a giant group... this feels a little bit more casual and more cosy
A social enterprise that helps disabled people find employment, Journey of the Senses came to the Deal Share Live Session fully prepared to ask for US$300,000 investment. In his 5-minute pitch, Doornbos described the businesses created by his organisation, the impact they have on disabled communities in Vietnam, and future plans. 
A week later, Journey of the Senses had not secured investment as a result. But Doornbos is still positive about the experience: "It still is very useful. It is a great opportunity to build up a network and meet people, and at a conference like AVPN the people you meet are not the little fish – most of them are influential." It's also a chance to develop pitching skills and to learn. "During the question and answer sessions, besides people asking questions, often advice was given as well," he said. "That was helpful".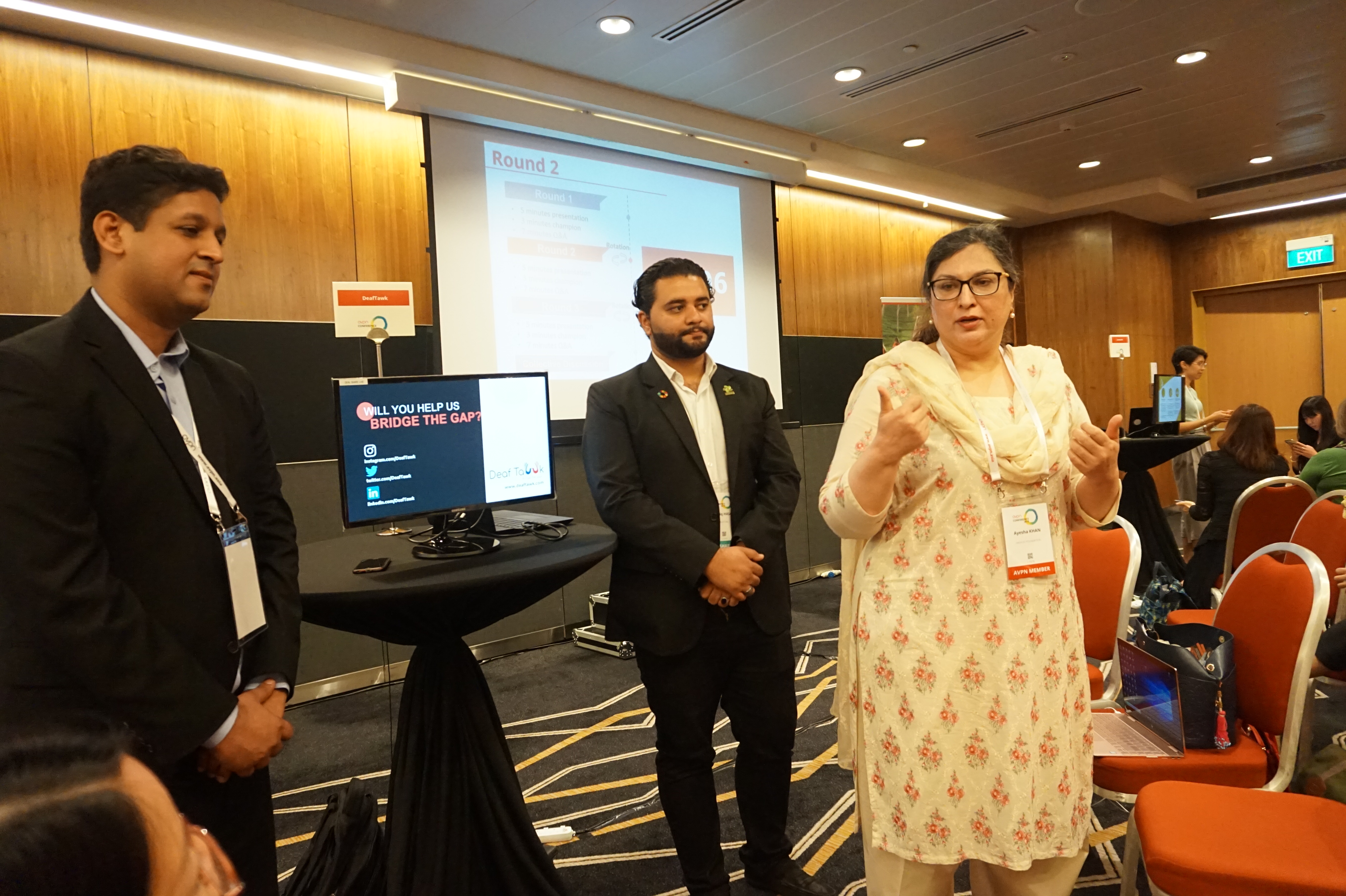 Ali Shabbar and Wamiq Hasan, co-founders of Deaf Tawk, with their 'champion', Ayesha Khan from the Hashoo Foundation.
Ali Shabbar, CEO of Deaf Tawk – a digital platform that aims to bridge the communication gap between the deaf community and the general public – also appreciated the engagement with investors and resource providers. Compared to other pitches, Shabbar and his business partner found the Deal Share Live format "one of the better ways to share information", since people's questions can make you realise what details you need to include. Another useful aspect: most delegates in the session have prior knowledge about the industries or sectors you're working in. 
Deaf Tawk is seeking US$1m investment as well as partnership and mentoring to help the social enterprise scale up beyond its existing work in Pakistan and Singapore. "We are planning to scale it to southeast Asian markets, like Indonesia and Malaysia, and then the American market," said Shabbar. As a result of pitching at Deal Share Live, AVPN associate Diana Watson, who led the session and who is also the founder of a Singapore-based impact consultancy, has introduced Deaf Tawk to another investor.
The session is open to all those attending the AVPN conference – so not all in the audience were investors or resource providers: some came to learn how to pitch, others just to learn more about the industry. Layusa Isa-Odidi, an associate partner at the development consulting firm Dalberg in Australia, was among those who came to take notes. 
"It's a bit about learning what organisations are doing what in a specific sector, and also are they managing to attract corporate finance," she said. Though her company won't be the one to provide funding, she promised to link entrepreneurs with those looking to invest in their area. Above all, Isa-Odidi said that session became a great networking opportunity, helping open up dialogue between people working in the same sector. "It's a great concept, I think this is my favorite session of the conference," she said. 
The DICE Young Storymakers programme is a joint initiative of Pioneers Post and the British Council. Fourteen young journalists from six countries have been selected and will be reporting on social and creative enterprise in the coming months.
Pioneers Post was a media partner at the AVPN conference.