Cuddly toys with a purpose: creative enterprise Karaw Craftventures
Overcrowded, underresourced prisons plus few facilities for recycling: two challenges that added up to a (social) business opportunity for one Filipino artist-entrepreneur. But working in prisons wasn't easy, and soon the business had to shift its focus
Most social enterprises are devised with a social purpose at their heart right from the beginning. Karaw Craftventures is slightly different. Today, it is a design hub that addresses environmental sustainability while helping marginalised artisans to earn more money. It started out in 2009, however, as simply a project set up by four students at Ateneo de Naga University in the Philippines.
Paul Orpiada (pictured below), who was 20 at the time and studying entrepreneurship, explains, "I am an artist, and one requirement for graduating was to set up a project. The four of us set one up turning scrap items into plush toys – the traditional way, not using any big equipment."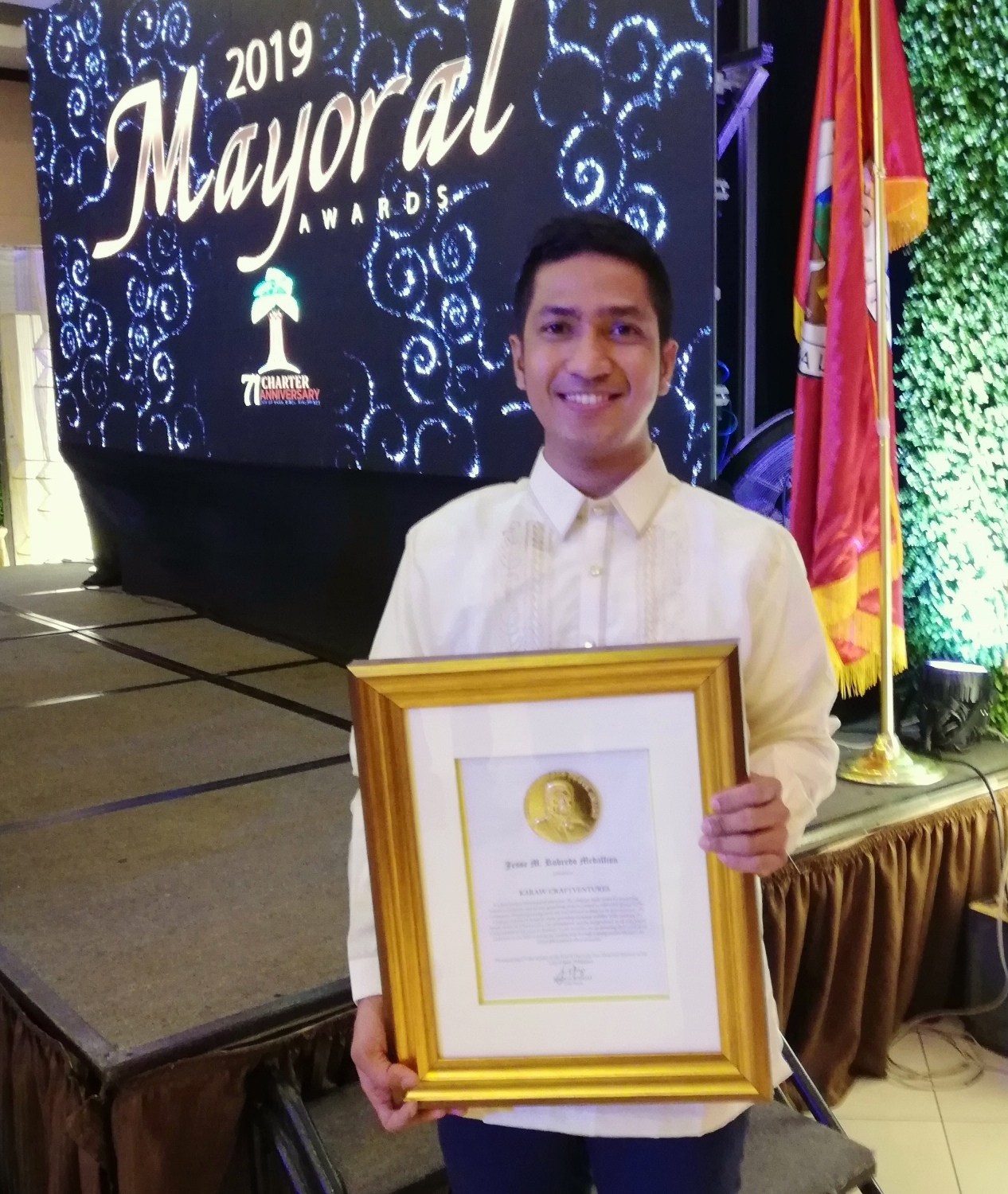 The idea, he continues, "was to reduce the trash in the environment by turning it into something useful" – particularly necessary in the Philippines, where there are few facilities for recycling textile waste.
When the students graduated in 2012, Orpiada decided to stick with the project and expand it into a social enterprise. He took part in the British Council's I Am A Changemaker Social Enterprise Programme, which aims to develop young people's social enterprise ideas – and as one of the top five participants, gained seed funding of €1,667 and mentoring for over a year.
An original idea
Two things stood out from his proposal, recalls Angel Flores, the British Council's head of society in the Philippines. One was the desire to use the arts for social change through a business – "a novel idea" back in 2012, she says. "There was not much discussion or buzz then about 'the creative social entrepreneur'."
The desire to use the arts for social change through a business was "a novel idea" back in 2012
The other was the group Orpiada proposed to work with: women prisoners in the local Naga City Jail. "What attracted us to his idea was that he wanted to assist women who were in the city jail, in his local community, and that was quite a progressive concept," says Flores. "Our jails in the Philippines are overcrowded, and there are very few opportunities for prisoners to learn how to get a decent livelihood. When he pitched his idea, even though it was just focusing on that one prison, we also felt the concept could be replicated and provide inspiration for other communities as well."
The project started initially with 11 inmate artisans, and by 2015 had trained over 300 women, with a pool of 40 producing toys out of fabric donated by garment manufacturers and individuals. These were either made as made-to-order corporate give-aways, or sold through distributors.
"Before introducing a project we'd do a one-day training session, covering design appreciation and colour appreciation," says Orpiada. "We also did storytelling, giving them an orientation about what the product was all about and how it would work in the market. We trained them to be more critical in terms of details of their work, and in mass production; because even with handmade products, clients expect high standards in design, quality and so on."
In addition to the pay – artisans were paid per piece – the project provided the inmates with essential occupation. "Before Karaw Craftventures employed us, we did not have activities," one prisoner told the Philippine Daily Enquirer in 2017. "We used to feel that the days are way too long here." And once they were released, many were able to use the training they had received in prison to find better jobs.
A new target market
Orpiada is frank about the challenges. "The prison is a long way from our production hub, so it became difficult for us to visit the jail and monitor our activities there. We had to abide by the jail's regulations, and if someone committed an infringement in the jail so that they were not allowed to join in activities, our work had to stop. And we had a limited amount of time in the prison, which was one of the reasons we decided to expand our operations."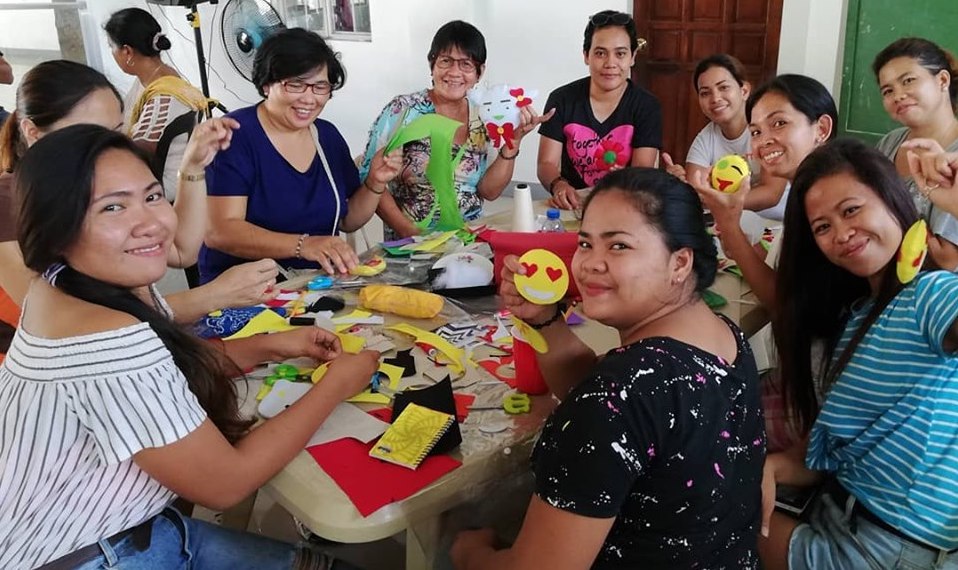 Karaw Craftventures has provided jobs to more than 100 women living in the urban and rural poor areas in Naga City and Camarines Sur, and more than 500 women in vulnerable communities. (Photo: Karaw Craftventures/Facebook)
At the end of 2018, Karaw Craftventures moved on from working with prisoners to working more broadly with marginalised urban women, and using materials donated by garment manufacturers and weaving communities.
"We produce customised plush items like toys, pouches, travel pillows, keychains for corporate giveaways. We use crystal plush textiles which we source from our supplier in Manila," says Orpiada.
Has the organisation's mission changed, then? Using waste materials is "no longer a priority" says Orpiada: most projects now use new materials. But, he adds, upcycling is still considered a "core activity" at Karaw. "From the scraps that we are able to produce, we make special and limited editions of zero-waste designs in order to exhaust the materials and cut the scraps from our production."
With a focus now on providing an income for vulnerable groups, the organisation has also set up a 'hub' called the Gikan Collective, which acts as a community marketplace and a space where businesses can develop. "Gikan carries a vast number of products – food, arts and crafts, personal and home accessories and so on – made by partner craftmakers, entrepreneurs and communities. We also run arts and crafts workshops every weekend."
In its seven years of existence, Karaw has provided jobs to more than 100 women living in the urban and rural poor areas in Naga City and Camarines Sur, according to Orpiada, including the woman inmates in Naga City District Jail. The entrepreneur now has three salaried colleagues also managing the project, along with five in-house salaried artisans; they have an office and equipment; and they continue to manufacture a mix of customised and general products. They have also continued to offer training – to date reaching more than 500 women in vulnerable communities – in partnership with government departments and non-profit organisations. In 2019, the organisation picked up a mayoral award for youth leadership (Orpiada is pictured above holding the certificate).
Inspired by others
The involvement with the British Council continues too. In 2016, Orpiada joined Active Citizens, a social leadership training programme, and has taken part in other programmes for people involved in the creative industries. In October 2018, this included a study tour to the UK, along with 14 other creative hub managers from the Philippines, visiting creative organisations in London and Manchester such as Madlabs, Makerversity, and Plexal. Orpiado was impressed by this infrastructure: "It's something I wanted to emulate here in the Philippines: how creative hub managers are able to get resources and government support."
If you have a vision of how you want to grow, don't be afraid to reach out – especially to government
And future plans? "We are still a small team and very limited. We're working on growing so that we have international networks and can deal with big orders, including overseas. And we are continuing to build partnerships with new groups of artisans whom we can support." That's an area where Orpiada's UK trip has influenced his thinking. "One thing I learned from the UK experience is that if you have a vision of how you want to grow, don't be afraid to reach out – and especially to government. It's important to collaborate."
Flores concludes: "This project has married the creative and the social enterprise components, with its social mission embedded within its core. I think that's really an incredible story to tell."