Beautiful bullets: Addis jewellery workshop gives women a second chance
SNAPSHOTS FROM ADDIS Ahead of the Social Enterprise World Forum (SEWF) in Ethiopia in October, Pioneers Post explored Addis Ababa to meet some of those enterprises balancing money and mission. On the outskirts of the city, we visit a workshop where women, many of whom are former prostitutes, enjoy safe, reliable jobs creating beautiful jewellery and clothing.
For some social enterprises, the story they tell about their product is just as important as the product itself – it's part of their unique offer to the market. 
This is certainly the case for Ellilta Products. There's a type of shopper who remains unmoved by the glitz of diamonds and the glister of gold, but will be delighted by the timid sparkle of an ethically produced necklace created from melted-down bullet casings.
This point was proven when two Pioneers Post editors visited the Ellilta Products headquarters on the outskirts of Addis Ababa this summer. After a very long taxi ride around the ringroads of the city trying to locate the building, we were delighted to eventually find what – to us – was a treasure trove of beautiful jewellery, scarves and clothing, all produced for a good cause.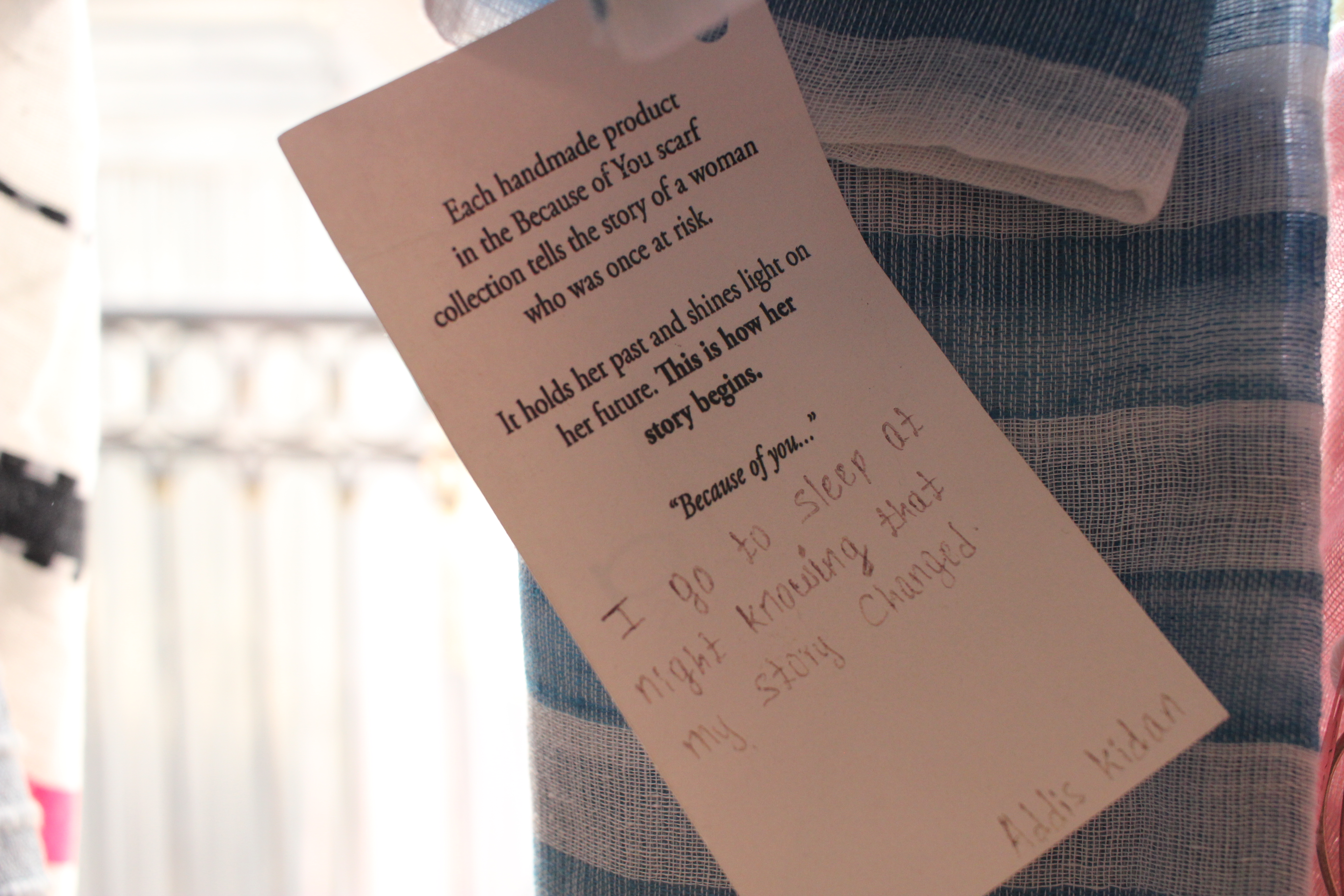 Ellilta's marketing officer, Rakeb Yilma, gave us a guided tour, starting on the top floor of the three-storey building, where a dozen women were working around two tables strewn with silver and copper-coloured beads (which are created out of bullet casings left over from previous conflicts, including Ethiopia's war with Eritrea – that's another story), thread, pliers, scissors and tape measures. We interrupted their chatter to say hello and take photos while Rakeb explained that the jewellery created here is sold to generate income for Ellilta Products' sister organisation, Ellilta Women at Risk (EWAR).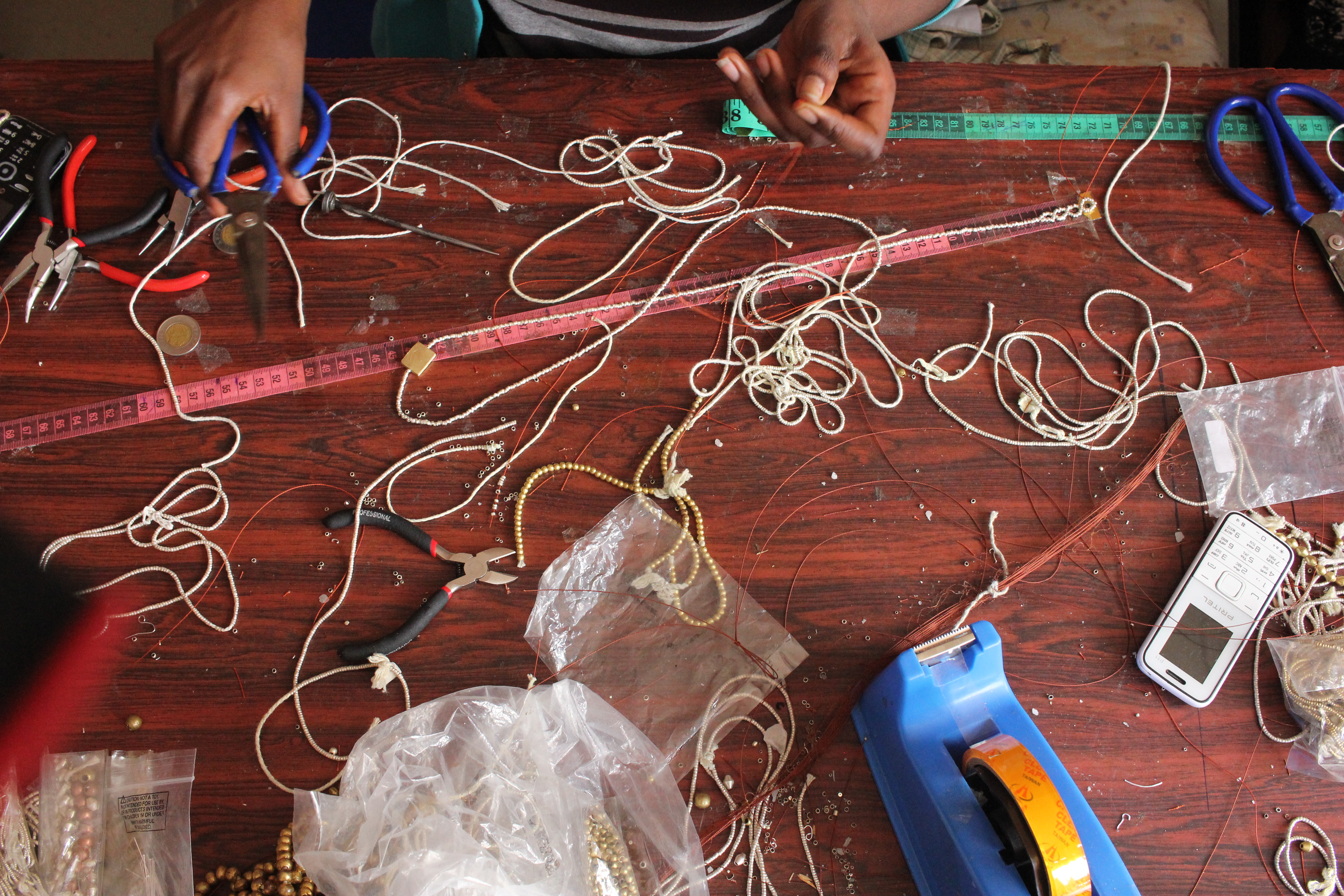 EWAR was founded in 1995 by an Ethiopian woman, Seawit "Cherry" Teketel Friedmeyer, to help women in Addis Ababa escape from prostitution. Since then, EWAR has grown into an NGO with 60 employees, 20 volunteers and an annual income of around £250,000. Its outreach workers visit the city's red light districts to encourage women to join its year-long rehabilitation programme, during which the women receive help to overcome addiction and mental health issues, medical care, and training in skills such as housekeeping, hairdressing, cooking and parenting.
A new income stream to support the NGO
Most of EWAR's income was from donations until 2012, when Ellilta Products was founded to generate a new income stream through retail. The enterprise creates jewellery in its upstairs workshop as well as scarves and clothing using a hand-powered loom in an adjacent room. What's more, many of the employees are former prostitutes who have been through the EWAR rehabilitation programme.
The combination of beautiful products with a powerful story of how they change lives is key to Ellilta Products' growing success. There's a small shop on the second floor of the Addis headquarters (below), but most of the products are exported to the USA and Canada – to customers drawn to the power of doing good through their purchases.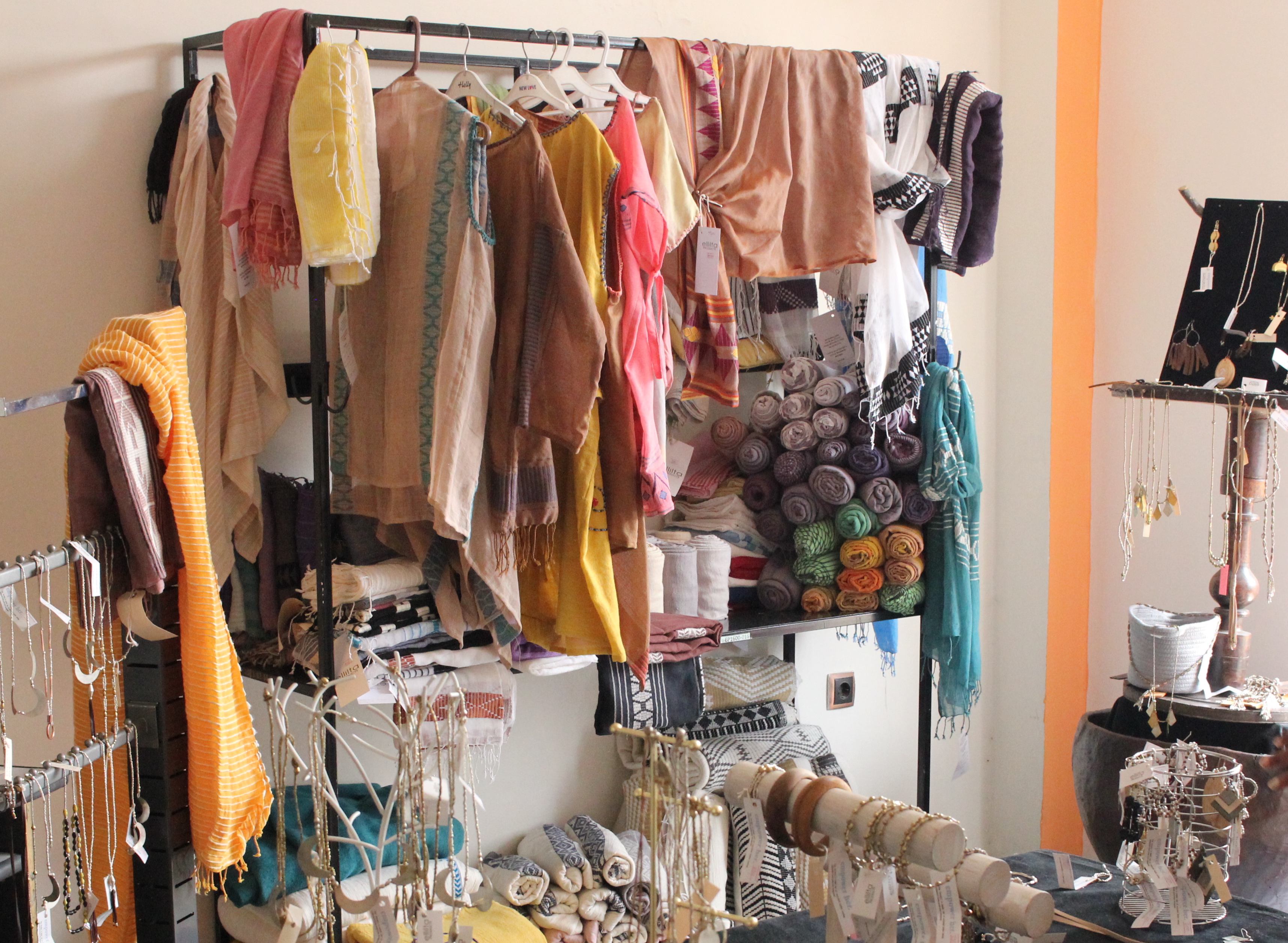 One of Ellilta's principal clients is the Noonday Collection, a $20m B-Corp recently reported to be the fastest-growing fair trade accessories brand in the USA. Noonday only sells products from what it calls "artisan businesses" and emphasises that its fair-trade approach empowers women all over the world – it boasts that it currently works with 4,500 artisans in 15 countries. 
A big part of Noonday's website is devoted to telling the stories behind the products it sells, and there are several posts about Ellilta, including a blog by Noonday founder Jessica Honegger enthusiastically telling the story of Ellilta and the women who work there. 
The same approach is echoed by Ellilta's two other main customers, Fair Anita, another US-based retailer of fair trade artisan products, and Canadian fair trade marketplace Collective Goods.
WATCH: how beads are made out of bullet casings in Ethiopia
To date, Ellilta Products has passed on profits of nearly £80,000 to EWAR and has provided jobs for 150 women. While we're admiring the scarves and jewellery in the shop on the second floor, we have the opportunity to talk to one of its current workers, Wude (right), who has been with Ellilta Products for nearly four years. With the help of Rakeb as translator, Wude explains that she had many different jobs before Ellilta.
"Now my life is much better," she says. "I'm supporting my family much better." And, she adds, her 17-year-old daughter is studying business and banking at college.
One of Ellilta Products' aims is to break the generational cycle of prostitution and the enterprise's support for Wude means that her daughter's prospects look good. Rakeb (below) says: "Ellilta Products is changing the lives of these women by giving them the opportunity to work and have peace of mind. I think they have a sense of relief every time they go home from work in the understanding that they have a choice of being dignified in what they do."
EWAR says it has so far reached around 1,000 women, with a 90% success rate of them not returning to prostitution. A new five-year plan for the organisation aims to step up its impact to reach 1,400 women and their children in the future.
"Ellilta Products has a vast potential in the future to reach many more people – we just have to dig a little deeper!" says Rakeb.
Photography by Anna Patton