Cigarette butts and rocking chairs: Ten things you didn't know about the UK's top social enterprises
Did you know that barista training venture Change Please was born from the 'rocking chair test'? Or that the furniture experts at FRC Group once considered selling ice cream? Pioneers Post discovers 10 things you might not already know about NatWest SE100 Award winners from the past decade.
This year marks a decade of the NatWest SE100 Social Business Awards – highlighting and celebrating the UK organisations blazing a trail in combining social impact and financial sustainability.
Read on for a decade's worth of inspiration – and to discover 10 things you might not know about these champions of social enterprise.
1. Refugee resettlement social enterprise ACH started as a side project
Fuad Mahamed, ACH founder and CEO, NatWest SE100 Leader of the Year, 2019
When Fuad Mahamed arrived in the UK from Somalia more than 21 years ago, he was upset at the perception that refugees like himself were "just a charity case" rather than people with skills and aspirations.
So, every evening after finishing his day job as a management consultant, he would spend time finding housing and training opportunities for refugees in Bristol.
This side project eventually became ACH: a social enterprise which has expanded across Bristol, Birmingham and Wolverhampton, working mainly around the south west of England and the Midlands – and has grown to an organisation of more than 70 people, with a turnover of £5m. It has housed more than 500 tenants, and trains more than 3,000 people at any given time, alongside working with 10 local councils to advise on refugee integration and policy change.
"I do this because I see myself through the people I'm helping," says Mahamed, who won the NatWest SE100 Leader of the Year in 2019. "Leadership is about ultimately helping to change people's lives through strong business decisions."
His biggest challenge as a social enterprise leader, he says, is balancing social impact with profitability. "The most difficult part of this journey is deciding when to use your heart and when to use your head."
2. Belu has transformed

267,000 lives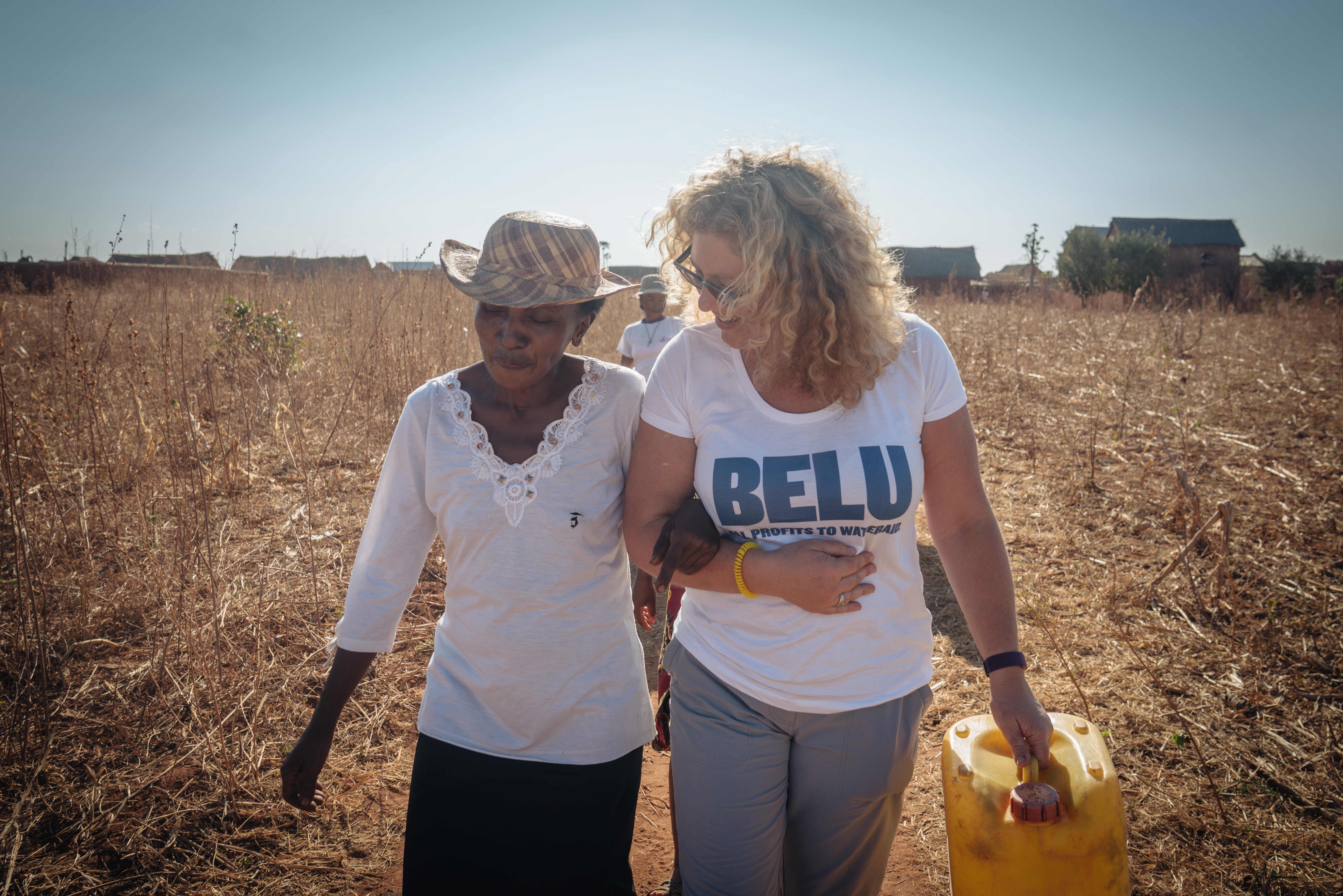 Karen Lynch (pictured right), Belu CEO, NatWest SE100 Leader of the Year, 2017
In 2011, Karen Lynch became the CEO of Belu, a social enterprise which at its lowest point faced £1.9m of debt.
Eight years on and Belu had generated more than £4m profit from its sales of bottled water and filtration systems – donating 100% of those profits to international charity WaterAid and transforming 266,667 lives.
Lynch, who was named 2017's SE100 NatWest Leader of the Year, announced last September that she would be stepping down as CEO (and yesterday Belu revealed that Natalie Campbell, currently a Civil Service Commissioner and a board member of the Big Lottery Fund, will be taking over on 1 March).
"I wouldn't change a thing, but I haven't properly switched off or turned my phone off the whole time," says Lynch. "Not because I couldn't, I've had a great team in place. But because I didn't really want to. I've been addicted to the ride and I didn't want to get off. I want to take time to just remember to be."
Her advice for good leadership? Live and breathe the values of your organisation. "In my view the best leaders are those genuinely living their purpose, therefore clear on the 'why' (beyond money of course) of not just the what they are doing, which in turn enables boldness, bravery and resilience." 
We will be announcing the SE100 list and winners soon (event on 26 March 2020 has now been postponed, details to be announced soon). More questions? Get in touch.
3. Change Please was born from the 'rocking chair test'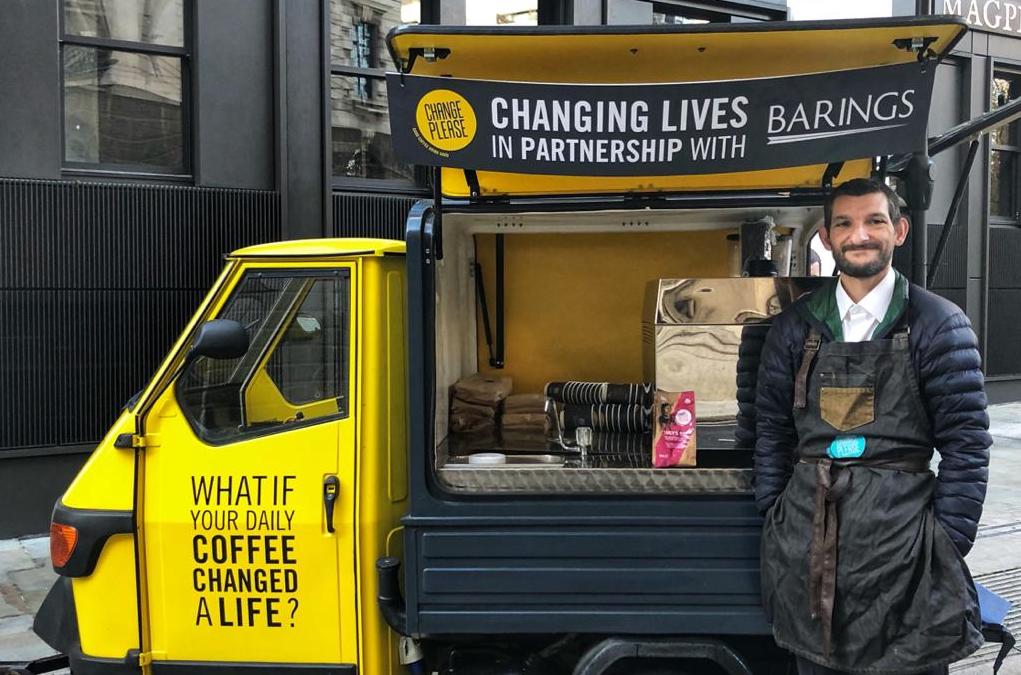 Change Please, NatWest SE100 Trailblazing Newcomer, 2017
Pioneers Post likes to think that we were onto something when we awarded Change Please and its founder Cemal Ezel the Trailblazing Newcomer Award in 2017. Since then, the social enterprise – which trains people who have experienced homelessness to become fully-qualified baristas –  has shown no signs of slowing down. 
Its coffee is currently stocked in major supermarkets like Sainsbury's, on Avanti West Coast trains and even on Virgin Atlantic flights. And since 2015, it has supported 200 people who have experienced homelessness – and last year opened a new training academy, allowing it to triple the number of people it can support.
Ezel believes social enterprises that rely on social impact as their sole selling point will struggle. "A social enterprise needs to be mainstream. It needs to be the same as if not better than competitors, and treat the social impact as a bonus."
And last year, he revealed to Pioneers Post that his inspiration for Change Please came from doing what he calls the 'rocking chair test': asking himself what he would be proud of when sitting in his rocking chair at 90 years old. "And that's when I realised there's more to life than making money."
Cemal is judging this year's Trailblazing Newcomer category, so applicants should prepare to impress.
4. Creating Enterprise has grown by more than 1600%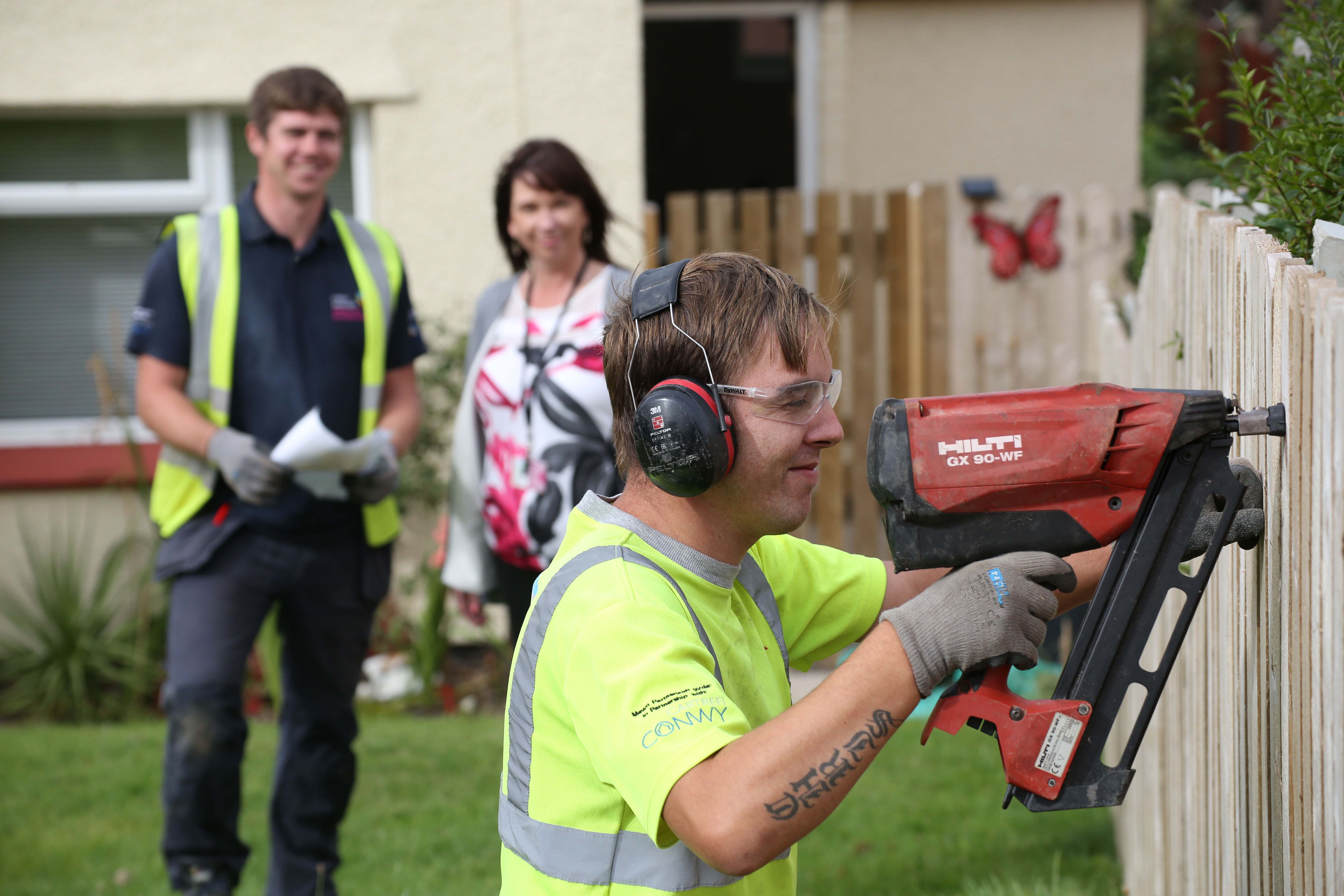 Creating Enterprise, NatWest SE100 Growth Champion, 2019
Percentages in the thousands may be hard to get your head around – but Creating Enterprise has reported astonishingly high growth, of more than 1600%, since it was established as a community interest company in 2015. 
Based in north Wales and part of the housing association Cartrefi Conwy, its turnover grew from £580,200 in 2015 to a predicted £10m in 2019/20. And thanks to this impressive figure, not only was it named as the third-fastest growing company in Wales (the only social enterprise on the list) – but also 2019's NatWest SE100 Growth Champion. 
As well as maintaining properties, Creating Enterprise helps local people to find employment, and training opportunities through its Creating Futures Academy – and 100% of its commercial profits are reinvested into employment initiatives. In the last year, over 1,600 people visited the Academy to access support, and to date every tenant who has completed the employment programme has found a sustainable job locally.
The secret to such high growth, says business and partnership director Sharon Jones, is seizing every opportunity to expand commercial activities. For example, it has recently become a specialist in modular construction, building a new factory in north Wales to create energy efficient homes. "Opening our first modular build factory in Holyhead has provided a new income stream while offering more job opportunities for those furthest from the job market."
5. Five Lamps has supported people for 35 years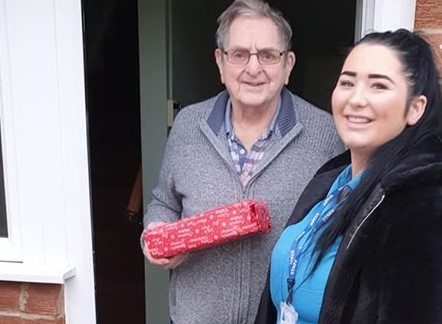 Five Lamps, NatWest SE100 Impact Champion in 2013, and NatWest SE100 Resilience Award, 2015
Now in its 35th year, Five Lamps is one of our longest-established SE100 Award winners. Based in Stockton-on-Tees in the north east of England, it was set up in 1985 after a local steelworks closed down, with the aim of retraining people left without a job.
So it may come as no surprise that the organisation prides itself on its resilience (and was awarded an SE100 Resilience Award in 2015). In the past decade, CEO Lisa Pickard says there has been more need for their services – which include everything from home care for the elderly and meals for children during the school holidays, to a personal lending service – but fewer financial resources and grants available to support the enterprise.
"It's been a challenging economic decade, and we have lost much needed contracts where positive social impact was being evidenced but funding was no longer available," says Pickard. "But we have been determined to survive not just as a business and a charity, but because we know the hole it would leave if we ceased operating."
6. FRC Group once tried to sell ice cream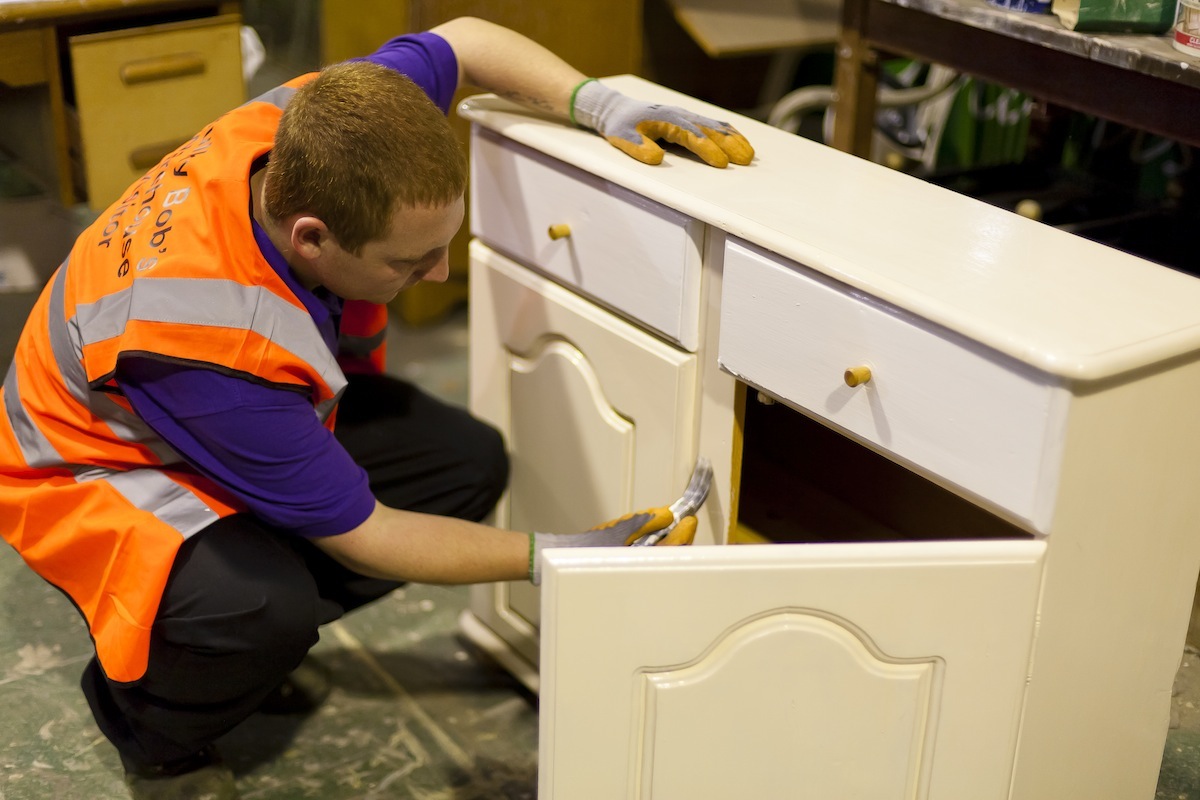 FRC Group, NatWest SE100 Impact Award, 2008; NatWest SE100 Resilience Award, 2014; NatWest SE100 Impact Award, 2015; Hall of Fame Award, 2017
FRC Group has won more NatWest SE100 Awards than any other social enterprise to date, picking up four between 2008-2017.
Success only increased in 2019 for the social enterprise, which provides a furniture-supplying business, a furniture collection scheme, and its 'Campaign to End Furniture Poverty'. It tripled its turnover by £3m through the acquisition of David Phillips, a competitor based in Greater Manchester – as well as continuing its winning streak by being named Social Enterprise UK's Social Enterprise of the Year in October.
CEO Shaun Doran attributes many of the organisation's achievements to focusing on the things it knows best, which is a lesson he learnt the hard way. More than 10 years ago, FRC Group attempted to take on the first Ben and Jerry's ice cream franchise outside of the US, which Doran admits was an overstretch: "We found out very quickly how expensive it was to run an ice cream shop to their standards, and how little we knew about ice cream."
Now, FRC Group uses experiences like these to mentor others, running business masterclasses for social enterprises from its Liverpool headquarters. Doran says most of the businesses that come to them are reliant on grant funding, a position he is familiar with. "We know what it's like: the sleepless nights, the redundancies, the panic. There have been periods in our 30 year history where we've been wholly reliant on grant funding, but in our masterclasses we're able to demonstrate how we got ourselves out of that position." 
7. Hubbub Enterprise helps collects 3.6m cigarette butts a year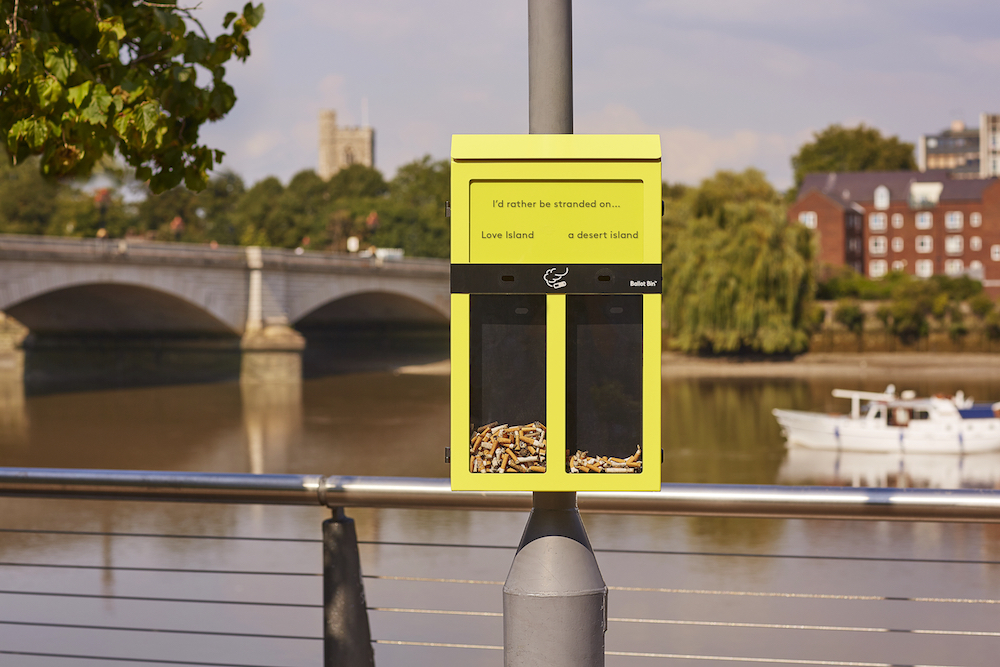 Hubbub Enterprise, NatWest SE100 Storyteller of the Year, 2019
Since 2016, Hubbub has been making sustainability more fun. It began by launching the world's first 'voting ashtray', the Ballot Bin, which collects an estimated 3.6m cigarettes a year, and has been sold in more than 20 countries.
And more recently, it launched Plastic Fishing Trips – allowing corporate groups to spend a day collecting litter from waterways in Canary Wharf, London, while travelling in the world's first boat to be made from 99% recycled plastic. 
With creative campaigns like these, it is no surprise that Hubbub Enterprise – the social enterprise arm of the charity which aims to scale the impact and earning power of the charity's campaigns – was crowned as 2019's SE100 Storyteller of the Year.
CEO Alex Robinson says he's proud to have created products which "surprise and delight people, have an environmental impact, and generate a profit, too." He's not wrong: business is booming for the enterprise. The tours generated over £50,000 in its first year, and almost £20,000 profit, which it shared with its primary school partner – and last year, its profit increased by an impressive 600%.
Continuing the maritime theme, Robinson says his advice for good storytelling is "fishing where the fish are." "We frame our environmental campaigns in terms of things people are already interested in," he says. "Then the magic comes from finding a fresh way to communicate a message: something that instantly makes sense but has an element of surprise that gets people interested."
8. The Philosophy Foundation has made philosophy fun for 48,000 young people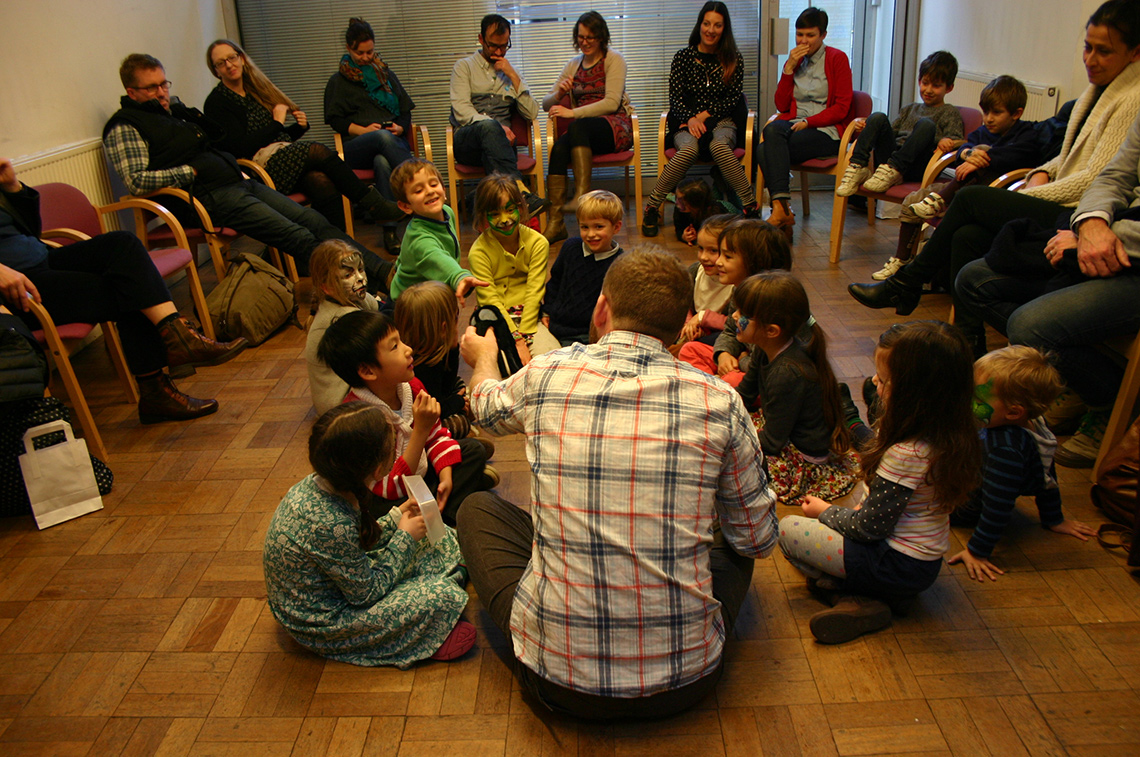 The Philosophy Foundation, NatWest SE100 Storyteller of the Year, 2017
In 2007 The Philosophy Foundation was born with limited resources – but a huge drive to make philosophy more accessible to children across the UK.
Led by co-founders Emma and Peter Worley, the organisation has now brought philosophy to more than 48,000 young people across UK nurseries, primary schools and secondary schools. Over 90% of the schools they work with have more than the national average of children on free school meals.
At the beginning of this year, Emma received an MBE for her contribution to social enterprise, an honour which she says was down to the foundation's innovative approach. "A few years ago we started working in prisons, and then with people experiencing homelessness: we're constantly on the move." 
Emma is most proud of the organisation surviving for 10 years "in a tough educational environment" (they have maintained an average re-contract rate with schools of 91% since 2010) – as well as winning the SE100 Storyteller Award in 2017: "It gave us confidence and helped us to realise that we were part of the social enterprise community."
And her advice for good storytelling? Setting the right tone. "We're making philosophy accessible. Philosophy can seem stuck in its ivory tower, so we make sure everything is as clear and accessible as possible. We add humour too, so children can enjoy it and engage with it." 
9. P3 Charity has grown – but wishes it didn't have to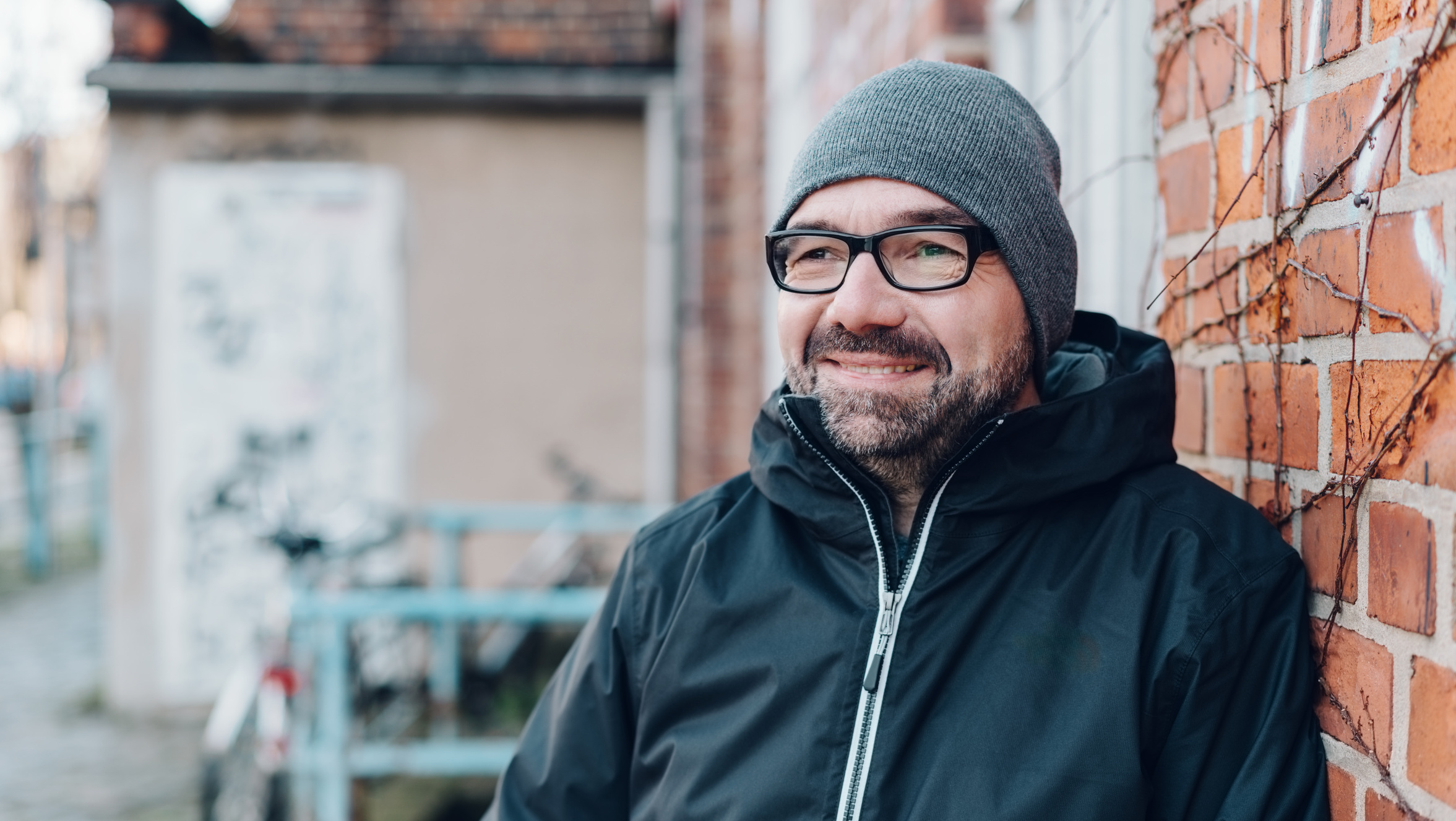 P3 Charity, NatWest SE100 Impact Champion, 2013; NatWest SE100 Resilience Champion, 2019
Standing for 'People, Potential, Possibilities', P3 Charity aims to help people out of social exclusion by delivering services as varied as hostels and assisted accommodation, after-school and play services, and work with offenders.
When it picked up the NatWest SE100 Resilience Champion award in 2019, judges were impressed by its work to support communities affected by Grenfell Tower – just a four-minute walk away from its Rugby Portobello Trust base. And in the same year as the crisis, the charity also raised enough social investment to deliver two social impact bond-funded services in Lincolnshire and Gloucestershire set up to support people who have faced long periods of homelessness.
The organisation has gone from having no outreach services in 2015, to being one of the major providers of homelessness outreach in the UK, with teams currently operating in Derbyshire, Cambridgeshire, Staffordshire, Lincolnshire, Wolverhampton, Gloucestershire and Warwickshire. But CEO Mark Simms says there is a tragedy behind the growth. "We wish that we weren't needed in so many places in this country, and that the societal problems that we're tackling weren't around at all."
For him, being resilient is about three things: learning from those you serve, hiring good people and being brave.
"We may not have the connections of big-name charities but we were still able to punch above our weight and make a huge difference in the north Kensington community when it mattered most. Being resilient is about living our values and having an authentic relationship with the people that we're here to support; standing with them and knowing when to stand apart from government."
10.

Eight hundred children have a home thanks to Resonance's 

property funds

Resonance, NatWest SE100 Good Deal of the Decade, 2019

Paul Handford, head of communications at social investment firm Resonance, says the secret to creating a good deal is truly understanding the social enterprise you're working with: their people, their business model and the impact they hope to achieve. "After all, they are the ones who ultimately have to deliver and promote their business. We need to witness that they have clear leadership, financial stability and potential for growth, as well as the ability to create impact."

His advice might be worth following: in 2019 alone Resonance – which is based in Cornwall but operates throughout the UK – invested £34m into 33 social enterprises from 237 investors, and has invested a total of £169m into social enterprise to date.

Last year, it picked up the NatWest SE100 Good Deal of the Decade Award for its Homelessness Property Funds, created in partnership with homelessness prevention charity St Mungo's. The funds have raised £200m in capital and given homes to 1,600 people, including over 800 children, who were experiencing or at risk of homelessness.

Earlier this year, Pioneers Post met a resident of one of the homes, Paul, who told us: "If I didn't have this place I dread to think where I would be. Maybe back on the street, maybe back drinking."

 

 

We will be announcing the SE100 list and winners soon (event on 26 March 2020 has now been postponed, details to be announced soon). More questions? Get in touch.