Aiming high: How Jamaican social enterprises keep young people on the right path
Many Jamaican social enterprises are helping reduce crime and violence by supporting young people to pursue their passions and get good jobs, but research shows that many of these enterprises are still new and fragile. Two of Jamaica's trailblazing social entrepreneurs tell us about their successes and the challenges that they still face.
Young Jamaicans are at high risk of unemployment with almost one in five (18.5%) women and one in ten (9.3%) men aged 18-24, out of work. But new research highlights a burgeoning social enterprise sector which is stepping in to offer employment, empowerment and hope to many hard to reach communities. 
The State of Social Enterprise in Jamaica, published by the British Council in partnership with the FHI 360 – Local Partner Development Project at the end of 2019, aims to map Jamaican social enterprises for the first time and examine the opportunities and challenges that they face.
The research reveals that the majority (87%) of 126 social enterprises surveyed in Jamaica are working to create employment opportunities. This is important in a country where high crime and homicide rates are a significant public safety issue and threaten the country's human and economic development. Those social enterprises that provide opportunities for young people are indirectly contributing to the reduction of crime and violence.
Real career guidance for students
One such venture is Link Your Purpose. The online career development platform inspires young people to aim high. Its founder Lanisia Rhoden knows from her own experience of high school how little guidance many pupils get. 
"In terms of real career guidance, that was lacking," she says. "Most students never get to have that one-on-one support, or to have that session with a careers advisor to see what you want to do and how you get to do it." The result is that many young people leave education ill-prepared and lacking the qualifications to do what they truly want.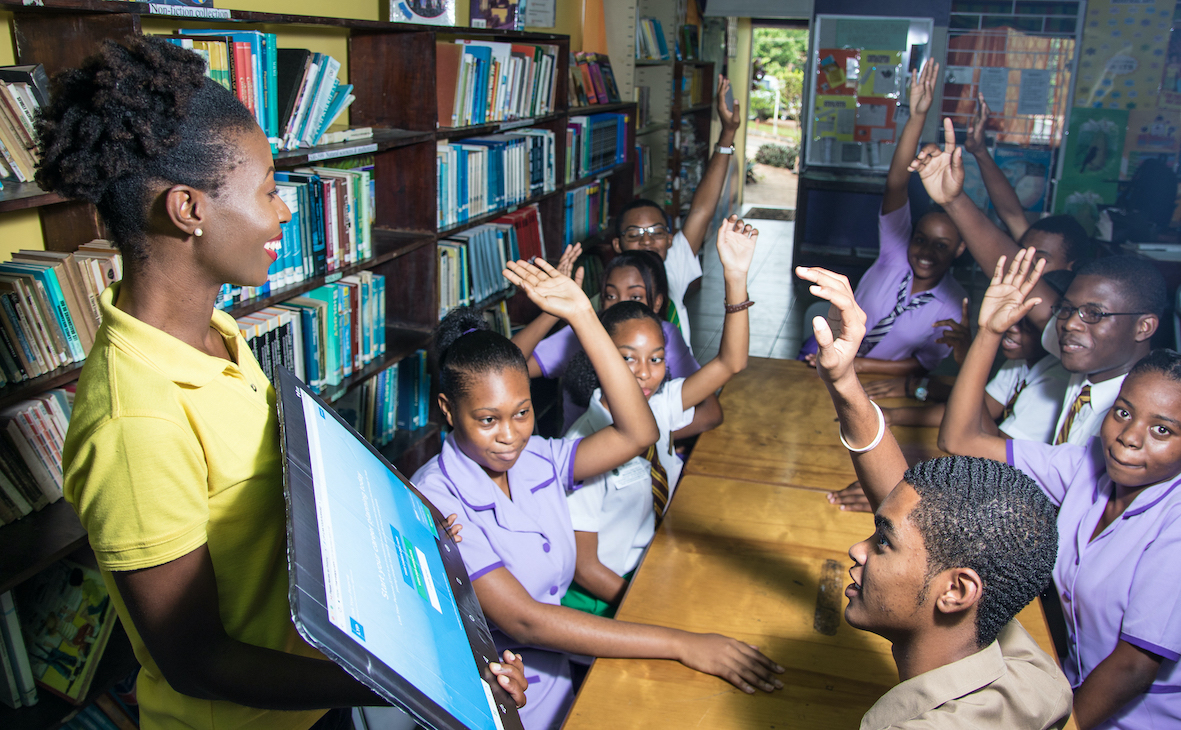 Lanisia Rhoden (above left) helps prepare students to leave school ready to pursue their dreams
To plug that gap, Link Your Purpose offers an interactive careers quiz, and for a small subscription fee, young people can find out about further education courses, jobs, scholarships and internships. Have dreams of becoming a pilot? The platform can even arrange a meeting with a mentor to discover what it's really like to work as one. Rhoden's team also visits schools in deprived areas, running sessions to introduce students (and teachers) to technology they are often unfamiliar with. 
They have seen the positive results of their work first-hand. "We have had mentees who have gone through the process and have gone to college, gotten scholarships, and are now working and employed," she says.
If jobs are hard to come by for many Jamaican young people, being deaf can hamper their chances even further. Deaf Can! Coffee is another social enterprise taking practical action to tackle youth unemployment. It's run by and for young deaf Jamaicans, training them to work as baristas in coffee shops.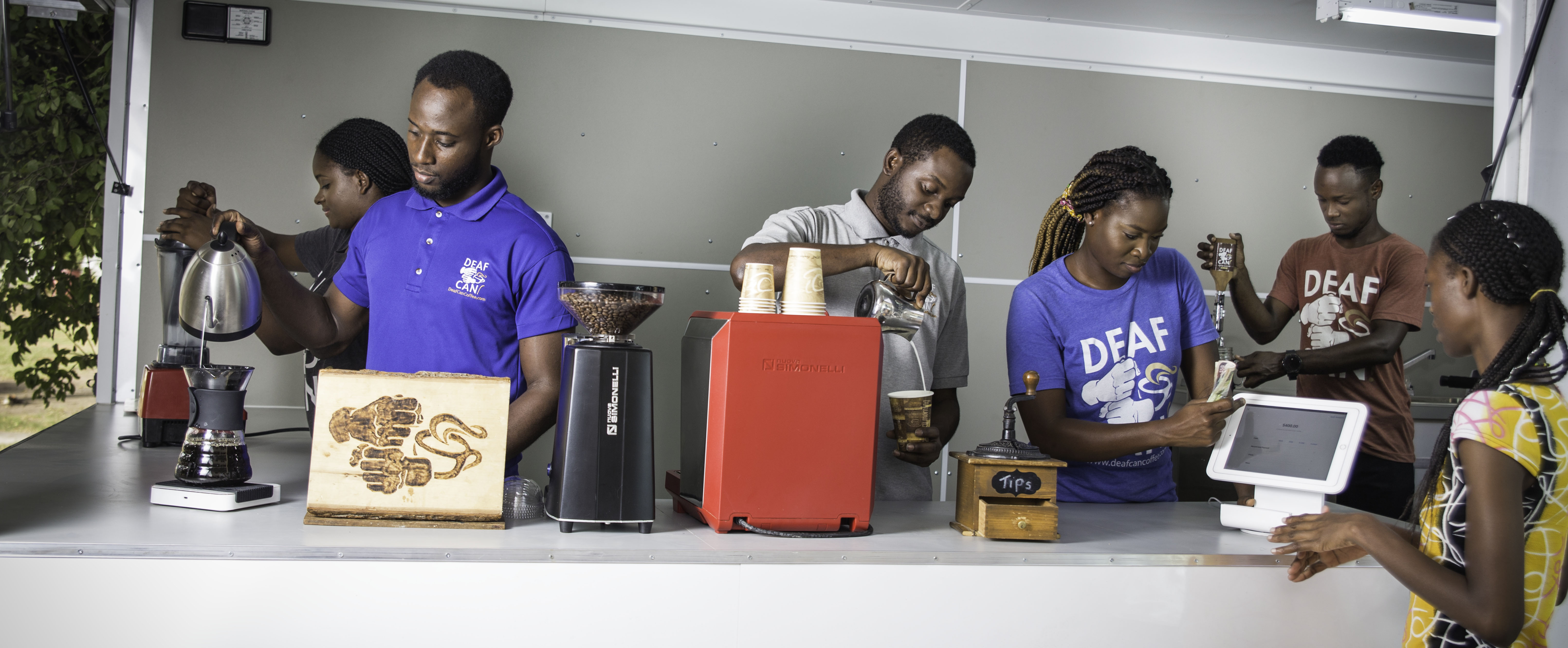 Deaf Can! Coffee runs mobile pop-up cafes and contracts its baristas to other coffee shops
There's still stigma in Jamaica towards the deaf community. Blake Widmer, founder of Deaf Can! Coffee, tells Pioneers Post that right from the word go, rural deaf children are at a particular disadvantage, often ending up as housekeepers in the family home and not given the chance to develop their potential.
The social enterprise was born by accident after a confidence-boosting field trip that Widmer organised for students at the Caribbean Christian Centre for the Deaf to meet a deaf coffee farmer took an unexpected turn. "When the students met him, they were so inspired by his passion for coffee and his self-confidence that they said, 'you know, we want to be like him, we want to learn how to roast coffee'," says Widmer.
Within a few months the first coffee shop had opened at the Caribbean Christian Centre for the Deaf and now, five years later, Deaf Can! Coffee employs 20 full time staff and has 10 students in training.
The enterprise works primarily in partnership with other businesses, contracting out baristas to coffee shops. It can also be found operating its own mobile pop-up cafes. The enterprise's service contracts cover all staff salaries and overheads, and this model allowed it to become financially sustainable in under three years, only needing to apply for outside funding for new equipment.
As the venture grows, the opportunities grow too, says Widmer. "We've actually retained all our staff. The original first two guys from five years ago are now our managers." He believes much of their success is down to how invested everyone feels in it. "Honestly, that's a huge reason why I think we've been able to be successful is because they do have ownership in it." 
The funding hurdle
But there are barriers to growth for many Jamaican social entrepreneurs. While Rhoden has big plans for Link Your Purpose, hoping to implement tools to track users' progress and gather data on the careers that young people are choosing, funding is a major stumbling block. "Accessing that start-up funding or funding to scale up is definitely difficult," she says, and this means they can't "push forward as quickly as we want to."
Obtaining grant funding was the biggest challenge identified by more than half (57%) of the 166 organisations surveyed for the British Council research, with 34% also reporting trouble obtaining other forms of finance.
Accessing that start-up funding or funding to scale up is difficult
Charmaine Brimm from the government sustainable development agency, the Planning Institute of Jamaica, says the lack of legislation allowing an organisation to be registered as a social enterprise is one reason behind this. "[They] couldn't walk into a financial institution in Jamaica and say, 'I'm a social enterprise and I'd like to get a loan to scale up our business'," she says, "because it's not recognised." 
Brimm's team is on the case, busy lobbying government for a new legal framework, which she believes will make a massive difference to a sector with "huge potential". Much of this work is about raising awareness and demonstrating the positive impact they can have. Brimm is hopeful it will get through. "There is an appetite for it," she says. "All the indications so far signal that the government would give the go-ahead, we've not seen any stop signs."
As the research points out, tackling youth unemployment in Jamaica has far-reaching positive knock-on effects. As Morana Smodlaka Krajnovic of Jamaica Local Partner Development, a USAID-funded project to increase the safety and security of Jamaicans, points out in the foreword to the publication, these initiatives also "help revitalise communities hard-hit by poverty and crime," as well as providing social benefits, "for example, unattached youths who gain employment receive parenting or life-skills training to better integrate them into society," it says.
If social enterprise didn't exist, some of these social issues probably wouldn't get any attention, says Brimm. The sector has "huge potential in Jamaica to not only grow, but also really impact culturally, environmentally," she says, and she is excited about "the level of innovation and creativity" shown by many organisations like Deaf Can! Coffee and Link your Purpose. 
"When we look at the preliminary numbers on a sector that has not yet been legislated, then the potential of the impact in the country is promising."
Header photo: Students explore career options with Jamaican social enterprise Link Your Purpose